Miami Heat vs. Brooklyn Nets: Postgame Grades and Analysis for Miami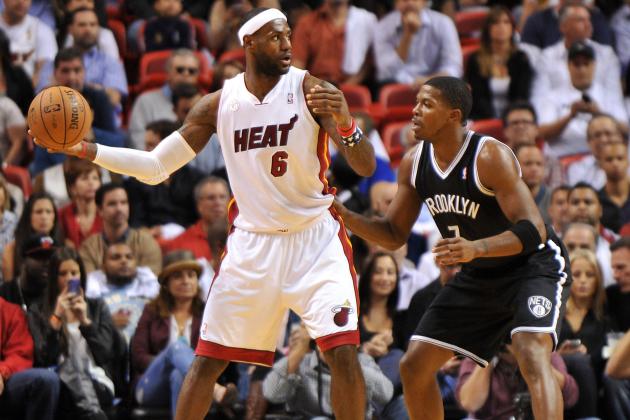 Steve Mitchell-USA TODAY Sports

Wednesday night at the Barclays Center, the Miami Heat took down the Brooklyn Nets, 105-85.
Miami started fast out of the gate, shooting 5-of-5 from three-point range in the first quarter. They also began the game dominating the Nets on the boards through the first 12 minutes (13-6), especially the offensive glass (6-1). And while rebounding is not typically one of Miami's strong suits, the addition of Chris Andersen greatly strengthened its inside game on this night.
The Heat were up by 10 after the first, but the Nets played physical basketball in the second frame and had tied it up by the half.
The second half was a different story.
Miami ran away with it and nothing went right for the Nets, as the Heat outscored the home team 36-14 in the third quarter. Brooklyn had to blast noise over the PA system just to drown out the chants of "Let's go Heat!"
LeBron James and Dwyane Wade outscored the Nets by themselves, going for 10 and eight third-quarter points, respectively. The game was essentially over after 36 minutes.
Miami had entered the game at 28-13—1.5 games ahead of the New York Knicks for first place in the Eastern Conference. Though the Heat have won 18 of their 21 games at home, their record was just 10-10 away from AmericanAirlines Arena.
The Nets had won seven of their last 10, including eight straight at home. But the home winning streak is over for the now 27-19 Nets, and its distance from Miami is now one game more, at four games back in fourth place.
Let's break down the Heat's tremendous performance position by position.
Begin Slideshow

»
Mario Chalmers, PG: B+

Chalmers won't get confused with any of the members of the Big Three, but he's vital to the Heat's effort on a nightly basis.
By the time Miami had opened up its 22-point lead through three quarters, Chalmers had 11 points on 5-of-7 shooting, four assists, four rebounds and three steals.
His opposite starter on the Nets, Deron Williams, has been battling flu-like symptoms this week. Aside from a couple of pretty plays, the Nets star didn't seem like himself.
Williams turned the ball over too often (six times) and got thoroughly outplayed by Chalmers.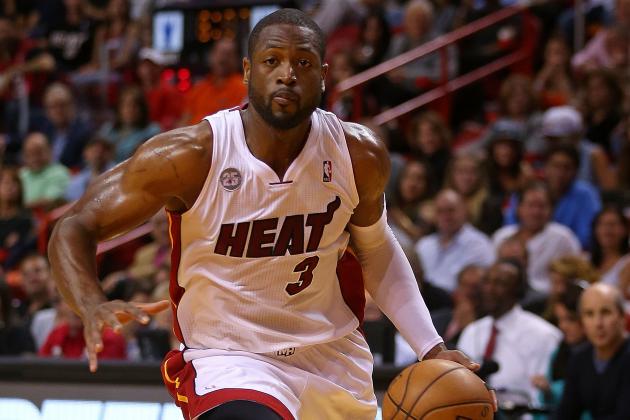 Mike Ehrmann/Getty Images

Dwyane Wade, SG: B+

Though Wade has seemingly lost some of his gusto this season, he is using his skills as a wily veteran to continue playing at a very high level.
He shot the ball well and had 21 points (9-of-16 from the field) on the evening.
He's so good that he'll still punish you unless he gets double-teamed, and with LeBron James and Chris Bosh on the roster, that's always going to be a recipe for success.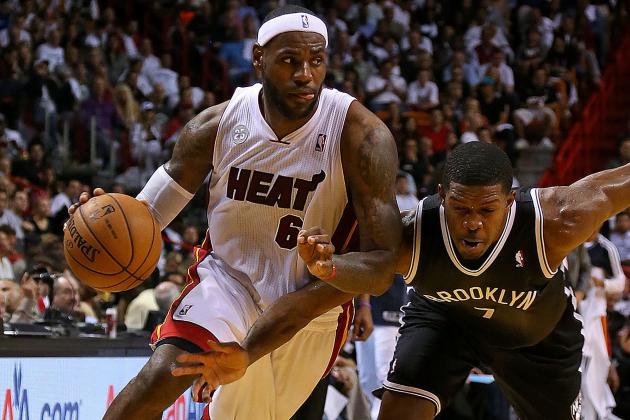 Mike Ehrmann/Getty Images

LeBron James, SF: A

There's really no question anymore as to who the best player in the NBA is (hint: it's LeBron).
He flirted with another triple-double in this one, and there's really nothing he didn't do well. He piled up the points (24), rebounds (nine) and assists (seven), and even added a pair of steals. He was also 3-of-4 from beyond the arc.
The only possible criticism of James would be that he committed four turnovers, but to err is human.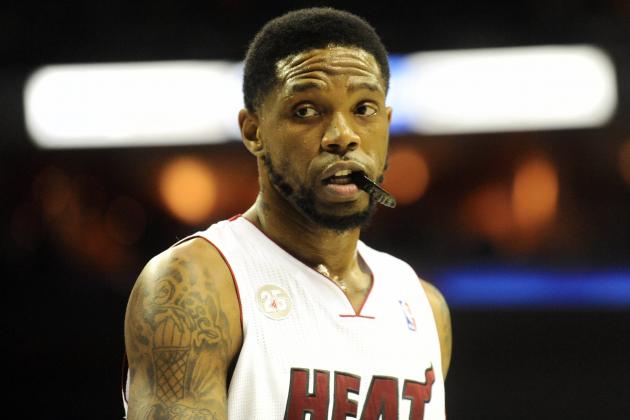 USA TODAY Sports

Udonis Haslem, PF: B

Haslem didn't make a tremendous impact on the stat sheet, finishing with five points and five boards, but his physical play made a huge difference in holding down Brooklyn's frontcourt.
Gerald Wallace and Reggie Evans combined for just six points and eight rebounds in 49 minutes of cumulative action. Kris Humphries played only two minutes and had no statistics.
Though Andray Blatche was as efficient as can be off the bench (12 points on 5-of-5 shooting), that was about it for the Nets, aside from the usual strong night for newly-named All-Star Brook Lopez.
Haslem got some nice rest with Rashard Lewis playing decent minutes, but he was very effective in his 23 minutes and finished with a game-high plus-27 in the plus/minus department.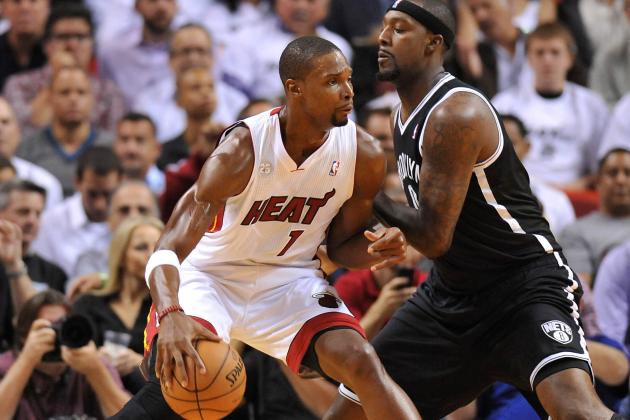 Steve Mitchell-USA TODAY Sports

Chris Bosh, C: B+

Chris Bosh didn't seem like much of a factor in the game, but he played well in the middle for Miami and the Heat cruised to victory.
Bosh scored four points in each quarter and tallied four rebounds for the contest.
Though Brook Lopez excelled (21 points, seven boards, three blocks), Bosh helped Haslem and the bench players keep the rest of the Nets on their heels.
He may look like a space alien, but Chris Bosh is still one of the best frontcourt players in the Eastern Conference.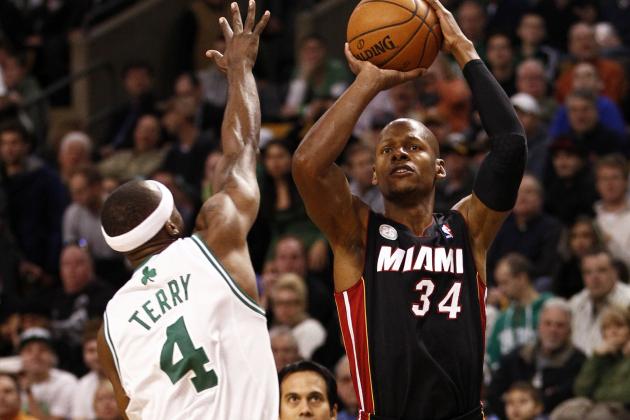 USA TODAY Sports

Ray Allen, SG: B

The 37-year-old Allen played 20 minutes and had six points. All three of his attempted shots were from three-point range, and he knocked down two of them.
Allen also added three rebounds, two dimes and grabbed a pair of steals.
While he has completely lost his explosiveness on offense, his intelligence and savvy nearly always puts him in the right place. And, of course, he can still knock down the open shot on the perimeter as well as anyone in the league.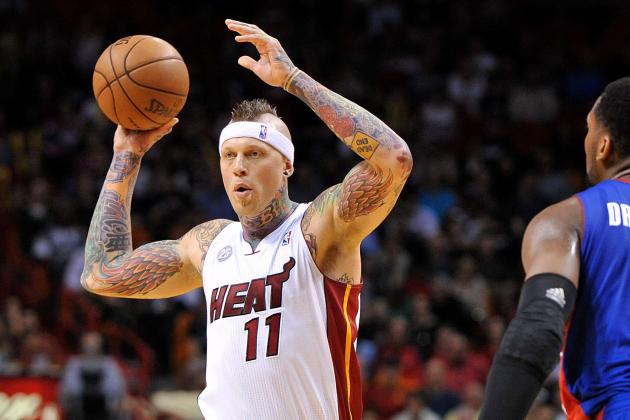 USA TODAY Sports

Rest of Bench: A

Miami's bench played so well, it's hard to know where to begin.
Norris Cole played over 21 minutes, but that includes being on court for almost all of the final quarter after the game was out of reach. He ended with seven points, two rebounds and two assists.
Shane Battier played his signature brand of lockdown defense yet again, and while he finished with only three points, he also had two blocks in 14 minutes of floor time. His lanky arms seemed to be everywhere, and Brooklyn was only able to get off 12 shots in the decisive third quarter.
Rashard Lewis also played great defense in his 15 minutes and finished with six points, two rebounds and a steal.
And playing in just his second game with the Heat, Chris "Birdman" Andersen was a force on the interior in the early going. Through his six-and-a-half minutes in the first half, Andersen had three points, five rebounds (three offensive), a steal and a block.
Overall, the bench mob combined with the Big Three to overwhelm the Nets in this one. Miami played great defense (yet again) and left little doubt that the Heat are the class of the East.