UNC Basketball: 5 Games That Will Make or Break Heels' NCAA Tournament Bid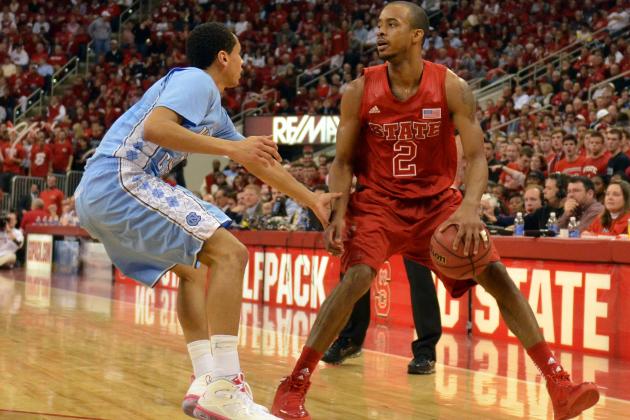 Rob Kinnan-USA TODAY Sports

Most fans of UNC basketball are over the thought of an ACC regular season title, even though the Tar Heels still have a fighting chance. What most are concerned with is whether or not their favorite program will even take part in the 2013 NCAA tournament.
That's a reasonable concern, considering the Tar Heels are 14-6 (4-3 ACC). They also have serious consistency issues—and struggle to win on the road, where they are 5-5 on the season.
Five of the 11 remaining games will make or break the Tar Heels' bid for the tourney. Fortunately for North Carolina and its fan base, only two of those games will be played on the road.
Unfortunately, they will be two of the toughest.
Because of the teams' rankings, these games will be of the highest importance. Especially since three of the teams have already beaten the Tar Heels.
Begin Slideshow

»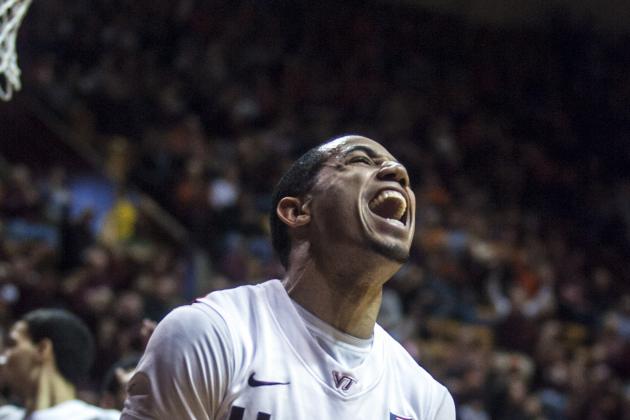 USA TODAY Sports
Erick Green leads the NCAA in scoring.
These four teams are not included on my five-game list. However, losing a "gimme" game against Virginia Tech, Wake Forest, Georgia Tech or Clemson could turn off the selection committee.
While it's a stretch to call any ACC game this season a "gimme," that's how it will be looked at by the folks picking the 68 teams.
The Tar Heels will face Virginia Tech at the Dean Dome on Saturday. The Hokies are only 2-5 in the conference, but they still have the NCAA's leading scorer in Erick Green.
Green averages 25.5 points per game, and has scored 30-plus points in three games this season. Two of those games were against the stellar defenses of Virginia and Miami.
UNC will follow that game up with one against Wake Forest next Tuesday. It's hard to grasp how tough this team will be. It has lost to Clemson, Virginia Tech, Georgia Tech and twice to Duke.
However, the Demon Deacons only lost the second contest with Duke by five points, and had the game tied up at the half. They also beat Boston College, Virginia and NC State.
The common denominator in those games is they were all at Wake, and the Demon Deacons will be facing the Tar Heels in Chapel Hill.
Georgia Tech is a very young team, and has looked pretty rough in conference play. In their six losses, the Yellow Jackets are losing by an average of 11 points.
In their only conference win, they beat the Demon Deacons by 20 points, though.
UNC already faced Georgia Tech once in Chapel Hill, where the Tar Heels pulled out a 79-63 win. This time, the team will have to travel to Atlanta, and no win is easy in the McCamish Pavilion.
Finally, there is Clemson, who ranks second in the conference and 11th in the country for points allowed. They're only 4-4 in ACC action, but the Tigers took out UVA, and went down to the wire with Florida State and NC State.
Micheal Snaer had to nail a ridiculous buzzer-beater to get the win in their last meeting.
None of these "gimme" games will be easy wins for the Tar Heels. Nevertheless, they will have to win them to prevent being scoffed at by the committee.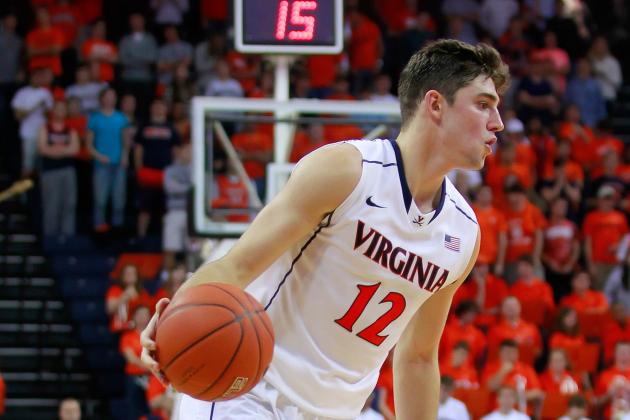 Geoff Burke-USA TODAY Sports
Joe Harris scored 19 points in victory over UNC.
When: Saturday, February 16 at 12 p.m.
Where: Chapel Hill, NC
Broadcast: ACC Network
The Virginia defense punched North Carolina in the mouth during their first meeting in Charottesville, VA. The only player it couldn't contain was Reggie Bullock, who scored 22 points.
It won't be easy for the Tar Heels to match the Cavaliers' physicality. They just haven't been that kind of team, and seem to be easily shaken when the opposing defense gets a body on them.
UVA is nasty (in a good way), and that's why it's only allowing 51.2 points per game—good for third in the country.
Virginia only ranks No. 95 in RPI, but it currently sits in third place in the ACC with a 5-2 record. Strangely enough, those two losses were to Clemson and Wake Forest.
With one of the easier conference schedules, the Cavaliers won't have much opportunity to boost their RPI ranking. But this game is still important because UVA could finish in the upper-half of the conference standings, and UNC can't lose twice to it.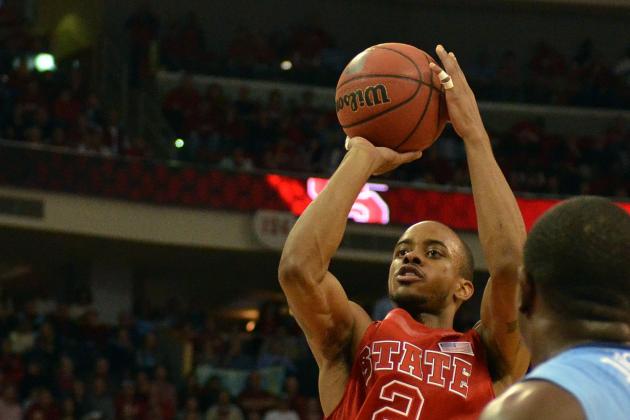 Rob Kinnan-USA TODAY Sports
Lorenzo Brown lit up Tar Heels for 20 points and 11 dimes.
When: Saturday, February 23 at 4 p.m.
Where: Chapel Hill, NC
Broadcast: ESPN or ESPN2
The first game of this series wasn't pretty, to say the least, and the Tar Heels will have to make up for that with a solid win in Chapel Hill.
NC State had UNC from the tip, jumping out to an 11-4 lead. After going down by 28 points with 13 minutes left, the Tar Heels did manage to mount a comeback, pulling within five points at the 36-second mark.
Will the committee look at the comeback in a positive light? Or will it focus on 28-point deficit?
The only way to prove the deficit was a fluke is by taking out the Wolfpack in the Dean Dome. If the Tar Heels can get the win, the committee will likely overlook the smashing in Raleigh; instead, focusing on the comeback and the victory.
Most importantly, NC State currently ranks No.19 in RPI and the AP Top 25. It also sits at No. 4 in the conference with a 5-3 record.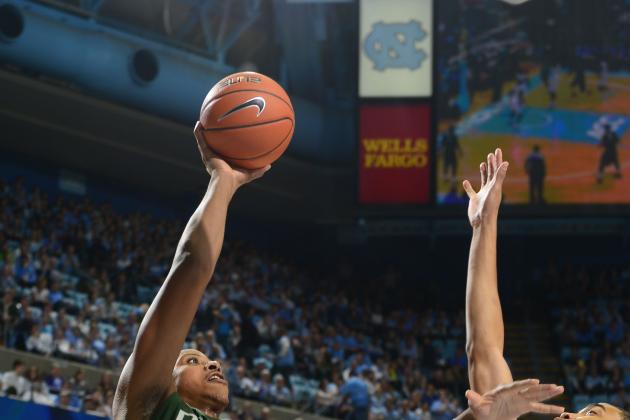 USA TODAY Sports
Kenny Kadji could not be contained in their first meeting.
When: Saturday, February 9 at 2 p.m.

Where: Coral Gables, FL

Broadcast: ESPN or ESPN2
UNC actually led at the half in the first meeting with Miami, but it would be outscored in the second half, 38-27. And this next game against the 'Canes will be even tougher.
Kenny Kadji and Julian Gamble absolutely dominated the Tar Heels in Chapel Hill. Together, they tallied 32 points, 15 boards and seven blocks.
The Carolina bigs were simply no match for what Miami was offering up—and 292-pound Reggie Johnson wasn't available that day, either.
Not only will Johnson's 9.9 points, 9.2 rebounds and 1.8 blocks per game be available to the Hurricanes on Feb. 9, they will also have the home-court advantage in this one. And they have won their ACC home games by an average margin of 19.3 points.
That includes a 27-point romping of then No. 1 Duke.
Miami is currently only ranked No. 14 in the AP, but it is tied with Kansas for No. 2 in RPI. A win over the No. 2 RPI team would be huge for UNC's current RPI ranking at No. 32.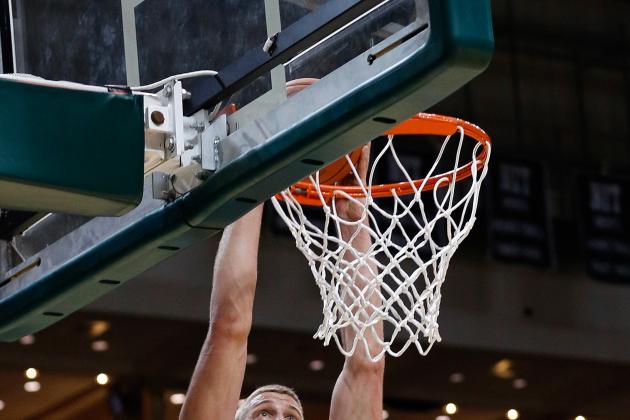 USA TODAY Sports
Mason Plumlee leads Duke with 18.1 points per game.
Game 1:
When: Wednesday, February 13 at 9 p.m.
Where: Durham, NC
Broadcast: ESPN/ACC Network
Game 2:
When: Saturday, March 9 at 9 p.m.
Where: Chapel Hill, NC
Broadcast: ESPN
Few things are more important to the Tar Heels and their fans than beating Duke. This season, it is even more crucial for the Tar Heels to get into the tourney.
Assuming the Blue Devils can keep from sliding anymore without Ryan Kelly, they should be at least in the top 10 of the AP poll and one of the top five RPI teams. They currently rank No. 5 and No. 1, respectively.
But Duke will be facing NC State at home, and will travel to Florida State and Boston College before it meets up with UNC at Cameron Indoor. Those won't be easy wins for a Kelly-less Duke team.
The team is gradually improving without its top power forward, but NC State and Florida State aren't necessarily easy wins with Kelly.
There is still no timetable for Kelly's return. For all we know, he could be back by Feb. 13. And there is an even better chance he will be back by Mar. 9, when the Blue Devils make the short trip to Chapel Hill.
Considering Duke's rankings, the rivalry and how highly the program is thought of, just a split in this series could go a long way in getting UNC into the tourney. If the Tar Heels can somehow pull off both games, there isn't a chance they miss the tournament in 2013.