Tottenham at Norwich City: Player Ratings from Spurs' 1-1 Draw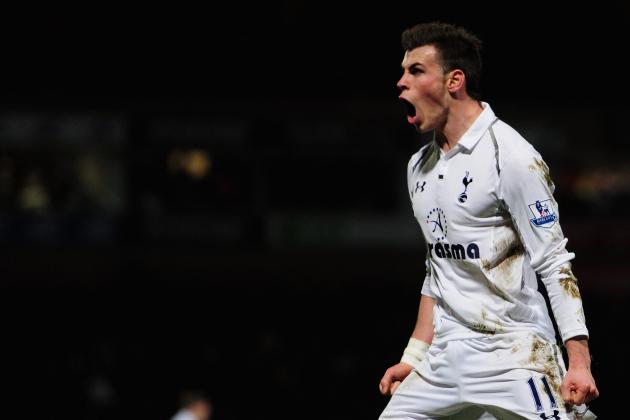 Jamie McDonald/Getty Images

It wasn't pretty; it was less than what was hoped for and it was a cold weekday match.
But Tottenham will be glad to escape Carrow Road with a draw and add to their unbeaten streak dating back to a December 9th loss at Everton.
Norwich City came out and impressed early in the match, controlling the midfield and collecting an early lead thanks to a clever left-footed shot by Wes Hoolahan.
The second half was much of the same until Gareth Bale took a Jermain Defoe pass and struck it home for glory in the 80th minute.
The scoreline ended 1-1, and although a draw isn't what Spurs fans were hoping for, grasping another draw out of the claws of defeat is welcome news.
How did the individuals grade out? Check out my ratings, and let me know if you agree.
Begin Slideshow

»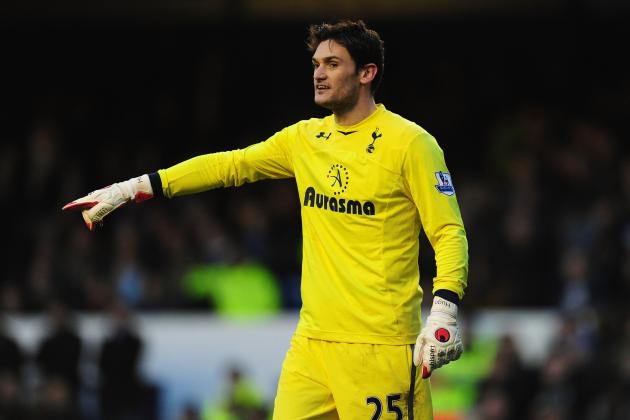 Stu Forster/Getty Images

Hugo Lloris: 7.5
Norwich City's opening goal shouldn't have happened, and Lloris can hardly be blamed for not keeping the clean sheet. Hoolahan should never have been that open, nor should he have been that centered in front of Spurs' net.
If Tottenham's center backs had done a better job of marking up in the first half, a shutout would've been a real possibility for Lloris. Pity, really, as the Frenchman made his presence known in front of goal once again for Spurs.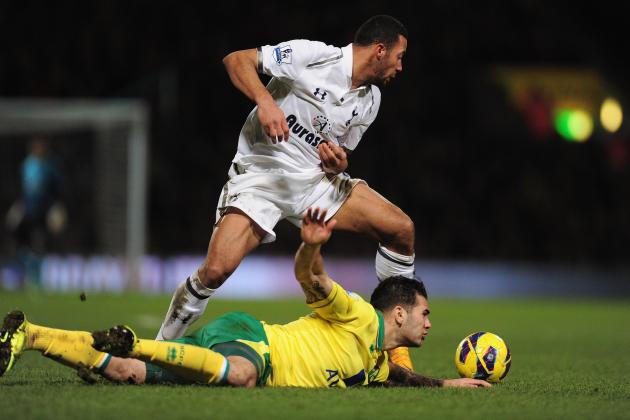 Jamie McDonald/Getty Images

Michael Dawson: 6.5
Up and down in quality the whole night. Had some good clearances and runs along the left sideline, but was out-jumped by Grant Holt when Norwich was pressing. I wonder why Assou-Ekotto wasn't playing the left sideline.
Mousa Dembele: 6.0
The only time I noticed Dembele in the first half was when he gave up position on Hollahan and allowed home side Norwich to go up early. In the second half, he was far more physical and led several good charges out of Tottenham's third. It took him some time to get used to the position, but even when he did, the Belgian was a little clumsy.
Benoit Assou-Ekotto: 7.0
He looked good on the pitch and showed himself to be an incredible athlete, playing a center-back position I've rarely seen him in. Put himself in front of countless shots and was always quick to get into position and mark up on an opponent.
Kyle Walker: 6.5
When called upon for free kicks and corners, he was nearly always poor. His defense along the right sideline was decent, but he could have done more to set teammates up.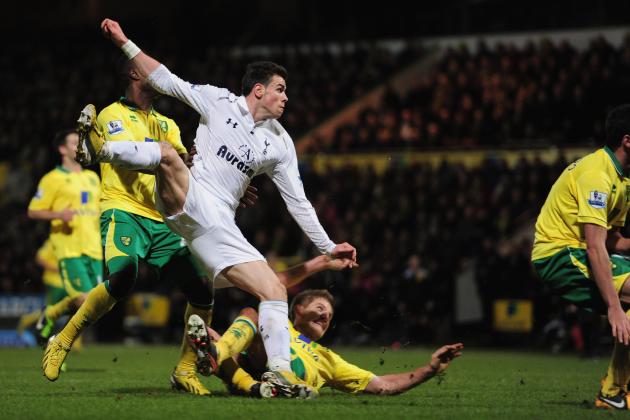 Jamie McDonald/Getty Images

Aaron Lennon: 7.0
He had several good chances throughout the first half and got really involved in the second half, but it's still all for naught. When will the young speedster's hard work pay off?
Gareth Bale: 8.0
After a few disappointing matches, Bale really put his stamp on this one. Seemed to be fully fit for the first time in weeks and gave his all against Norwich. It paid off with a lovely strike in the 80th minute: Beautiful goal that'll be replayed on highlight reels all week.
Jan Vertonghen: 6.0
Poor play from the Belgian who, like Dembele, was playing a bit out of position at the right flank.
Scott Parker: 7.5
I love Parker and I love the energy he plays with. It's contagious and Tottenham's always the better team when he's on the pitch. Really got involved in the second half as he dictated the tempo in the midfield. Took charge in the final half-hour.
Clint Dempsey: 6.5
Not much to say about the American. Was out of the play for much of the match and didn't put forth the kind of physical play he was known for at Fulham.
Lewis Holtby: 7.5
He replaced Dempsey in the 71st minute and seemed a better man along the left side than Dempsey. Had some good touches in his near half-hour on the pitch. Would love to see him play the full 90 soon.
Gylfi Sigurdsson: 6.5
He replaced Lennon in the 87th minute but never got anything going along the right sideline in attack.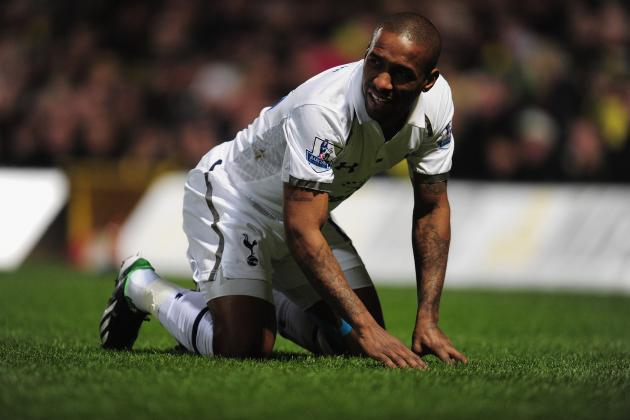 Jamie McDonald/Getty Images

Jermain Defoe: 6.0
Defoe was up and down in effectiveness all match. Outmuscled for most of it by Norwich City's physical midfielders and center-backs. Improved his play when Holtby came on, but should have strung some better play together in the first 60 minutes. Never much of a threat to score. Shame, really.