Jose Aldo, Frankie Edgar and Potential 2-Division Champions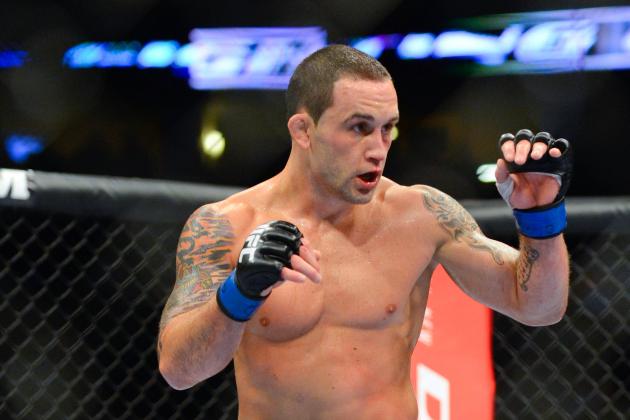 Ron Chenoy-USA TODAY Sports

UFC 156, set for this Saturday, Feb. 2, will feature a featherweight title fight between incumbent champion Jose Aldo and new divisional arrival Frankie Edgar.
Edgar has the chance to become the UFC's latest multi-division champion should he emerge victorious. That would put him in some very exclusive company, company that might one day include Aldo.
Lightweight may eventually become the home of the current featherweight kingpin, and if it does, he'll—like Edgar—become a serious candidate to grab a second UFC title.
But UFC 156's main-event combatants are not the only current fighters capable of accomplishing the feat. Indeed, there are several competitors out there who are legitimate candidates for the honor.
Here we'll take a look at the 12 fighters with the strongest chance to hold titles in at least two UFC divisions.
Begin Slideshow

»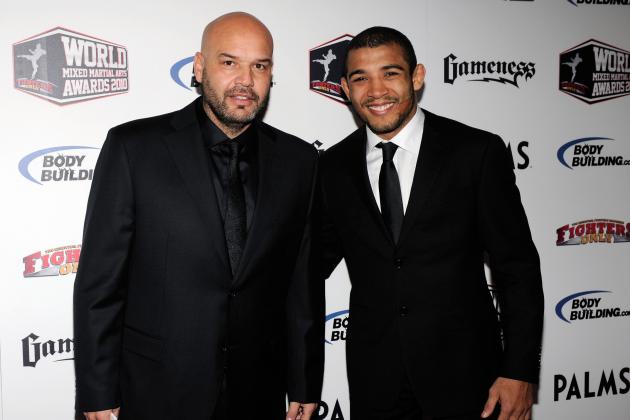 Ethan Miller/Getty Images

Aldo, the current UFC featherweight champion, has toyed with the idea of one day moving up to lightweight. Losing his featherweight strap, clearing out the division or the continued difficulty of making 145 pounds might soon encourage him to make the jump.
Whatever path leads Aldo to lightweight, it may eventually see him capture the division's title. He's that good.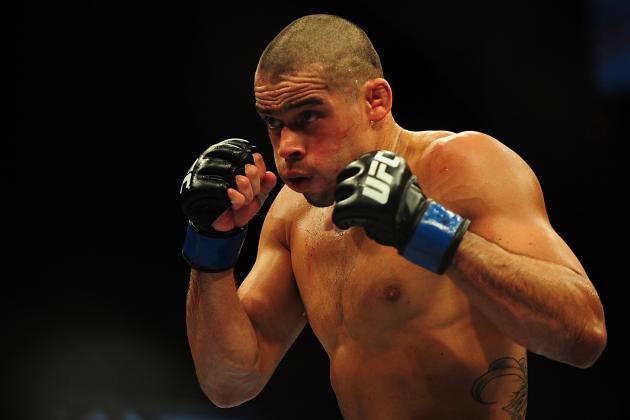 Anne-Marie Sorvin-USA TODAY Sports

This might be a reach so early in Barao's career, but the interim bantamweight champion is a legitimate threat to rule multiple weight classes over the course of his UFC tenure.
Though there is no sign that he'll fight anywhere, but at bantamweight for the foreseeable future, he'll have enough time to make a push at the featherweight title before he's done competing.
If he chooses to, of course.
Again, Barao's inclusion is highly speculative, but his chances of wearing gold in multiple divisions rank pretty high on the list of current candidates, good enough for him to make the list, in fact.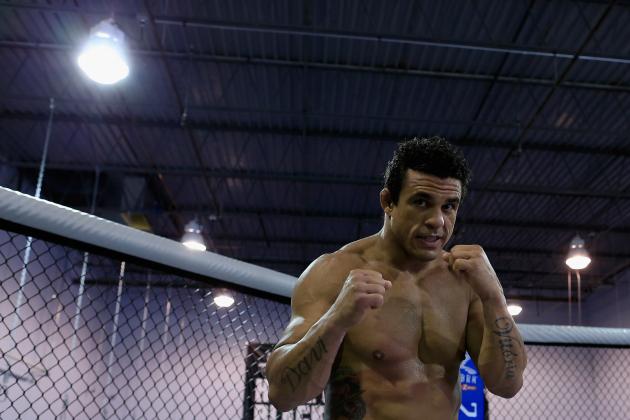 Chris Trotman/Getty Images

Belfort held the UFC's light heavyweight title in 2004 and now resides near the top of its middleweight division. As it stands right now, he's only a win or two away from getting a rematch with champion Anderson Silva, which means he's not that far off from earning the opportunity to win his second UFC title.
The Brazilian already had one chance to accomplish the feat back in 2011, but he was knocked out in the first round.
Still, he's one of the best strikers the 185-pound class has to offer and has a chance to beat anyone on any given day.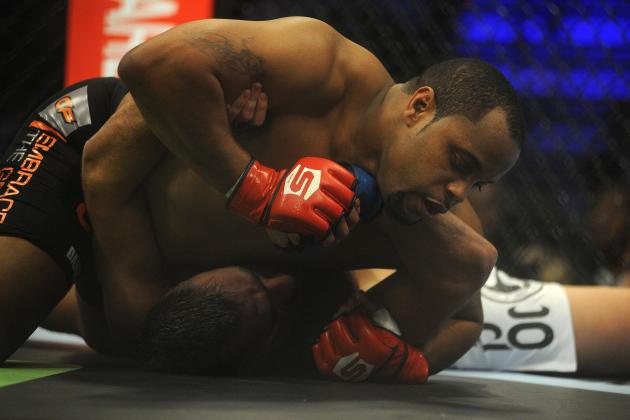 USA TODAY Sports

He still hasn't cut his teeth in the UFC, but there is little doubt that he'll continue to find success once he does—maybe even championship success.
Cormier, however, will not fight for the heavyweight title so long as it belongs to Cain Velasquez. But should that change, he'd be a very real threat to dethrone his pal's usurper.
Additionally, Cormier has flirted with the idea of dropping down to light heavyweight to challenge Jon Jones, which makes for two UFC title opportunities in two weight divisions.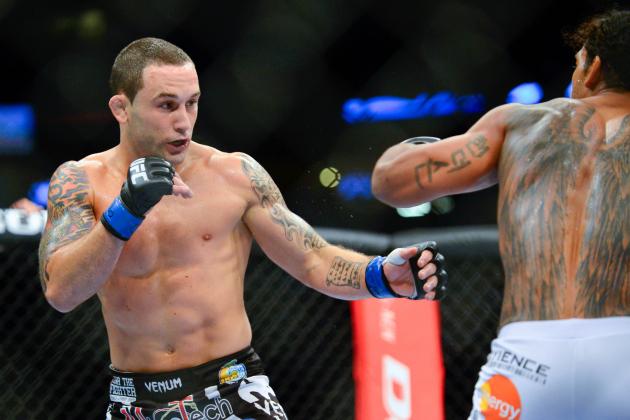 Ron Chenoy-USA TODAY Sports

The former lightweight champion will strive for a different kind of UFC title this weekend, when he challenges Jose Aldo for the featherweight title.
For Edgar, it's simple: win.
And he is the promotion's newest multi-division titleholder. Of course, there's nothing simple about beating up Jose Aldo.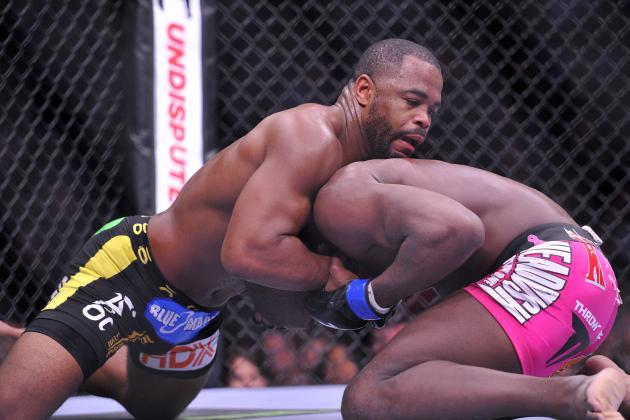 Mike Dinovo-USA TODAY Sports

He's already a former light heavyweight champion, so half the work is done. What's left is a drop to middleweight and a victory over Anderson Silva.
That's no menial task, but Evans is no ordinary fighter. He believes he can do it.
Do you?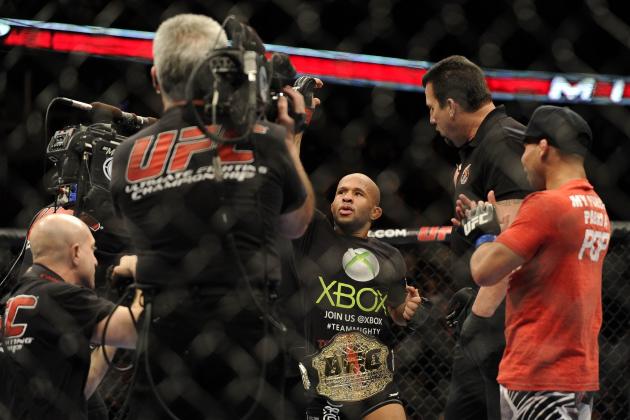 David Banks-USA TODAY Sports

Before Johnson won the UFC flyweight title, he had established himself as one of the top bantamweights on the face of the Earth. In fact, Johnson's last fight before he made the move to 125 pounds was a title match against Dominick Cruz.
Johnson gave Cruz a stiff test in that bout but lost via unanimous decision. Should he ever reenter the bantamweight class, he'd likely pick up right where he left off—in title contention.
There is no reason at present for Johnson to even consider a division change, but perhaps it will become more conceivable somewhere down the road.
Alternatively, Dana White recently announced the UFC's intention to eventually introduce a 115-pound division. I'm not sure whether Johnson could make the cut, but it's within the realm of possibility.
Again, changing classes doesn't make sense now, but if his station were to change, you could one day see "Mighty Mouse" test the waters outside the flyweight division and challenge for a second UFC title.
Paul Abell-USA TODAY Sports

There is work left for him to do at light heavyweight, but he's still only 25. Should he continue his reign of dominance for another few years, he'll likely be pressured into making the jump to heavyweight.
If and when that day comes, Jones will have a very real chance of becoming a two-division champion.
He already has a build that would not look out of place a level up, and he has the skills to compete against the very best that the heavyweight class has to offer.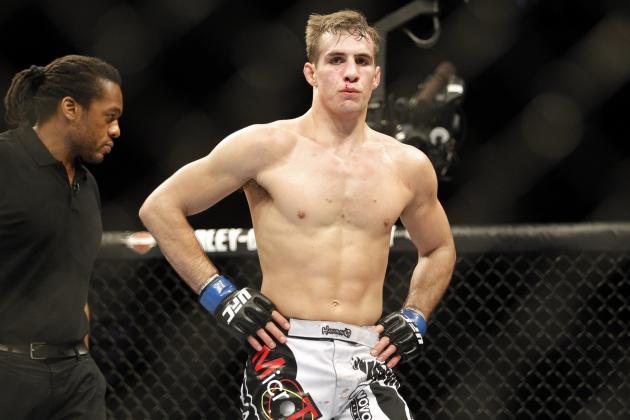 Joe Nicholson-USA TODAY Sports

It's no given that MacDonald will ever hold even a single UFC title, so he enters the list as one of the more theoretical additions. Still, he's got the talent to become a champion, and he's already noted his intention to fight at 185.
As long as his training partner Georges St-Pierre holds the welterweight strap, MacDonald will be blocked there. But given that "Ares" is just 23, he'll just be entering his prime when GSP is beginning to fade.
He could even jump to middleweight now and test the waters there until St-Pierre is out of the equation at 170. But schedule of play aside, MacDonald is a definite candidate to one day hold titles in multiple divisions.
Jayne Kamin-Oncea-USA TODAY Sports

She enters the UFC with a title in tow, so she's already half way to becoming a two-division champion with the promotion.
The biggest obstacle to achieving that right now? The UFC currently has just four female fighters on board, all in the same division.
So for Rousey to become a multi-division champion, the UFC's WMMA roster will need to grow and branch out. Should that happen, it's possible Rousey goes and grabs herself a second title.
It would likely mean a showdown with Cyborg Santos. And you know the UFC wants to make that fight happen eventually, so it's entirely within the realm of possibility.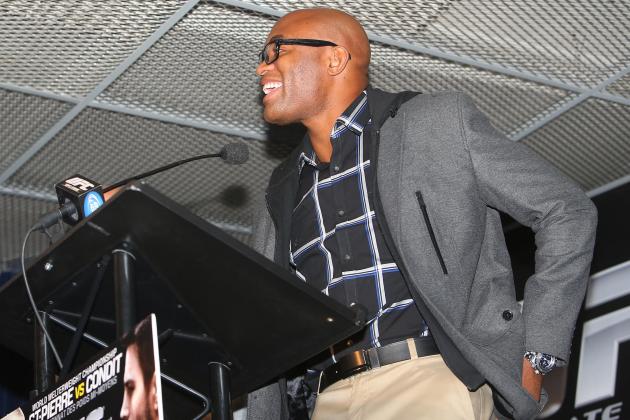 Tom Szczerbowski-USA TODAY Sports

Silva has expressed no desire to challenge Jon Jones for the light heavyweight throne, but it's not out of the question that he one day makes a push for 205-pound supremacy.
That might take a Jones loss or simply a change of heart on Silva's end, but it still could happen.
He already has experience fighting at 205 and has hardly looked small when he's done it. He's also easily talented enough to succeed against larger opponents.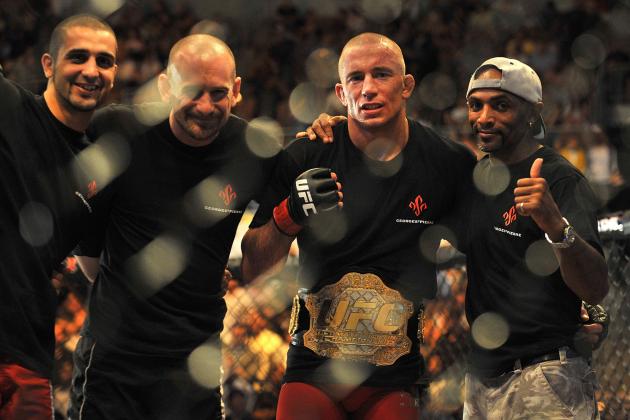 Jon Kopaloff/Getty Images

St-Pierre has been hesitant about moving up to middleweight to fight Anderson Silva for the middleweight title, but that doesn't mean he never will.
He's talented enough that he'd most definitely enter the superfight with a legitimate hope of success, though he would be at a distinct size disadvantage.
Whether GSP will/should move up to 185 has been a topic of much debate for a few years now. If he ever does go through with the move, he just may become the UFC's newest multi-division champion.