Positional Battles to Pay the Most Attention to in Spring Training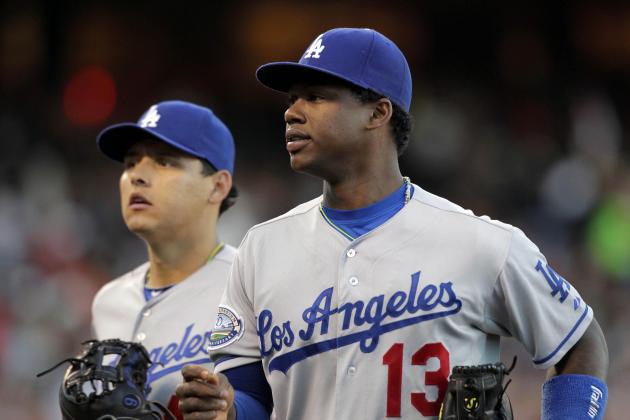 Cary Edmondson-USA TODAY Sports
The Dodgers have a puzzle to solve on the left side of their infield this spring.
Predicting who's going to play where during the winter months is easy. Actually figuring it out during the spring months is considerably less easy.
Every club in the majors is going to have at least one position battle going on during spring training. Even teams that have their eyes on contending in 2013 are going to have a few things to figure out before the season opens in late March.
You don't have to pay attention to all of the position battles that will be going on this spring. You won't be able to get a wink of sleep if you do that, and I wouldn't wish that upon you, dear friend. You're better off being selective.
Allow me to point you in the right direction(s). Here's a rundown of 10 position battles you should be following this spring.
Note: Stats courtesy of Baseball-Reference.com unless otherwise noted.
Begin Slideshow

»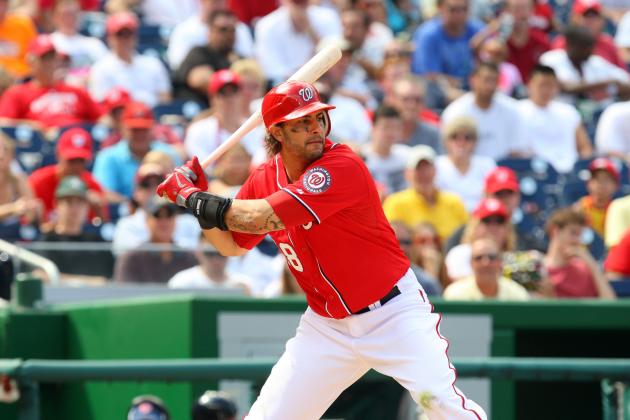 Ned Dishman/Getty Images
Mike Morse
The Seattle Mariners have made some improvements this winter, but you shouldn't have your eye on them this spring because they're a slam-dunk contender for 2013.
You should have your eye on them because they're going to be a veritable circus, as Seattle manager Eric Wedge is going to have a real clustermess on his hands in terms of who's going to play where.
With Mike Morse and Kendrys Morales joining the team this winter, the Mariners find themselves with two first base/DH types. They have another DH-type player in Jesus Montero, and a young first baseman in Justin Smoak who wouldn't do the Mariners much good coming off the bench.
Furthermore, the Mariners have two veteran outfielders in Raul Ibanez and Jason Bay who they need to find playing time for. That's going to be all the more difficult if Morse makes his way into the outfield mix, which looks like a sure bet right now.
So, in a nutshell, what Wedge is going to have to figure out this spring is who his everyday first baseman and DH are and how his outfield is going to be arranged. That will be hard enough, and things will get even more complicated for him if Montero is still the defensive liability behind the plate that he was in 2012.
Fair warning, Mariners assistants: Wedge is going to need a steady supply of coffee and aspirin.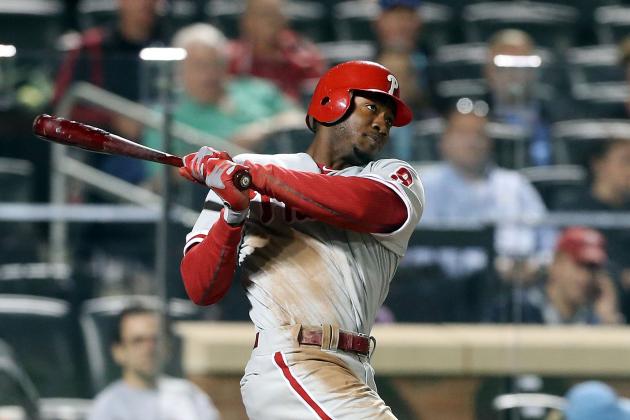 Jim McIsaac/Getty Images
Domonic Brown
Because they apparently love physical comedy, the Philadelphia Phillies' plan is to play the newly acquired Delmon Young in right field in 2013.
This would be the same Delmon Young who may be the worst corner outfielder in existence. And yes, he's also the same Delmon Young who hasn't played in right field since 2007.
If, perhaps by some miracle, Philadelphia's plan for Young actually pans out, there's going to be quite the competition for playing time in left field. Among the contestants will be former top prospect Domonic Brown, Darin Ruf, John Mayberry Jr. and Laynce Nix.
Brown would seem to have the inside track at the job, as he's penciled in as the team's left fielder on the club's official website. He has much to prove, however, as his major league samplings in his career have been disappointing. In parts of three seasons, he's compiled a mere .703 OPS and has played sloppy defense.
Figuring out the left field quandary will be hard enough for Phillies manager Charlie Manuel. But things will be made all the more difficult if Young bombs as a right fielder this spring, which could very well happen given his inexperience as a right field and his generally horrid skills in the outfield.
Then Manuel will be left with two corner outfield spots to figure out, and he'll be forced to do so with a shortage of quality candidates.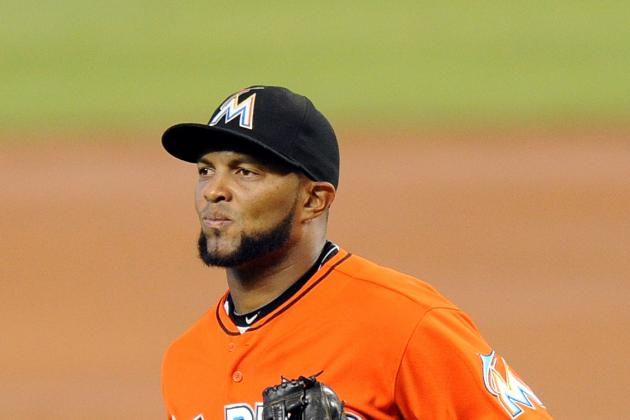 Steve Mitchell-USA TODAY Sports
Emilio Bonifacio
The Toronto Blue Jays look stacked after a series of high-profile moves this offseason, but they have less-than-certain situations at second and first base.
The Blue Jays have a plan for first base, as Shi Davidi of Sportsnet.ca says John Gibbons is planning on playing Adam Lind against both left- and right-handers in 2013. That would allow Edwin Encarnacion to DH on a full-time basis, which is a wise plan.
Second base is a little trickier. The Blue Jays have new toy Emilio Bonifacio penciled in to be their starting second baseman, but Maicer Izturis could emerge as a better option.
Bonifacio is more of a utility man than a pure second baseman. He's played all over the field during his career, including at third and short and in all three outfield spots.
Izturis isn't a pure second baseman either, but he's more experienced at the position than Bonifacio is and a better defender to boot. Per FanGraphs, Izturis owns a 7.6 UZR/150 at second base, whereas Bonifacio owns a minus-6.4 UZR/150 for his career at second.
Playing Izturis at second base on a full-time basis would allow Gibbons to strengthen his defense while, in turn, strengthening his bench by using Bonifacio as a utility man and pinch-runner.
In theory, that would make the Blue Jays a better overall team, which seems to be the whole idea in Toronto these days (he said with his tongue in his cheek).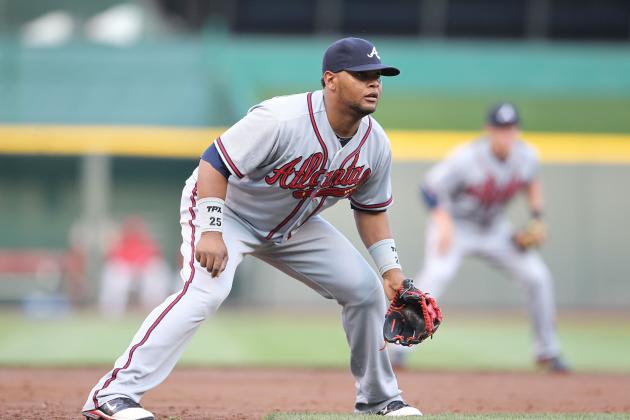 Andy Lyons/Getty Images
Juan Francisco
The Atlanta Braves have an insanely good outfield and are set at first base, second base and shortstop, but the hot corner has a big question mark hovering over it.
Fredi Gonzalez has Juan Francisco and Chris Johnson to play at third base, and the word from David O'Brien of the Atlanta Journal Constitution is that the plan is to platoon them.
This is a plan that could easily become unraveled. Johnson is a right-handed hitter, but he's awful against left-handed pitching. He managed just a .672 OPS against southpaws in 2012, and he owns a .667 OPS against lefties for his career.
If Johnson struggles against lefties in spring training, the door will be open for Francisco to establish himself as a full-time starter at third rather than as a platoon partner.
Francisco needs to work on his patience and plate discipline, but he has pop in his bat and is a better defender at third than Johnson. Per FanGraphs, he owns a 4.8 UZR/150 at third for his career. Johnson has a minus-16.3 UZR/150 at third for his career.
Of course, it's always possible that Johnson will show up to camp and start mashing lefties and flashing some nifty leather at third base. If he does that, Gonzalez could tab him as a full-time starter over Francisco.
Care to make a wager?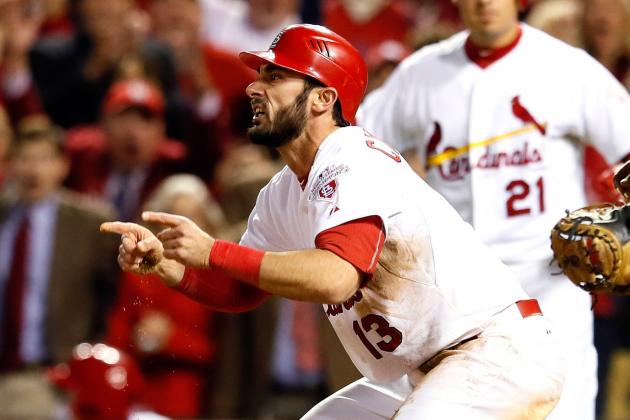 Kevin C. Cox/Getty Images
Matt Carpenter
St. Louis Cardinals general manager John Mozeliak said earlier this month that he's comfortable with Daniel Descalso at second base, noting that it's his job to lose.
But watch out for Matt Carpenter.
The word is that Carpenter has been working hard to improve his skills at second base this offseason. Whereas it's Descalso's job to lose, it sounds like it's Carpenter's job to win.
Descalso may not be hard to supplant. He's not much of a hitter, with a career OPS of .654, and he's hardly a Gold Glover in the field. He has a minus-2.8 UZR/150 for his career as a second baseman (see FanGraphs).
Carpenter, meanwhile, has plenty of potential as an offensive player. He played in 114 games in 2012, compiling an .828 OPS and hitting six home runs. Over a full season, he could pan out to be an above-average offensive producer at second base.
But first he has to prove that he can handle the position defensively. If he can't, Mike Matheny will probably prefer to keep him on the bench as an infield rover and as a left-handed pinch-hitter.
Either way, Cardinals gonna Cardinals. They're always a sure bet to contend.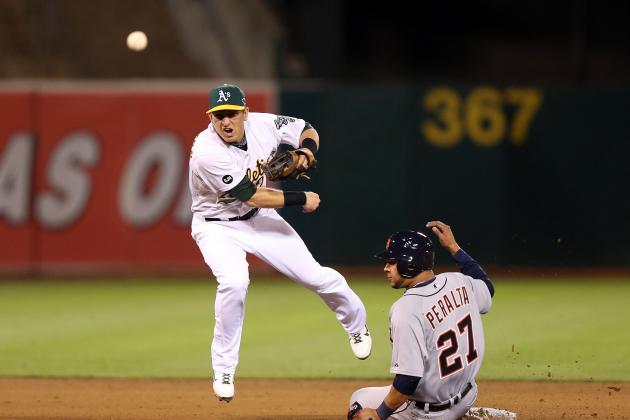 Ezra Shaw/Getty Images
Cliff Pennington
The Arizona Diamondbacks wanted to find a shortstop this winter. They ended up finding two, trading for the slick-fielding Cliff Pennington and talented prospect Didi Gregorius.
The job looks like Pennington's to lose, as he just inked a two-year contract and he has far more experience than Gregorius at the major league level. He's also a much more experienced shortstop than Willie Bloomquist, who should be returning to a utility role in 2013.
But don't sleep on Gregorius. He's young and he has iffy offensive upside, but Arizona GM Kevin Towers loves him. He even went so far as to compare Gregorius to Derek Jeter, which is the kind of thing you do only if you're really confident or certifiably insane.
The D-Backs know that Gregorius can field his position and that he has some pop and some speed. If he comes out this spring and surprises the D-Backs with an improved approach at the plate, they could push Pennington aside and hand their starting shortstop job over to their young stud right away.
This is not to say that he has to knock the cover off the ball time after time. He may just have to look better than Pennington at the plate, which isn't that hard. Pennington has a .669 OPS for his career, and is coming off a season in which he managed a mere .589 OPS with Oakland.
He may very well end up being the lesser of Arizona's two prize shortstop acquisitions.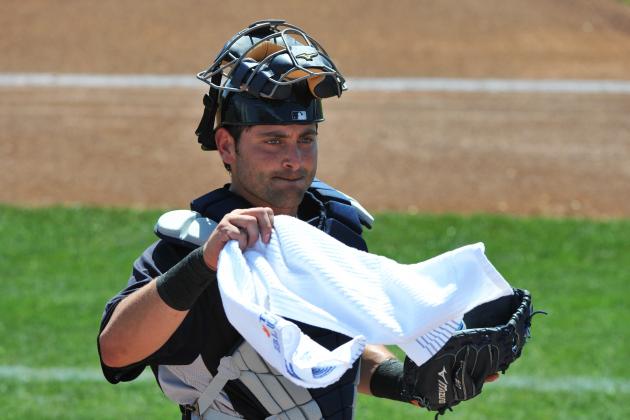 Al Messerschmidt/Getty Images
Francisco Cervelli
With Russell Martin in Pittsburgh, the Yankees are going with Moe, Larry and Curly at catcher in 2013.
Make that Chris Stewart, Francisco Cervelli and Austin Romine. Same difference.
Stewart and Cervelli are the favorites to win the job for now, as Yankees general manager Brian Cashman has said that he expects Romine to start the season in Triple-A. He's going to have to play very well this spring to earn regular playing time right out of the gate.
That's a possibility, but Stewart and Cervelli know the ropes better than Romine does. They have a fair amount of major league experience between the two of them, and both of them are appealing because they're above-average defenders behind the plate who call a solid game.
If all things are equal on those fronts this spring, then Joe Girardi will presumably go with whoever hits better in spring training as his regular catcher in 2013. Cervelli should have the leg up there, as he's traditionally been a halfway decent hitter in the majors and the minors.
If things aren't equal in terms of defense and game-calling, then offense may matter very little when Girardi makes his decision. He and the Yankees prefer to have a defensive-minded catcher.
To that end, Stewart should have a leg up. He can't hit much, but he's a very strong defender and he owns an impressive 3.31 catcher's ERA for his career.
If all else fails, the Yankees could always bring back Jorge Posada. Because, you know, what would George do?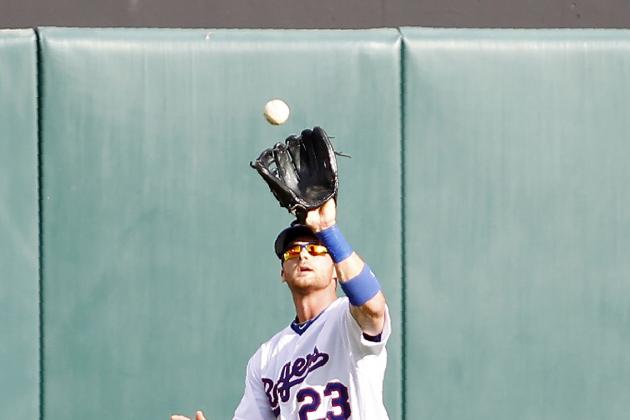 Rick Yeatts/Getty Images
Craig Gentry
The Texas Rangers have some pretty big shoes to fill in center field this spring, as their last primary center fielder was a dude named Josh Hamilton.
T.R. Sullivan of MLB.com says there will be a competition for the center field job this spring between Craig Gentry and Leonys Martin. Gentry has been a role-player on the Rangers for four years, and Martin is a well-regarded prospect who defected from Cuba in 2011.
Gentry's main advantage is his glove. He can go get it in center field with the best of them, as evidenced by his career 29.8 UZR/150 as a center fielder (see FanGraphs). A full season's worth of action would put him in Gold Glove territory.
Gentry's bat is coming along as well. He had a .367 on-base percentage in 2012, and he could easily steal upwards of 30 bases with his speed over a full season.
Martin is more of an unknown, but the scouting reports on him are positive. His bat may have more upside, especially in the power department. Martin is coming off a season that saw him slug .610 in 55 games at the Triple-A level with 12 home runs.
If Martin continues to rake in spring training while playing even adequate defense, he'll probably get the nod. The Rangers need as much offensive firepower as they can get after losing both Hamilton and Mike Napoli to free agency this winter.
Or they could just go ahead and sign Michael Bourn...But nah...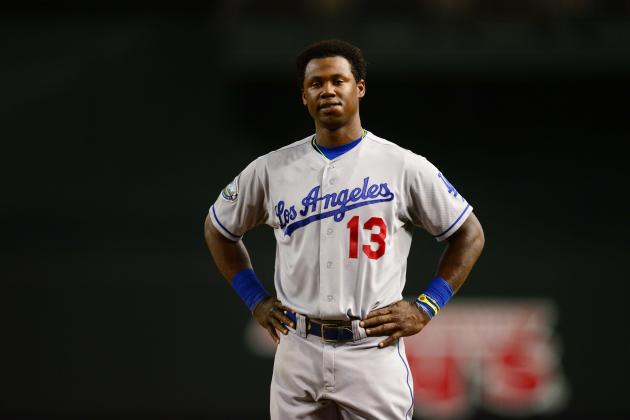 Mark J. Rebilas-USA TODAY Sports
Hanley Ramirez
The Los Angeles Dodgers have a ton of rich contracts on their payroll, but they're not perfect. The left side of their infield is a real quagmire.
The plan, according to the Los Angeles Times, is for Hanley Ramirez to play shortstop. Bill Plunkett of the Orange County Register wrote recently that 2012 surprise story Luis Cruz will get the first shot at third base.
Neither plan could come to fruition. As much as the Dodgers want Hanley to play short, he's not a good shortstop to begin with and he's not going to get many reps at short this spring in the World Baseball Classic. Not while Jose Reyes and Erick Aybar are on the roster, anyway.
Additionally, Cruz may fail to regain the momentum that he had in 2012 during spring training, in which case the Dodgers will be tempted to play Ramirez at third base on a full-time basis.
They'll be further tempted to do that if Dee Gordon reestablishes himself as a promising young shortstop and leadoff man. If he shows off an improved approach at the plate and better focus in the field, he'll be in the club's good graces again.
Regardless, the entire situation will probably end up going down to the wire.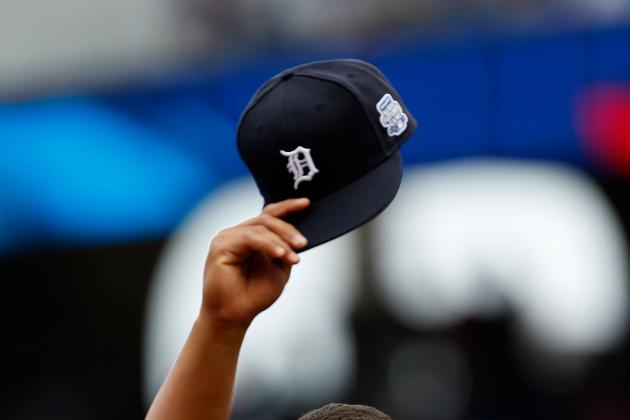 Jamie Squire/Getty Images
Bruce Rondon
I didn't want to include any pitching battles in this discussion because there are going to be too many of them and few of them are going to matter in a significant way.
But the Detroit Tigers' closer competition is just too fascinating to ignore. We know there's going to be one, we know who the contestants are, and we know that whoever wins is going to be closing games for a legit championship contender.
The signs indicate that the job is Bruce Rondon's to lose, and Tigers managed Jim Leyland said last week that he's going to commit extra time during spring training to working with Rondon.
"I got a lot of patience," said Leyland, via the Detroit Free Press. "We'll see how [Rondon] looks. The one thing about spring training -- he doesn't know this -- but I'm going to spend a lot of time with him. He won't know I'm spending time with him, but I am. And I'm going to get a feel for what he's like."
One thing that's for sure is that Rondon can throw hard. His fastball routinely hits triple digits, and he's supposedly thrown as hard as 103 miles per hour before.
Rondon's control is the question mark, and it's a question mark that could cost him a chance to open the season as Detroit's closer. If it does, then the competition will shift to Phil Coke, Joaquin Benoit and Octavio Dotel.
If none of them prove able, the Tigers may see who else is out there. That's when they could give Brian Wilson a call.
If they do, a fascinating situation will become more fascinating. And beardier.
If you want to talk baseball, hit me up on Twitter.