Michigan Basketball: 5 Keys to Beating Indiana in B1G Showdown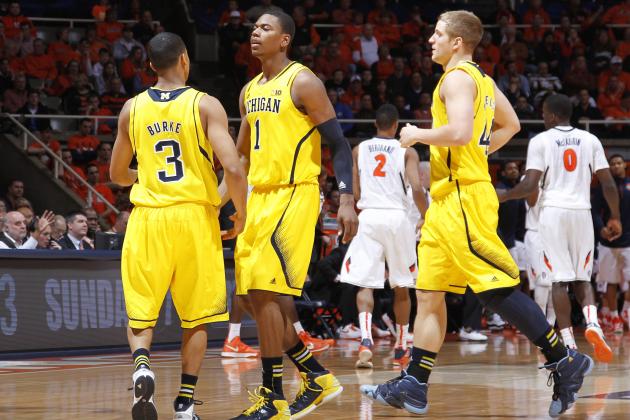 Joe Robbins/Getty Images
Several of the Michigan Wolverines will have tough assignments in their primetime tilt with the Indiana Hoosiers on Saturday.
The Big Ten Conference tilt everyone has been waiting for is merely days away. The No. 1 Michigan Wolverines (20-1, 7-1) are back on top of the national rankings for the first time since 1992, but the No. 3 Indiana Hoosiers (19-2, 7-1) are looking to dethrone the Maize and Blue at Assembly Hall.
This matchup of Top Five teams will play host to ESPN's College GameDay and is set for a prime-time tipoff (9 p.m. EST).
Indiana got the better of Michigan in a 73-71 victory at home last season, but the Wolverines were able to top the Hoosiers 68-56 in the second meeting at the Crisler Center.
What will Michigan need to do in order to come out on top of this matchup between national title contenders? Click ahead to find out the Wolverines' five keys to a victory over the Hoosiers!
Begin Slideshow

»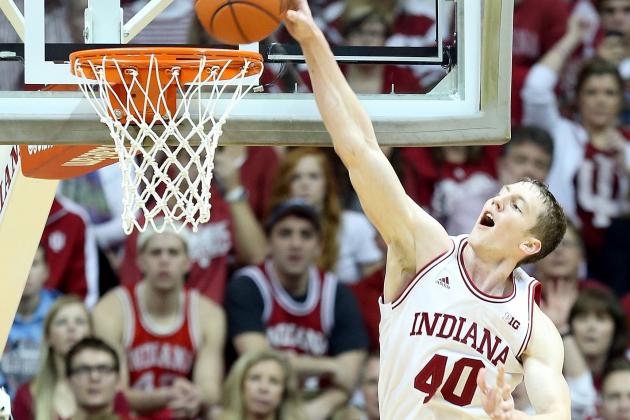 Andy Lyons/Getty Images
Cody Zeller is one of the most dominant post players in college basketball.
If the Michigan Wolverines are going to walk out of Assembly Hall with a victory, big men Mitch McGary, Jordan Morgan and Jon Horford need to establish a physical presence in the paint and make preseason All-American power forward Cody Zeller work for everything.
Although Zeller has just 11 points on 2-of-11 shooting in Indiana's recent tilts with the Penn State Nittany Lions and Michigan State Spartans, the 7'0", 240-pounder still has the ability to dominate in the post.
The sophomore big man bounced back in Indiana's 97-60 rout of the Purdue Boilermakers on Wednesday, though, and scored 19 points to go along with 11 rebounds.
Even though Zeller's scoring has been down as of late, the Washington, Ind. product has still been a force on the glass. Zeller is averaging 8.1 rebounds per game.
McGary, a true freshman who has made great strides forward in all facets of his game since the beginning of the season, will be tasked with limiting Zeller's impact.
Horford turned in an impressive 17 minutes of action against the Illinois Fighting Illini, but Zeller and the Hoosiers will provide the redshirt sophomore with his toughest test yet.
At the moment, Morgan's status is up in the air as a result of an ankle injury, which does not bode well for Michigan. If Morgan is unable to go on Saturday, the Wolverines will have to play McGary and Horford much longer than usual.
Redshirt freshman Max Bielfeldt will also be on the floor more often than ever before if Morgan is ruled out.
Long story short, Michigan's young frontcourt will have a hard time handling Zeller, but as long as the Wolverines are able to make him work on every trip down the floor, they will have a chance to steal one from Indiana.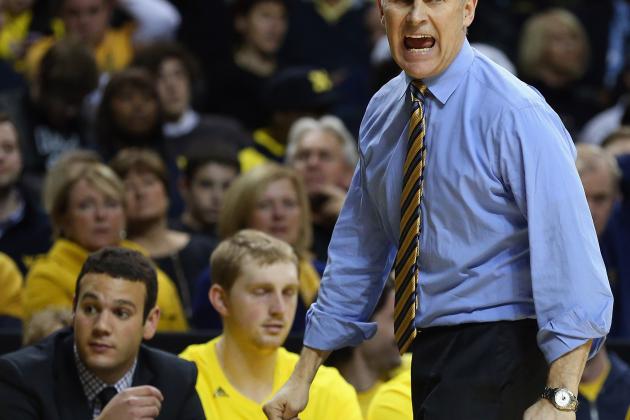 Mike Stobe/Getty Images
John Beilein's team has stayed out of foul trouble in just about every game this season.
One of the main reasons why the Indiana Hoosiers are averaging 83.3 points per game this season is because of their ability to get to the free-throw line.
The Hoosiers have attempted 558 free throws (27.9 per game) this season, which is more than anyone else in college basketball. Additionally, all of Indiana's key contributors shoot 70 percent or better from the charity stripe.
Conversely, the Michigan Wolverines are the No. 1 team in the country when it comes to avoiding foul trouble and giving opponents freebies. Head coach John Beilein's team is only allowing opposing teams to attempt 11.3 free throws per game.
This is going to be one of the most important statistics to monitor throughout the prime-time showdown, and if the Wolverines can avoid foul trouble and keep Indiana off of the free-throw line as much as possible, they should be able to beat the Hoosiers.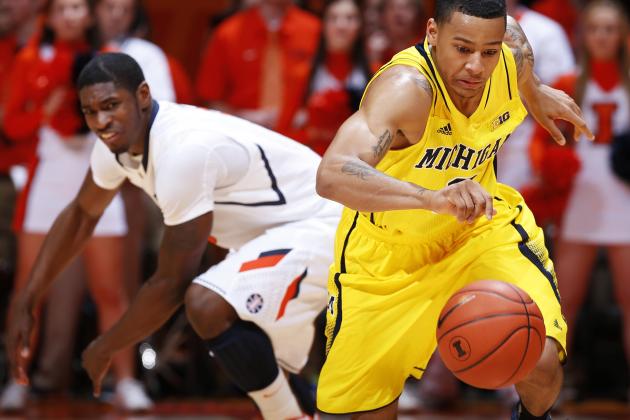 Joe Robbins/Getty Images
Trey Burke and the Wolverines will need to play well in transition to top the Hoosiers.
The Michigan Wolverines love to get out and run in transition to create countless scoring opportunities, and the Indiana Hoosiers employ a similar strategy.
All of Indiana's forwards can run the floor better than just about anyone in the country, especially Cody Zeller. The Wolverines will have to play outstanding transition defense in order to topple the Hoosiers on the road.
Michigan will struggle on the offensive glass and will need get back on defense quicker than it ever has before.
If junior shooting guard Victor Oladipo, Yogi Ferrell and Zeller are beating the Wolverines to the other end of the floor, it will be a long night in Bloomington for the Maize and Blue.
Andy Lyons/Getty Images
Jordan Hulls is a deadly three-point shooter for Indiana.
The Indiana Hoosiers have only lost two games this season, and those defeats at the hands of the nationally ranked Butler Bulldogs and Wisconsin Badgers have an unfortunate similarity for senior point guard Jordan Hulls.
The Bloomington, Ind. native failed to knock down a single three-pointer in each of those losses. The Iowa Hawkeyes were also able to hold Hulls scoreless and nearly upset the Hoosiers on Dec. 31.
Hulls went a combined 6-of-19 from the field and missed all seven of his three-point attempts. Stretches like this are rare for Hulls, though. The 2012 All-Big Ten honorable mention is shooting close to 50 percent from beyond the arc and does not need much separation to pull up for a jumper.
Whoever is guarding Hulls on Saturday night should under no circumstances leave the 6'0", 182-pounder, or allow him to slip behind screens to knock down open threes.
Unless Yogi Ferrell is on the floor at the same time as Hulls, which is a lineup head coach Tom Crean is not afraid to utilize, sophomore point guard Trey Burke will be tasked with keeping the three-point specialist in check.
When Burke is guarding Ferrell, freshman shooting guard Nik Stauskas will likely be tasked with making sure Hulls does not burn the Wolverines from distance.
Michigan's guards have to keep Hulls in check to top Indiana this weekend.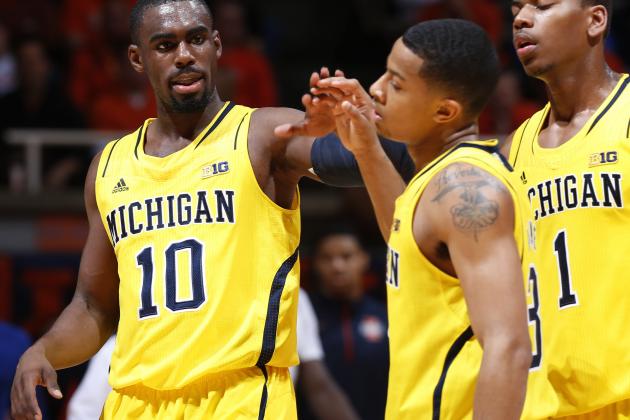 Joe Robbins/Getty Images
Michigan will have to take care of the basketball to come away with a win at Assembly Hall.
The most important thing the Michigan Wolverines need to concern themselves with in this marquee Big Ten Conference tilt with the Indiana Hoosiers is taking care of the basketball.
In Michigan's only loss of the season, which came on the road against the Ohio State Buckeyes, the Wolverines committed 13 turnovers. If the Maize and Blue have a similar performance on Saturday, the Hoosiers will easily defeat Michigan.
The Wolverines will need Trey Burke to distribute without forcing passes into traffic, and whoever is being guarded by Victor Oladipo has to be cautious at all times.
In case you missed last Sunday's Big Ten clash between Indiana and the Michigan State Spartans, all you need to know is that Oladipo proved he is one of the best players in college basketball. In addition to scoring 21 points and pulling down seven rebounds, Oladipo notched seven steals and three blocks.
Michigan cannot afford to give Oladipo and the rest of the Hoosiers too many opportunities to score points off turnovers if it wants to remain at No. 1 in the polls come Monday.