10 Programs Most Likely to Build the Next Dominant O-Line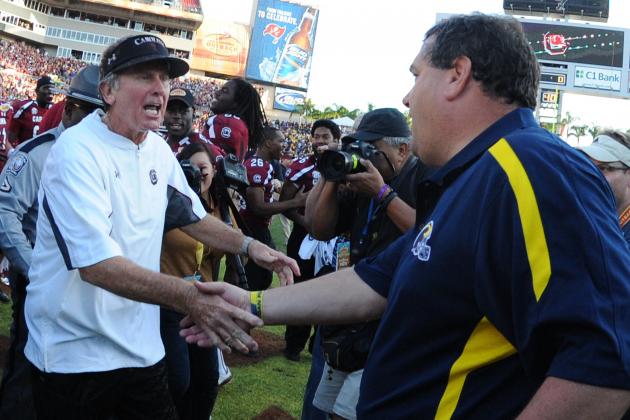 Al Messerschmidt/Getty Images

They say "it starts up front" in football, meaning a team's success starts with the play of its offensive line. The big uglies up front are crucial, because they affect the team's offense and ability to score points. If the offensive line can't open up holes for the running game or protect the quarterback, not only does the offense have major problems, but so does the entire team.
This is why you see many programs (cough-Alabama-cough) invest heavily in their offensive line. Programs scour the trail looking for great offensive trench men to bring to campus. The Crimson Tide had one of the best OL units in recent history last year, and if you think Johnny Manziel's success wasn't helped by great OL play, then you're wrong.
For the following piece, I'm going to look at the top 10 programs who are most likely to build the next dominant OL unit.
Begin Slideshow

»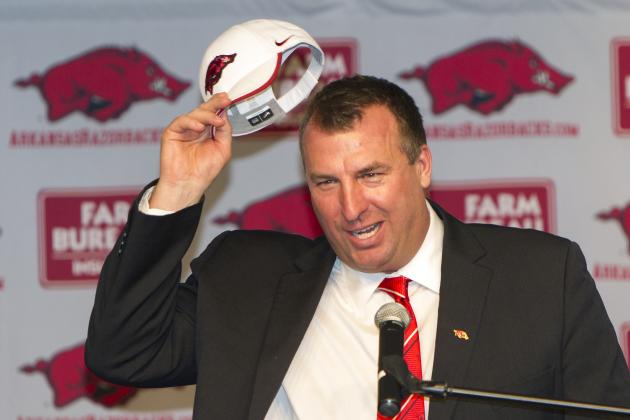 Wesley Hitt/Getty Images

I put the Hogs on this spot, because I expect them to make a transition on offense under new coach Bret Bielema. Bielema will likely move the offensive philosophy of the program from a pass-first mentality to a run heavy scheme.
He comes from Wisconsin, where, under him, the Badgers were among the top rushing teams year after year. In order for Bielema to effectively implement his transition, he's going to need great OL's.
Look for Arkasnas to start building a great OL as we move forward.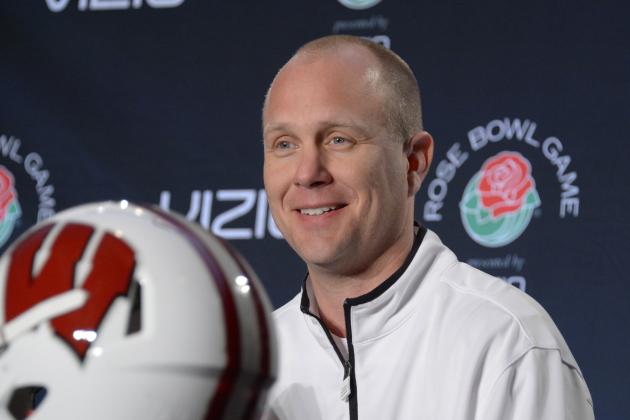 USA TODAY Sports

The Badgers are an OL factory, as they churn out great blockers year after year. Even though Bret Bielema is in Fayetteville, look for Chris Andersen to continue to run a physical rushing offense at Camp Randall.
Last year, Wiscosin signed Dan Voltz, an OL prospect that I really liked who can play OG or OT. Voltz is one of five solid OL prospects the Badgers will have signed from 2012-2013 recruiting.
Things won't be changing much in Madison.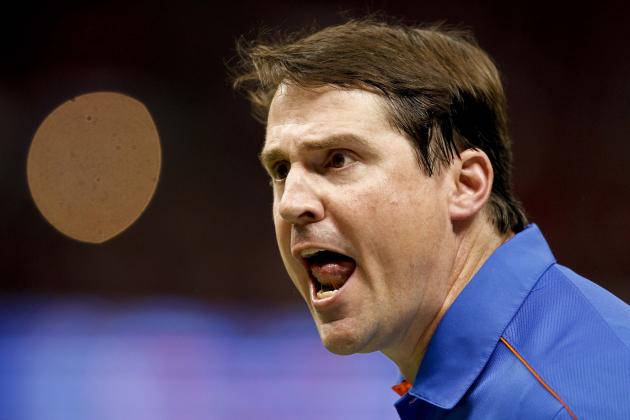 USA Today Sports

Will Muschamp, if you look closely, is building the Gators to be a physical football team that plays great defense and can run the ball. Sound familiar? Muschamp is from the school of Nick Saban, so it should.
The lead Gator is investing in the OL trenches, as he will have signed at least six OL prospects since last year on February 6.
From landing D.J. Humphries last year to bringing in Nebraska transfer Tyler Moore this year, Muschamp is constructing an OL unit that should do some damage in Gainesville.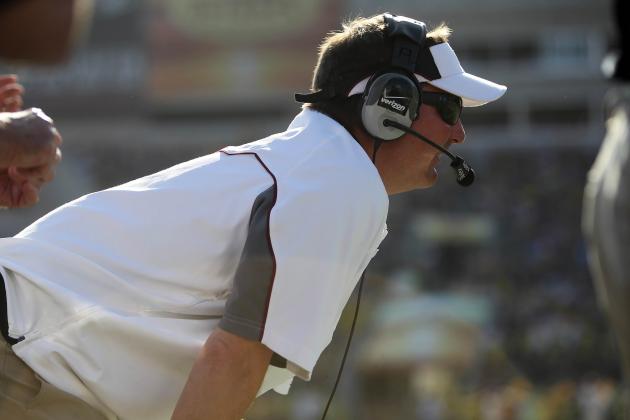 Kim Klement-USA TODAY Sports

Is there any better example of a coach reinventing himself than Steve Spurrier? The Ol' Ball Coach won at Florida with the Fun 'N' Gun and now has South Carolina built as a physical team that can pound the ball.
Spurrier is on the verge of signing 10 OL prospects over the past two recruiting classes, once signing day comes (February 6). Players like Brock Stadnik, D.J. Park, Na'Ty Rodgers and Joe Harris will be blocking up front in Columbia.
Look for Spurrier to continue using the running game to score points as he closes out a great coaching career.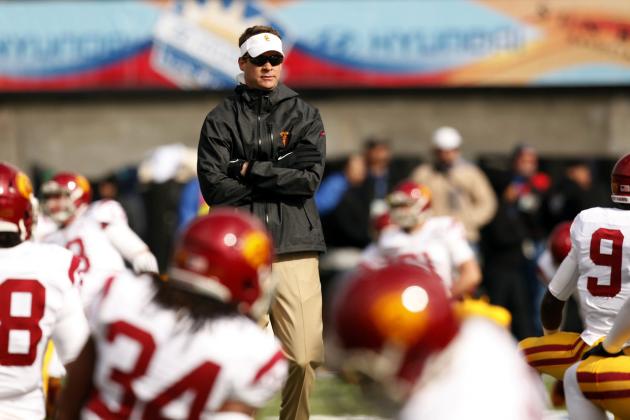 Ivan Pierre Aguirre-USA TODAY Sports

Lane Kiffin will have brought in six quality OL prospects over the past two recruiting cycles by this time next week. The group is already making an impact as Max Tuerk started several games at LT and LG as a true freshman in 2012.
Zach Banner, Chad Wheeler and Jordan Simmons will all challenge for snaps this year, and along with Tuerk appear to be the core of a future great OL unit.
Nico Falah, a 2013 commit, is raw but very athletic, and Khaliel Rodgers will come in and develop as a strong OC/OG player.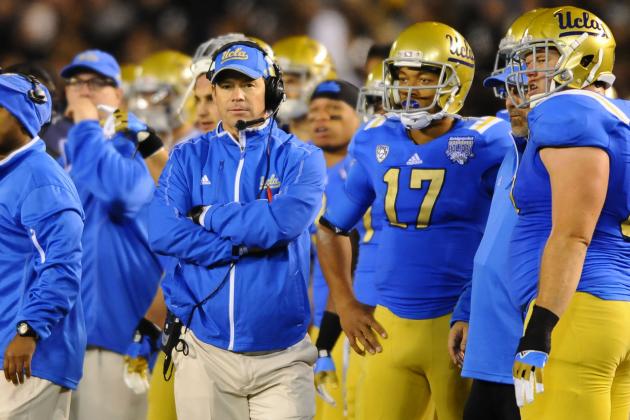 Christopher Hanewinckel-USA TODAY Sports

Not to be outdone by his crosstown counterpart, Jim Mora has also begun to build a future great OL. Once he signs his class next Wednesday, Mora will have signed 12 OL's over the past two classes.
OC Scott Quessenberry has the tools to be an early starter at the OC position. John Lopez and Caleb Benenoch also stand out from this year's haul.
Last year Mora got pledges from 6'8" Simon Goines and Lacy Westbrook among others. The Bruins should be able to find solid five guys to protect their QB's in the near future.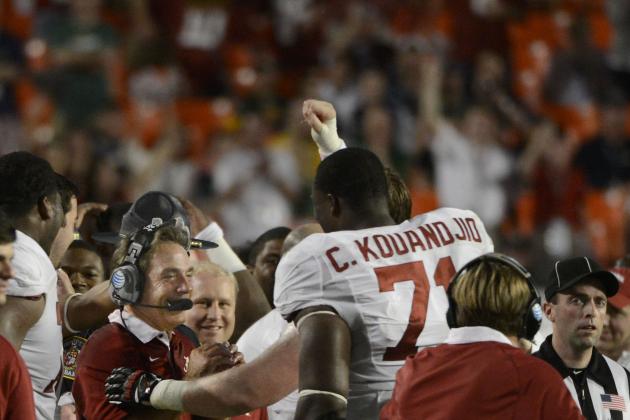 Eileen Blass-USA TODAY Sports

'Bama's OL unit this past season featured five guys who all figure to be NFL starters at some point in their career. So why won't they re-build that again, right?
This year, OG Grant Hill just fits their "type" of a big and strong OL prospect perfectly. OT Leon Brown is perhaps the top JUCO OL prospect for 2013 recruiting, and 2012 commit Brandon Greene figures to make an impact at OT soon enough.
Nick Saban likes to play power football, and he won't take long at all to re-stock last year's awesome OL unit.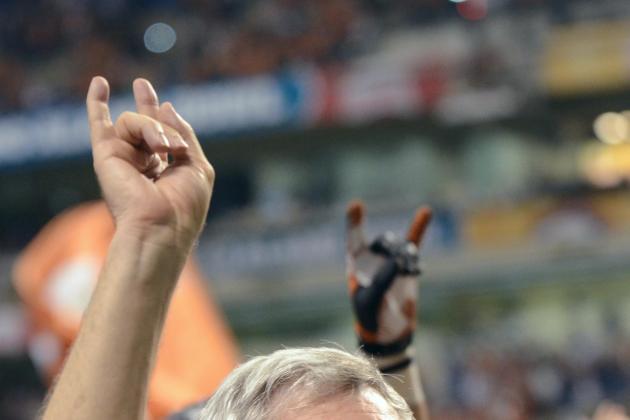 Brendan Maloney-USA TODAY Sports

This year alone, Texas will sign four OL prospects who all have the talent to be front line starters in Austin before they depart. From Darius James to JUCO OT Desmond Harrison to Jake Raulerson to Kent Perkins, that's impressive.
Last year, Mack Brown took in three prospects, too. OG Curtis Riser led the group that also featured Kennedy Estelle, Cam Hughes, and JUCO OL Donald Hawkins.
I'm not even counting DT/OL A'Shawn Robinson yet from the 2013 class, and Texas still could land OG/DT Andrew Billings too.
Not hard to see that the Longhorns will boast a great OL unit very soon.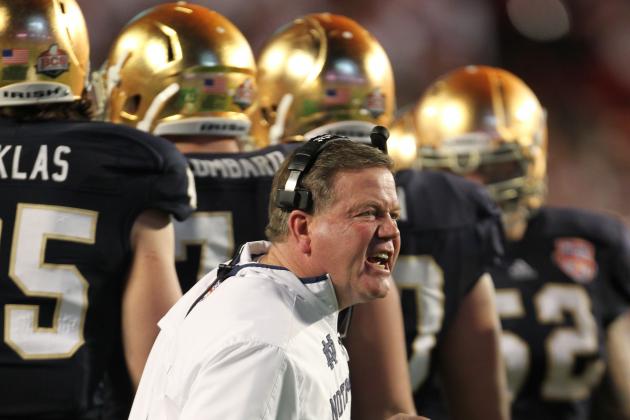 Brian Spurlock-USA TODAY Sports

Brian Kelly has five OL commits this year. Since he is mixing in some power running principles to his spread passing game at Notre Dame, making sure he has a good OL unit is very important.
The Irish got solid production from their OL unit for the national runner-up team, and that shouldn't change.
From signing Jarron Jones and Ronnie Stanley in 2012, to bringing in Hunter Bivin, Steve Elmer and Colin McGovern this year, Kelly is definitely building one of the next great offensive lines.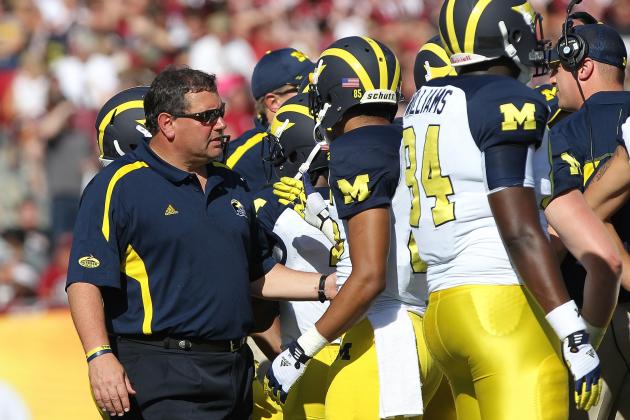 Kim Klement-USA TODAY Sports

Earlier last season, I wrote a column on why Michigan should be very strong in OL trenches for years to come. I urge you to read it, if you have not.
Big Blue will have signed at least 10 OL prospects come February 6. They have six OL commitments this year alone, and Brady Hoke has made it a point of emphasis to not only get depth on the OL depth chart, but an upgrade in talent.
He flipped Kyle Kalis from Michigan last year, and this year has David Dawson, Pat Kugler and Kyle Bosch as guard commitments alone. If Michigan has "OL problems" at all within the next three to four years, then something is seriously wrong in Ann Arbor.
Edwin Weathersby is the College Football Recruiting Analyst for Bleacher Report. He has worked in scouting/player personnel departments for three professional football teams, including the New York Giants, Cleveland Browns and the Las Vegas Gladiators of the Arena League. He spent a year evaluating prep prospects and writing specific recruiting and scouting content articles for Student Sports Football (formerly ESPN Rise-HS). A syndicated scout and writer, he's also contributed to WeAreSC.com, GatorBait.net and Diamonds in the Rough Inc., a College Football and NFL Draft magazine.