Real Madrid vs. Barcelona: 5 Things We Learned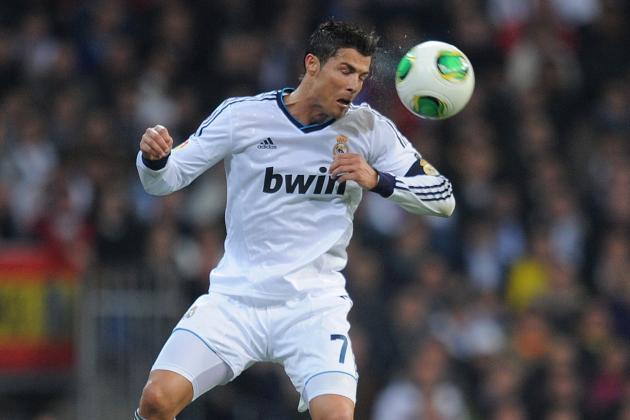 Denis Doyle/Getty Images

Real Madrid and Barcelona met at the Bernabeu in the first semifinal of this season's King's Cup. With Atletico Madrid or Sevilla awaiting in the other side of the bracket, the two Spanish giants were set to battle it out for a spot in the final of the domestic cup competition.
With the first Clasico of 2013 behind us, it is time to look at what we learned from the one-one draw at the Bernabeu.
From Lionel Messi to Cristiano Ronaldo via Raphaël Varane and Diego López, here are five talking points from the King's Cup semifinal.
Begin Slideshow

»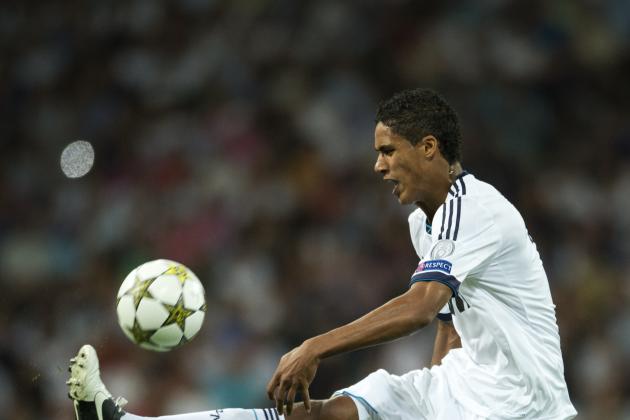 Jasper Juinen/Getty Images

A few weeks back, I wrote an article questioning whether Varane had the potential to replace Pepe at Real Madrid. Boy, did he answer that question tonight. If he had showed early signs that he had immense potential, this was the night the Frenchman won over all Madridistas.
Considering it came in such a crucial match, Pepe and Sergio Ramos—when they return from injury and suspension, respectively—will know they have a fierce competitor for their spot in central defense.
Varane was simply majestic against Barcelona at the Bernabeu. He denied Barcelona on at least three clear occasions and barely put a foot wrong all match.
His clearance off the line from Xavi's shot and two great tackles on Messi to deny the Argentine clear scoring opportunities made him an early contender for man of the match. His goal in the 80th minute, a demonstration of will and power, crowned an epic night from a personal point of view, and it kept his team alive in one of the two competitions its still competing in.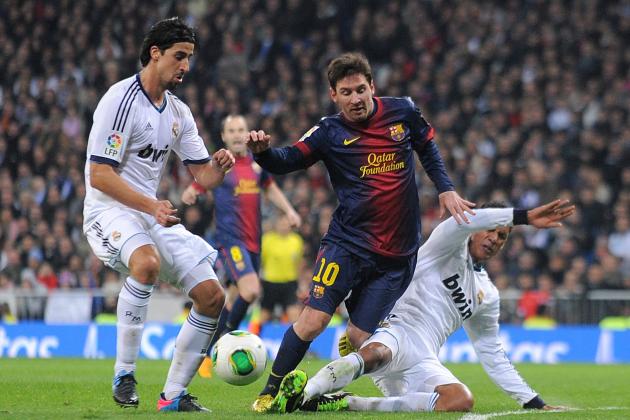 Denis Doyle/Getty Images

If there were any doubts left as to Madrid's belief they could beat Barcelona, they have been snuffed out once again. After the 5-0 and 6-2 thrashings of previous seasons, and despite a good run of late against the Catalans, every time Madrid faced Barcelona, there was a sense of foreboding among Madridistas.
That fear has largely disappeared based on today's match.
Despite contrasting styles, with Madrid letting Barcelona have the ball and relying on counterattacks, Los Blancos were up in the Catalan's faces from the first minute, piling on intense pressure in midfield.
Despite some scuffles, they have also toned down the aggression that characterized some of their matches at a time when they were outplayed and frustrated.
Madrid had had the upper hand in recent Clasicos, dating back to the win at the Camp Nou last season and then winning the Supercup and holding the Catalans to a draw on home soil in the league this season.
However, with their confidence shaken due to the huge gap with their archrivals in the league table, it was possible that doubts would once again make their way into Madrid players' minds.
They had none, and despite being outplayed in various moments, they showed genuine belief they can beat Barcelona again, and win their spot in the Cup final as a consequence.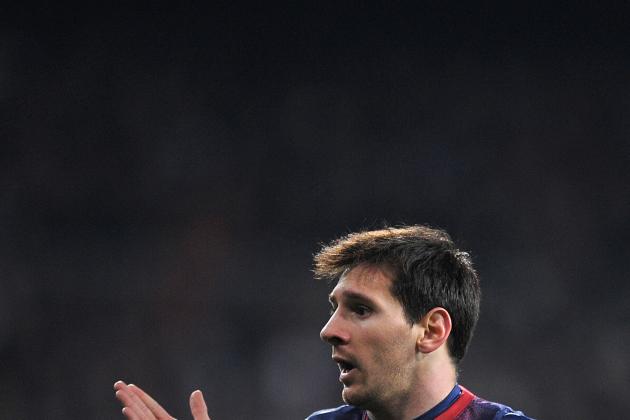 Denis Doyle/Getty Images

Despite all the buildup, Cristiano Ronaldo and Lionel Messi did not get on the score sheet in their first meeting of 2013. However, comparing their two performances, the Argentine came out clearly on top, unlike most of their recent encounters.
Ronaldo, wearing the captain armband for all 90 minutes, was absent for most of the game, with the exception of two early flashes in both halves. He won a dangerous free kick in the early seconds of the game and drew a good save from Pinto with it. He also set up Karim Benzema early in the second half only for the Frenchman to fire high.
He then missed what was arguably Madrid's best chance of the game when he headed wide from no more than a meter away from Pinto's goal in the 59th minute.
Messi, on the other hand, proved to be a hassle for the Madrid defense throughout the game. He drew countless fouls from the Madrid back four, and it is hard to understand how it took so long for Xabi Alonso to be booked, or that Alvaro Arbeloa never went into the book at all.
The Argentine also contributed to Fabregas' goal, his exquisite first touch leaving the former Arsenal captain clear on goal.
Despite Messi having a decent game, both superstars will surely believe they could have done better in the first leg of the semifinal, both being out-shined by a young French center-back.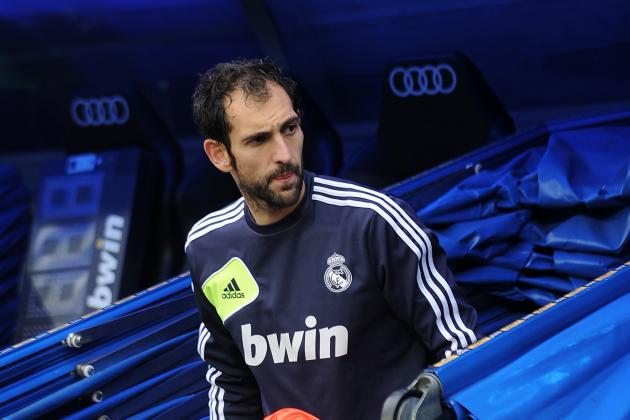 Denis Doyle/Getty Images

This must have been a tough night for Antonio Adán. Having been given the confidence of his manager last month, and Iker Casillas' spot in Madrid's starting XI with it, he must have been bitterly disappointed to start on the bench tonight.
In one of the crucial games for Madrid's season, former Sevilla goalkeeper Diego López was preferred to Adán despite not having played a minute of competitive football with his new teammates.
López, despite a clumsy early first touch that can be attributed to nerves, acquitted himself rather well against Barça. He made two crucial interventions. The first came in the second half, tightening the angle sufficiently for Pedro to fire wide when he was one-on-one with the keeper. The second came in the closing stages of the game, when López pulled off a great save from Jordi Alba's close-range shot.
Considering there isn't much he could do to prevent Cesc Fabregas' goal, this was a solid debut, and everything seems to point that he will be Mourinho's first choice until Casillas fully recovers.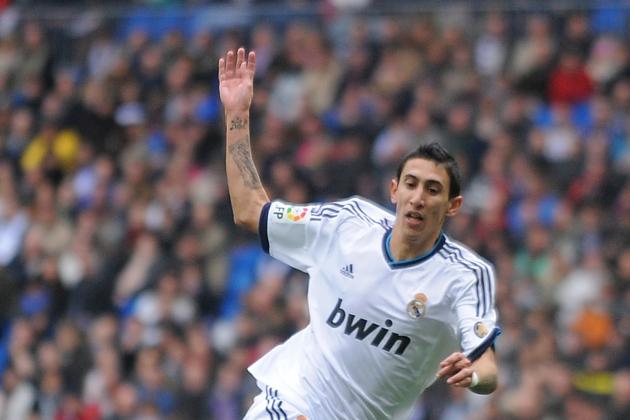 Denis Doyle/Getty Images

After hitting form in last week's match against Valencia, scoring two goals and providing another two for his teammates, Angel Di Maria was dearly missed against Barcelona.
Jose Callejon was brought on to replace him and failed to have an impact on the game. Getting few touches because of Barcelona's dominance of possession, he wasted most of those he had and became increasingly frustrated throughout the match.
In the 41st minute, his frustration boiled over and he went into the referee's book after an angry rant directed at the official. He was the first player to be subbed off by Jose Mourinho and was replaced by Luka Modric 12 minutes into the second half.
The Croatian did not have the desired impact, either, and was largely anonymous for the 35 minutes he was on the pitch. He seemed to lack confidence in the few chances that fell to him, preferring to pass the ball rather than attempt a shot from just outside Pinto's box.
At the moment, it is clear that no one—be it the two that played today or Kaka, who remained on the bench throughout the match—can replace Di Maria in top form.
Obviously, it is complete speculation, but had Özil had a better partner in the creative role for Madrid, Ronaldo would have had more freedom to attack and might have changed the face of the game.