EPL Week 25 Predictions: Players Sure to Land in All-EPL Team for Week's Clash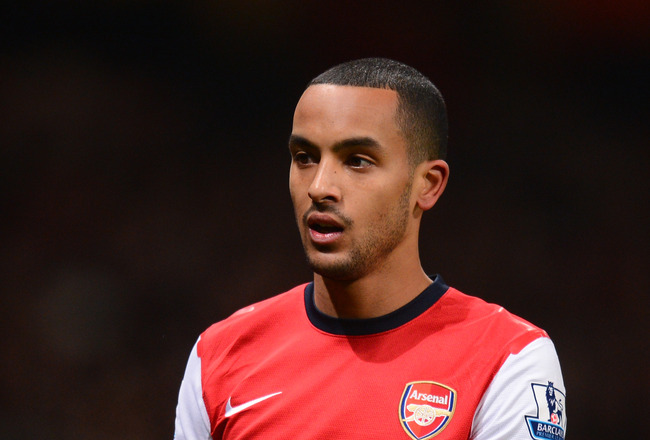 Mike Hewitt/Getty Images
The players in the English Premier League do not have long to recover from the midweek action, as this Saturday and Sunday will feature another full slate of fixtures.
Manchester City will continue its quest to close the gap between itself and rival Manchester United, which sits atop the table.
Chelsea slipped up late against Reading, but Tottenham also failed to earn points in its last match against Norwich. Now, the final two Champions League spots will be hotly contested, with Everton and Arsenal ready to pounce on any more mistakes.
Here are the players who will pull through for their clubs this weekend as the Premiership season nears the home stretch.
Goalkeeper: Julio Cesar, Queens Park Rangers
Clive Rose/Getty Images
Julio Cesar is coming off an admirable performance against Manchester City in which he kept a clean sheet and helped his team earn a point from a 0-0 draw.
Queens Park Rangers is still in last place, but the club has a victory and three draws in its last four Premier League matches. This run has them closer to climbing out of the relegation zone.
Harry Redknapp's arrival certainly has had a positive effect on QPR's form, but much of their recent success is also due to heroics from the Brazilian goalkeeper.
Cesar will continue his acrobatics in the net, and Rangers will get more points this weekend against a Norwich side that has failed to get a victory in a Premiership match in its last seven tries.
Left-Back: Gael Clichy, Manchester City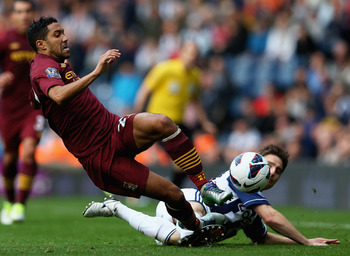 Matthew Lewis/Getty Images
Manchester City's inability to take full points in its match with Queens Park Rangers was a severely disappointing result.
The defending champions now sit seven points out of first place, and they will be looking to spark their attack against an in-form Liverpool side.
The Reds will be heavily preoccupied with David Silva, who had a slow start to the season but now is rampaging through opposing defenses. With all the attention paid to Silva, left-back Gael Clichy will be able to work his way into open areas of the pitch.
The dependable defender will get forward and contribute to the attack while also containing Liverpool's wide players. He will be a key contributor in a City victory.
Centre-Back: Jan Vertonghen, Tottenham
Laurence Griffiths/Getty Images
Tottenham's heralded attack has sputtered in recent weeks, but the defense has stayed strong in order to earn three straight draws in the Premier League.
Andre Villas-Boas will have to work overtime to figure out how to ensure that his team's creative players improve their form, but he will have few worries about his back line with Jan Vertonghen running the unit.
The Belgian has been one of the signings of the season, excelling at both centre- and left-back. But he has settled into his role at the heart of Spurs' defense, and he has been playing extremely well.
This will continue against West Bromwich Albion this weekend as Tottenham finally gets the win it has been looking for recently.
Centre-Back: Chico, Swansea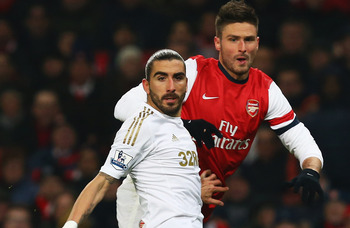 Jan Kruger/Getty Images
Michael Laudrup is making a strong case for himself as the manager of the year, and he has Swansea sitting in eighth place.
Much of the Welsh side's success is owed to the fine form of its centre-backs. Ashley Williams and Chico have led a back line that is tied with Arsenal for the fourth-fewest goals allowed in the Premier League this season.
Chico followed Laudrup from Mallorca to Swansea this summer, and it has proved to be a wise decision for the Spaniard. He is having a fine season, and his form will continue when the Swans take on West Ham this weekend.
While both Williams and Chico will play well, the Swans' new boy will be the better of the pair against the Hammers.
Right-Back: Craig Gardner, Sunderland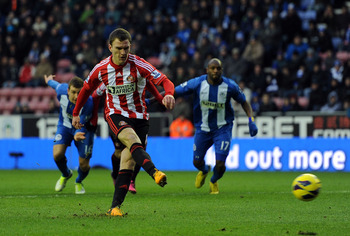 Chris Brunskill/Getty Images
Sunderland was in danger of being in the relegation zone two months ago, but now sits comfortably in the middle of the table.
There have been several important contributors to the Black Cats' improvement, and right-back Craig Gardner's consistency and versatility has made him one of Martin O'Neill's most impressive players this season.
Gardner has a three goals and two assists this season while also playing well defensively.
The 31-year-old has the experience to perform for an entire 90 minutes, and he will ensure that his fellow defenders keep a close eye on Reading's Adam Le Fondre late in the match on Saturday. There will be no heroics for the Royals in this fixutre, and Gardner will stand out during a Sunderland victory.
Left Midfielder: Adam Lallana, Southampton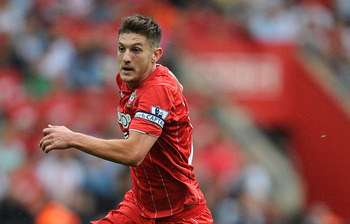 Christopher Lee/Getty Images
Southampton will find its task much easier this weekend after losing to league-leading Manchester United in the middle of the week.
Wigan will be a much less formidable opponent, and Saints midfielder Adam Lallana—who started the match against United on the bench—will be rested and ready to torment the Latics' back line.
Lallana's intelligence and creativity going forward has impressed this season, and only Aston Villa has allowed more goals than Wigan.
There will be opportunities for the 24-year-old, and he will capitalize on them while leading Southampton to a victory.
Central Midfielder: Yohan Cabaye, Newcastle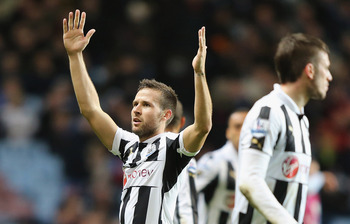 Ian Walton/Getty Images
Injuries have derailed Newcastle's campaign, but key players are returning to impressive form, and the Magpies' misfortunes may not last much longer.
However, the club faces two extremely difficult matches against Chelsea and Tottenham. The Blues are first up, and Alan Pardew will be desperately hoping for more magic from Yohan Cabaye.
The holding midfielder missed significant time this season, but he has delivered two spectacular goals in his past two matches.
The Frenchman will provide more fireworks against the Blues, but it ultimately will not be enough for his side to earn a victory.
Central Midfielder: Juan Mata, Chelsea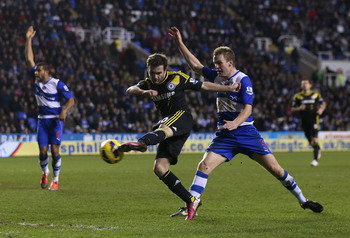 Scott Heavey/Getty Images
With so many quality players in the Premier League, results are always unpredictable. This makes guessing which ones will perform at a high level each weak a difficult task, and picking the same players to excel is not a successful strategy.
But some footballers are talented enough to be an exception to this rule, and Juan Mata is one of these special cases.
If a defense gets too close to him, he will set up one of his teammates, as he has done nine times in EPL matches. But if a back line gives him space, he will punish it himself, which he has also done nine times in league fixtures.
Containing Mata is nearly impossible, and Newcastle will not be up to the task this weekend. Mata will once again be one the most impressive players in England this weekend.
Right Midfielder: Samir Nasri, Manchester City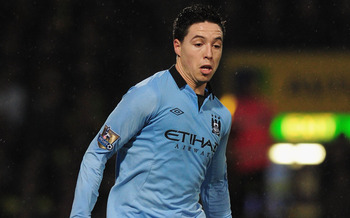 Jamie McDonald/Getty Images
The attention David Silva commands will open up space for Gael Clichy—the player behind him in Manchester City's formation—but it will also take pressure off of Samir Nasri, who lines up on the other side of the pitch.
Nasri has not had his finest campaign thus far, with just a single goal and three assists in 15 Premier League matches.
City will be extremely motivated to bounce back from a 0-0 tie against Queens Park Rangers, and once Silva makes his mark on the upcoming match against Liverpool, Nasri will have plenty of opportunities.
He will not let them go to waste, and Nasri will earn attention for his fine performance this weekend.
Striker: Theo Walcott, Arsenal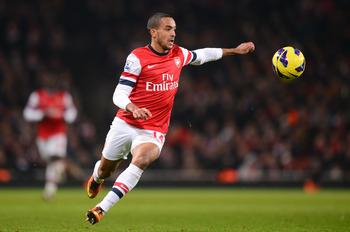 Mike Hewitt/Getty Images
Arsenal faced the prospect of more disappointment when it went down 2-0 to Liverpool, but Olivier Giroud and Theo Walcott pulled the team level.
The team will now try to take full points against Stoke City's stingy defense this weekend.
The match is at the Emirates, and while the Potters defense is more vulnerable when playing away from home, the Gunners still cannot be wasteful with their opportunities.
This will cause Arsene Wenger to put Walcott atop the team's formation, as he has been in better form than any other Arsenal attacker this season. As the focal point of his team's attack, Walcott will add to his already impressive goal total.
Striker: Javier Hernandez, Manchester United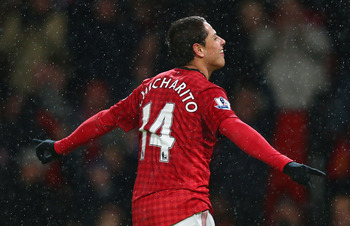 Clive Mason/Getty Images
When something works, try it again. Sir Alex Ferguson has picked up on this piece of wisdom during his 26-year tenure as Manchester United's manager, and that is why he will give Javier Hernandez playing time this weekend against Fulham.
The Mexican has started just five Premier League matches and has also appeared eight times as a substitute. He has eight goals in these matches.
Hernandez also scored twice against Fulham last weekend in United's FA Cup fixture.
Given his success against the Cottagers, Hernandez will see the pitch at some point during the match, and he will be a key contributor in the Red Devils' victory.
Keep Reading