Indiana Basketball: 5 Keys to Beating Michigan in B1G Showdown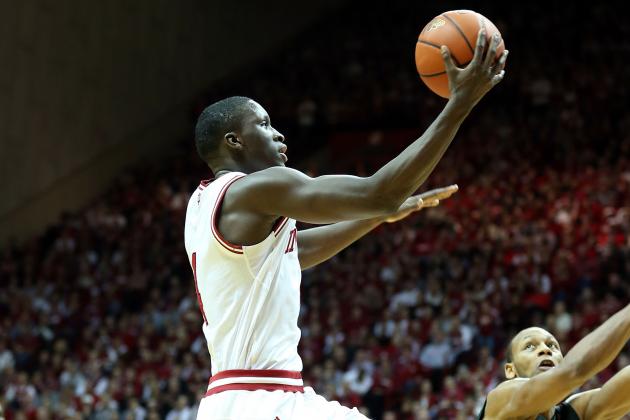 Andy Lyons/Getty Images

Saturday's Big Ten battle between Michigan and Indiana may be the most high-stakes encounter found anywhere in college basketball this season.
The two teams are locked in a battle atop the Big Ten standings, but that's the least of anyone's concerns at this moment. After all, the Hoosiers just knocked the Wolverines' in-state rival off the conference summit just last weekend.
A number one seed could be at stake. The opportunity to play NCAA regional games in Indianapolis looms large.
Both teams survived this week's potential trap games with steely focus, Michigan dismantling Northwestern and Indiana crushing arch-rival Purdue.
With no more preliminaries to wait out, here are five important battles Indiana must win to ensure victory in this Big Ten war.
Begin Slideshow

»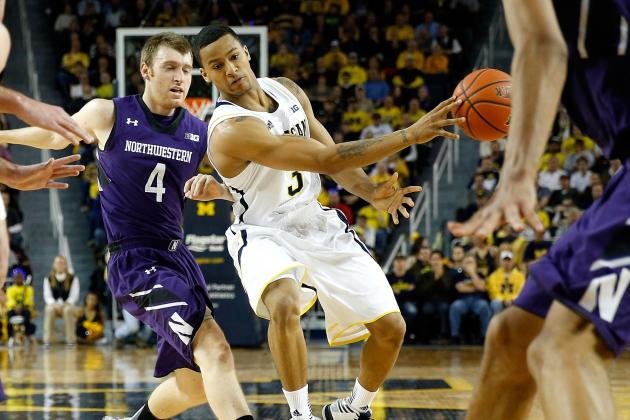 Gregory Shamus/Getty Images

Trey Burke victimized Purdue with an endless series of dribble drives, getting into the lane for both his own shots and easy dishes to others. Northwestern never threatened to rattle the sophomore star, forcing him into only one turnover.
Containing Burke is a pursuit much easier in theory than execution. The Hoosiers have to hope that the duo of Yogi Ferrell and Remy Abell are capable of keeping Burke out of the lane. We won't even get into Jordan Hulls, who would struggle to stay in front of Trey Burke's history book.
If Victor Oladipo is forced to defend Burke, Michigan will own a tremendous size advantage at one of the other perimeter positions. Tim Hardaway Jr. and Nik Stauskas can both turn a close game into a rout quickly if allowed to get shots off against smaller players, so it's in IU's interest to keep Ferrell on Burke as much as possible.
Perhaps the most promising solution to curtail Burke's penetration will be to switch off of the Wolverines' frequent ball screens. Forcing Burke back out to the wing to reset can give the defense time to do the same.
If Burke is frequently allowed into the paint, defensive rotations will lead to too many wide open cutters and shooters. That will turn this potential instant classic heavyweight fight into something akin to Tyson-Spinks in 1988.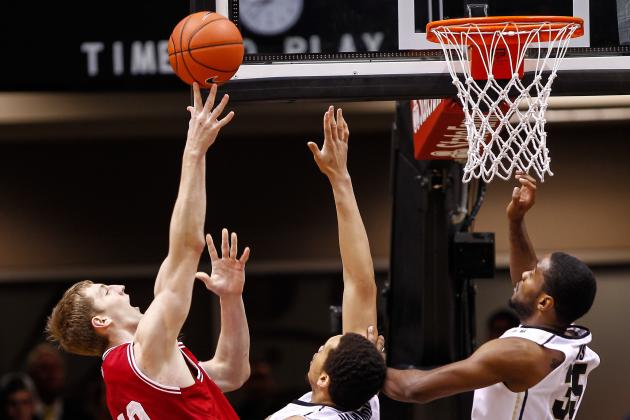 Michael Hickey/Getty Images

Against Northwestern on Wednesday, Michigan was missing pivot man Jordan Morgan for the first time since 2010. Barring a quick improvement during the week's practices, Morgan could also be unavailable for the Indiana game.
Replacements Jon Horford and Mitch McGary were still dominant against the Wildcats, combining for 16 points and 18 rebounds in 35 minutes. Piling up numbers against the likes of Alex Olah and Mike Turner is one thing, though. Dominating Indiana star Cody Zeller is something totally different.
Zeller was able to get Purdue's A.J. Hammons in foul trouble early, thanks to an offensive plan built around feeding the post early for just that purpose. Similar results could come against McGary and Horford. McGary averages nearly six fouls per 40 minutes, while Horford commits 5.4.
Zeller can be bodied around in the low post, but if the referees call a tight game early on, a Michigan team already lacking experienced size could quickly lose what size it has left.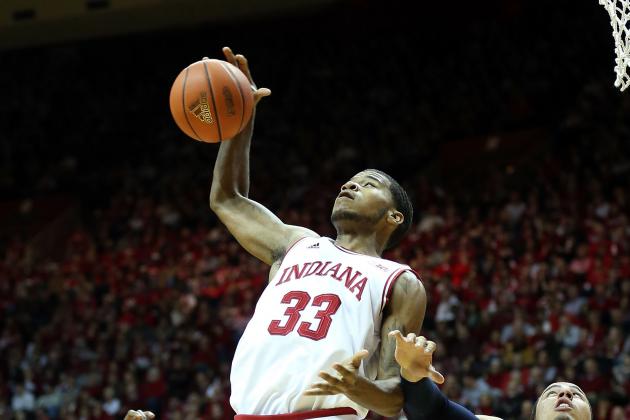 Andy Lyons/Getty Images

Michigan holds a size advantage on the perimeter with the 6'6" pair of Nik Stauskas and Tim Hardaway Jr. The difficulties of having Oladipo handle Burke were covered a couple of slides ago. So, IU coach Tom Crean will need to find an alternate solution.
If there is a game all season in which 6'8" freshman Jeremy Hollowell will need to earn his scholarship, it's this one.
Hollowell had a pair of blocks against Purdue and has shown the capability to make plays defensively this season. He's got the size to keep a hand in Stauskas' face and the quickness to stay in front of the Canadian, who has underrated penetration ability to go with his hyped shooting skill.
Wisconsin frustrated Indiana by taking away Hulls' three-point looks at all costs. Part of the reason Ohio State handed Michigan its only loss was the Buckeyes' ability to similarly stifle Stauskas. Hollowell may be the man best equipped to perform that shadow role for the Hoosiers.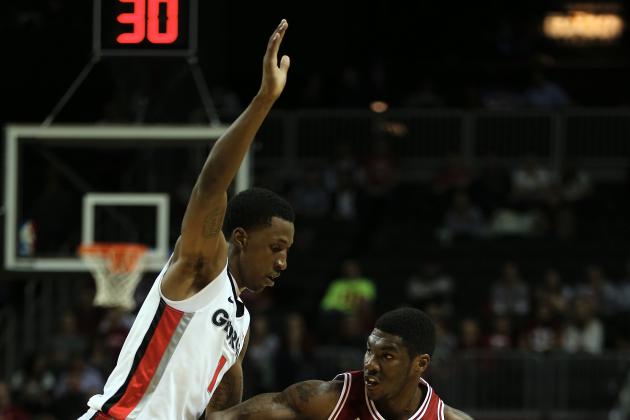 Elsa/Getty Images

Indiana runs one of the faster offenses in America, Michigan one of the slowest. So, it makes sense for the Hoosiers to turn the game into a track meet, right?
Eh, not so much.
IU can't afford to give the U of M transition opportunities. The easiest way to curtail transitions is to probe a defense and look for good shots out of a half-court offense.
Missing hurried shots and crashing the offensive glass—IU sits second in Big Ten conference games at 12.8 offensive boards per game—are quick ways to watch Burke sprint down the floor to create easy points.
Patiently spreading the floor can lead to driving lanes for Ferrell and Oladipo or passing lanes inside to Zeller. A lot of setup work will be required to get Hulls good looks for jump shots, since he'll likely have Hardaway or Stauskas towering over him.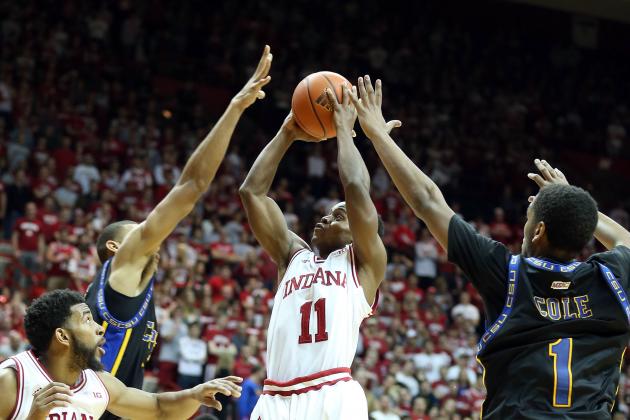 Andy Lyons/Getty Images

Indiana's speedy tempo, like anyone else's, leads to turnovers. The Hoosiers are 3-3-2 in the turnover battle during conference play, turning the ball over on 19.9 percent of their possessions (third-most in the Big Ten).
Michigan doesn't obsess over forcing turnovers, sitting in the middle of the league in opponents' turnover percentage at 17.6. Still, against a team with players as athletic as the Wolverines', IU may find a bullseye painted on its freshman point guard.
Michigan will switch its defensive looks, alternating from man-to-man to a 1-3-1 zone, and a 1-3-1 temporarily flummoxed the Hoosiers last weekend against Northwestern.
Indiana can't afford empty possessions, especially the ones that allow run-outs. IU only committed eight turnovers in the win over Purdue, but Ferrell committed half of those. If he's overwhelmed by the enormity of the game, the Hoosiers may find themselves in an early hole.
For more from Scott on college basketball, check out The Back Iron, home of the exclusive Back Iron Index and Bracketometry, telling us which teams SHOULD be in the NCAA tournament come March.