Toronto Blue Jays' Possible Options for J.A. Happ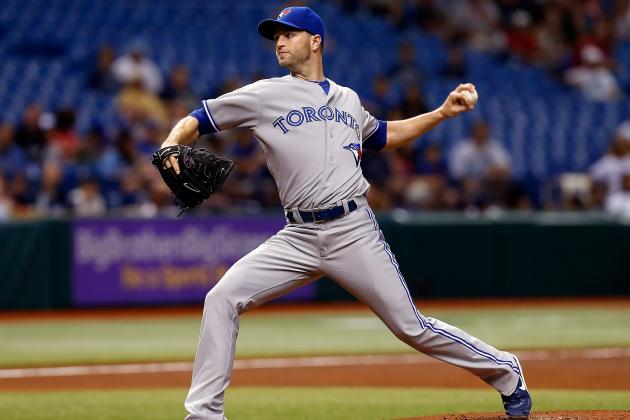 J. Meric/Getty Images

When the Blue Jays acquired J.A. Happ from the Houston Astros in a massive 10-player swap last year, there was an expectation that he would be a mainstay in the rotation for at least the next two seasons.
Happ appeared in 10 games—including six starts—for the Blue Jays upon his mid-season arrival. In those 10 appearances, he logged 41.0 innings, posting a nondescript 4.69 ERA and 1.29 WHIP while striking out an impressive total of 46 batters.
For all intents and purposes, Happ performed to the level expected of him and looked the part of a solid back-end starter—a role he has dutifully fulfilled since 2008.
When the season ended, Happ was penciled in as the team's fourth starter going into 2013. Showing off a strong strikeout rate and pitching slightly better than he had in Houston the past two seasons, many people were interested in seeing what Happ could do with a full year in the rotation for the Jays.
Unfortunately for Happ, as it appears right now, he will not be in the rotation. Though the Blue Jays probably intended to have him open 2013 in the rotation as last year neared a merciful end, unexpected circumstances arose which have now rendered Happ on the outside looking in.
In a shocking-but-not-so-shocking turn of events, the Marlins decided to have a fire sale one off-season after being major players in free agency. Though it wasn't likely in the Blue Jays' plans prior to the 2012 season ending, the team seized the opportunity to add a group of veterans that included starting pitchers Josh Johnson and Mark Buehrle.
Bolstered by this sudden injection of quality pitching, the Blue Jays took fixing their rotation problems one step further, acquiring 2012 National League Cy Young Award winner, R.A. Dickey, from the Mets.
The Blue Jays gave up an impressive haul of young talent to acquire three quality veteran starters and have gone all-in for 2013. It's great news for most of the team's holdovers from 2012, but perhaps not for J.A. Happ.
With the additions of Johnson, Buehrle, and Dickey joining returning starters, Brandon Morrow and Ricky Romero, the Blue Jays now have a complete five-man rotation sans J.A. Happ, who still remains on the Blue Jays' roster.
Despite the fact that Happ is seemingly without a place in the rotation (or perhaps on the major-league roster, for that matter), the sides have handled the issue amicably thus far and there has been no request for a trade by Happ, according to Gregory Chisholm of MLB.com.
As a matter of fact, the Jays and Happ just avoided arbitration by agreeing to a new one-year contract worth $3.7 million.
Now that Happ is currently under contract for 2013, the Blue Jays have to make a decision on what to do with him for the upcoming season. They appear to have three main options: They can send him down to the minors where he can remain a starter in AAA, they can let him stick with the major league club as a long reliever, or they can trade him to another team.
This article will examine the three possibilities and weigh the pros and cons of each option the Blue Jays have regarding Happ's future. Finally, I'll try to make a prediction on what ultimately is J.A. Happ's fate for the 2013 season.
Begin Slideshow

»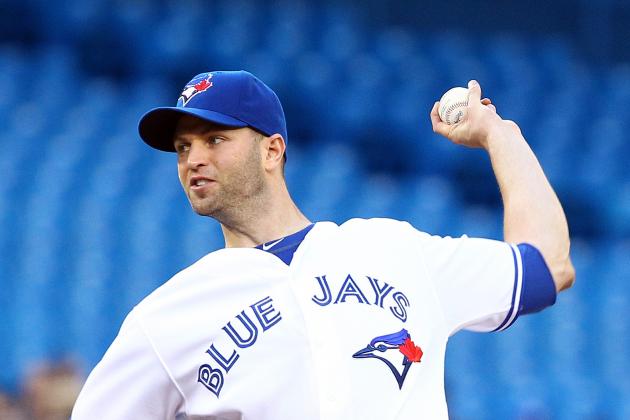 Abelimages/Getty Images

Tell me if this sounds familiar:
A left-handed starting pitcher, who made his debut in 2007, is sent down to the minors before the season starts because his team acquired multiple starting pitchers with more experience and upside, despite the fact that he had been a full-time starter for the last four seasons.
He is optioned to AAA as insurance in case a starter gets hurt, but the rotation stays healthy and the franchise makes the playoffs for the first time in over two decades while the lefty becomes an after-thought in the minors.
Is this what happens to J.A. Happ in 2013? Possibly. But the scenario above refers to what actually happened to John Lannan of the Washington Nationals last season.
Lannan had been a solid starter for the Nationals from 2007-2011, posting a sub-4.00 ERA in three of those four seasons, but prior to the 2012 season, the team acquired Gio Gonzalez in a trade and signed free agent Edwin Jackson.
Lannan was the odd man out and the Nationals kept him in the minors as an insurance policy on the rotation.
Fortunately for the Nationals, but perhaps unfortunately for Lannan, the rotation stayed healthy and Lannan was only needed on the big league club for six starts in 2012. Despite Lannan's credentials and experience as a starter, as well as his $5 million salary, Lannan was relegated to minor-league duty.
Lannan asked for a trade, but the Nationals declined to acquiesce and kept him in the minors just in case. They still made the playoffs in 2012.
Now, a year later, and the Blue Jays and J.A. Happ find themselves in the same scenario as the Nationals and Lannan were in 2012. Perhaps, the same arc occurs for Happ; the Blue Jays send him down as insurance, but end up never needing him. If the Blue Jays end their playoff drought, isn't that all that matters?
It isn't that easy, unfortunately. As great as the Blue Jays' rotation can be in 2013, there are still some concerns: Whether Ricky Romero can bounce back after a moribund 2012, whether Brandon Morrow and Josh Johnson can stay healthy for a full season, and how R.A. Dickey adjusts to life in the AL East.
Given these concerns combined with how many injuries the Jays' pitching staff suffered last year, the team may opt to send Happ down to AAA so he can keep starting and stay fresh if needed to step into the rotation at some point next season.
Though it's a lot of money to pay someone to not contribute at the major-league level, it may be an insurance plan worth having.
Happ still has an option remaining so the Blue Jays can send him down as long as he clears "optional waivers," which is just a formality–and a luxury the team doesn't have with another former starter, Brett Cecil, who is out of options.
Pros of sending Happ to the minors: Allows Happ to keep starting and stay fresh if he is needed in the rotation; provides an insurance policy in case a starter suffers an injury; puts the heat on Ricky Romero to improve or risk losing his spot in the rotation; allows the team to keep Happ and trade him at a later date if a need arises; allows the team to keep Cecil on the major league roster as a long reliever rather than lose him on a waiver claim
Cons of sending Happ to the minors: You're paying a player $3.7 million to not contribute at the major league level; Happ could become a malcontent and demand a trade, causing an unnecessary distraction for the franchise; Happ could struggle in AAA and lose his trade value for a later date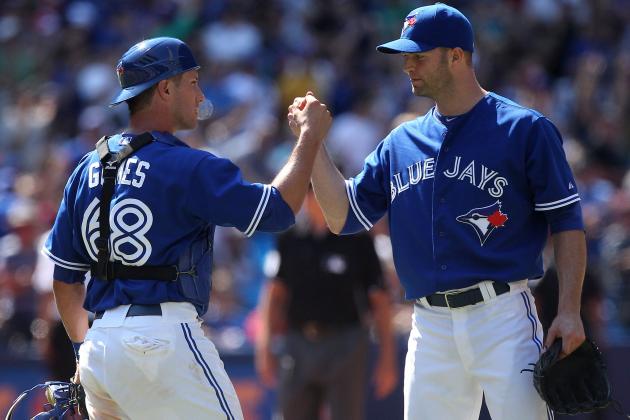 Tom Szczerbowski/Getty Images

The Blue Jays' second option as to what to do with Happ is to move him to the bullpen. Sounds easy enough, but unfortunately for Happ once again, there is currently a bit of a logjam for the role of secondary left-handed reliever.
The Blue Jays will likely allow Happ to compete for a spot in the bullpen; they're not going to simply demote him without giving him any chance to win a spot on the major league roster.
Right now, however, another former left-handed starter, Brett Cecil, appears to have the inside track on the job by nature of his contractual status. Unlike Happ, who still has an option remaining, Cecil is out of options and sending him down to the minors would be more difficult.
Gregor Chisholm reports that Cecil's situation "could be enough to secure Cecil a spot after making a transition from starting to relieving last year." Even though Happ is the more accomplished pitcher and performed better in 2012, he may be on the outside looking in for reasons beyond simply ability (for those of us who believe Happ is the superior pitcher).
Given that Casey Janssen and Darren Oliver have secured back-end bullpen spots and Sergio Santos will be in Toronto if he is healthy, it leaves quite a bit of competition for the remaining slots. After Steve Delabar's impressive Blue Jays' debut in the second half of 2012, it would be a complete shock if he were not in the bullpen as well.
That leaves a significant number of pitchers battling for three spots and unfortunately for Happ, as a lefty, the team is only likely to carry two southpaws out of the bullpen to start the season. With Oliver returning, it'll come down to him, Cecil, or darkhorse candidate, Aaron Loup.
Happ has made 20 relief appearances in his career, most recently for four outings as a Blue Jay last season. In those 20 appearances, he threw 36.1 innings of 4.17 ERA and 1.30 WHIP, striking out 35 and holding opposing hitters to a line of .228/.316/.331.
Those numbers are slightly better than his career statistics as a starter, but with only 36.1 innings under his belt, it is far too small of a sample size to make any kind of confident projection as to how he would perform as the team's long reliever.
Happ would at least provide some durability and could eat up multiple innings at a time in the event of a starter getting knocked out of the game early, but it's hard to peg how effective he would be–and whether he would be worth his $3.7 million salary–in the bullpen.
Whether he would be that much more effective than homegrown pitcher, Brett Cecil, who would likely be out of the organization in the event that Happ wins a spot in the bullpen, is also a factor in the decision-making process for the Blue Jays.
Pros of moving Happ to the bullpen: he will contribute at the major-league level; with a higher strikeout rate as a reliever, he could be a very effective member of the bullpen; he would be able to bail out the bullpen in games where the starter is yanked early; he would be able to provide a spot-start in the event of an emergency; he would still be available to trade at a later date should a need arise; he could improve his effectiveness as a pitcher in shorter appearances
Cons of moving Happ to the bullpen: would likely result in Brett Cecil getting claimed off waivers by another team; Happ has never been a full-time reliever and could struggle to adjust to pitching out of the bullpen on a long-term basis; Happ would be expensive to fill what would essentially be a "mop-up" role; he may not be able to smoothly transition back to a starter if an injury arises in the rotation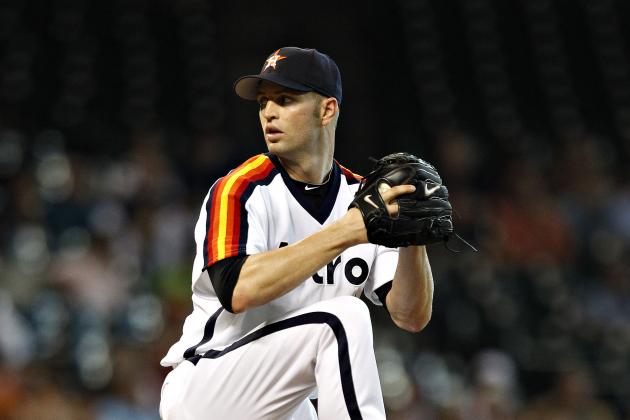 Bob Levey/Getty Images

The final realistic option the Blue Jays have with Happ is to trade him to another organization that has room for him in the rotation. Trading Happ would free up the money he is owed, clear up the logjam for a second lefty out of the bullpen, and relieve the Jays of having to send a veteran player down to the minors.
He may have been the centerpiece of their deal with the Astros last season, but he's clearly become expendable to a degree due to the additions of Josh Johnson, Mark Buerhle, and R.A. Dickey.
However, the Blue Jays aren't going to trade Happ just for the sake of trading him. He's not being paid an obscene amount of money nor is he causing a distraction. The problems he presents by remaining in the organization aren't really problems at all for the Blue Jays.
Sure, Happ would prefer to be in a major-league rotation, but he isn't currently causing a commotion and the Blue Jays would have no problem keeping him around as an insurance policy.
Having too much depth is rarely, if ever, considered a problem for a major league team–especially when it comes to pitching. The Blue Jays were forced to use 12 different starters due to numerous injuries last season.
So why would the Jays trade Happ? As much as the front office has exponentially improved the organization's chances of becoming a legitimate contender in 2013, the Blue Jays are still far from a perfect team.
The Jays could still use some more reinforcements at the major-league level. Mark DeRosa, on the verge of retirement and a non-factor for the last three seasons due to injury, is penciled in as the last man off the bench and perhaps to spell Adam Lind against lefties. The Jays could also use actual relievers with relief experience to fill-out the back-end of the bullpen.
Bringing in a prospect or two to replenish a farm system that lost some of its marquee young talent wouldn't hurt, either.
The point is, the Jays still have needs. If they consider having Happ a luxury, given their five quality starting pitchers and variety of options for the last few spots in the bullpen, they could consider swapping him for someone they feel can contribute (whether in 2013 or in the future).
That's not to say that immediately trading Happ is the most logical decision, but it is a possibility nonetheless. The Nationals paid John Lannan a large sum of money to spend the majority of the season in AAA, but still made the playoffs. There's no reason the Jays couldn't do the same with Happ, if everyone else stays healthy.
Of course, the Blue Jays play in the American League East, where every dollar counts when you're not a big spender. If the Yankees and Red Sox are in contention, they can easily acquire more talent, regardless of the cost. The Jays don't appear to have that luxury. The Rays have been a perennial contender by being extremely circumspect with their money.
The money owed to Happ–albeit not a tremendous amount–could go a long way to fill other needs and, as an established middle-of-the-rotation left-handed starter, there is certainly a market for his services.
The Jays could look to move Happ as the season nears a start. Every year, pitchers go down in spring training and teams get more and more desperate for healthy, capable starters. If the Jays aren't one of those teams that suffers any rotation health problems, the asking price for Happ could become extremely attractive and justify swapping him for a greater need.
Pros of trading Happ: frees up the money owed to him in 2013; frees up the bullpen logjam; removes a potential organizational distraction if he becomes a malcontent in the minors; avoids risking Happ's trade value depreciating due to injury or a poor performance in the minors; allows the team to fill a greater need rather than keep him around as a luxury

Cons of trading Happ: costs the team their best insurance policy if any of their current starters get hurt; lose him as a potential reliever if Cecil struggles or gets hurt; may not maximize his trade value by trading him now instead of waiting until a team becomes desperate for starting pitching; he won't be around to trade at a later date if a major need arises due to injuries or poor performances at the major-league level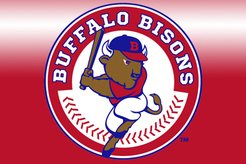 A lot of things can change between now and the start of the 2013 season, but the most likely scenario at this juncture is that the Blue Jays option J.A. Happ down to Triple-A Buffalo where he can still pitch as a starter.
The fact that the two parties were able to recently agree to a deal for 2013, thereby avoiding arbitration is a positive sign that they can make this situation work and there's really no reason why it shouldn't work.
Happ probably deserves to be in the rotation for at least half of the other teams in the league, but there isn't much of a question that on the Blue Jays, he's the sixth best starter. It's not as if he's being passed over for less-talented pitchers. The Blue Jays simply turned a weakness into a strength and someone had to lose his spot in the rotation.
This also doesn't spell the end for Happ as a starter for the Blue Jays. Each of the Blue Jays' starting pitchers has his own concerns going into 2013 and in the unfortunate case of an injury to any of the five, Happ would almost certainly be the first in line for an opportunity to start.
Additionally, Happ still has a year of arbitration remaining after this season; he will still be under team control in 2014 if he is not traded or released. With Josh Johnson in a contract year, Happ could even return to the rotation next season.
It's too early to look that far into the future, but even if Happ doesn't fit into the rotation plans, it doesn't necessarily mean the Jays should–or will–shop him. Having a pitcher of Happ's caliber waiting in the wings is a situation most teams wish they could have. Happ could also find a niche in the bullpen if things don't work out with Brett Cecil or any of the other young relievers.
The fact is Happ can still have value in 2013 even if he starts in the minors, which is why it makes sense for the Blue Jays to keep him in the organization and why they likely will do so.
If things don't work out in Triple-A or a hitting need arises at the major-league level, the Blue Jays will still have the option of trading him later in the season. It doesn't make sense to trade him now just for the sake of trading him. The Blue Jays won't be handicapped by his contract and he could serve a valuable purpose–either in Toronto or in a trade–down the road.
My guess is J.A. Happ is sent down to the minors to start 2013. How long he will stay there depends on a number of factors. He could step into the rotation if there is an injury, he could replace Brett Cecil as the second lefty in the bullpen if Cecil struggles, or he could be a trade chip in the event the Blue Jays need to acquire more hitting or relief pitching.
He could even end up spending the majority of 2013 in Triple-A as John Lannan did a year ago.
Whatever the case may be, of the three possibilities–optioning him to the minors, moving him to the bullpen, or trading him–sending Happ down to Triple-A to start the season appears to be the most likely and logical scenario at this time.