Midseason Grades for Every Impact NBA Rookie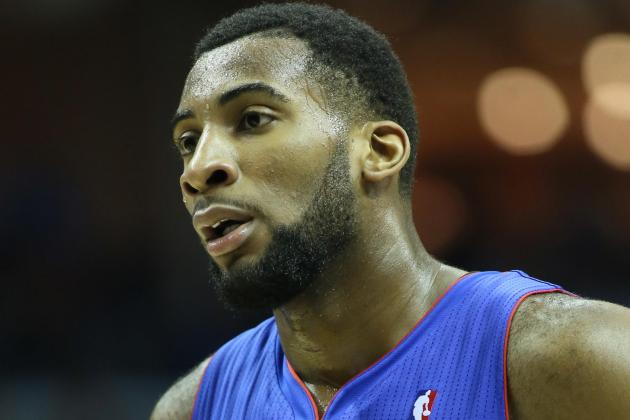 Nelson Chenault-USA TODAY Sports

With half the 2012-13 NBA campaign in the books, it's time to hand out midseason grades to impact rookies.
While Damian Lillard and Bradley Beal have been outgunning almost everyone, they're not the only newcomers making a difference this season.
A different pair of playmakers are making a statement in the Western Conference playoff hunt, and Jared Sullinger and Andre Drummond are owning the glass in the East.
As we sit down to assess each major rookie at the midseason juncture, we factor in preseason expectations, positional responsibility and team situations.
Who received top marks?
* "Impact Rookie" defined as rookie who's played in 30-plus games with at least 17 minutes per game as of 1/30/13. Stats up to date as of 1/30/13.
Begin Slideshow

»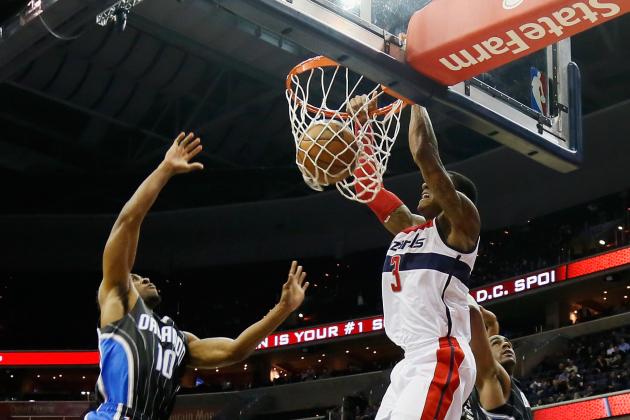 Rob Carr/Getty Images

Stats: 31 MPG, 13.2 PPG, 2.5 APG, 39% FG, 36% 3PT
Best Game: 22 points and game-winner vs. OKC (1/7/13)
The first couple months of the 2012-13 campaign were rough for Bradley Beal and the Washington Wizards.
Over the last month, the script has been flipped, as Beal found his shooting stroke and John Wall helped buoy his effectiveness.
Beal's three-point percentage has gone from sub-30 percent to 36 percent, and he's caught fire on a few occasions for some huge games.
If it weren't for a series of recent lapses, I'd be inclined to give him a B+.
Grade: B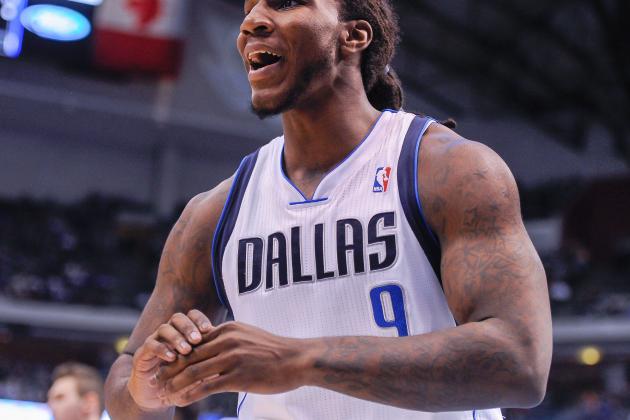 USA TODAY Sports

Stats: 17 MPG, 5.3 PPG, 2.4 RPG, 1 SPG, 37% FG, 32% 3PT
Best Game: 15 points, four rebounds and four steals vs. LAL (11/24/12)
For a little while, it looked like the Dallas Mavericks had the steal of the 2012 draft. Second-round pick Jae Crowder was knocking down shots, crashing the boards and playing superb defense.
Then the wheels fell off in December, when he shot 26 percent from the field and 19 percent from three-point range. He still supplied the hustle and defensive awareness, but it's tough to play through an abysmal shooting stretch like that.
Crowder eventually returned to respectable marks and was a key contributor during the Mavs' four-game winning streak. But he's still not the guy we saw in the autumn.
His slide into mediocrity was ugly, but we won't flunk him because he's a second-round selection.
Grade: C-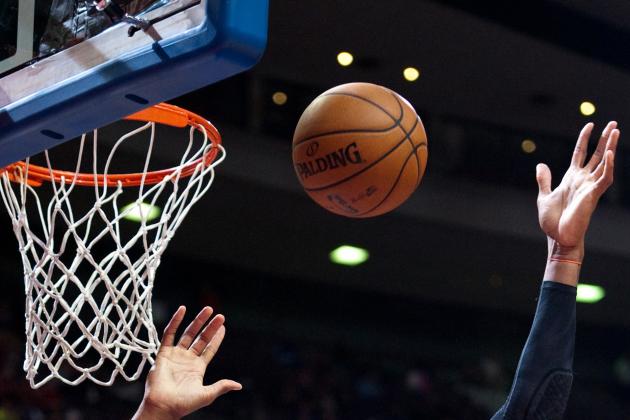 Tim Fuller-USA TODAY Sports

Stats: 20.2 MPG, 7.6 PPG, 7.6 RPG, 1.6 BPG, 61% FG, 22.9 PER
Best Game: 18 points and 18 rebounds (nine offensive) vs. MIL (1/29/13)
Detroit Pistons center Andre Drummond deserves nothing less than an A for his first-half exploits.
He gets modest playing time, yet almost always walks off the floor approaching double-digit rebounds. There aren't many post players in the Association who can prevent him from grabbing offensive boards and cleaning up the defensive glass.
In addition to his rebounding rampage, Drummond patrols the paint and alters countless shots.
Offensively, he's showing much better awareness and skill than he did as a UConn freshman. Consequently, he's scoring a respectable 13.5 points per 36 minutes.
Grade: A
Ed Szczepanski-USA TODAY Sports

Stats: 30 MPG, 14.5 PPG, 3.2 APG, 38% FG, 33% 3PT
Best Game: 33 points, five assists and zero turnovers at SAC (1/14/13)
Even though his mediocre shooting and inconsistent playmaking leave something to be desired, Cleveland Cavaliers guard Dion Waiters demonstrated that he's one of the most talented players in the 2012 draft class.
The first half of his rookie year included injuries to himself, Kyrie Irving and Anderson Varejao, so he's already encountered a season's worth of adversity and instability.
Although he's a creative athlete who can maneuver and free himself for shots, he's converting at a much higher rate when he gets spot-up chances. Accorging to Synergy Sports, Waiters is shooting 42 percent on spot-ups and 33 percent in isolation.
When he's locked into the team flow, rather than channeling his inner Superman, Waiters is much more productive and valuable.
Grade: B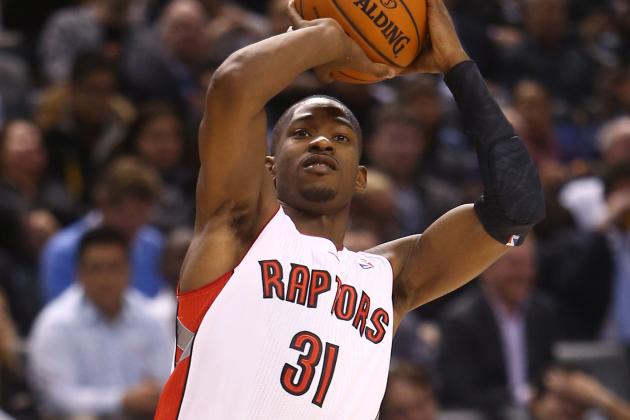 Tom Szczerbowski-USA TODAY Sports

Stats: 17.8 MPG, 7.2 PPG, 2.2 RPG, 42% FG, 34% 3PT
Best Game: Six three-pointers and 26 points total in win vs. POR (1/2/13)
During the first few weeks of the season, Toronto Raptors guard Terrence Ross was a seldom-used player who struggled to score from deep and supplied the occasional highlight dunk.
When Dwane Casey started giving the No. 8 pick bigger chunks of playing time, Ross began to impact the game and shoot the ball more efficiently.
Ross electrifies Raptors fans when he slashes to the hoop or breaks free in transition, but his mid-range jump shots are worth the same amount of points. The point is he has the skills to excel in the half-court setting in addition to the wide-open sets or fast breaks.
To take the next step, he needs to be more consistent.
Grade: C+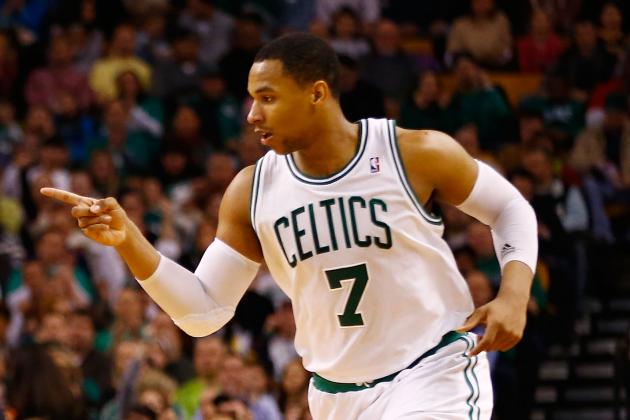 Jared Wickerham/Getty Images

Stats: 20.2 MPG, 6.1 PPG, 6.0 RPG, 49% FG
Best Game: 12 points, 16 rebounds in win vs. PHX (1/9/13)
Out of all the rookies in the 2012-13 class, only Andre Drummond is rebounding the ball more effectively than Boston Celtics forward Jared Sullinger.
The blue-chip prospect for Ohio State fell to No. 21 in the draft, but the first few months of his NBA career reminded everyone why he was a blue-chip prospect to begin with. Hard work, physicality, positioning and good hands are the hallmarks of his game.
Unfortunately, we recently saw why many franchises passed on him in June. He left Boston's game against the Sacramento Kings with back spasms, the first tangible sign of his back issues directly affecting the team.
Celtics fans hope it's a blip on the radar, not the beginning of an unwelcome trend.
Grade: B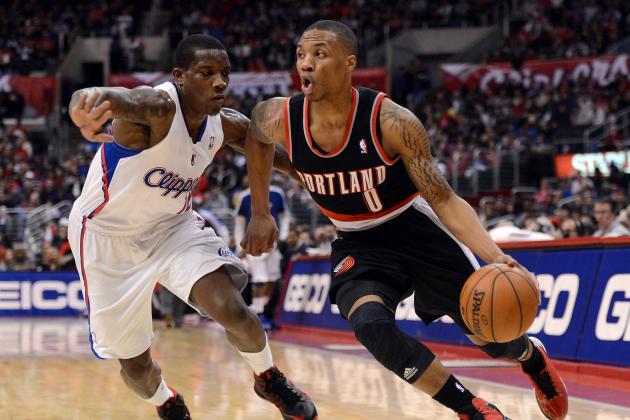 Harry How/Getty Images

Stats: 38.4 MPG, 18.1 PPG, 6.5 APG, 42% FG, 36% 3PT
Best Game: 28 points, eight assists and zero turnovers in win vs. MIN (11/23/12)
From Day 1, Portland Trail Blazers point guard Damian Lillard impressed us.
His 23-point, 11-assist performance on opening night against the Los Angeles Lakers caught our attention, and he's kept our interest ever since.
Lillard has proved to be both the best scorer and passer in the rookie class, but his superiority is more than just ball-handling and shooting skills. His confidence, poise and competitiveness makes him that much better.
He's not flawless, as he occasionally weaves a string of turnovers or a poor shooting night.
But he's still well within the A range.
Grade: A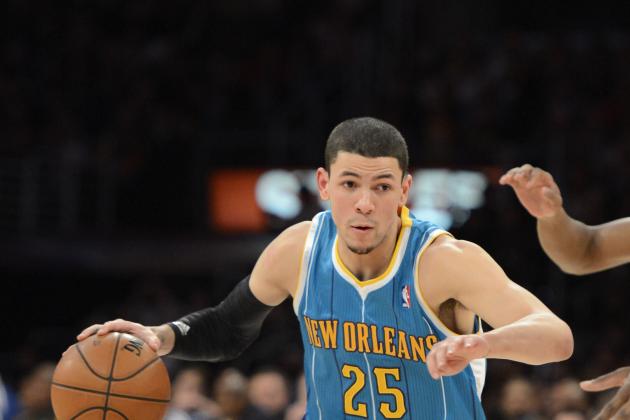 Richard Mackson-USA TODAY Sports

Stats: 23.3 MPG, 6.0 PPG, 2.2 APG, 33% FG, 31% 3PT
Best Game: 27 points, three assists vs. MIN (12/14/12)
One of the most talented players in the NCAA in 2011-12 turned out to be one of the most disappointing rookies in recent memory.
New Orleans Hornets guard Austin Rivers isn't filling any role capably, whether it's facilitating or scoring.
Even though he's a top-notch ball-handler, he doesn't exhibit the kind of pace and timing necessary to be a successful distributor. His default action is to attack his opponent to get in the lane and make something happen.
It remains to be seen if he'll find a suitable role in the league, but for now, there's a lot of red ink on his paper.
Grade: D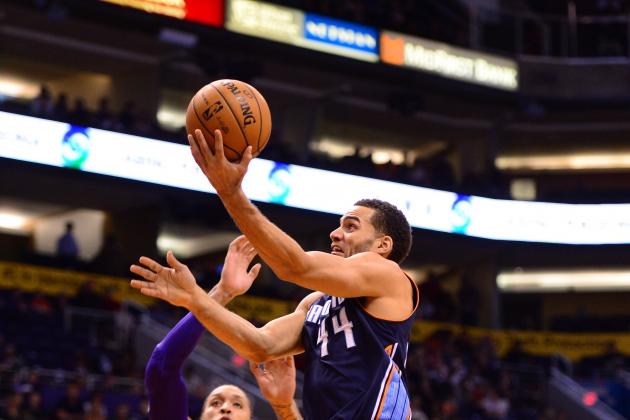 Mark J. Rebilas-USA TODAY Sports

Stats: 21.6 MPG, 6.4 PPG, 2.1 RPG, 42% FG, 35% 3PT
Best Game: 6-of-10 shooting for 16 points vs. PHI (11/30/12)
Jeffery Taylor is seeing healthy minutes compared to most second-round picks, but his athleticism, outside shooting and defensive efforts aren't enough to boost the Charlotte Bobcats.
His scoring has been spotty, and sometimes he goes a week or more without hitting a triple. But the offensive end hasn't been his biggest area of impact.
According to 82games.com, the Bobcats surrender 115.6 points per 100 possessions when Taylor is on the sideline, compared to 107 points when he's in the game.
That 8.6 point difference doesn't mean he's a magnificent defender, but it indicates that he's one of the better stoppers on the squad.
Grade: C+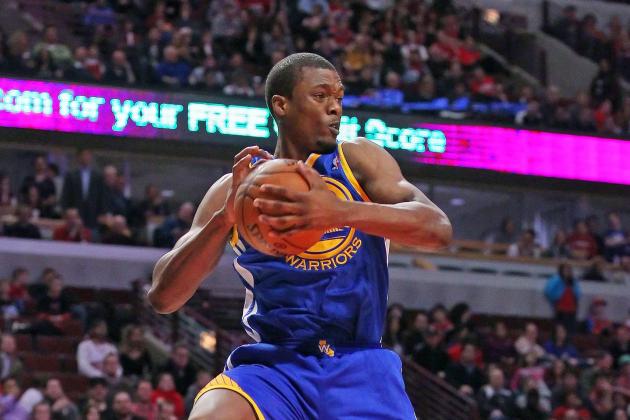 Dennis Wierzbicki-USA TODAY Sports

Stats: 25.2 MPG, 8.9 PPG, 4.3 RPG, 43% FG, 37% 3PT
Best Game: 15 points and eight rebounds in win vs. BOS (12/29/12)
No one would accuse Golden State Warriors forward Harrison Barnes of overachieving in the first half of 2012-13.
Yet he's a key part of a playoff-caliber team, an important small forward leaper who can play solid defense.
Barnes isn't a dynamic offensive weapon, as he's an underwhelming ball-handler. However, he thrives as a cutter, slasher and spot-up shooter.
Considering he was the No. 7 overall pick in the draft, his rookie year has been unremarkable. But once in a while we see a play like this and remember how talented he is.
Grade: B-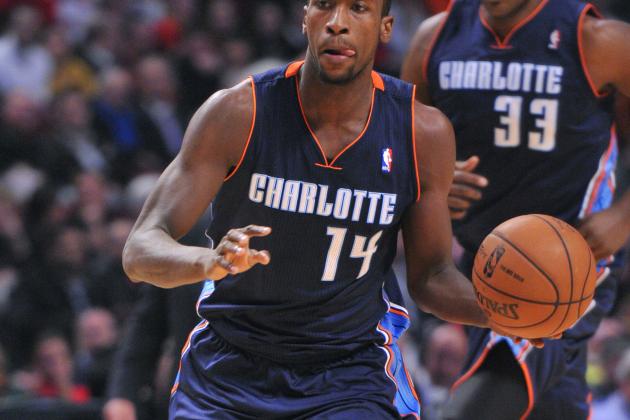 Rob Grabowski-USA TODAY Sports

Stats: 26.7 MPG, 9.9 PPG, 6 RPG, 47% FG, 25% 3PT
Best Game: 25 points, 12 rebounds and four assists at PHX (12/19/12)
Michael Kidd-Gilchrist's energy and aptitude for rebounding and defense are welcomed by the Charlotte Bobcats, but the club still can't rely on him for any offensive consistency.
For example, he scored in double figures in four of Charlotte's first six games in January and then failed to reach double figures in the next eight contests.
These scoring struggles shouldn't worry Bobcats fans, as Kidd-Gilchrist is still developing and doesn't have much support on a weak squad. He still possesses the potential to be worthy of a No. 2 overall selection.
If he ever figures out how to shoot outside the paint, he'll be a much more complete and dangerous player.
Grade: B+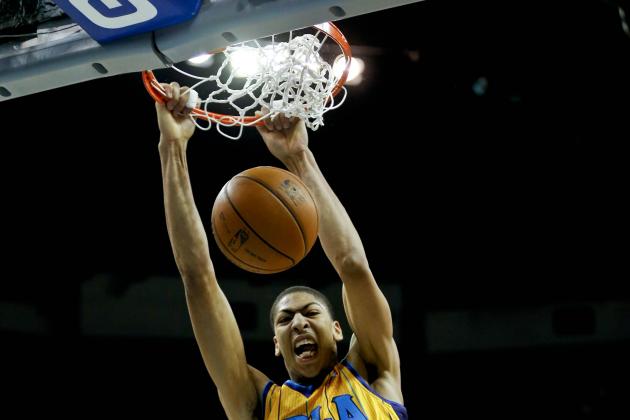 USA TODAY Sports

Stats: 28.7 MPG, 12.9 PPG, 7.6 RPG, 1.8 BPG, 53% FG, 20.9 PER
Best Game: 23 points, 11 rebounds and five blocks in win vs. CHA (11/09/12)
In less than 30 minutes per game, New Orleans Hornets rookie Anthony Davis has made a substantial impact on both ends of the floor.
His widely-heralded shot-blocking skills indeed transferred to the pro game. Once he gains more experience against the post players and slashers of the NBA, he'll be swatting nearly three shots per night. That could happen as soon as next season.
Offensively, Davis is notching double figures consistently and converting at a high rate in the process. It's not just dunks; he's also using the glass, hitting mid-range jumpers and getting put-back layups.
Davis isn't impacting the Hornets as much as Damian Lillard is impacting the Portland Trail Blazers, but his current value and long-term potential make him worth the No. 1 draft pick.
Grade: A-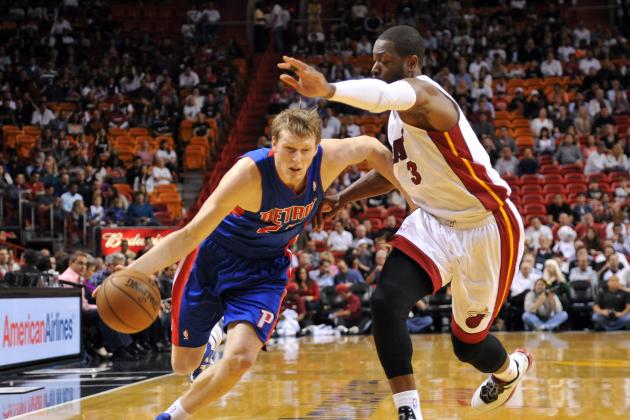 USA TODAY Sports

Stats: 27.5 MPG, 8.5 PPG, 3.8 RPG, 44% FG, 37% 3PT
Best Game: 16 points, 10 rebounds in win vs. POR (11/26/12)
2011 draftee Kyle Singler enjoyed a banner month for the Detroit Pistons in November, but he cooled off considerably in December.
How much did he cool off? In November, he shot 42 percent from long range, and he followed it up with 27 percent from distance in December.
He regained his outside shooting touch since the New Year, which will salvage his grade a bit.
Singler is terrific off the ball, but his rebounding and offensive aggression could improve. It will be interesting to see how he's utilized in Detroit's rotation now that Tayshaun Prince is gone (via Sports Illustrated).
Grade: B-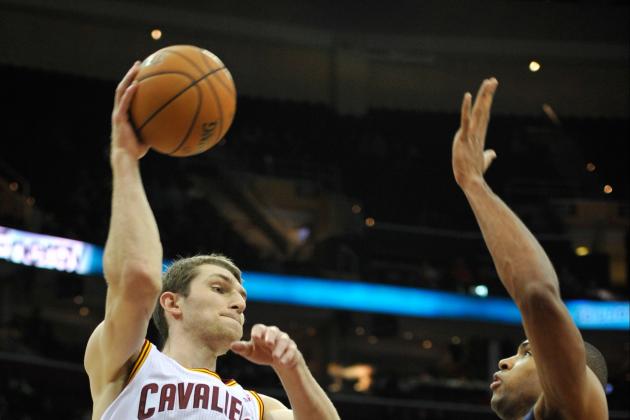 USA TODAY Sports

Stats: 27.9 MPG, 8.3 PPG, 6.2 RPG, 1 BPG, 41% FG
Best Game: 13 points, 14 rebounds and three blocks at UTA (1/19/13)
Cleveland Cavaliers forward-center Tyler Zeller wasn't a lottery pick in the 2012 draft, but he's become a crucial component to his team.
Anderson Varejao's ailments gave Zeller the opportunity for extensive playing time starting in mid-December, and the UNC Tar Heels product has had varying success since then.
Even though he's a 7-footer with good hands around the rim, there have been several games in which most of his points came from outside jumpers.
That explains his guard-like field-goal percentage and unimpressive rebounding numbers.
Grade: B-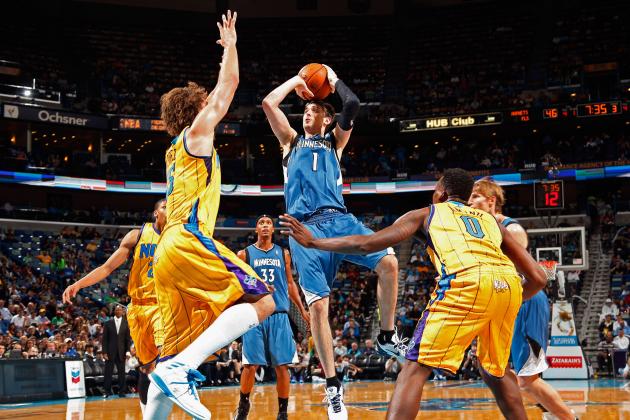 Chris Graythen/Getty Images

Stats: 28.8 MPG, 10.7 PPG, 4.6 APG, 38% FG, 32% 3PT
Best Game: His double-dozen game (12 points, 12 assists) in win vs. OKC (12/20/12)
When the Minnesota Timberwolves acquired Russian guard Alexey Shved in the offseason, I thought he would be a nice addition, but not a major impact rookie.
I'll admit, I presumed he'd get 15 minutes per game and be nothing more than a sidebar story.
It turns out Shved is a great playmaker at the NBA level, with the skills and the mindset to play both guard positions effectively.
His ability to run the offense from the top or play on the wing as a shooting guard has made him extremely useful for Rick Adelman.
Grade: B+
For more hoops talk, follow Daniel on Twitter: