Game-by-Game Predictions for the Miami Heat in February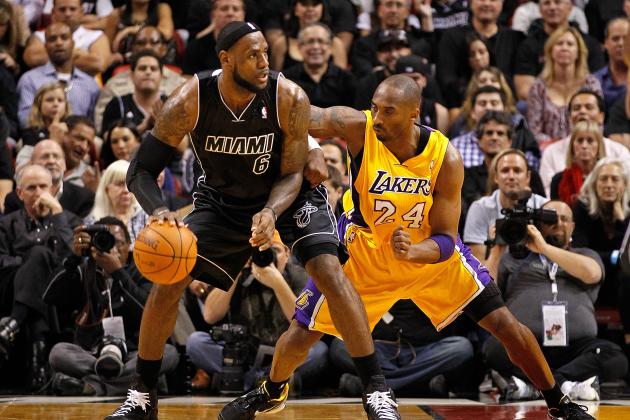 Mike Ehrmann/Getty Images

The Miami Heat will enter February with the ability to strengthen their hold on the Eastern Conference's top spot.
It won't be particularly easy, though.
The Heat have to face some of the NBA's top teams, including the Los Angeles Clippers, Oklahoma City Thunder and Indiana Pacers.
At the same time, the Heat have a couple of cakewalk contests against teams such as the Charlotte Bobcats and Sacramento Kings. So, it's possible for the Heat to drop some of those difficult games and still extend their lead in the East by taking advantage of the NBA's bottom feeders.
February is certainly an important month for the Heat, as the first half of the season is over, so it's time for the Heat to turn it on and start gearing up for the postseason.
Begin Slideshow

»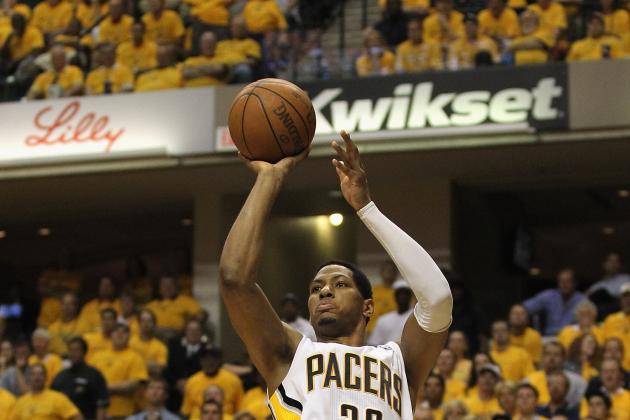 Jonathan Daniel/Getty Images

Previous matchup: Indiana Pacers win 87-77 on Jan. 8
The Heat had a tough go-around the last time they met Indiana. The Pacers dominated Miami on the glass, grabbing 55 boards (22 of which were offensive rebounds) while Miami only grabbed 36. The Heat received only 11 points scored from players not named LeBron James, Dwyane Wade and Chris Bosh. Also, the Heat's 77 points were then and still are a season low.
That's not a fluke, either. The Pacers have the NBA's best defensive rating in the NBA (allowing 99.9 points per 100 possessions), so expect another low-scoring game on February 1.
The Heat have a fantastic offense (second in offensive rating). However, we saw not too long ago in Indiana the Pacers defense "beat" the Miami offense.
And that's another thing. This matchup will again be played in Indiana. Bad news Heat fans: The Pacers dominate at Bankers Life Fieldhouse (16-3 in home games in 2012-13), while Miami has struggled on the road all season long (11-10).
Prediction: Pacers win 89-85
Heat in February: 0-1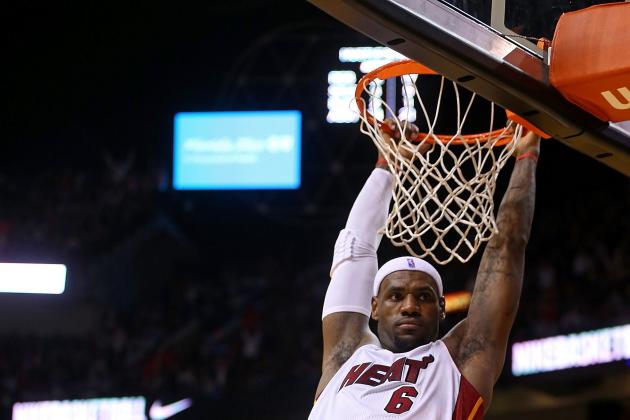 Mike Ehrmann/Getty Images

Previous matchup: Heat win 123-116 (OT) on Jan. 23
Miami narrowly pulled out a victory against the Toronto Raptors recently, and it really shouldn't have been all that close of a game. Miami was clearly the better team but fell into an unfortunate habit of theirs and played down to their competition.
The Heat gave away points by hitting only 64.3 percent of their free throws and failed to put the game away by the end of regulation.
But the Heat still managed to get the W, and they should beat the Raptors again in February.
The Raptors aren't skilled enough rebounding the ball (28th in the league) to take advantage of the Heat in one of their few weakness areas. In fact, Miami actually out-rebounded Toronto 53-28 in their last matchup.
The Heat simply have too much offensive firepower. The Raptors don't have anybody capable of stopping LeBron James (to be fair, does anybody?), so expect him to have another monster game (triple-double in previous matchup).
Prediction: Heat win 105-89
Heat in February: 1-1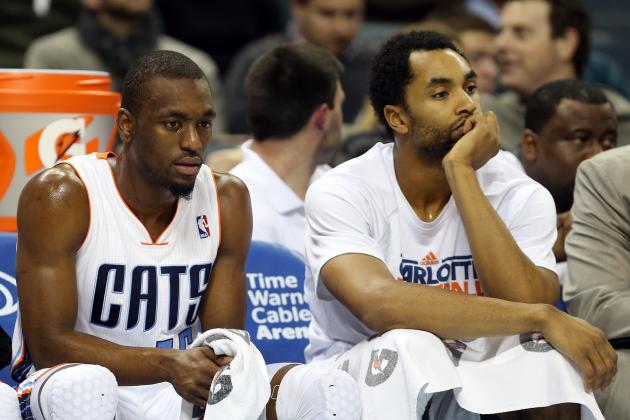 Streeter Lecka/Getty Images

Previous matchup: Heat win 105-92 on Dec. 26
Miami opens up a five-game homestand against the Eastern Conference's worst team, the Charlotte Bobcats (11-33).
The Bobcats actually hung around with the Heat until midway through the fourth quarter in the two teams' previous meeting, but once the Heat turned it on, all hope was lost for the Bobcats. Wade finished with 29 points and nine boards while James did pretty well himself, ending the contest with 27 and 12.
Thanks to D-Wade and LeBron, the talent disparity between these two teams is about as big as there can be in the NBA.
On top of that, Miami will be playing at home where they are a stellar 17-3 this season.
Expect Miami's shooters, especially Ray Allen, to have big games, as Charlotte allows the second most three-point attempts in the league, and a staggering 39.0 percent of those shots are converted.
Prediction: Heat win 102-79
Heat in February: 2-1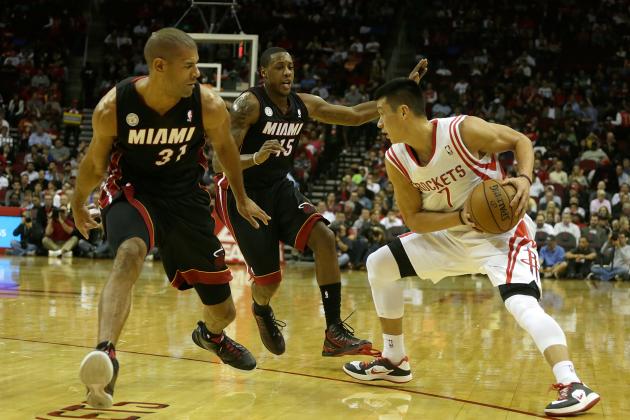 Scott Halleran/Getty Images

Previous matchup: Heat win 113-110 on Nov. 12
The Houston Rockets and Heat played a very competitive game in November, and not surprisingly it was a high-scoring affair as well. Houston plays at the fastest pace in the NBA and averages the second most points per game while the Heat rank fifth.
A big factor in this upcoming game will be how well James Harden plays. While Miami's biggest star, James, put up 38 points in the the November matchup, Houston's top dog, James Harden, struggled (for his standards) and hit only six shots from the field in the game.
Also, if Houston's going to pick up the upset this time around, they are going to have to rebound the ball better. Despite having Omer Asik and being the fourth best rebounding team in the league, the Rockets actually let Miami out rebound them last time.
Expect both Harden to play better and for the Rockets to beat the Heat on the glass, so it should be a very close game. Still, the Rockets are another team that struggles defending the three-ball, and the Heat will take advantage.
Prediction: Heat win 122-117 (OT)
Heat in February: 3-1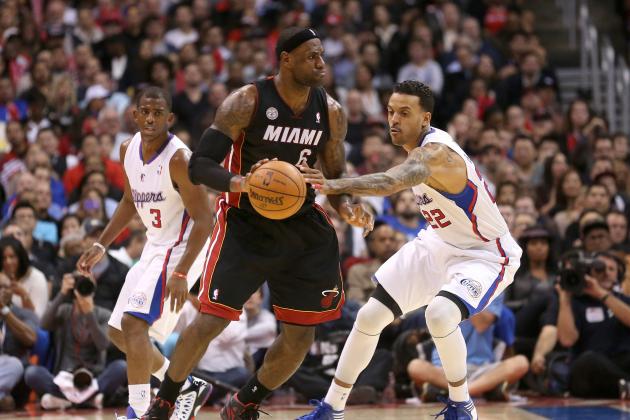 Stephen Dunn/Getty Images

Previous matchup: Clippers win 107-100 on Nov. 14
While it's not a good sign for the Heat that the Clippers defeated them earlier in the season, it needs to be noted that Dwyane Wade was dealing with injuries at the time and made just two field goals in 29 minutes.
Coming into this matchup, it's the Clippers who will be dealing with a star player's injury. Chris Paul has missed the Clippers' last four games due to a knee injury, and Brad Turner, beat reporter for the Clippers recently reported that Vinny Del Negro said Paul "may" play during the team's road trip that this matchup takes place on.
The Heat having Wade healthy and the Clippers not having Paul healthy (even if he does play) has a huge impact on this game.
Still, it won't be easy for the Heat. The Clippers might just be the deepest team in the NBA and excel on both sides of the floor (fourth in offensive rating and fifth in defensive rating).
Expect Blake Griffin to take advantage of the Heat's small-ball frontcourt and have a big game scoring and on the glass.
But with Paul injured and the Heat likely more motivated than usual for this game, considering the Clippers are now a team they could possibly play in the NBA Finals, Miami should be able to eke out a victory.
Prediction: Heat win 103-100
Heat in February: 4-1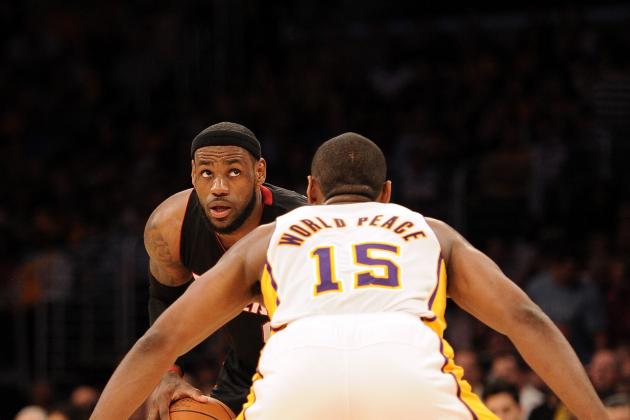 Harry How/Getty Images

Previous matchup: Heat win 99-90 on Jan. 17
While the Los Angeles Lakers' record (20-25) suggests this should be an easy win for Miami, it almost certainly won't be.
Miami needed LeBron's best performance of the season in January (39 points, eight assists and seven rebounds) and one of Kobe Bryant's worst (8-of-25 shooting from the field) to pull out only a nine-point victory in January.
While LeBron is capable of replicating that performance, it's doubtful we'll see the same thing from Kobe in February. In the Lakers' current three-game winning streak, Bryant has taken only 34 field-goal attempts and has racked up 39 assists.
With Bryant playing this unselfish brand of basketball, the Lakers are a different team and one Miami and the rest of the league should take seriously.
Miami is still the better team. However, the Lakers have to rack up a lot of wins to even make the postseason, so they will take this game more seriously than the Heat.
Expect the Lakers to win from rebounding (L.A. ranks third in team rebounds) and a balanced scoring effort.
Prediction: Lakers win 100-91
Heat in February: 4-2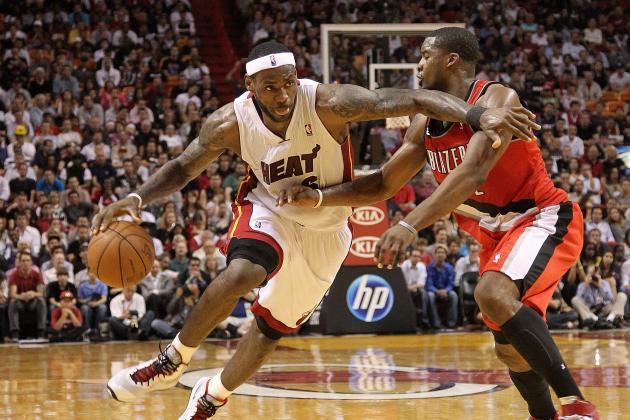 Mike Ehrmann/Getty Images

Previous matchup: Portland Trail Blazers win 92-90 on Jan. 10
The Blazers seemingly did the impossible in their first meeting with the Heat: They stopped LeBron James. It was in that game when LeBron's 54-game streak of scoring at least 20 points ended. (He scored 19 on 6-of-16 shooting.)
Don't expect a similar performance from LBJ this time around. In his previous three games against the Blazers (from the 2010-11 and 2011-12 seasons), LeBron averaged a little over 37 points.
Also, we're likely to see a better performance from Chris Bosh on the glass. Bosh was in a bit of rebounding funk at the time and grabbed only four boards but has since picked it up in that department. He's grabbed double-digit rebounds in two of the Heat's last four games.
On the backs of James and Bosh, expect the Heat to pull out a win in the final game of their homestand.
Prediction: Heat win 101-90
Heat in February: 5-2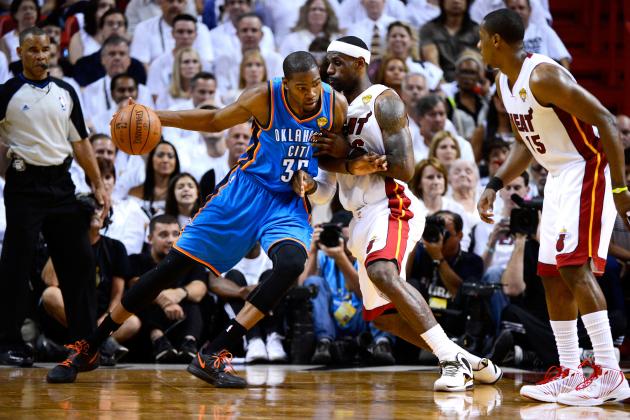 Ronald Martinez/Getty Images

Previous matchup: Heat win 103-97 on Dec. 25
The first rematch from the 2012 NBA Finals was one to remember with LeBron (29 points, eight rebounds and nine assists) and Kevin Durant (33 points and seven rebounds) both having huge games.
The Heat were able to come out on top, just barely, thanks in part to Mario Chalmers, who dropped 20 points.
With these teams having star players that are as equally skilled, this game will likely be decided again by a role player having a great night.
This time expect that performance from a role player to come from the Oklahoma City Thunder's side, specifically sixth man Kevin Martin. Martin should be able to knock down a couple of three-pointers and go to the line enough (where he shoots 90.9 percent) to score over 20 points.
OKC will take advantage of having this game at home where they are an excellent 19-3 and will win a very close game.
Prediction: Thunder win 106-103
Heat in February: 5-3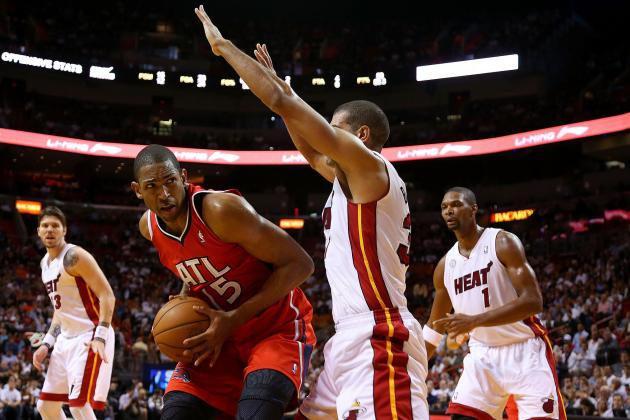 Mike Ehrmann/Getty Images

Previous meetings: Heat win 95-89 on Nov. 9 and 101-92 on Dec. 10.
The Heat have a lot in their favor heading into this game, despite it being on the road.
They will be fully rested to square off with the Atlanta Hawks, as the All-Star break takes place following their previous game. To be fair, the Hawks will be rested, too. Still, give me a rested LeBron James over everybody.
Also, they have a huge mismatch to exploit with Devin Harris guarding Dwyane Wade. One of Wade's best games in the 2012-13 season came in that December 10 matchup with Atlanta. Wade knocked down 11 of his 13 attempts from the field and finished the contest with 26 points.
The Heat just match up with the Hawks very well. Atlanta (25th in team rebounds) is not a team that is going to kill them on the glass. Plus, they had already struggled offensively against the Heat this season, and that was before the Hawks lost Lou Williams for the rest of the season due to injury.
Expect a huge game from Wade and for the rested Heat to win handily against the Hawks.
Prediction: Heat win 104-87
Heat in February: 6-3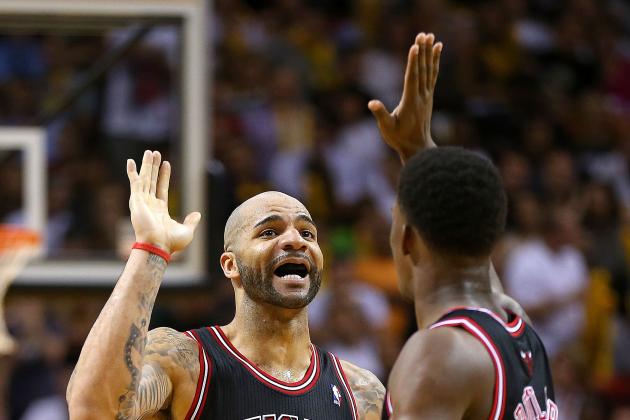 Mike Ehrmann/Getty Images

Previous matchup: Chicago Bulls win 96-89 on Jan. 4
One of only three home losses for Miami took place in their previous matchup against Chicago. The Bulls frontcourt dominated that of Miami's as they out-rebounded the Heat by 20, and Carlos Boozer dropped 27 points.
If the Heat are to avenge that loss, the Heat's big men, especially Chris Bosh, who only grabbed five rebounds in that January matchup, are going to have to pick up their play.
The Heat have been able to win games against teams like the Minnesota Timberwolves and Orlando Magic when severely out-rebounded; They won't be able to against the Bulls.
While Bosh's recent improvements rebounding the ball suggest that the disparity on the glass won't be as great in this game as it was the last, the Heat are still in for some trouble.
This game will be the second of a back-to-back for the Heat.
Expect the Heat to stick around with Chicago for most of the game, but for them to eventually lose ground as they tire.
Prediction: Bulls win 92-85
Heat in February: 6-4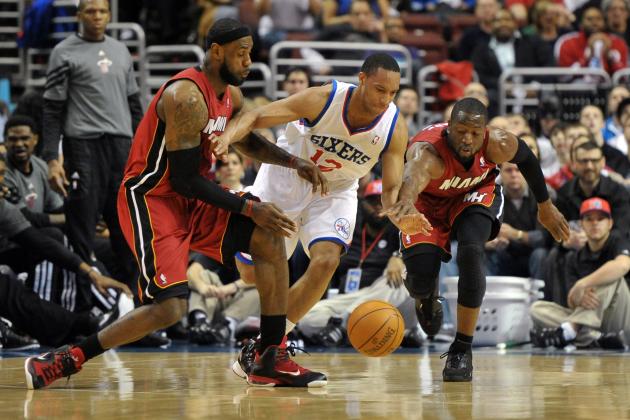 Drew Hallowell/Getty Images

Previous matchup: This will be the Philadelphia 76ers' first time facing the Heat in the 2012-13 season.
If the 76ers have Andrew Bynum in the lineup, then this game could potentially be a struggle for Miami. If not, then the Heat should take this one with little problems.
The Heat will be raring to go for this one if they do in fact lose to the Bulls on February 21. Miami should be able to contain a 76ers offense that's been far from impressive this season (26th in points).
Also, the 76ers allow the 26th most rebounds in the NBA, so expect a double-double from Chris Bosh. On top of that, the 76ers aren't the great defensive team they've been in year's past.
Not being able to rebound or defend very well is not exactly the secret recipe to beat Miami.
This one could be over early.
Prediction: Heat wins 104-90
Note: This prediction is made with the assumption that either Bynum doesn't play or he plays with limited minutes.
Heat in February: 7-4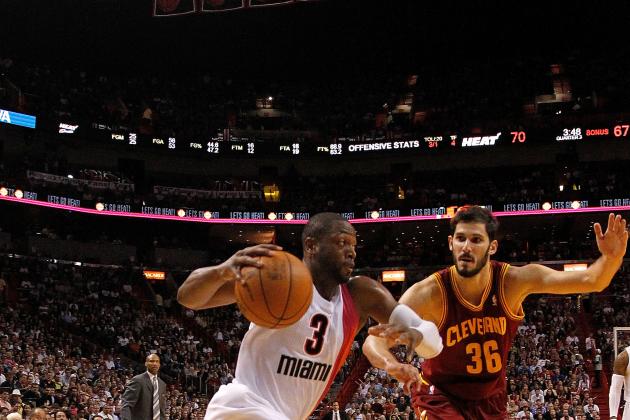 Mike Ehrmann/Getty Images

Previous matchup: Heat win 110-108 on Nov. 24
The Heat made a late charge and beat LeBron's former team, the Cleveland Cavaliers, in November.
But the Heat won't face that same Cavs team, as Anderson Varejao, who put up 10 points and grabbed 15 rebounds in that meeting, is injured for the rest of the season. Also of importance, Cleveland will have Kyrie Irving healthy for this matchup unlike the last.
While having Irving back certainly bodes well for the Cavs, the loss of double-double machine Varejao might be too much for them to overcome.
Expect the Heat to put up well north of 100 points. The Cavs allow opponents to shoot for a league worst 47.3 percent from the field and a 27th worst 37.8 percent from three-point land.
With the Heat scoring so much and the Cavs not having a rebounding advantage without Varejao, Cleveland would likely need an epic 40 or so point performance from Irving to win.
Irving is outstanding, so in a way it's possible. But if he gets it going to that degree, LeBron and the Heat will force Irving's teammates to beat them.
Prediction: Heat win 111-94
Heat in February: 8-4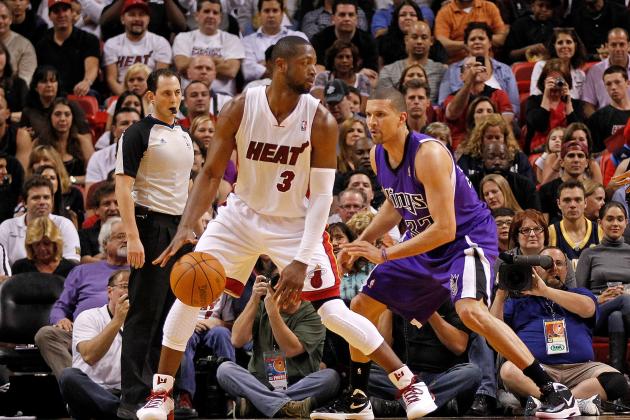 Mike Ehrmann/Getty Images

Previous matchup: Heat win 128-99 on Jan. 12
Behind a career-best performance from Mario Chalmers (34 points and 10 three-pointers), the Heat ran the Sacramento Kings out of their own gym in January.
Those types of performance happen when facing a Kings defense that's dead last in points allowed per game.
With a defense that bad, the Kings would have to posses a top offense to beat Miami. With guys like DeMarcus Cousins and Tyreke Evans on the roster, they certainly have plenty of offensive talent. However, the Kings don't play a very selfless brand of basketball (26th in assists). Isaiah Thomas is their leading passer with a shockingly low 3.2 assists per game.
Like the last time these two teams met, expect the Heat to jump out to a huge lead early and be able to rest their star players for the fourth quarter.
Prediction: Heat win 109-97
Heat in February: 9-4