Official Midseason Report Card for the Miami Heat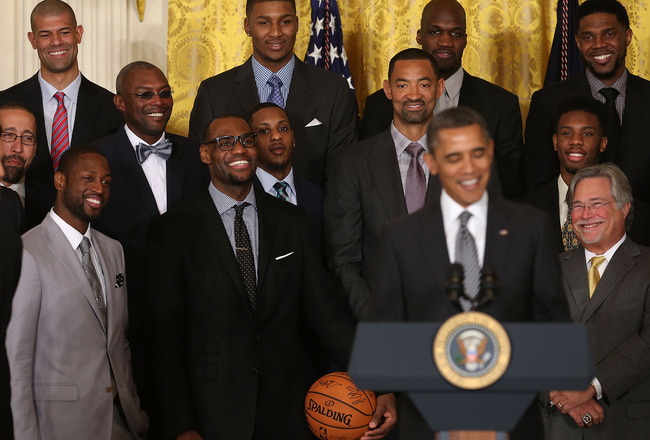 Mark Wilson/Getty Images
With the first half of the season now over, the Miami Heat appear right on track to defend their title amidst an ever-weakening NBA landscape.
The goals coming into the year were fairly simple.
Finish the regular season with a clean bill of health; finish atop the eastern conference with the best record; and diligently address the lack of size and ensuing consequences of such a shortcoming somewhere along the way.
Thus far, everything is proceeding as hoped, which is why the Heat, as a team deserve an A for their first half performance.
Were their disappointing moments, such as Sunday's double-overtime loss against a short-handed Boston Celtics squad? Sure.
But, based on the aforementioned checklist, there have not been any legitimate setbacks.
Furthermore, Miami's promising future may become even brighter should the team fortify its question marks down low with the addition of Greg Oden—a distinct possibility according to reports.
The Inc. Crew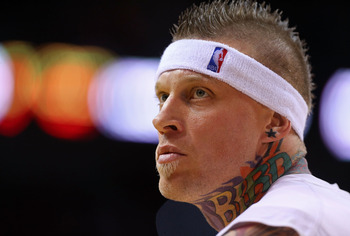 Mike Ehrmann/Getty Images
Players: Dexter Pittman, Jarvis Varnado, James Jones, Chris Andersen
Stock status: Unknown
Summary:
Pittman's time with Miami finally came to a head when the team decided to send him to the D-league, a place where he can find minutes and refine his game.
Varnado is a journeyman around the league that Miami recently picked up when their rebounding issues reached a critical point. Now that he's been signed for the remainder of the season, we may finally get a long look at the 6'9 big man.
Jones qualifies as nothing more than insurance for a team that has invested the spacing element of its offense on older outside shooters. Not to mention that Mike Miller's health always remains a concern. On a team capped off in talent and obligation with the responsibilities of the big three, little else is needed beyond shooting and size. And so, Jones will remain a fixture on the Heat's bench, assuming the role of cheerleader more often than anything else.
Andersen remains the most intriguing prospect of the four. Known for his rebounding, hustle, and ability to protect the rim, it remains to be seen what the human museum has left in the tank. The hope is that he will leave an imprint on the team before the nefarious reputation of South Beach leaves one on him. Nevertheless, his addition is a low-cost, high-reward situation, and one of the more interesting subplots to monitor over the second half of the season.
Final Grade: Inc.
Rashard Lewis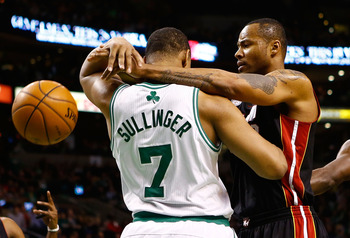 Jared Wickerham/Getty Images
Player: Rashard Lewis
Stock Status: On the decline.
Summary: Lewis' most meaningful moment of the season came during the latest installment of the Heat-Celtics Royal Rumble this past Sunday. But outside of trying to ruffle the feathers of Boston's gravitationally-challenged rookie, he's been on the outskirts.
There was hope at one point that, between his size and career shooting percentage from beyond the arc, Lewis could emerge as a vital component to the team. Contrarily, however, he has looked every bit his age during his run with the team.
Signed to a two-year deal, Lewis will continue to operate in the same function as James Jones—as a professional high-fiver at least, unless garbage minutes need to be filled.
Final Grade: D
Joel Anthony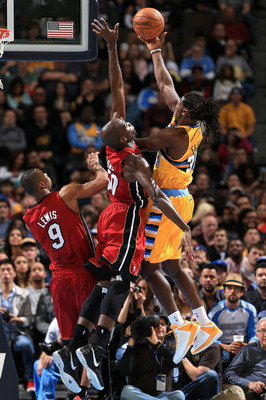 Doug Pensinger/Getty Images
Player: Joel Anthony
Stock status: neutral
Summary: Although Anthony has returned as a regular rotation player, his production has been almost nonexistent.
Averaging little more than one block and three rebounds a game, he remains one of the more inconsequential members of the Heat's bench.
To put it frankly, he is the least valuable member of the team. Especially when you consider the Heat are paying him $3,750,000.
Final Grade: D-
Norris Cole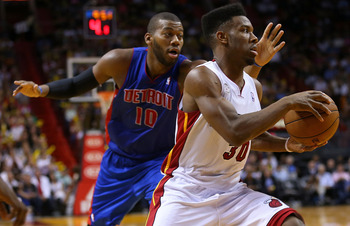 Mike Ehrmann/Getty Images
Player: Norris Cole
Stock Status: neutral
Summary: The Heat's spark plug off the bench hasn't exactly made a name for himself as much as he's benefited from the ongoing criticism heaved on starter Mario Chalmers.
Looking at his numbers, there really isn't much to get excited about.
But on a team that has, at times, looked absolutely lethargic in trying to will itself through a long regular season, Cole's effort continues to be a nice change of pace. And on the rare night when that effort is matched with strong production, it's hard not to notice the crumbs of humble pie smeared messily across Chalmers' face.
Final Grade: B
Mike Miller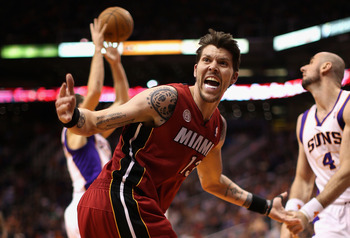 Christian Petersen/Getty Images
Player: Mike Miller
Stock Status: On the decline
Summary:
Attacking the court with reckless abandon and known for being an absolute machine gun from behind the arc when he's on, there is really only one of two ways you can digest Miller's contribution to this team.
On one hand, his health has marred his entire tenure with Miami (even now, they have measured his minutes to save him for the playoffs) and his contract has overshadowed his production by a country mile. Beyond his performance in the close-out game of last year's NBA Finals, most fans would be hard-pressed to remember another hallmark moment from Miller on the court. And, assuming Miami can't peddle him off in a trade, many have speculated the team will use their amnesty clause on him over the summer.
On the other, 80% of the responsibility on this team falls on the players making over 90% of the money. While he is among the highest paid players on the bench, the only thing we can really judge Miller on is making his shots when it counts. And that's something we can't do until the playoffs.
Until then, consider his enduring health the most important contribution of the regular season.
Final Grade: C
Shane Battier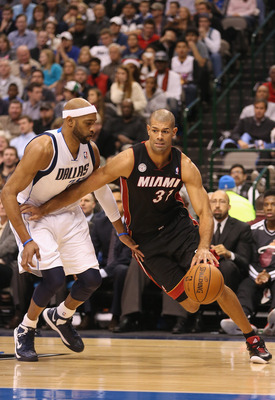 Ronald Martinez/Getty Images
Player: Shane Battier
Stock Status: On the decline
Summary:
Battier essentially switched places with Udonis Haslem as Miami's rebounding problems continued to swoon and concern of his health became an issue after he got injured trying to guard some of the bigger players on Cleveland.
Expectantly, Battier's numbers have taken a dive since riding the pine. But look for a bigger role for him as the season progresses. And hopefully within that time he will address his shooting percentage, which was at a disastrous .167 for the month of January.
Final Grade: D
Udonis Haslem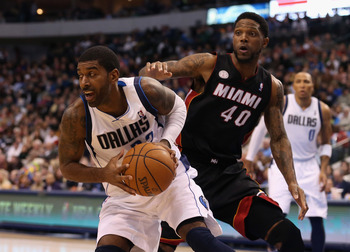 Ronald Martinez/Getty Images
Player: Udonis Haslem
Stock Status: On the rise
Summary: While Haslem is now a starter again, his minutes have hardly taken a leap from his previous role as seventh man. What has, however, are his rebounding numbers, which have been up as much as 7.5 in the Heat's last 10 games from the 5.5 he was averaging for most of the season.
Yes, Haslem's scoring and jump shot aren't what they used to be, as age and attrition has taken its toll on the undersized big man.
But on a team that assigns specific roles to its supporting cast, Haslem need only rebound and compensate for the team's lack of size with his scrappy defense.
And that's what he's been doing.
Final Grade: A
Mario Chalmers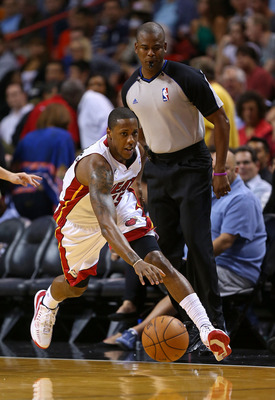 Mike Ehrmann/Getty Images
Player: Mario Chalmers
Stock Status: Neutral
Summary: Mario Chalmers is probably the most polarizing member of the Miami Heat. Those who criticize him call him inconsistent while those who defend him call him timely.
Here's the thing about Chalmers. At the end of the day, he is still just a member of the supporting cast.
And on a team that is as front-loaded in its talent as Miami, as long as he isn't the problem, then he's doing his job.
Chalmers recently threw up a 34-point performance against the Sacramento Kings to go along with the aberrational 11-assist games he had earlier in the season.
Outside of that, his duties and fourth quarter theatrics have minimized considerably ever since the Heat added Ray Allen.
Final Grade: C+
Ray Allen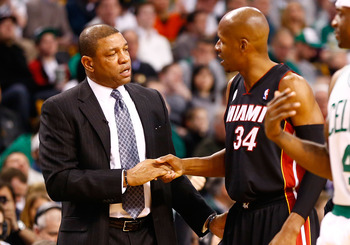 Jared Wickerham/Getty Images
Player: Ray Allen
Stock Status: On the rise
Summary: Although not a starter, Ray Allen has undoubtedly become the fourth most important player on the Miami Heat.
Shooting a career high .434 beyond the arc, Allen has seamlessly fit into the team and provided Miami with the kind of steady three-point threat Mike Miller and Shane Battier were intended to be.
You also get the sense that the best is yet to come from the sharpshooter once the playoffs finally come underway.
Final Grade: B+
Chris Bosh
Mike Ehrmann/Getty Images
Player: Chris Bosh
Stock Status: On the rise
Summary: After going most of the month of January without a double-digit rebounding night, he has already recorded two in the Heat's past three games, including the 16 he pulled down in Miami's loss to Boston.
Bosh's passive nature has been the target for much scrutiny during the down points of Miami's last three seasons, whether it be in the form of not getting rebounds, or becoming an afterthought in the Heat's offense.
With regards to the latter, the Heat have made it a point to get Bosh more involved in the offense.
To his credit, not many first options would be willing to jump on a team and settle for being the 3rd banana. Such a sacrifice should be commended.
But it is sometimes easy to mistake that sacrifice for indifference when one of the most expensive players on the team makes it a habit of just simply going with the program.
We should all keep that in mind before judging Bosh moving forward.
Final Grade: B-
Dwyane Wade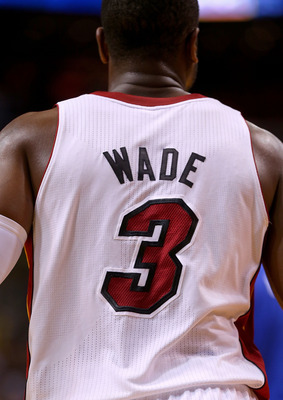 Mike Ehrmann/Getty Images
Player: Dwyane Wade
Stock Status: On the rise
Summary: Beyond the low point of his fourth quarter benching a couple of weeks ago, Wade's health and production have been an increasing bright spot for Miami as the season has moved along.
Shooting an efficient .503 from the field, and averaging 20 points on seven to fifteen field goal attempts a game, Wade has undeniably become the best second option in the eastern conference, if not the NBA.
Most importantly, his health seems to be improving, which was a targeted goal of Miami back in October after knee problems slowed him during last year's playoffs.
As long as the eastern conference doesn't claim Wade in its ever-increasing body count, there is no reason to believe the Heat's ticket to the NBA Finals isn't already all but stamped.
Final Grade: A
LeBron James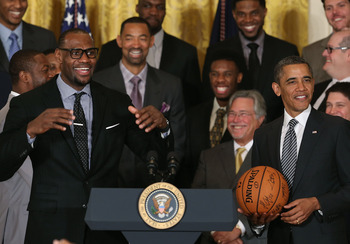 Mark Wilson/Getty Images
Player: LeBron James
Stock Status: Pluto
Summary: Kevin Durant is to scoring what LeBron James is to everything else.
While the two have been in a class of their own for at least the past two seasons, Durant simply doesn't have the muscle or court vision of LeBron to carry out as many of the same responsibilities.
If Durant does manage to eek out the MVP over LeBron James, people will attribute it to the improvements Durant has made to his overall game coming into the season, as well as the Thunder's league best record.
But when the two finally met on Christmas day, LeBron was better in every statistical category except for points (33 to 29) and three-pointers 2-4 to 0-3).
That may not go far in the eyes of the writers that cast the deciding votes for MVP. But it definitely should for the fans that have measured every meaningful inch of the regular season in predicting how the playoffs may turn out.
Final Grade: A+
Keep Reading

Miami Heat: Like this team?