UFC 156: Alistair Overeem vs. Antonio Silva Head-to-Toe Breakdown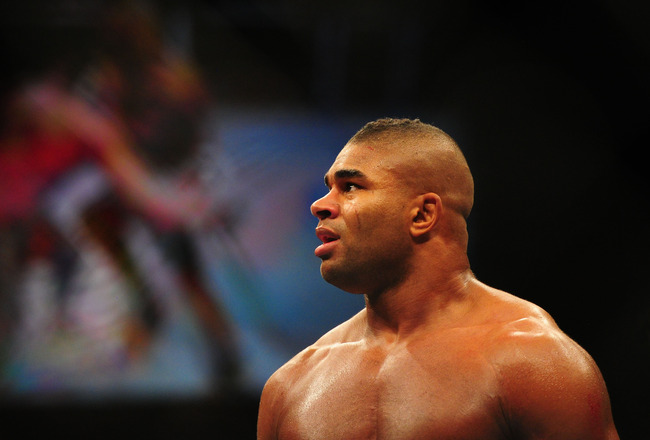 Mark J. Rebilas-USA TODAY Sports
Saturday night will see the long-awaited return of UFC heavyweight Alistair Overeem after he serves out his nine-month suspension for failing a drug test.
His opponent, Antonio "Bigfoot" Silva recently ended his two-fight losing streak with an emphatic first-round KO of much-fancied heavyweight Travis Browne.
However, for Overeem, the Brazilian is just one stepping stone to a title shot that was destined to be his.
The Dutch fighter had already secured the No. 1 contender's spot last year after defeating Brock Lesnar in his UFC debut and was all set to take on Junior dos Santos for the belt before he got popped for using steroids.
But rather than wait to face champion Cain Velasquez, who only just won the title at the end of December, Overeem has decided to take on former Strikeforce Heavyweight Grand Prix semifinalist, Silva.
Here's how the two fighters break down head to toe.
Striking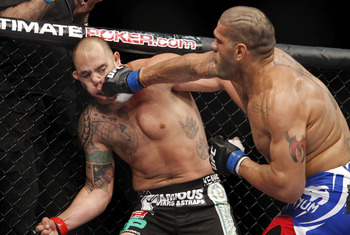 Bruce Kluckhohn-USA TODAY Sports
As the K-1 2010 World Grand Prix champion, Overeem is among the best strikers in MMA. He's beaten world-class Dutch strikers such as Tyrone Spong, Gökhan Saki and Peter Aerts and possesses knockout power in both hands, as well as a devastating knee.
The same cannot be said of Antonio Silva.
The Brazilian has some commendable MMA striking and has used his size and reach to beat many fighters to the punch including Fedor Emelianenko. However, his footwork and head movement are often found wanting, which led to him getting knocked out by the less experienced fighter, Daniel Cormier in 2011.
Advantage: Overeem
Wrestling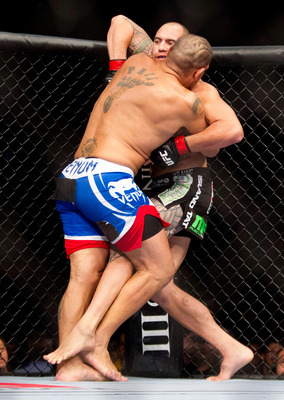 Bruce Kluckhohn-USA TODAY Sports
As a fighter who leads with his striking, Overeem has developed some solid takedown defence as well as an unmatched ability to fight in the clinch. However, he hasn't fought many elite wrestlers, except an out-of-shape Lesnar, so it's difficult to tell how deep his wrestling skills really go.
Silva, on the other hand, is a judo and Brazilian jiu-jitsu black belt who often looks to take the fight to the mat. But you rarely see Bigfoot shoot for a takedown or control from top position—except perhaps the time he laid a beating on Emelianenko.
It's hard to imagine any fighter having the advantage over the other in this aspect of the game.
Advantage: Even
Submissions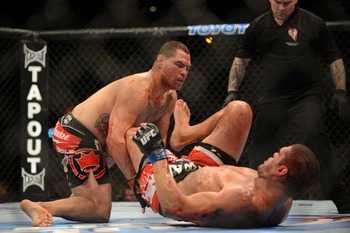 Ron Chenoy-USA TODAY Sports
Alistair Overeem has a vastly underrated ground game. While he possesses a kickboxing base, he's been doing submission grappling since he got into the sport of MMA and is the 2005 ADCC European Trials Winner.
He also has some significant submission victories in his career, including one over Carlson Gracie BJJ black belt Vitor Belfort.
But Silva has a technically proficient ground game as well, and although his own submission wins are few and far between, he's never been submitted himself, either.
Advantage: Silva
Strength and Conditioning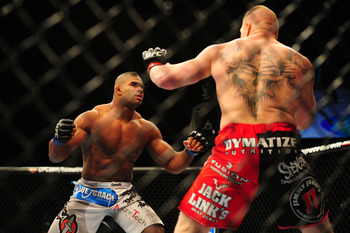 Mark J. Rebilas-USA TODAY Sports
Both fighters are big, powerful monsters who are known to use their size to their advantage. But the 6'5" Overeem and the 6'4" Silva effectively cancel each other out in this match, making it difficult to gauge which fighter has a strength-and-conditioning advantage.
One thing that can be speculated is that, while Overeem hasn't fought in over a year, Silva was victorious in the cage only four months ago and likely went from one training camp straight into the next.
That doesn't mean Overeem hasn't been training hard in his own way. He will turn up on Saturday night in peak condition and ready for an all-out war.
Advantage: Even
Invariables and Prediction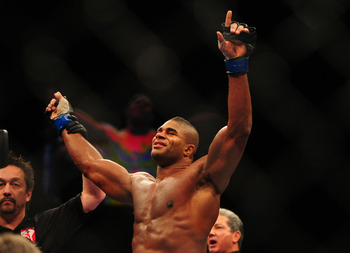 Mark J. Rebilas-USA TODAY Sports
Alistair Overeem moved up to heavyweight permanently in 2007, and after a minor setback against Sergei Kharitonov, hasn't lost a single match in 12 fights. After winning Strikeforce's last heavyweight title, he had a wave of hype surrounding him when he made his UFC debut against Brock Lesnar—decimating the former champion in the process.
But a year away from action is a long time, and how far "ring rust" will play a part at UFC 156 could decide his fate.
Silva, on the other hand, has shown brilliance only intermittently in his career—particularly against the former legend Emelianenko. He was made to look ordinary in his recent losses to AKA teammates Daniel Cormier and Cain Velasquez. He was beaten by both men in a way we simply haven't seen happen to Overeem for years.
Prediction: Overeem win by KO (knees) in Round 2.
Keep Reading