San Jose Sharks 5-Step Plan to Contend for 2013 Stanley Cup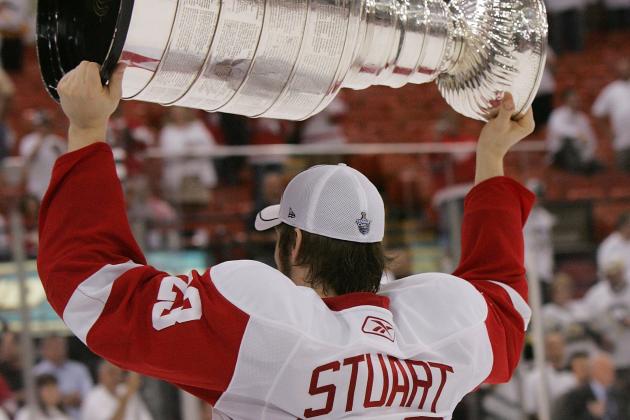 Bruce Bennett/Getty Images
Brad Stuart is one of five current San Jose Sharks to have won a Stanley Cup
When the San Jose Sharks fought off the Anaheim Ducks Tuesday night to go to 6-0, they all but assured that failure to contend for the 2013 Stanley Cup would be seen as a choke.
Most already see that as the narrative. Only Detroit has a longer streak of making it into the playoffs, but San Jose loses series they are supposed to win.
Those who follow the Sharks know better.
Only Detroit and Philadelphia have also hosted three conference title series in the last eight seasons, and only Detroit has more series wins than San Jose over that time. Only two series were truly upsets no matter how the teams were seeded.
Still, the window is closing on this aging core and this likely has to be the year. Getting there is going to require success in five areas of their game...
Begin Slideshow

»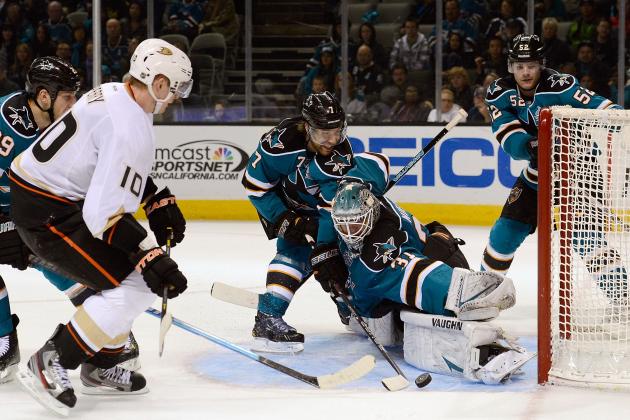 Thearon W. Henderson/Getty Images

San Jose Sharks broadcaster Drew Remenda suggested that Antti Niemi never got healthy after offseason surgery in 2011. Now he is healthy and in late-season form, perhaps due in part to playing overseas.
He had a great game for the season opener and then gave up three in consecutive, unspectacular games. After watching Thomas Greiss work his way to the first shutout of his career, Nemo responded with two more great games by allowing just three goals between the two contests.
If he is allowing a goal every 30 minutes and turning away 14 shots for every one that gets by him, the opposition will not be able to keep up with the Sharks' firepower. As long as he is playing well, this team will contend for the Stanley Cup.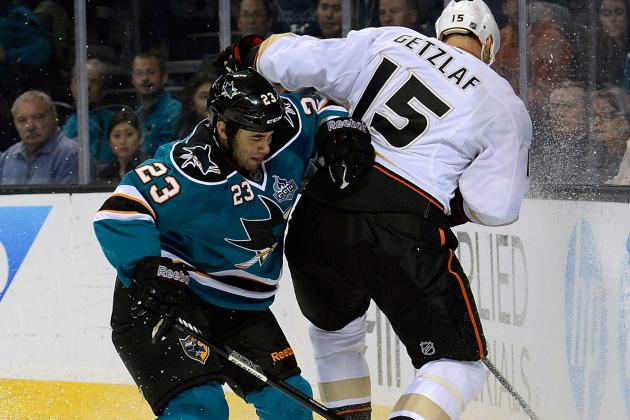 Thearon W. Henderson/Getty Images

The San Jose Sharks have had a high-powered attack in 2013, but it has been limited in scope.
Nearly half the goals have been scored on the power play. Only one goal has been scored with the third line on the ice (from the blue line) and none with the fourth. Joe Thornton and Patrick Marleau have been on the ice for all but six goals.
The Sharks are getting good role-playing from those checking lines, creating chances and drawing penalties. But eventually, they have to score for this team to contend for a Stanley Cup.
Almost every team in the Western Conference playoffs will have a dynamic defensive pair. They can be used to stop one line when they have a series to focus on them.
Moreover, the Sharks must be able to count on their depth to fill in while players are injured. The three best offensive defencemen are currently not healthy, and while Dan Boyle is expected back soon, the jury is out on Brent Burns and Jason Demers.
In addition to supplying the team with substitutes, having solid depth allows top players to spend less time on the ice and stay healthy. This year, the Sharks are relying on younger, less-established players for those roles.
They need to get better results than with veterans in years past to contend for the Stanley Cup.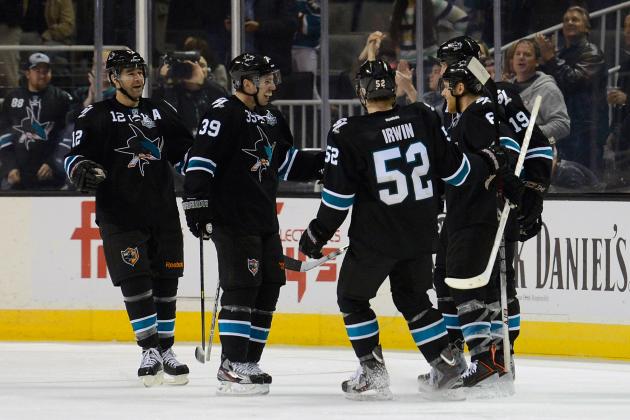 Thearon W. Henderson/Getty Images

The San Jose Sharks' power play has generally been deadly in the regular season. Most of the time, it stays hot in the playoffs.
But the penalty kill has not been good until recently (no goals in last 13 chances). When you cannot kill penalties, you cannot play aggressively. You worry about any bad call costing you the game.
The Sharks must maintain a deadly power play and continue to improve on the PK at least enough to be above average. That combination is almost certain to put them in position to contend for the Stanley Cup.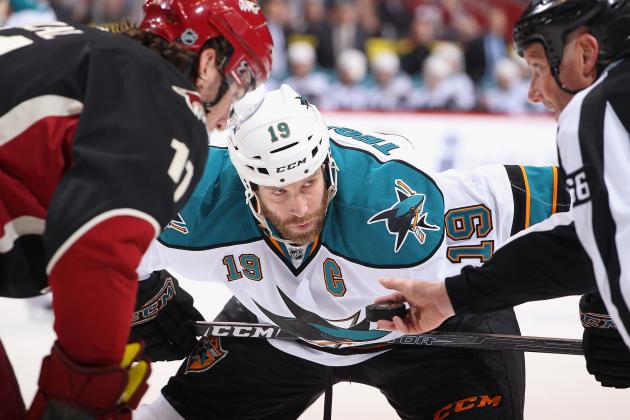 Christian Petersen/Getty Images

The San Jose Sharks are a puck-possession team. They need to win faceoffs, limit giveaways and create as many takeaways as they can.
They also block shots as well as anyone.
Any team is successful when it plays to its identity. The Sharks tend not to do well when they try to be what they are not.
They are not an emotional team that throw their weight around (and suffer penalties for it). That can play to their advantage in the condensed schedule when emotions and physical play can wear down a team.
They must control the puck and sacrifice their bodies to frustrate shooters and keep shots from goalie Antti Niemi to contend for the Stanley Cup.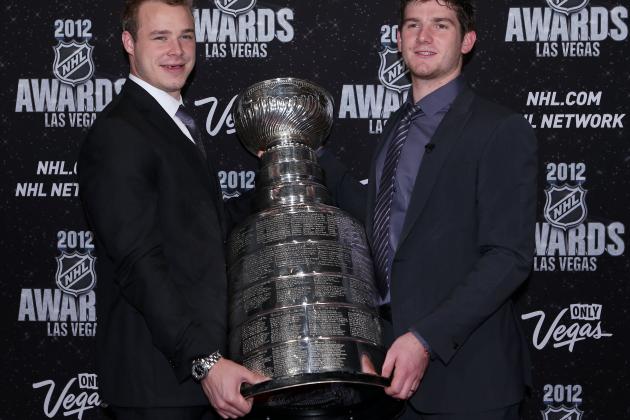 Bruce Bennett/Getty Images

If the San Jose Sharks can play with urgency before facing elimination, they can be successful in May. Teams that earn days off after a grueling season will have what it takes to contend for the Stanley Cup.
In years past, the Sharks have arrived late for series and played best when facing a deficit. The business-like approach has generally meant other teams had more passion to close deficits while the Sharks were prone to go into cruise control.
With changes on the way next year and a potential shift in direction the following summer, San Jose must treat every game as must-win and develop a killer instinct they have lacked.
Doing so might not make them contenders. It may make them champions.