Chicago Bulls Are Officially Most Underrated Team in the NBA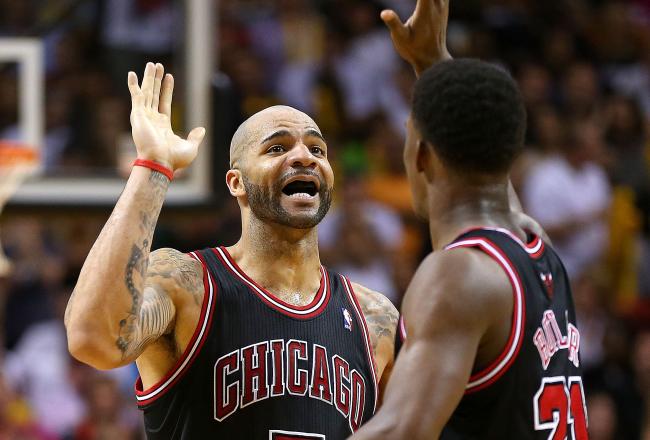 Mike Ehrmann/Getty Images
With a 27-17 record and at first place in the NBA's Central Division, the Chicago Bulls are officially the most underrated team in the NBA. They have a chance at home-court advantage throughout the playoffs without having reached the consciousness of the casual basketball fan.
The Bulls' success has come without the services of their best player, Derrick Rose. As a result, head coach Tom Thibodeau has put together his best coaching performance to date, though the former NBA Coach of the Year is doing so while preaching the same fundamentals he always has: defense, ball movement and teamwork.
Not many NBA observers gave the Bulls a snowball's chance in hell to be within striking distance of the Miami Heat, who were widely regarded as superior to the rest of the teams in the conference.
Injuries were supposed to derail the Bulls' season; however, they're atop their division, and Rose has yet to play a game. Richard Hamilton has missed 12 games, while Luol Deng and Kirk Hinrich have missed five each.
But as it stands, the Bulls are only three wins off the pace of their 2010-11 season, when they led the league in wins with 62. Even if they win 52 games, it will be a successful year. And if you add the possibility of a returning Derrick Rose after the All-Star break, they could wind up better than anyone had imagined before the season began.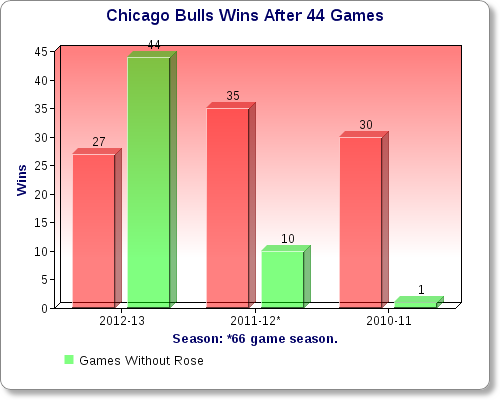 How have the Bulls done it so far?
Besides their usual ingredients of defense, ball movement and teamwork, they have received contributions from a few unsung heroes.
Carlos Boozer Is Back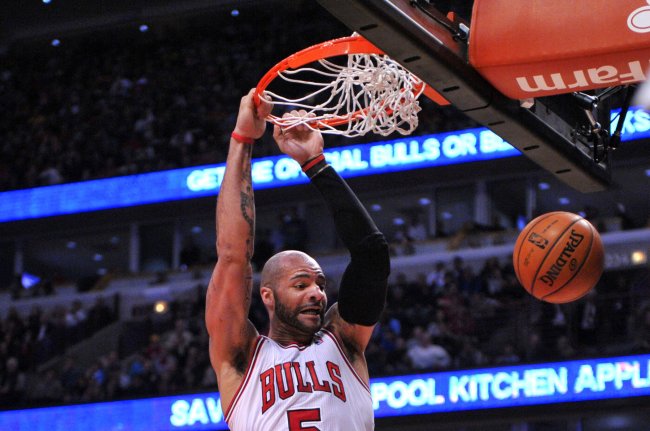 Rob Grabowski-USA TODAY Sports
Remember the 2009 offseason, when the Utah Jazz were interested in moving Boozer after matching the Portland Trail Blazers' offer sheet for Paul Millsap?
If you want to relive that trade rumor, you will find that the Bulls, along with the Heat, were in the running for his services. Fans seemed receptive to the idea of Boozer wearing a Chicago uniform at the time.
A year later, Boozer joined the team and has been the scapegoat for every Bulls failure since. Slowly, the backlash is diminishing.
Carlos Boozer! Bigtime lefthand dunk to put the #Bulls up 88-80 with 1:15 to go. Boozer 13pts on the evening. #CHAvsCHI

— Chicago Bulls (@chicagobulls) January 29, 2013
Why? Because the Bulls would not have their current record if not for Boozer's monster year so far.
He is imposing his will on the court and looks reinvigorated. All that is left is for him to demand the ball more. Imagine how dangerous the team will become when he does that.
Score One for the Spark Plug
Rob Grabowski-USA TODAY Sports
Nate Robinson is the perfect answer to this question: Where is the offense going to come from?
Yes, he takes a ton of shots, but as I have been properly reminded, he has been the catalyst for several wins. His 15 points (6-of-12 shooting) in the Bulls' most recent game vs. the Charlotte Bobcats made the difference.
Robinson played within himself that night. When he plays within himself, the Bulls usually win.
He is important to the team's success as the spark plug. When the backup point guard is averaging 11.2 points, 3.6 assists and 2.3 rebounds, he is more than a backup. He must receive consideration for NBA Sixth Man of the Year.
The Jimmy Butler X-Factor
Boozer and Robinson are two reasons why the Bulls have been flying under the radar; however, Jimmy Butler's ceiling is the primary reason why the Bulls are the most underrated team in the NBA.
No one knows how good Butler can be except for his teammates, coaching staff and hardcore Bulls fans. I have a hunch that by playing for the Marquette Golden Eagles in college, his skills were undersold.
Draft scouts always praise players who come from universities that are traditional powerhouses such as Duke, North Carolina and Kentucky while overlooking players from Marquette, Gonzaga and Xavier.
If the 2011 NBA draft were done all over again, Butler would be a top-10 selection based on his performance this year.
Defensively, how many players can limit LeBron James, Carmelo Anthony, Kobe Bryant and Kevin Durant? Butler has done that when he had the assignment of guarding them.
In an article on CSNChicago.com, Butler talked about what he has focused on this season.
[Thibodeau] mentioned a few things to me to focus in on at the defensive end. My teammates are the ones who are like, "Be aggressive on the offensive end." It levels out because I knew my role going into that game coming off the bench. I didn't know how many minutes I would play but I knew whenever I did have my opportunity, I had to capitalize on it.
Butler continues, talking about spending time at shooting guard.
I feel comfortable [at shooting guard]. I feel there's a ton of things I need to work on before the people in this organization make me a shooting guard. I'm working on it every day before and after practices. I have a ways to go. I feel I can guard a shooting guard at the defensive end. My offensive skill set has to get much better in order for me to be a shooting guard.
Butler at SG gives Bulls defensive flexibility and will keep rotation fluid. chicagotribune.com/sports/basketb…

— K.C Johnson (@KCJHoop) January 30, 2013
Superstars may lead their teams to the NBA Finals, but breakout performers help them win championships. For the Heat last year, it was Shane Battier. For the Dallas Mavericks a year prior, it was J.J. Barea.
Butler has the ability to replicate their performances, and at 23 years of age, he can sustain it.
This article is
What is the duplicate article?
Why is this article offensive?
Where is this article plagiarized from?
Why is this article poorly edited?

Chicago Bulls: Like this team?