Ohio State Football: Top 4 Candidates to Play the 'Percy Position'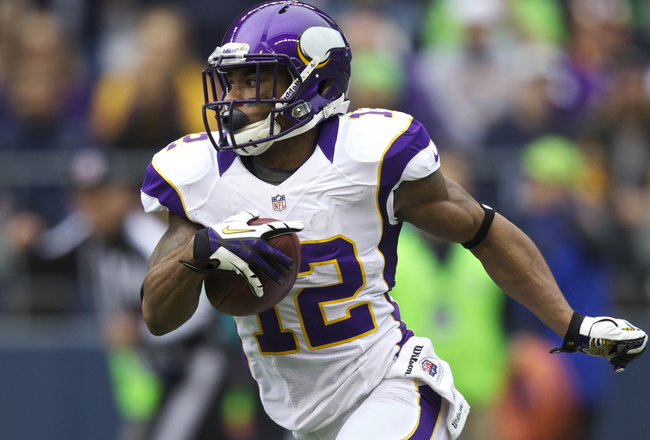 Stephen Brashear/Getty Images
Ohio State's offense, while very good at times, lacked the explosive playmaker that Urban Meyer had in in Percy Harvin.
While Tebow was the face of the Meyer dynasty in Florida, Harvin was just as crucial to the two national championships that the Gators won under their former head coach.
OSU has Braxton Miller back for his junior season, but he needs some help. He needs his "Percy Harvin" whether he is already on the roster or coming in as a true freshman.
Here are four possible players that can play the "Percy position" for the Buckeyes.
RB Jordan Hall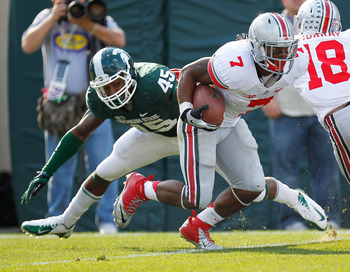 Gregory Shamus/Getty Images
After missing all but three games of what was going to be his senior season, Jordan Hall got a medical redshirt and will be back for 2013.
Hall rushed for 218 yards on 40 carries and caught three passes for 31 yards in his three games last season.
He provides a shifty alternative in the backfield, and will be needed even more with the attention Miller and Hyde command in the power-zone read game.
Hall lacks pure speed, but he is elusive and has good hands to make him a multi-dimensional player out of the backfield.
WR Corey Brown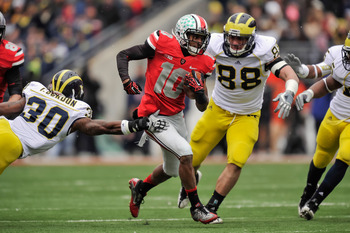 Jamie Sabau/Getty Images
Corey Brown has great speed as a receiver and played well throughout his junior season as the No. 1 wideout.
Brown had 60 receptions for 669 yards and 10 rushes for 93 yards, proving that he can make big plays with the ball in his hands.
He's not as fast as Harvin, but he does have good enough speed and has become much more reliable as his career has gone on.
Heading into his senior season, his role in the offense may continue to expand if he continues getting more carries on end-around plays or receives more screen passes.
RB Ezekiel Elliott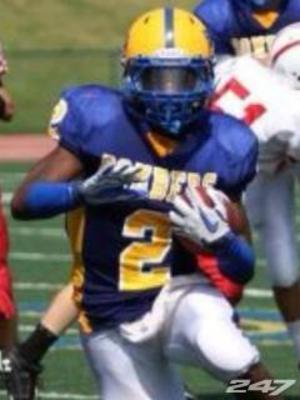 Photo courtesy of 247Sports
Writer's Note: Ezekiel Elliot took a visit to Missouri last weekend and his status with Ohio State is uncertain (theozone.net).
Ezekiel Elliott is one of the most explosive offensive skill players OSU has recruited in recent years.
He has good size at about 200 pounds and has a 40-time in the 4.4s.
The difference with Elliott is that he is a speed back who can hit the home run with every carry, something OSU doesn't have a lot of.
If he indeed reaffirms and stays with the Buckeyes, they will have an explosive young back who could see the field early in his freshman year.
WR Jalin Marshall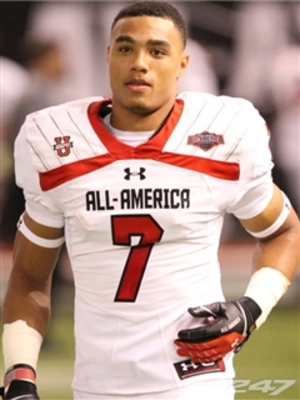 Photo courtesy of 247Sports
When you watch Jalin Marshall's highlight film, you see a player who pretty much can do anything with the ball in his hands.
The 5-star recruit (ohiostate.scout.com) will have an interesting transition from QB in an option offense to a wide receiver. But you can't teach the athleticism and elusiveness he has.
He will probably get playing time from day one because he has home run ability.
Look for him to be incorporated into read-option plays with Miller or in short screen passes until he gets more comfortable with his new position. Even though he has to figure out all those nuances of the position, he is the type of player who can change a game every time he touches the football.
Those players are rare, so you have to maximize their ability whenever you have a chance.
Follow me on Twitter @bielik_tim for the latest college football news and updates.
Keep Reading

Ohio State Football: Like this team?