San Francisco Giants: 5 Players Looking for Breakout Seasons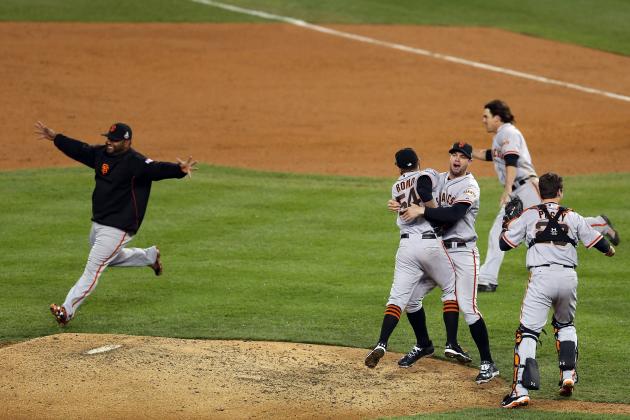 Christian Petersen/Getty Images
The San Francisco Giants celebrate their second World Series title in three years.
When you talk about potential breakout seasons by a player or players on the San Francisco Giants there aren't many candidates for true breakouts on the big league squad. Buster Posey was born broken out and Pablo Sandoval has broken out and in and out several times but seems to have found a comfortable playing weight, for now at least. The pitching staff is pretty well established so I look elsewhere.
The following are the 5 San Francisco Giants players who are candidates to have break out seasons in 2013.
Note: All statistics cited in this piece were reserached and verified at Baseball Reference.com. http://www.baseball-reference.com/teams/SFG/
Begin Slideshow

»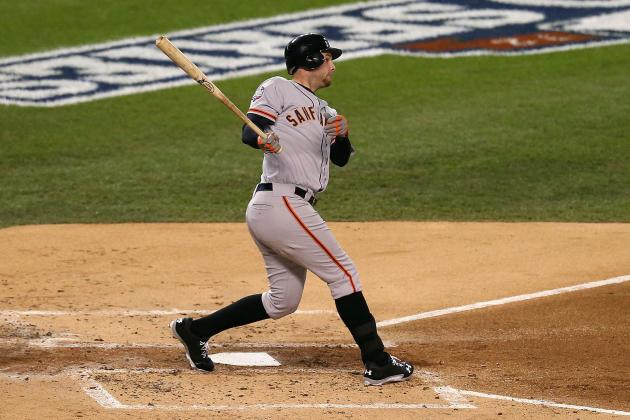 Jonathan Daniel/Getty Images
Brandon Belt hits a triple in deciding game 4 of the 2012 World Series
Brandon Belt went back and forth between San Francisco and Fresno so often in 2011 that there was a movement afoot to rename a stretch of Highway 99 after him. In 2012 the Giants did the right thing with him by letting him play through struggles and find himself.
Belt finished the season with decent numbers after going through some very cold and some very hot streaks during the year. He hit .275 with an on base percentage of .360 and an OPS of .781. He struck out 106 times in 472 plate appearances and had only seven home runs. He did record 27 doubles and 6 triples however and it is a safe bet that his power will return as he gets more comfortable at the plate.
Belt figures to have another good season in regards to batting average and getting on base. If he can increase his power output while cutting down significantly on strikeouts, he will be a force as a first baseman. Many of his strikeouts in 2012 came early in the year and he appeared overmatched and confused at times while striking out. That changed as the season went on so Giants fans and the organization can be optimistic about his potential in 2013.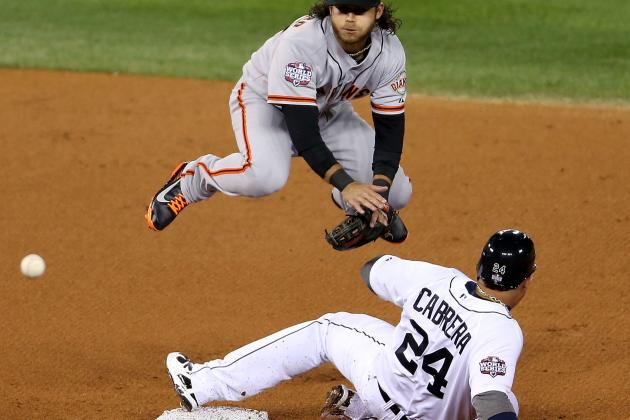 Christian Petersen/Getty Images
Brandon Crawford turns a critical double play in the 2012 World Series
Brandon Crawford really struggled early in 2012, not only offensively which was expected but defensively which was not expected and was very frustrating to fans and the team as defense has always been his forte. The Giants stuck with him without wavering and in the long run he rewarded their faith.
His defense improved to Gold Glove caliber as he regained his confidence and stopped worrying about losing his starting job. His offensive numbers certainly did not set the world on fire but he did recover from an absolutely dismal offensive start.
Crawford should be able to improve on his .248 batting average and .304 on base percentage while working on reducing his strike outs from 95 in 476 plate appearances in 2012. He will have an entire season under his belt and all of that post season experience as well. The Giants hope that the game will move a little bit slower for Crawford in 2013 and if it does, he could very well establish himself as one of the best shortstops in the game.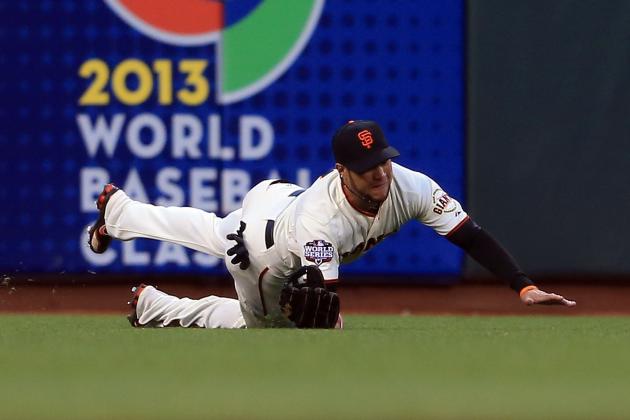 Doug Pensinger/Getty Images
Gregor Blanco played stellar defense in left field for the Giants
Gregor Blanco is an interesting player and maybe the one player on this list who truly is primed for a breakout season in 2013. The Giants looked for a left fielder in the off season but found no value in free agency or in the trade market that they felt was better than the value they have in Blanco.
Blanco came to the Giants in spring of 2012 as a non-roster spring training invitee. He played his way onto the opening day roster and stuck around all year. He was tried at the lead off spot for a while and was a revelation there when he got hot. He quickly cooled off and returned to the bench. When a certain left fielder was suspended for the remainder of the regular season in early August, Blanco got the majority of the playing time and played very well.
Blanco played so well down the stretch and throughout the post season that there was legitimate talk of him being named the MVP of the World Series before it was awarded to Pablo Sandoval.
Blanco was signed by the Atlanta Braves as an amateur free agent in 2000 at the age of 16 and made his Major League debut in 2008 with Atlanta. Blanco spent the entire 2012 season on the San Francisco Giants roster yet he still only has 2.1 years of big league service. He will be 30 years old in December and may have hit the point in his career where opportunity, potential and consistency all meet and the result is a solid performer.
The Giants are banking on Blanco being a consistent contributor toward the bottom of the lineup. If they get strong defense and a good on base percentage from Blanco they will be very happy with leaving him in left field as this team will once again be built on pitching, defense and speed.
Blanco has a career batting average of .253 and a career .349 on base percentage. With consistent playing time and a defined role on the team, Blanco is primed to improve in both of those areas and wreak havoc on the base paths in 2013.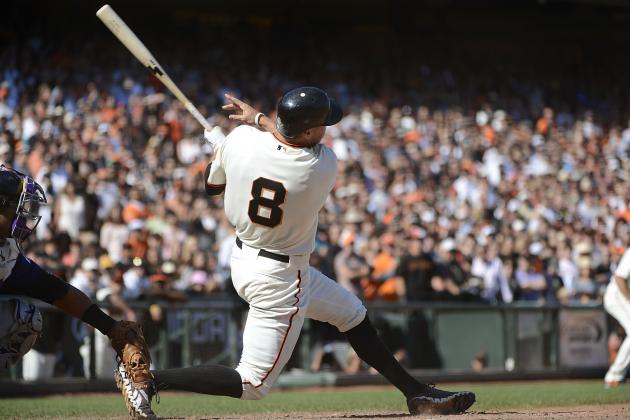 Thearon W. Henderson/Getty Images
Hunter Pence was the emotional leader throughout the post season
Hunter Pence has to put it all together in 2013. Pence is a very good baseball player albeit an awkward one. He has bounced around a little bit as he has gotten into his arbitration years which is an indication of his consistency not matching the amount of money that he will command in arbitration.
Pence drove in more than 100 runs in 2012 but looked so lost at the plate at times that one wondered how that ever happened. He certainly has displayed a knack for getting runners across home plate, sometimes unconventionally which is the name of the game but his offensive inconsistency is why he has been traded at the deadline in each of the last two seasons.
Pence has shown the ability to hit with power having hit 25 home runs three times in his career, most recently in 2010 when he played with Houston and finishing 2012 with 24. He has driven in over 100 runs only once but two other times he finished with 90+ RBI's. In 2011 he posted a career high .394 on base percentage and he also slugged .560 in that same season.
Pence looks like a train wreck waiting to happen when he is running around in the outfield but somehow it works for him. He has committed 31 errors in six seasons an average of five per year. He also has a very accurate and strong throwing arm but no one should ever show their child his motion as an example of how to throw a ball.
Pence will be a free agent after the 2013 season for the first time in his career. While I don't want to believe that a professional athlete needs money dangled in front of him in order to produce, there are far too many examples of it happening for me to ignore. Pence is also on a team for the first time in a couple years that will not be trading him in July. That stability should help his frame of mind going in to the season.
If Pence can put together a season that incorporates his best seasons to date as I detailed above he will be very expensive after the season. The Giants will be fine with that as a break out Hunter Pence could mean another ticket to the Fall Classic for this budding dynasty.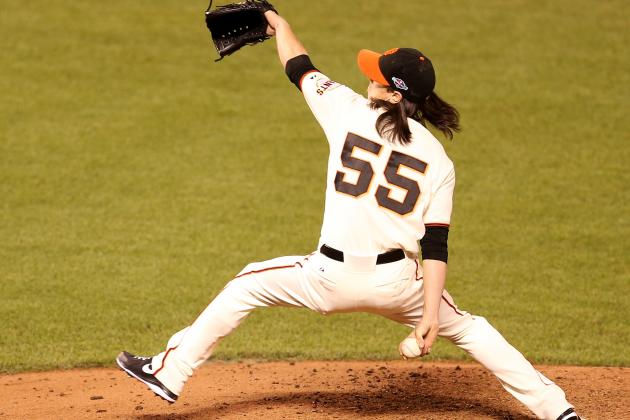 Christian Petersen/Getty Images
Tim Lincecum was dominant out of the bullpen in October
Is it possible for a two time Cy Young award winner, two time World Series Champion and winner of the Babe Ruth award to have a breakout season after those accomplishments? No one can argue that Tim Lincecum has already broken out but after his dismal 2012 season, he is primed for a second break out season.
Like Hunter Pence, Tim Lincecum is slated to become a free agent for the first time after the 2013 season. He has already signed a couple of short term large dollar contracts and seemed destined to eventually end up in the upper echelon of starting pitcher contracts until last year happened.
Production-wise, Tim Lincecum was the fifth starter on the Giants starting staff in 2012. Whether he was tipping his pitches, had become too predictable or simply peaked early in his career and was already heading down the other side, Tim Lincecum was a shell of his former self all year, until the post season.
Lincecum was relegated to the bull pen during the playoffs and World Series and took the assignment without complaint. His performance out of the bullpen in the post season was downright dominant. He was unhittable. Lincecum was the Lincecum all Giants fans had fallen in love with once again. What he accomplished in the 2012 post season in a role completely foreign to him was borderline legendary and left many people wondering what it meant.
Had Tim Lincecum found what he had seemingly lost? Can he translate his relief success back to the starting rotation or is his future in the bullpen? One thing is certain; Tim Lincecum will be a starter in 2013. How effective will he be though? The Giants can afford to be patient with him as they boast one of the most dominant starting staffs in the majors. Lincecum, personally can't be so patient.
There will be a lot of eyes watching how he performs in 2013 from the Giants organization and baseball as a whole. How he responds and how well he is able to block out all distractions could be the difference of tens of millions of dollars. If he is able to rebound and be the Tim Lincecum of old, he will have had his second break out season in 2013.