A Few of My Favorite Georgia Bulldogs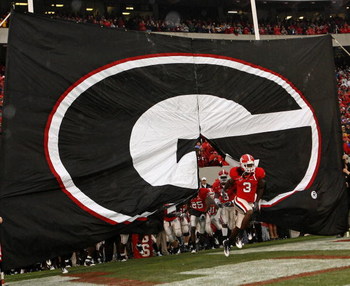 Man, I love the Georgia Bulldogs! If you are a fan of a team, you know precisely what I mean. It's a love so ridiculous in its nature that you find yourself feeling offended whenever anyone tries to talk bad about them.
You feel the losses like members of your own family. A loss to Florida is like a dagger through the heart because it always seems to determine our shot at a National Championship.
I love G-Day, The Dawg Walk, Signing Day, Mat Drills, Picture Day, and the overall pride that comes with being not only an SEC fan, but a Dawg Fan.
It's a beautiful thing.
Over the years, I have come to adore a lot of the Dawg players, but some of them hold a place in my heart with a little more fervor than others.
Not because they were any better than the next player, but because some part of me just was in love with the heart and soul with which they played the game.
This list is about those players. Perhaps you share in my love of a few of them, and if you do, that's great. If not, well, I am sure you have a pretty darn good Dawg list of your own.
Read on.
Thomas Davis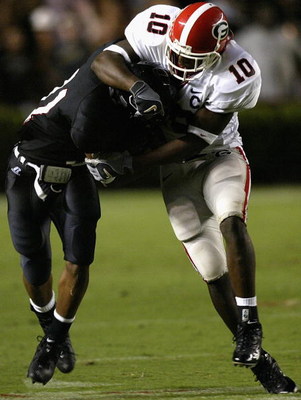 Thomas Davis was the reason I started going to "Picture Day". Man, I loved that guy. The hits he put on guys were so nasty, and indicative of that Van Gorder led defense, that it was hard not to enjoy watching him get his game on at the expense of some poor offensive player.
He was only recruited by the Dawgs, surprisingly enough, but left after his junior season for the NFL. He was the 14th overall pick by the Carolina Panthers, where he plays the linebacker position.
Here's a little video that I was able to find of his playing days at Georgia.
Greg Blue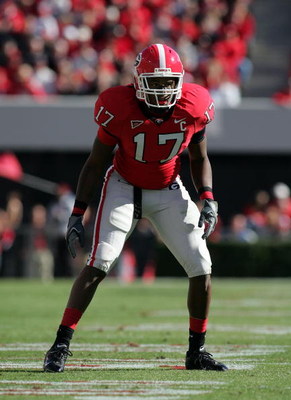 Bluuuuuueeeeeeeee!!!!! Talk about a big hitter. After Thomas Davis exited for the NFL, in walked Greg Blue. He could take it to 'em like nobody's business, and I loved it!
He made heads snap, bodies crumble, and wide receivers anxious. He was that sick.
I loved that he was in every play and played with a ton of heart. He was so much fun to watch that I had hoped he would never leave; although I knew that was an impossible dream to have for any player. All good things come to an end at some point.
Want some stats? 176 of his 260 tackles were BEHIND the line of scrimmage. He didn't let guys get yards often and if they did get any yards, they were always leary of the footsteps of #17 not being far behind the catch.
Terrence Edwards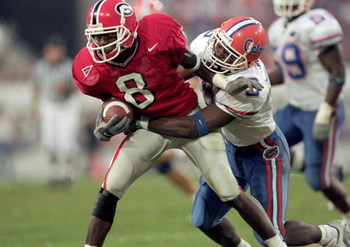 Terrence had a great set of hands. He spoiled me as a Dawg fan because I truly believed that all wide receivers could play that good.
To this day, he remains the man in my mind because he was so consistently good at his position.
In his senior season, he had 59 catches for 1,004 yards and 11 TD's. That's a nearly 18 yards per catch average. He finished his career with 3,093 receiving yards and 30 touchdowns.
David Pollack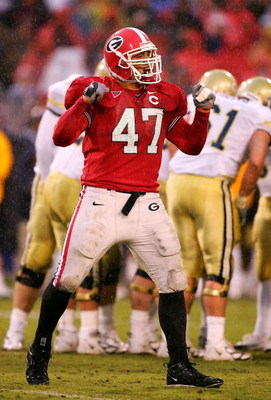 The play that made me love him is should be no surprise: It happened against South Carolina.
However, for those who have never heard of Pollack (unbelievable for me to try and imagine if you follow SEC football at all), I have added the play below just to refresh or recapture the memory.
Pollack was not supposed to be the player he became at Georgia. However his heart and "high-motor" approach to the game was undeniable when he was on the field.
His NFL career was cut short after he sustained a neck injury, but he will forever remain the standard by which other Dawgs are measured as far as I am concerned.
The list of honors he accumulated while at Georgia are as impressive as they are lengthy, none moreso than his being named a three-time All-American (only the second player in school history to be so named).
Verron Haynes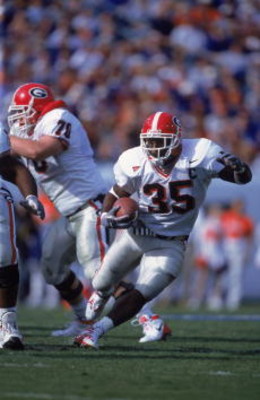 I used to be a video clerk at Blockbuster and every weekend some smallish looking guy would come in and chat a bit while renting his movies. We chatted on so many different occasions that I finally asked him if he was a student at Georgia.
He said that he was and he played for the football team, naturally I asked him what his name was, he said "Verron". That's it, just "Verron". I told him I had never heard of him before. His response was "keep looking out for me, you will".
Well, "Verron" turned out to be Verron Haynes and I kicked myself less than a year later when he became P44.
Verron was a surprise for me at running back, because I could not have imagined how shifty and elusive he could be, not to mention the great hands he had for such a lumbering kind of guy.
I liked him because he played tough and played smart. I rarely saw him turn the ball over and he punished offensive lines with his goal line scores. P44 made him famous, but No. 35 was simply an underdog who became a darn good Dawg.
Fred Gibson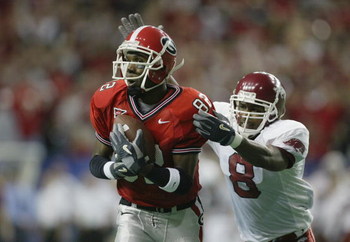 Fred could have done so much more than he allowed himself to do as a Dawg. He had the talent, the speed, and the hands to surpass Terrence Edwards if he had tried just a bit harder.
He was a phenom in his rookie year, catching 49 passes for 801 yards and seven TDs, but he fell flat the following season and just seemed to muddle through.
He was still good for a 15.4 yards per catch average, but you could never be sure he was giving his all.
So by now you might be asking, how the heck did he make this list? Why is he a fave? Well, I guess I was crazy about Fred for all the reasons that others might hate the guy: "unrealized potential."
His stride and catch ability seemed so natural and effortless that you had to wonder why he didn't just play like he loved it.
Perhaps basketball had too much of his heart. Still, though, 161 catches for 2,884 yards is not a bad way to end a career.
Thomas Brown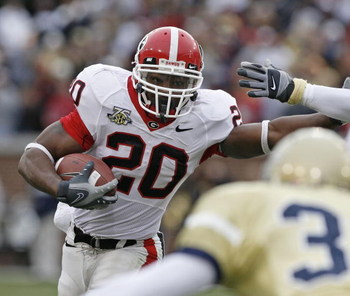 "Pound for pound, he's the strongest guy on the team." I sure heard that a lot about Thomas. He played bigger and better at his position than his size would have dictated. He was shifty and had a deceptive amount of agility.
He was so good in fact, that even when Knowshon burst on the scene as an incoming freshman, Richt still chose to redshirt him because Thomas was enough. Imagine that.
While at Georgia, Brown never rushed for 1,000 yards, but he was a versatile player, returning kicks, and acting as a receiver out of the backfield when needed.
It was hard not to like Thomas because he was a good guy. He still is in my book.
Sean Jones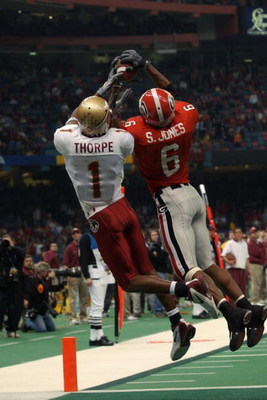 If you are paying even a modest amount of attention, you probably have noticed that I have quite the love affair with the defense.
Sean Jones, another hard-hitting Georgia safety, had my heart at the 99-yard return against Tennessee at Neyland Stadium.
The former quarterback, turned safety, was like a snake when he played at the safety position. He struck hard and fast.
If a wide receiver didn't account for him on the field, he was apt to find a catch that was intended for him, end up in the hands of Jones or in the bleachers.
Quick. Skilled. Talented. Jones was a monster.
He finished his career with the Dawgs having 250 tackles, 1 sack, 10 stops for losses, four quarterback pressures, three fumble recoveries, seven interceptions, and four blocked kicks.
Here is his signature play, that pan of the crowd after the fact is priceless to me. It just goes to show, you can never count six, till you get six.
Knowshon Moreno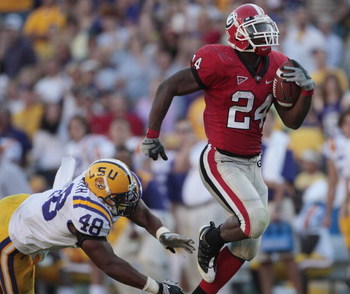 I know he just played for us last season, but he had me at "hello."
Knowshon was a highlight reel waiting to happen on every play. You couldn't keep him down and his energy, man, his energy was infectious.
I am not now, nor have I ever been, nor will I ever be a running back for the Georgia Bulldogs, but Knowshon made me want to be one.
He made the game look fun. He made it look easy. He made it a phenomenal thing to watch, and I only wish I had one more season to see him do his thing.
I can't name a signature play because he seemed to have so many, but that leap over the defender when we played Central Michigan is definitely a keeper.
He was by no means the fastest guy, but he took what he had and made others look silly. You had to like his confidence when he played. How could you not?
David Greene
The only quarterback on my list and for good reason.
David Greene was not Matthew Stafford, but if I could have taken the leadership, accuracy and poise of David Greene and infused it into Matthew Stafford last year....man oh man, that is a Georgia team that I would have loved to see face the rest of the pack.
Greene was just money. He was so money and he didn't even know it. With him on the field, you never had to look away in worry that a bad play was about to happen, nor did you have to be concerned that he was going to make an unnecessary mistake and cost us the game.
David Greene was just a phenomenal quarterback. If you don't believe that, just check his numbers. That's all you have to do.
Keep Reading

Georgia Bulldogs Football: Like this team?