NHL's Most Surprising Statistical Leaders Through January
Thearon W. Henderson/Getty Images
Quick—name the leading scorer in the NHL right now.
Sidney Crosby? Nope.
Alexander Ovechkin? No, try again.
Patrick Marleau? Yup.
Whoever predicted Marleau before the season started can collect his "Top Analyst of the Year" accolades early. (He can be sure to grab extra praise if he predicted that Jaromir Jagr and Teemu Selanne would lead the league in scoring after opening night too, although both players have since fallen off.)
But Marleau isn't the only player to have a hot start to the season or be among the league leaders in a category he isn't expected to lead. And as we're now about an eighth of the way through the shortened schedule, don't be surprised if some of the players who follow retain the top spots in these statistical categories beyond the month of January.
Patrick Marleau, Sharks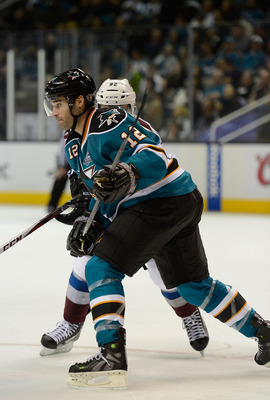 Thearon W. Henderson/Getty Images
Nine goals, first overall; 13 points, T-first overall
Marleau opened this season by doing something that Wayne Gretzky, Mario Lemieux, Gordie Howe and Bobby Hull never did: He had four consecutive multigoal games.
The only other player to do it was prolific old-timer Cy Denneny, the 1959 Hockey Hall of Fame inductee who did so with the original Ottawa Senators in 1917-18. As the Sharks' first line rolls, it's no shock that Marleau is also tied for the league lead in points with his center, Joe Thornton, coming into Tuesday's late game.
Daniel Winnik, Ducks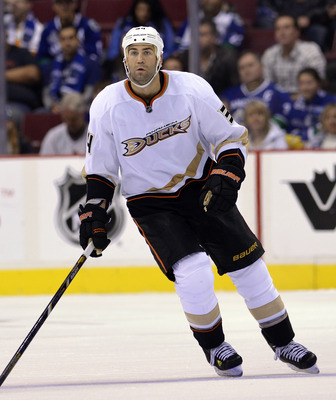 Rich Lam/Getty Images
Five goals, T-second overall; plus-six rating, T-fifth overall
Last year, Winnik scored a total of eight goals in 84 games split between the Avalanche and Sharks.
This year, he has scored five in his first four games with the Ducks, the first player to do that in team history. Playing with veteran Saku Koivu, Winnik moved up to the top line against Nashville.
With six points and a plus-six rating, Winnik has yet to be on the ice for an opposition goal coming into Tuesday's late game.
Kevin Shattenkirk, Blues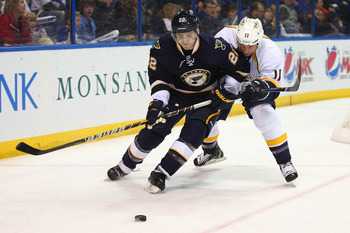 Dilip Vishwanat/Getty Images
Eight assists, T-second overall
Alex Pietrangelo may log more ice time, but Shattenkirk has become a premier offensive facilitator for the Blues, tallying eight assists in six games.
What's most telling about his vision is that he hasn't earned a helper on a goal by standout rookie and top Blues forward Vladimir Tarasenko since St. Louis' second game of the season against Nashville.
The former U.S. National Development Team and Boston University player, good for a little more than a point every two games in years past, is off to a decidedly stronger start this year.
Sami Salo, Lightning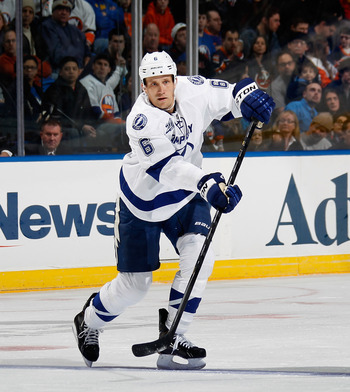 Bruce Bennett/Getty Images
Plus-10 rating, first overall
Though Salo hasn't been the top offensive contributor on the 5-1-0 Lightning, he's managed to be on the ice at the right time more than anybody else in the league. In his first season in Tampa Bay after nine years with the Canucks, he has contributed five assists in six games to what has been one of the most prolific offenses in the NHL so far this season.
Cory Conacher, Lightning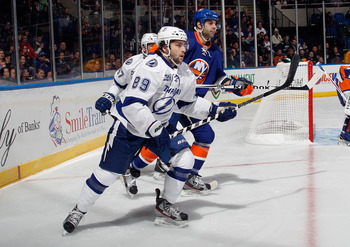 Bruce Bennett/Getty Images
Six assists, T-seventh overall; nine points, T-seventh overall
A point-per-game player in Norfolk of the AHL last year, Conacher is thriving as a top-six forward and power-play contributor for the Lightning. With a goal and an assist, he was the first star in Tampa Bay's 5-2 win over Florida on Tuesday night.
So far, he's scored in five of his first six NHL appearances.
Andrew MacDonald, Islanders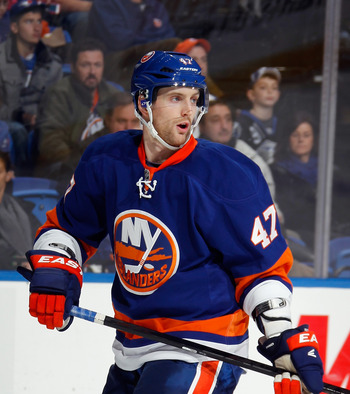 Bruce Bennett/Getty Images
27:13 TOI, fifth overall
Now in his third full season on Long Island, MacDonald hasn't broken onto the scoresheet for Jack Capuano's club in six games yet. But he's one of the team's best defensemen, a smart player who can clear the puck out of the Isles zone and put up between 20-30 points per year.
As a way to illustrate his importance, captain Mark Streit has seen the second-most ice time for the team—more than two-and-a-half fewer minutes per game than MacDonald.
Craig Anderson, Senators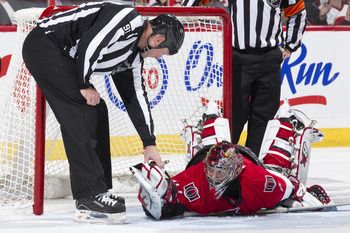 Jana Chytilova/Freestyle Photo/Getty Images
0.98 GAA, first overall; .967 save percentage, first overall; four wins, T-second overall
Anderson has been doing his best brick wall impersonation in five appearances for Ottawa so far this year, going 4-0-1 and letting up only five goals on 152 shots. He played three full games, including a shutout against Florida, before giving up any even-strength goals.
Although he gave up two goals early against the Capitals on Tuesday night, Anderson stood strong for the rest of the game as the Jason Spezza-less Senators mounted a comeback to win 3-2.
Corey Crawford, Blackhawks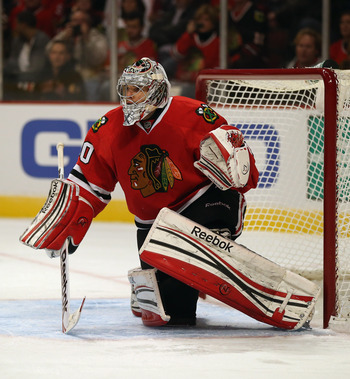 Jonathan Daniel/Getty Images
Five wins, first overall; .933 save percentage, fourth overall; 1.78 GAA, sixth overall
The Blackhawks opened the season a perfect six for six, with Crawford backstopping them in five of those games. He's stopped 125 of 134 shots faced, yielding strong numbers in both goals-against average and save percentage.
Compared to last year's so-so form in both the regular season (2.72 GAA, .903) and playoffs (2.58 GAA, a woeful .893), it seems like Crawford is ready to bounce back and become a bona fide star in Chicago.
Tuukka Rask, Bruins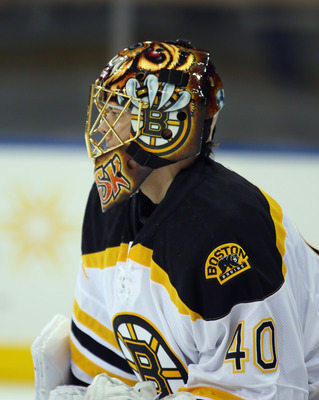 Bruce Bennett/Getty Images
Four wins, T-second overall; 1.74 GAA, fifth overall
Anybody who knows the Bruins well isn't surprised by Rask's hot start, but those who wondered how they would replace Tim Thomas may be.
After posting a 1.85 GAA and .936 save percentage with a 6-2-0 record in the Czech Republic during the lockout, Rask has played at a similar level in five starts for Boston so far.
His perseverance while down 1-0 and tenacity during an eventual six-round shootout against the Devils on Tuesday helped the Bruins steal two points to start the season at 5-0-1.
Jaroslav Halak, Blues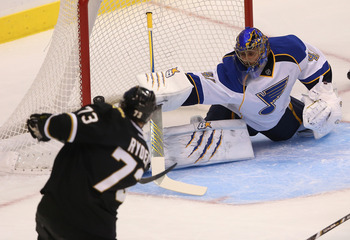 Ronald Martinez/Getty Images
Two shutouts, first overall; 1.69 GAA, fourth overall
The Blues have won all four games that Halak has started this season, although he was pulled after giving up three goals against Nashville on January 21 and did not get the decision that night.
But he made up for it three nights later by shutting out the Predators, which was his second shutout in three games after he blanked the Red Wings in the season opener. Though his save percentage of .902 suffered at the hands of Nashville, Halak has only given up six goals this year—and only three have been at even strength.
For more from Christopher Leone, follow @christopherlion on Twitter.
Keep Reading