Dallas Cowboys: Biggest Question Marks Surrounding the Cowboys' Offseason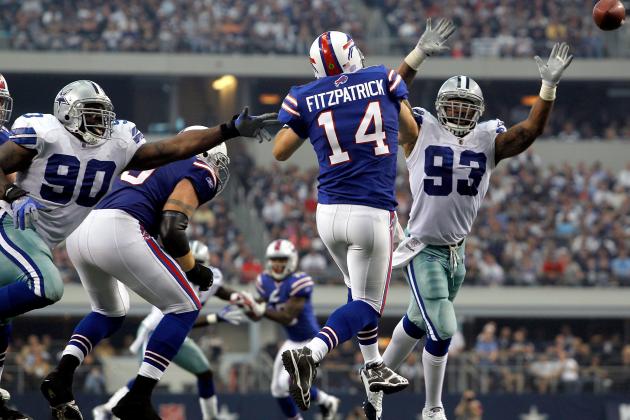 Tom Pennington/Getty Images

If the Dallas Cowboys hope to play in the Super Bowl and not watch it from home next year, they better get some work done this week.
Of course, there are a lot of issues that need to be fixed.
The Cowboys have already started making changes with the coaching staff. The additions of Monte Kiffin and Rod Marinelli are signs of good things to come.
Yet, there is still more work to do.
The Cowboys have a ton of questions that need to be answered. Let's look at the most important ones.
Begin Slideshow

»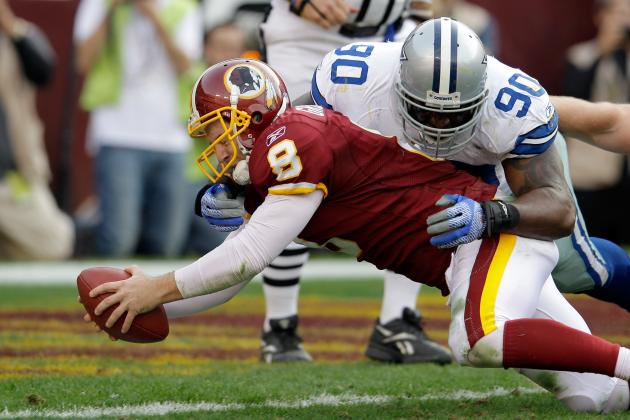 Rob Carr/Getty Images

The Cowboys have had issues on the interior defensive line since the beginning of the 2012 season. Between the injury to Jay Ratliff and the suspension of Josh Brent, the team quickly realized how much they were hurting for depth at that position.
Now, news has surfaced that Jay Ratliff was just arrested for a DWI.
Not a good start to a defensive transition.
The Cowboys desperately needed a healthy Ratliff to fill the void on their interior line. Now, it looks increasingly more likely that Ratliff will be a free agent this offseason and the Cowboys will be struggling to find a viable replacement.
There are some decent free agents available; the most notable of the group is Henry Melton. However, the sense is that the Cowboys' pockets aren't deep enough this offseason to go spend big money on big free agents.
That leaves the draft.
The Cowboys will need to give the interior defensive line a high priority in the NFL draft. With players like Sheldon Richardson and Shariff Floyd heading the group, the Cowboys could nab a franchise player.
Richardson is the most likely; he is an athletic 3-technique that can hold up at the point of attack and be a presence in pass-rushing situations. There is depth at the position, but I believe the Cowboys will look to Richardson in the first round.
The Cowboys will need to think wisely about investing in a very important position in the Tampa 2. One selection in this draft likely won't be enough.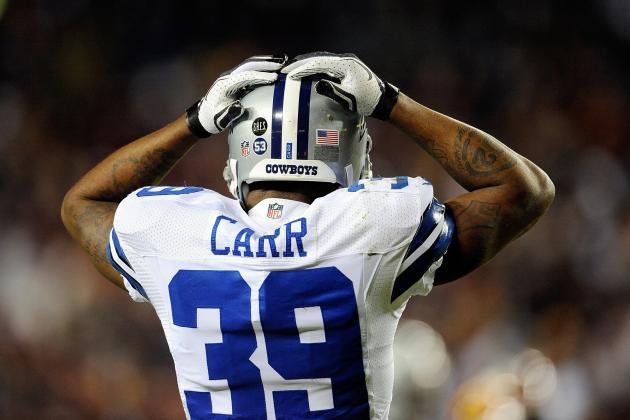 Patrick McDermott/Getty Images

There were some skeptics when the Cowboys signed free agent corner Brandon Carr to a five-year deal worth $50.1 million. Critics didn't even have time to settle before the Cowboys traded a first and second-round pick to move up to draft Morris Claiborne.
For all intents and purposes, the Cowboys liked what they saw out of Carr and Claiborne as a future tandem in a press-man coverage scheme.
Then the Cowboys fired Rob Ryan, and everything changed.
The addition of defensive coordinator Monte Kiffin has left the Cowboys amidst a difficult defensive transition to the famed Tampa 2 defense.
The Tampa 2 defense relies on its corners to maintain their zones, play aggressively and make tough tackles. There are legitimate concerns about the ability of Carr and Claiborne to play effectively in this scheme.
Carr is familiar with this scheme, having played it some in Kansas City, and Morris Claiborne is still developing and has the ability to pick up this scheme with relative ease. While I did see both corners struggle with zone coverage last season, I have to believe that a coach with Kiffin's knowledge will be able to maximize these talented corners.
There's reason for optimism, but the fact is that only time will tell the story of these corners' success. Jerry Jones is hoping it's a good one.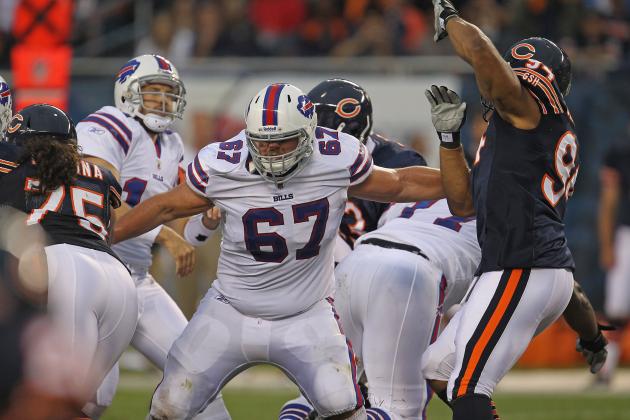 Jonathan Daniel/Getty Images

A few weeks ago, I put together an in-depth breakdown the Cowboys cap situation. The verdict? It doesn't look good.
The Cowboys remain $20 million over the cap and have a lot of work to do to be in a position to make offseason moves. Additionally, they need to be cognoscente of upcoming free agents in 2014 and 2015 as well. Both Sean Lee and Dez Bryant will have their contracts expire in the near future, and the Cowboys need to make them priorities.
Through extending Tony Romo, restructuring Brandon Carr's contract and releasing a few veteran's (Jay Ratliff would save the Cowboys $1 million), the Cowboys could get back below the cap level.
Just how far is the question.
I'm not a capologist, but it's hard to envision a situation where the Cowboys would be able to pursue big-name free agents.
The key for the Cowboys in this offseason is an affordable, high-reward player that would be ready to contribute immediately to a team need.
The only high-priced target I would set my sights on is Andy Levitre; beyond that, I think the Cowboys keep it very quiet at Valley Ranch.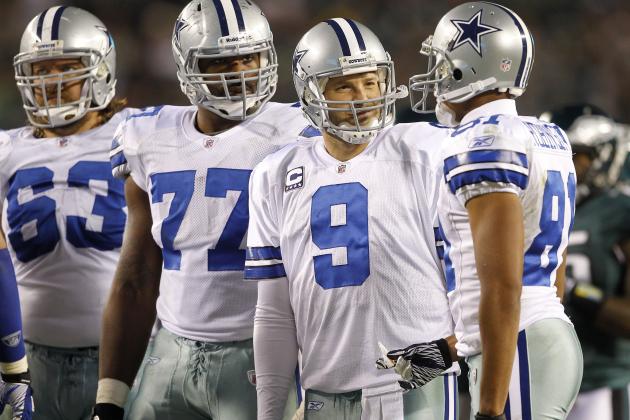 Rich Schultz/Getty Images

Tony Romo would probably really like to know the answer to this question as well. He was sacked an alarming 36 times and was under siege much more often.
The Cowboys have one franchise-caliber left tackle in Tyron Smith, but besides him, there is nothing. While it's unlikely the offensive line will undergo a complete makeover this offseason, the Cowboys would do well to upgrade Mackenzy Bernadeau and Doug Free as soon as possible.
With a limited financial budget, the Cowboys will be forced to look at the draft to help rebuild a depleted offensive line. Players like Barrett Jones and David Quessenberry who can play multiple positions on the offensive line should be a high priority for the Cowboys.
The Cowboys have many holes on the offensive line, but smart drafting could help solidify it. Add some draft picks to young players like Ronald Leary and David Arkin and the Cowboys could be in good shape.
The biggest question remains player development, something that Tony Romo hopes happens sooner than later.