Jason Hatcher Has Re-Committed to Trojans?
Use your ← → (arrow) keys to browse more stories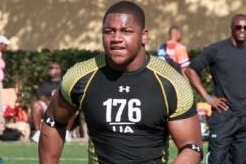 A week after de-committing from USC, four-star defensive end Jason Hatcher is back on the wagon a member of the Trojans' Class of 2013. According to Gerard Martinez of USCFootball.com, the Louisville, Kentucky native had an in-home visit with USC coaches Lane Kiffin, Clancy Pendergast, Tee Martin and Ed Orgeron. Tonight, Hatcher is listed as committed recruit on Rivals' full manifest of USC commitments.