Predicting the Detroit Tigers 2014 Lineup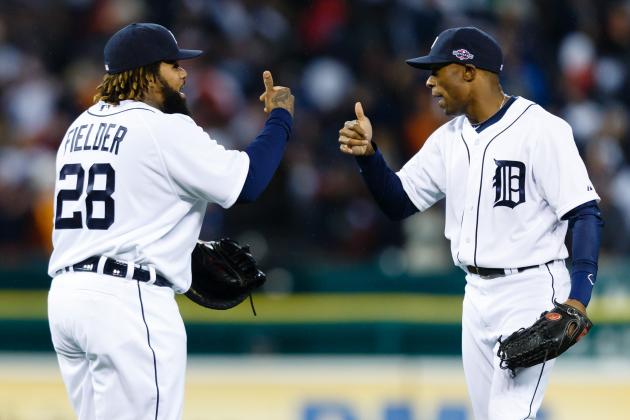 Rick Osentoski-USA TODAY Sports

While the Detroit Tigers haven't even gone to Lakeland, Fla. yet for the start of spring training, this year's starting lineup is close to being set—barring a major trade or free-agent signing. There are also no major roster battles other than for the No. 5 starting rotation spot.
I have always loved looking into the future and seeing what the Tigers team might resemble down the road. I believe there could be some major changes occurring in 2014, so here are my early predictions which I'll keep updating throughout the season.
Begin Slideshow

»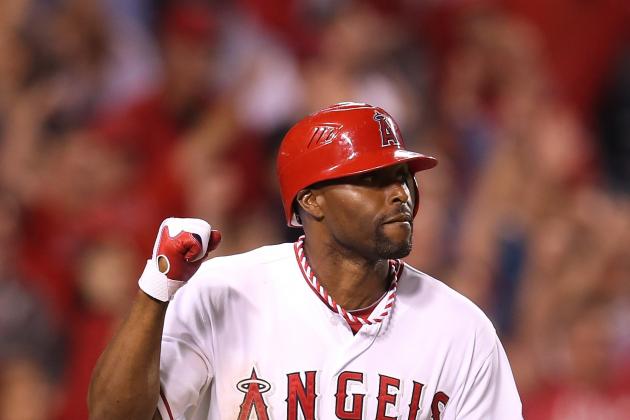 Stephen Dunn/Getty Images

In 2014, Torii Hunter will be in the second year of his two-year deal, and I can't see him regressing enough to lose his starting spot in right field.
Hunter is known as an affable leader in the locker room who his teammates love. While Hunter will still be able to be good defensively in the outfield barring injury, I can't be as certain he'll still be penciled in as the No. 2 man in the batting lineup.
Either way, Hunter was a solid addition approaching the 2013 season and still should be able to help the Tigers win in the lineup, as well as in the clubhouse, in 2014.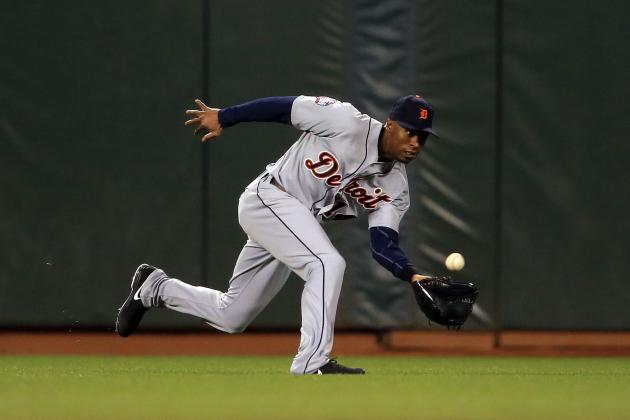 Doug Pensinger/Getty Images

Austin Jackson will be 27 years old at the start of spring training in 2014 and entering into his prime. Jackson has been one of the best center fielders the past three seasons and has been nominated for a Gold Glove the past two seasons—though he has lost both times.
Jackson's defense is suited for Comerica Park, and he only committed three errors in 2011, followed by only one error in 2012. While his defense has never been a work in progress, sometimes his batting has been due to his strikeouts.
Jackson has even been improving on his strikeouts by lowering them from 181 in 2011 to 134 in 2012. I expect Jackson to lower that number even more in 2013. He has also increased his walks each year he's been in the majors. This year he improved his walks to 67, which was up from 47 in 2010.
Jackson should be able to patrol center field in 2014 and several years after that.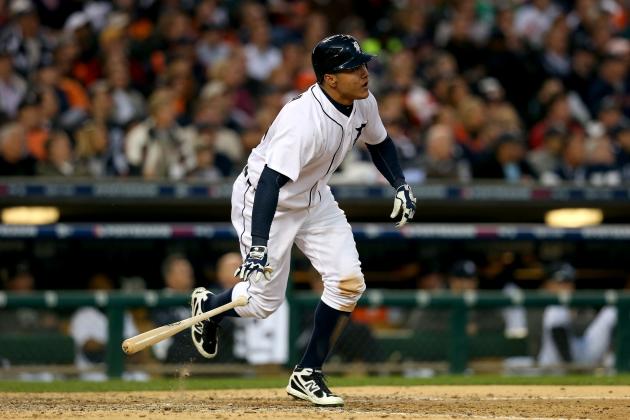 Jonathan Daniel/Getty Images

Avisail Garcia is a natural right fielder, but I believe he'll be the starting left fielder in 2014. Garcia is one of the Detroit Tigers' most touted prospects, and he looks like the real deal.
I believe Andy Dirks, who will have the chance to be the primary left fielder in 2013, won't be able to keep Garcia on the bench as Garcia is definitely the more talented of the two. I expect Dirks will be used as the fourth outfielder in 2014.
Garcia should develop power at the major league level while hitting for average at the same time. Garcia's arm is great in the outfield, as he showed off in the postseason. If for some reason Garcia has trouble in left field, then he could swap outfield positions with Torii Hunter.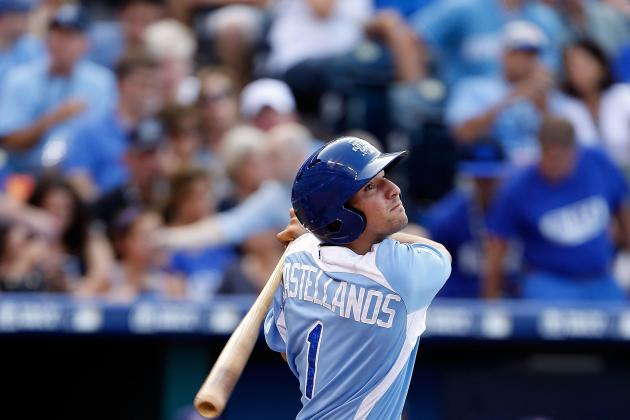 Jamie Squire/Getty Images

I strongly believe that Nick Castellanos will be the third baseman for the Detroit Tigers—and sooner rather than later. While he has currently tried playing in both right and left field, his natural position is third base. While current superstar/Triple Crown winner/AL MVP, Miguel Cabrera, will be at third base in 2013, I project him to move back to first base eventually and Castellanos could force the Tigers to move Cabrera as soon as next year.

Tigers GM Dave Dombrowski spoke with MLive.com's Chris Iott about Castellanos in December:
"This is just not our reports," he said. "We're talking about a bureau report that you can read that we get. Some people think the guy's going to be an impact bat almost immediately. Those were their words: 'impact bat.' … And quickly."
Castellanos, who will be 22 years old at the start of the 2014 season, is still developing his power, but as he matures and grows, it should develop naturally. His hitting has been developing very nicely and last year when he got promoted to Double-A, he hit a very respectable .264 in 79 games after hitting a ridiculous .405 in 55 games playing Single-A ball.
Bats like this don't grow on trees, and the Tigers definitely need to hold on to Castellanos and not trade him. Why I project him playing third base instead of the outfield is that his value will be a lot greater to the Tigers there. Plus, if he falters at third base, they always have the fallback option of moving him, even though I highly doubt that will ever happen.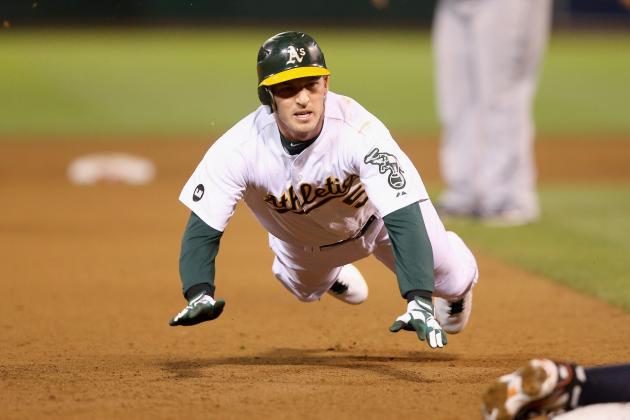 Ezra Shaw/Getty Images

While I like Jhonny Peralta and have defended him in the past, this offseason the Detroit Tigers were rumored to have been trying to bring in a shortstop with better range, like Baltimore Orioles shortstop J.J. Hardy.
While Hardy will still be under contract in 2014, I believe the Tigers will target Stephen Drew to man shortstop as a short-term option. The Tigers were even linked to Drew earlier in the offseason before he signed a one-year deal with the Boston Red Sox.
While Drew has better range defensively than Peralta, he is not as good a hitter—but I believe the Tigers would live with that trade-off.
Drew, who suffered a terrible ankle injury in 2011, should be fully healthy by the start of the 2013 season.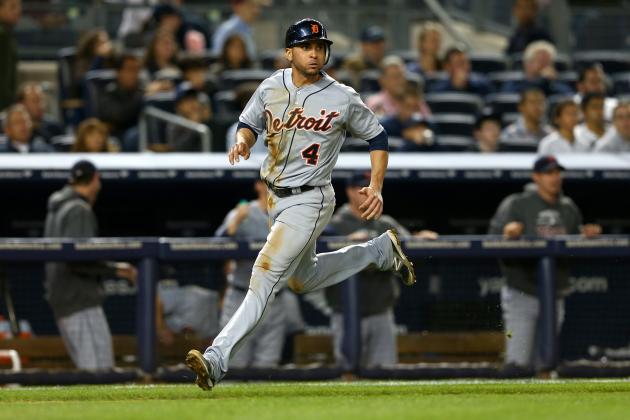 Elsa/Getty Images

Omar Infante is a very good defensive second baseman, and I consider the defensive struggles that he experienced towards the end of regular season to be no big deal. I believe they just stemmed from him adjusting to a new team.
Infante, who had played for the Detroit Tigers from 2002-07, is a free agent at the end of this season. I believe the Tigers would like to keep him, as second base has been kind of a revolving door since Placido Polanco departed after the 2009 season.
Infante will be 32 years old at the start of the 2014 season and will still be young enough not to have a drop-off in his skills. He should have a season at the plate since he'll have re-adjusted to the American League pitchers.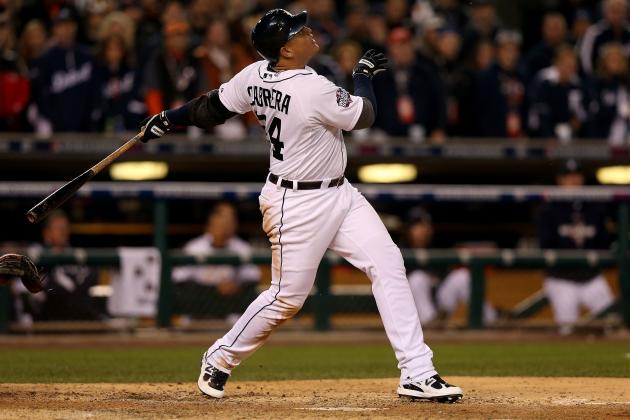 Ezra Shaw/Getty Images

What can you say about Miguel Cabrera that hasn't already been said? He is a very special hitter and was turning into an above-average defensive first baseman before he gladly moved across the diamond to accommodate Prince Fielder.
The Detroit Tigers are thrilled that they have such an accomplished hitter, and I believe Cabrera will still be putting up huge numbers in 2014. I've always felt that he never gets enough credit for how seriously he takes his defense.
My thinking is that Cabrera will be moved back to first base due to Nick Castellanos' emergence as a major league player. While Cabrera might enjoy playing third base more, he isn't the type of player who complains and is known to be a good teammate—so he'll quietly make the switch.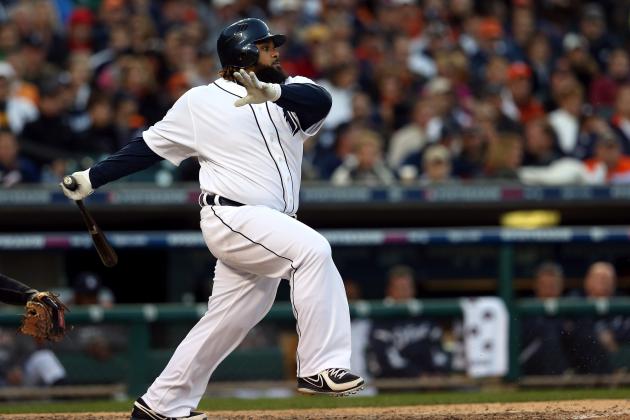 Jonathan Daniel/Getty Images

Prince Fielder is very underrated in my eyes and doesn't get enough credit for his talent as an all-around hitter, instead of just a home-run hitter.
Fielder is also not as bad defensively as fans may think. That being said, eventually he'll be the Detroit Tigers' full-time DH, and I believe that it will happen in 2014. This will play to Fielder's strengths and allow him to do what he does best: Hit.
I believe the 2013 DH and all-around good guy, Victor Martinez, will be traded next offseason. Martinez is scheduled to become a free agent after the 2014 season, and he's such a good hitter and clubhouse leader that several teams would be interested in him. Martinez will be 35 years old, and the Tigers will look to get younger and better defensively with Avisail Garcia and Nick Castellanos, so unfortunately Martinez will be the odd man out.
Fielder will still be able to fill in at first base and give Cabrera a rest at DH to keep him fresh. All in all, this transition between Fielder and Cabrera will be the best for both of their careers.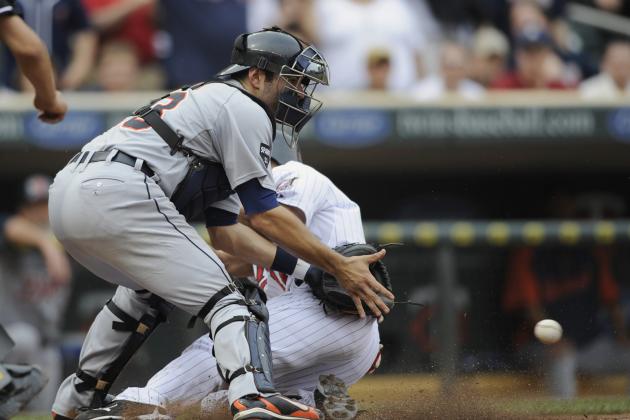 Hannah Foslien/Getty Images

Catcher Alex Avila won't be displaced anytime soon from behind the plate and will be the Detroit Tigers' starting catcher in 2014, as well. While Avila had some injuries in 2012, as well as some struggles at the plate, he is a very good catcher defensively who has earned the pitchers' trust.
As I mentioned in my 2013 player profile on Avila, he should have a better 2013 season and have numbers closer to his All-Star season in 2011.
If everything goes how I expect it to go, then Avila will remain the Tigers' catcher for a long time and become recognized as a Gold Glove catcher.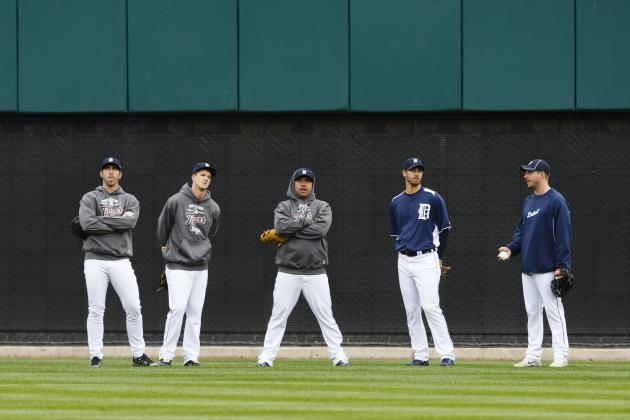 Rick Osentoski-USA TODAY Sports

I'm predicting that the 2014 starting rotation will have one new member in it: Luke Putkonen. While I believe Rick Porcello should still get a shot with the Detroit Tigers during the upcoming year, I feel the Tigers will trade him either before or during spring training if they get a package which is to their liking.
I also believe that Max Scherzer is not going to pitch as well in 2013, and with injury concerns with his shoulder, the Tigers should trade him before the 2014 season at the latest. While there are some pitchers that should be signed to a long-term deal, I believe the Tigers shouldn't lock in Scherzer to be a huge part of their future.
Besides, with Scherzer's superb 2012 season, some teams will pay a lot for him on the trade market before he gets his money as a free agent after the 2014 season.
Putkonen is a big pitcher, and while he only pitched 16 innings for the Tigers in 2012, if he stays healthy and keeps working, he could have a big impact in 2014. Some pitchers take longer to develop, but if Putkonen keeps his walks down, then he has as good a chance as anyone to become a mainstay in the Tigers' starting rotation as their No. 5 pitcher.
Justin Verlander, Doug Fister, Anibal Sanchez and Drew Smyly will be well established at this point, so it will not come as a surprise that they will still be in the starting rotation in 2014.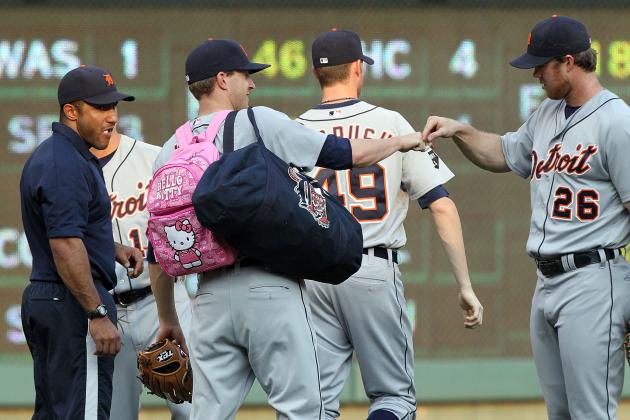 Ronald Martinez/Getty Images

To me, the bullpen on a baseball team is one of the hardest things to judge each season. For the majority of middle relievers and setup men, there is no rhyme or reason to how successful they can be from one season to the next.
I'm not even going to pretend to attempt predicting the bullpen in 2014, but I will say it's highly likely that Joaquin Benoit and Octavio Dotel will still be with the Tigers that season.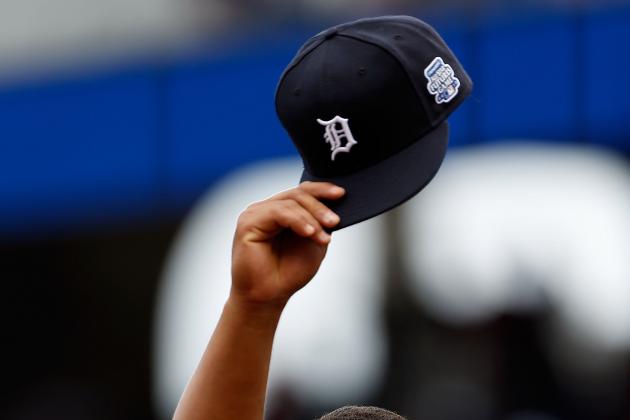 Jamie Squire/Getty Images

While I have questions about Bruce Rondon closing for the Detroit Tigers in 2013, I believe he'll be the established closer by the start of the 2014 season.
Rondon will be 23 years old in 2014 and will have experienced what the major leagues are like, so he should feel very comfortable by that point being the full-time closer.
Rondon should also be able to harness the emotions that come with being a closer and will hopefully not be as wild as he sometimes tends to get in specific pitching situations.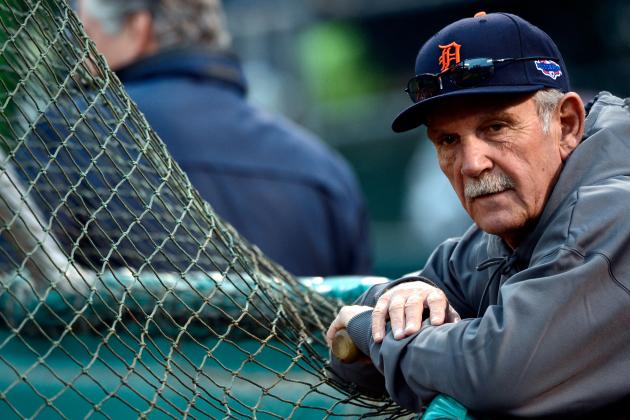 Thearon W. Henderson/Getty Images

I'm predicting that manager Jim Leyland will be back with the Detroit Tigers in 2014 on another one-year deal. The Tigers should have a great enough season in 2013 where the front office and ownership will want him to return.
Leyland is the type of person who knows when his team has tuned him out and it's time to go. I don't believe that Leyland is ready to retire, and I've always believed that he is the perfect manager for the Tigers.
Fans sometimes forget how bad the Tigers were before Leyland came to Detroit. That is why I hope he stays on as manager for a long time to come.
What are your thoughts on what the 2014 Detroit Tigers roster will look like?