Scouting Report on Each Braves Pitcher and Catcher Heading into Spring Training
Scott Cunningham/Getty Images

The Braves have a very strong team built for the 2013 season, and despite all the attention that is being paid to their offense, the real strength of the team is the pitching staff. The rotation is very promising while the bullpen looks like it may end up being the best in baseball.
With spring training just two weeks away, the Braves roster appears to be set after the Justin Upton trade. This article takes a look at each of the pitchers and catchers on the Braves roster before they report to spring training.
Begin Slideshow

»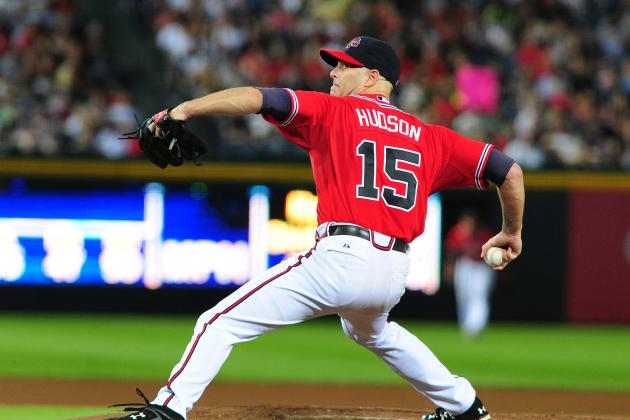 Scott Cunningham/Getty Images

Tim Hudson may be 37, but he is still likely to be the guy at the top of the Braves rotation. That is because, since returning from Tommy John surgery in 2010, Hudson has appeared to be re-energized.
Hudson has won at least 16 games in each of the past three seasons and has put up an ERA of 3.62 or better each year. Some will point to the fact that he declined a bit last season from his 2011 numbers, but some of that decline resulted from the fact that he missed the first month of the season recovering from back surgery, and also pitched with an injured ankle.
Hudson isn't just the leader of the Braves rotation. With Chipper Jones retiring, he also becomes an important veteran presence in the clubhouse. Hudson will potentially get to lead a strong Braves rotation into the playoffs as the top starter.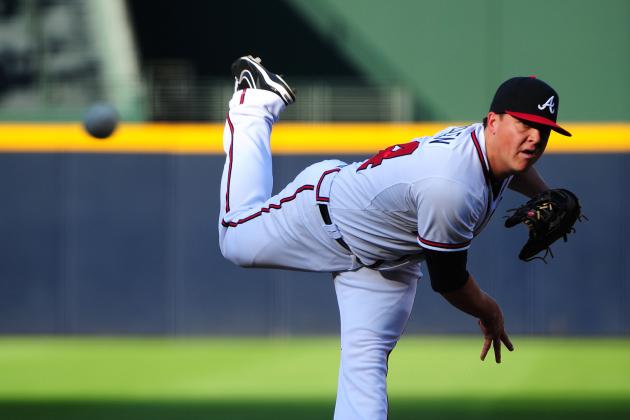 Scott Cunningham/Getty Images

Kris Medlen was arguably the best starting pitcher in baseball down the stretch last year, as he went 9-0 with a 0.97 ERA in 12 starts after the All-Star break. Medlen was so good that he drew comparisons to Greg Maddux because of his ability to locate the ball. That is quite surprising for a guy in his first full season back from Tommy John surgery who began the year in the bullpen for a team that was expected to have a very strong rotation.
Medlen won't be able to sneak up on anyone this year after the success he had in 2012. Still, many expect him to be a very good starter, though there is no way he, or anyone else for that matter, could keep pitching at the level he did down the stretch last year.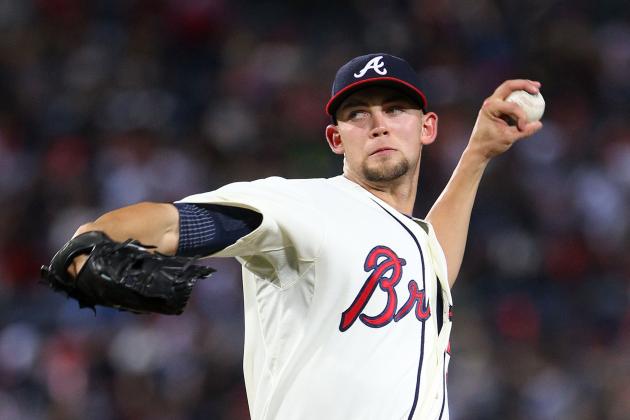 Mike Zarrilli/Getty Images

Mike Minor is the left-handed starter the Braves drafted in the first round of the 2009 MLB draft. He was expected to become a fixture in the Braves rotation last year, and although he did accomplish that, he didn't do it the same way most had anticipated.
Minor had a few nice starts at the beginning of the 2012 season before getting blasted in May. He ended up going 5-6 with a 5.97 ERA in 16 starts in the first half of the year before turning his season around in the second half. During the second half, Minor dominated at times, as he went 6-4 with a 2.16 ERA in 14 starts.
Minor isn't likely to be as bad as he was in the first half of 2012, but he isn't likely to be as good as we saw down the stretch. What we should expect is something a little bit better than his final stat line for 2012, when he went 11-10 with a 4.12 ERA.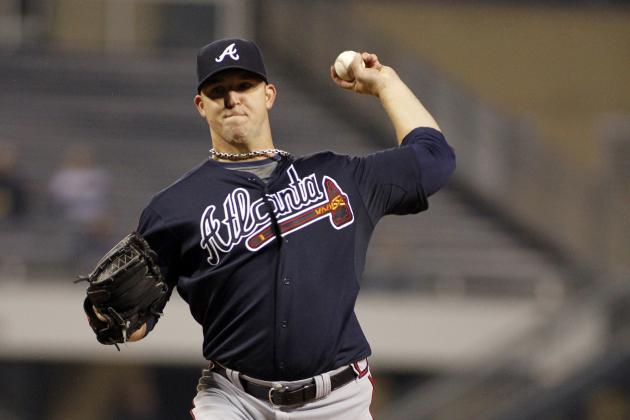 Justin K. Aller/Getty Images

Paul Maholm may not be as talented as the other pitchers in the Braves rotation, but he is very solid. He's a left-hander who has pitched at least 175 innings in six of the past seven seasons (and totaled 162.1 innings in the other year).
Maholm went 13-11 with a 3.67 ERA last year, which is impressive considering that 21 of his 32 starts were for an awful Cubs team. That followed somewhat of a breakout 2011 season in which he went 6-14, but put up a 3.66 ERA, for the Pirates.
Maholm is going to play the role of an innings eater towards the back of the Atlanta rotation. He isn't going to tally a lot of wins for the Braves, but he will usually keep them in the game and log some innings.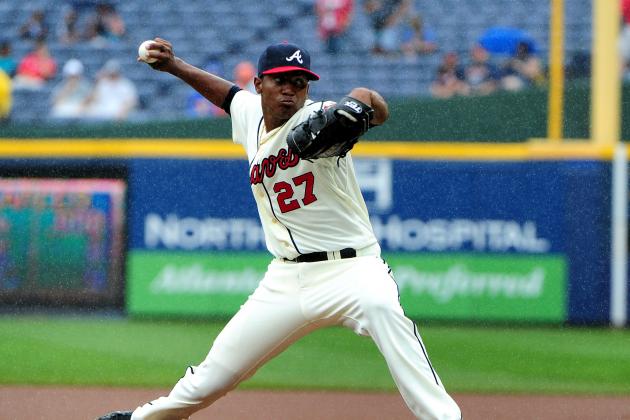 Scott Cunningham/Getty Images

If there is one player that benefits from the Justin Upton deal, it is Julio Teheran. Teheran was coming into camp to compete with a more experienced Randall Delgado for the final spot in the rotation. Now that Delgado has been traded, Teheran is the clear favorite for that job.
Teheran is a former top prospect who has the ability to become a true ace with further development. He dominated Triple-A in 2011 at the age of 20, which led many to call him the top pitching prospect in all of baseball. The wheels came off a bit for Teheran last year, as he wasn't the same in spring training, and when he was sent back to the minors, he struggled a bit with the same Triple-A hitters he dominated in 2011.
Teheran saw his stock drop dramatically because of this, but the good news for the Braves is that he looked strong in winter ball (per reports from MLB.com). It's possible that Teheran has regained the form which made him a top prospect in the first place. This means that in 2013, we could see a Julio Teheran capable of contending for Rookie of the Year—or a Julio Teheran that struggles.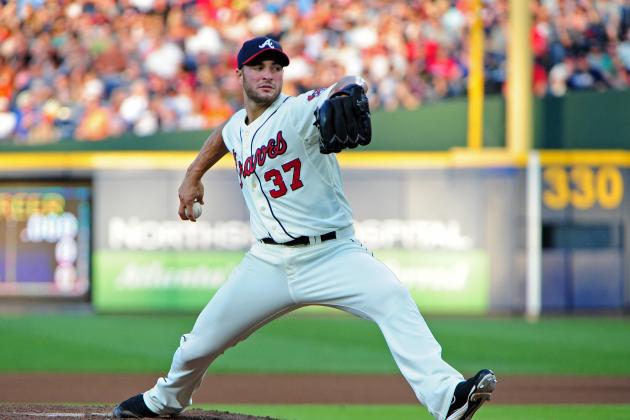 Scott Cunningham/Getty Images

Brandon Beachy has come a long way in his career. He went from being an undrafted free agent out of Indiana Wesleyan University to among the best pitchers in baseball last year before he got hurt. Beachy was 5-5 with a 2.00 ERA in 13 starts before injuring his elbow and requiring Tommy John surgery.
Beachy isn't likely to pitch for the Braves until after the All-Star break, but when he returns, he could give the team a huge boost.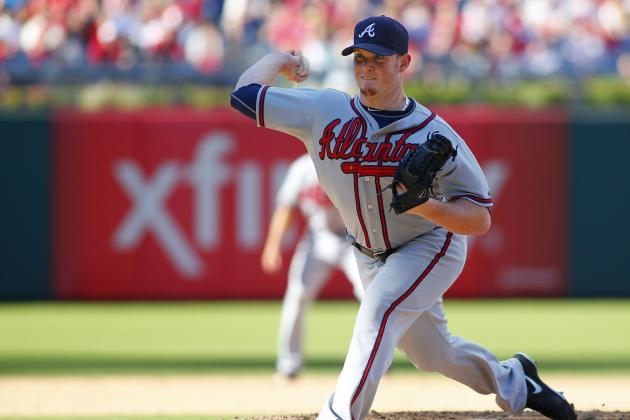 Rich Schultz/Getty Images

Craig Kimbrel may have been the best closer in all of baseball over the past two seasons. He followed up his record-setting rookie season of 2011 with a historically great 2012 year. Kimbrel posted a 1.01 ERA and 0.65 WHIP to go along with his 42 saves, and he struck out nearly two hitters per inning pitched.
Kimbrel may be turning only 25 years old at the end of May, but he is arguably the best closer in the game. His stuff is absolutely filthy, and he has a habit of making hitters look foolish at the plate now that he has worked out the control issues he suffered from in the minor leagues.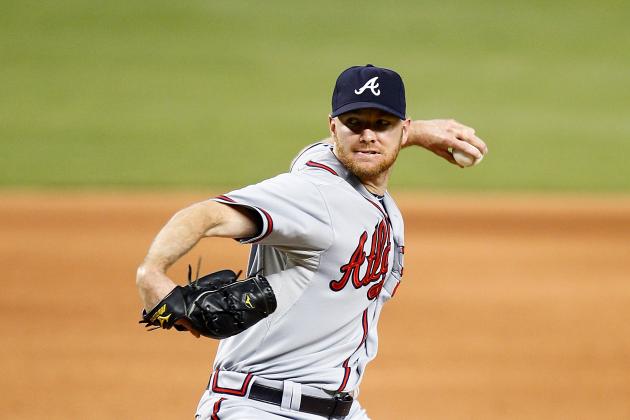 Sarah Glenn/Getty Images

Jonny Venters has spent three seasons in the big leagues, and in each of those three years, he has been among the best setup men in the game. He has posted ERAs of 1.95, 1.84 and 3.22, while appearing in 230 games.
Venters had been almost unhittable in his first two seasons before he struggled a bit early last year. Venters struggled with his sinker early on and had some minor arm issues, but, after a short stint on the disabled list, he was able to turn things around in the second half.
Venters may or may not be one of the best setup men in baseball this year, but it is a safe bet that he is at least a very solid setup man who will help bridge the gap between the starters and Craig Kimbrel.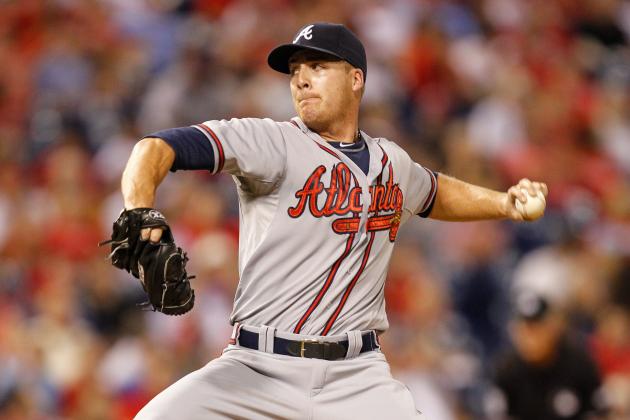 Brian Garfinkel/Getty Images

Jonny Venters isn't the only top setup man in the bullpen for the Braves. In fact, in terms of stats, Eric O'Flaherty has actually out-performed Venters in each of the past two seasons. This is because O'Flaherty posted ERAs of 0.98 in 2011 and 1.73 last year.
Unlike Kimbrel and Venters, O'Flaherty doesn't rack up strikeouts. Still, he posts good strikeout numbers, isn't easy to hit and limits the long ball. He is an excellent setup man who has four consecutive strong seasons under his belt in Atlanta, and he will be only 28 years old this season.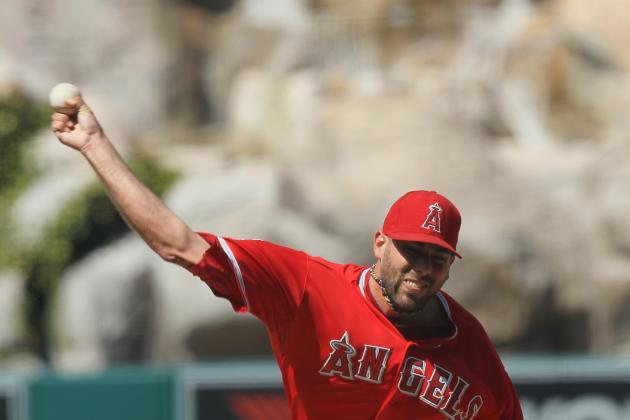 Stephen Dunn/Getty Images

The return the Braves received in the Tommy Hanson trade was flame-throwing reliever Jordan Walden. The 25-year-old has spent two full seasons in the big leagues, which includes an All-Star season as a rookie closer in 2011.
For his career, Walden is 8-8 with a 3.06 ERA in 123 games. Like Kimbrel, Walden is capable of racking up strikeouts, as he has struck out more than a hitter per inning during each season in his career. His weakness is some issues with his control, and because of that he is known to allow his share of free passes. This contributed to him losing his closer job early on in 2012 and being moved to a setup role for the Angels.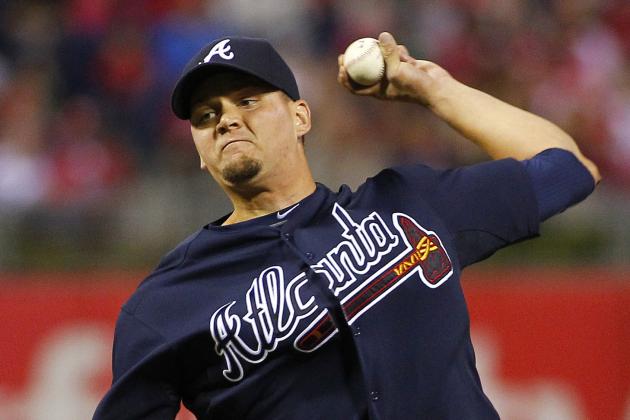 Rich Schultz/Getty Images

One of the surprises of the 2012 season for the Braves was Luis Avilan. When he was called up from Double-A in mid-July, the 22-year-old left-hander wasn't much of a prospect, nor was he really known by casual fans. Still, Avilan turned out to be a key piece of the Braves run to the playoffs.
Avilan appeared in 31 games and went 1-0 with a 2.00 ERA and 1.03 WHIP. He wasn't easy to hit and was effective in limiting walks, as he did a good job of racking up strikeouts.
Avilan may not repeat his 2012 success, but if he can pitch even half as well, he will be an asset to the Braves.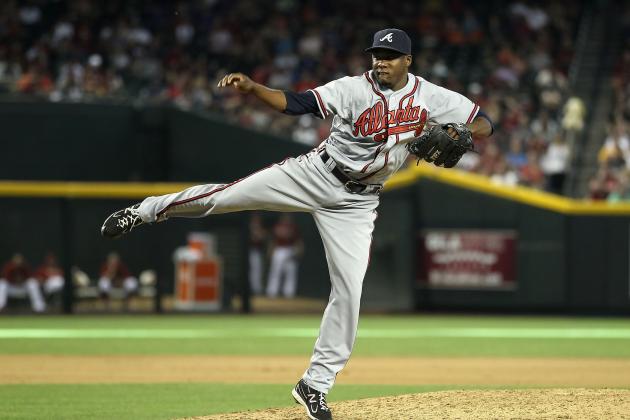 Christian Petersen/Getty Images

Cristhian Martinez may not be a guy the Braves turn to at the end of a close game, but he has played a significant role over the past two seasons. Martinez has been a solid middle to long reliever capable of giving the team multiple inning outings when needed.
Martinez is fairly hittable, but he doesn't walk too many batters and he posts nice strikeout rates. He had a career year in 2011 when he posted a 3.36 ERA and 0.97 WHIP, but he is more likely to pitch to his career averages of 3.98 ERA and 1.19 WHIP.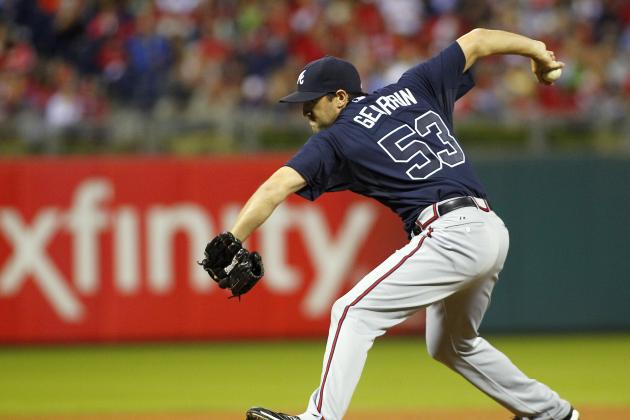 Rich Schultz/Getty Images

Cory Gearrin is a decent prospect for the Braves. He isn't likely to develop into a late-inning reliever, but he has the stuff to be a strong middle reliever. Gearrin has appeared in 40 games over the past two seasons and logged 38.1 innings, but he could match those totals this year.
Gearrin struggled during his big league debut in 2011, but in 2012 he was very solid. He went 0-1 with a 1.80 ERA and 1.10 WHIP in 22 games, showing the potential which made him a fourth-round pick in the 2007 MLB draft.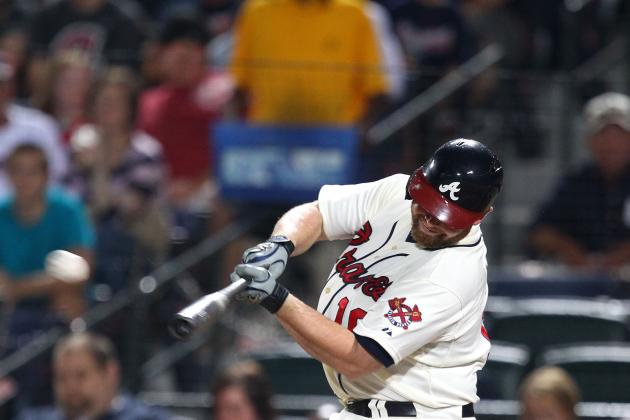 Mike Zarrilli/Getty Images

Heading into 2012, Brian McCann had spent six full seasons in the big leagues and made the All-Star team in each of those years. He is a decent defender, but what makes him special is his bat. McCann is a .279 career hitter with 156 homers and 604 runs batted in, and has proven to be a capable cleanup hitter for the Braves.
Last season, nothing went right for McCann, who battled injuries all year. He had the worst season of his career, hitting just .230 with 20 homers and 67 RBI. McCann's shoulder caused him enough trouble that he was forced to undergo surgery after the season, which could potentially force him to miss the start of the 2013 season.
If he is fully healthy, McCann could return to the All-Star form he showed as recently as 2011. However, there is no guarantee that McCann will return as his old self, and we could end up seeing the 2012 version in 2013.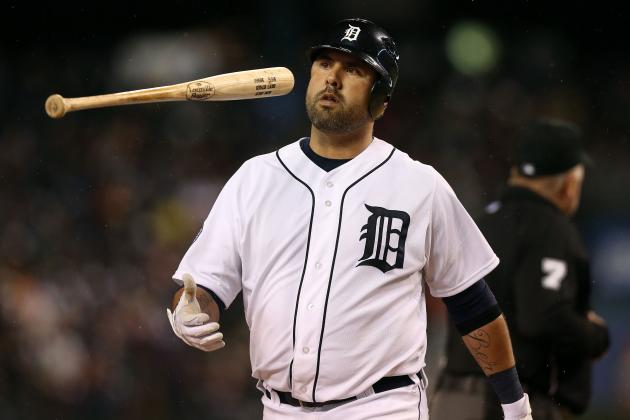 Ezra Shaw/Getty Images

The Braves' new backup catcher is veteran Gerald Laird, whom they signed after David Ross decided to join the Red Sox this winter. Laird is an experienced player who has spent a couple seasons as a starting catcher with the Rangers and Tigers.
Laird isn't much of a hitter, with a .244/.303/.359 slash line in his career to go with 37 homers in nearly 700 big league games. He has never reached double-digits in home runs, but he is solid with doubles power. Defensively, he is solid, but not spectacular.
Laird is a decent backup catcher, but little more. If Brian McCann needs to miss time, Laird won't really hurt the team with his play, but he isn't going to win many ball games, either.