Predicting the Next Generation of NHL Superstars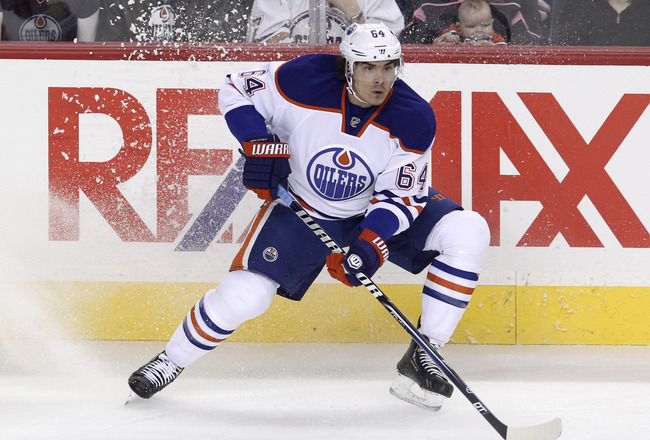 Mike Ridewood/Getty Images
What will the NHL look like five years from now?
No doubt our current generation of young NHL superstars—guys like Crosby, Malkin, Toews, Stamkos and Giroux—will still be going strong. But they'll be facing a new generation of younger superstars with their own flash and hype.
Some of that new generation is debuting in the NHL this season, and some of it is yet to break through to the big leagues, or even be drafted at all.
Players like Jordan Eberle and Gabriel Landeskog will certainly lead the way, but let's take a look at the future of the NHL as it concerns players who haven't played a full season in the league yet.
These are the 10 players most likely to steal the spotlight in the next generation of NHL stars.
10. Nathan MacKinnon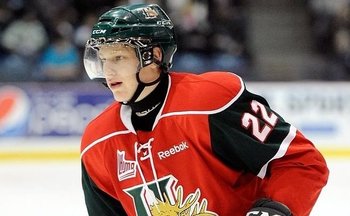 Image via Yahoo! Sports
Somewhere, there is a bad hockey team whose consolation prize at the end of the 2013 season is going to be a Nova Scotian with uncommon ability.
Nathan MacKinnon, who will likely go first or second in this year's NHL Entry Draft, should have no trouble taking the NHL by storm in the years to come. Hockey has very much become a young man's game, especially when that young man is one of the top picks in the draft (see: Stamkos, Crosby, Kane).
We don't yet know what uniform he will be wearing, but the Halifax Moosehead is a sure thing for a long, productive NHL career. Five years from now, he'll be making highlight reels across North America.
9. Seth Jones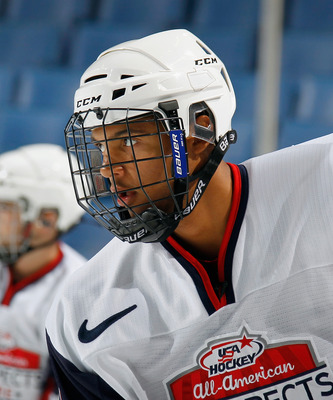 Bruce Bennett/Getty Images
MacKinnon and American defenseman Seth Jones are jockeying to be the first overall pick in the upcoming draft, and the order they are chosen may depend entirely upon whether the team with the pick needs more offense or defense.
Jones, who is poised to become much bigger in hockey than his father Popeye was in basketball, will be one of hockey's rare celebrities on the blue line. While he isn't as big as Zdeno Chara, he will imitate Chara as a defenseman with significant impact in the defensive zone while also making contributions from the point.
Defensemen like Jones usually need a little more time to break into the NHL than scorers like MacKinnon require, but by the time five years have elapsed, most of the NHL will find themselves trying to keep up with this Jones.
8. Jacob Markstrom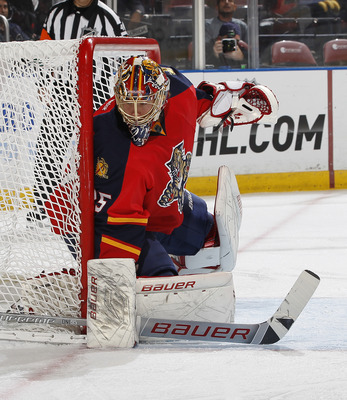 Joel Auerbach/Getty Images
It can be extremely difficult to predict how goaltenders will develop, and thus the fact that Markstrom made a list like this is a major testament to his talents.
The Swede is gigantic, standing 6'6" in the net, but is learning to move quickly across the crease. The website Hockey's Future praises Markstrom's confidence in goal, as the young netminder makes veteran decisions and is rarely hesitant about his positioning.
As Markstrom transitions into the role currently filled by Jose Theodore, he'll find himself tested frequently playing behind an average defense and a normally-disappointing Florida Panthers team. Still, the Cats have had a lot of success with netminders in their history, including John Vanbiesbrouck, Roberto Luongo and Tomas Vokoun, and there is no reason to believe Markstrom won't be following in their footsteps.
The Panthers just hope he won't follow them all out of town.
7. Mikael Granlund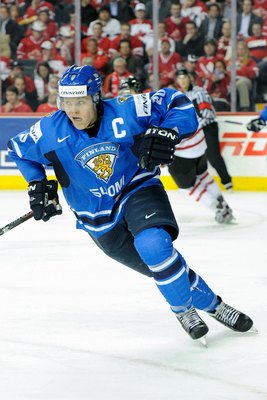 Richard Wolowicz/Getty Images
Mikael Granlund joins a franchise with a lot of buzz around it, as the Minnesota Wild have put themselves on the map by courting Zach Parise and Ryan Suter to the team.
The spotlight will be on the Wild for a long time, but Granlund is not the sort of player who needs it. He is a crafty forward with noteworthy puck-handling and playmaking skills, and his energy will make him a highlight-reel regular.
As the Twin Cities become more and more a hotbed of NHL hockey, Granlund will increasingly become an undeniable part of the sport's role in Minnesota.
6. Evgeny Kuznetsov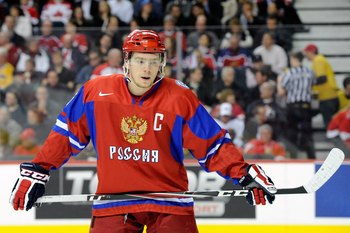 Richard Wolowicz/Getty Images
He hasn't made his way to the NHL yet, but Evgeny Kuznetsov is poised to be a big part of a significant influx of young Russian stars to the NHL.
Hockey's Future compared Kuznetsov's playing style and skill level to Pittsburgh's Evgeni Malkin, which could always create for an exciting resurrection to the Caps-Pens rivalry as Kuznetsov will be playing for Washington.
He is a creative player who likes to muscle his way into creating a play, much like the aforementioned Malkin, and his offensive skills are nearly limitless. Like another one of his countrymen, Ilya Kovalchuk, Kuznetsov will need to put some extra work into becoming a respectable two-way player, but his offensive abilities alone will make him hard to keep up with.
5. Justin Schultz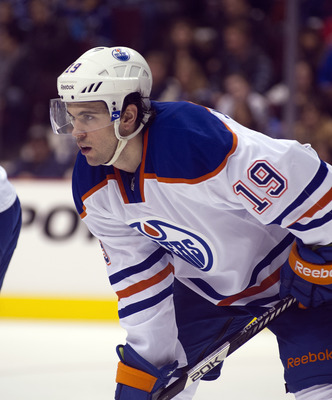 Rich Lam/Getty Images
Justin Schultz's NHL reputation began with plenty of drama and what some might call egomania, as the defenseman chose not to play for the team that drafted him, the Ducks, then left college prematurely to sign a maximum contract with the Edmonton Oilers.
However, now that the NHL season is underway, those criticisms have been silenced as Schultz is proving that he is just that damn good. He has five points in his first five games in the NHL and is fourth in scoring on the Oilers, an offense-loaded club.
Five years from now, Schultz will be on the short list of defensemen who manage to be household names in the NHL.
4. Jonathan Huberdeau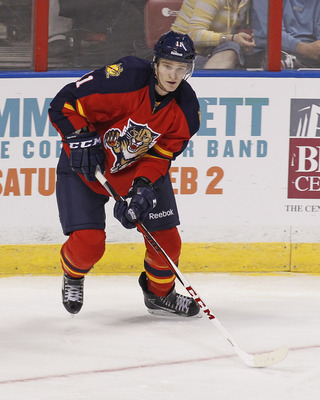 Joel Auerbach/Getty Images
Jonathan Huberdeau was drafted right behind breakout sensations Ryan Nugent-Hopkins and Gabriel Landeskog, but he spent most of 2011-12 in juniors continuing his development.
Now, he's set to be a full-time player in the NHL, and there is no denying that Huberdeau is showing why it won't be long before he is the centerpiece of the whole Panthers' organization. He has a respectable three points in his first five games, but the Panthers will be looking for him to be scoring at a higher rate in order to be competitive.
In juniors, Huberdeau racked up 177 points in 104 games in the last two seasons of the QMJHL, so the potential for him to be one of hockey's top scorers is undeniable.
3. Dougie Hamilton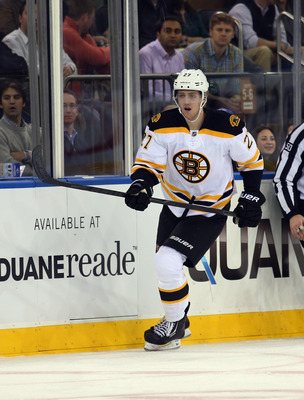 Bruce Bennett/Getty Images
Dougie Hamilton received plenty of hype going into the 2013 season.
Now he has officially made Boston's roster for the season, and that is no small feat for a defenseman trying to prove he belongs on the same team as Zdeno Chara, Dennis Seidenberg and Johnny Boychuk.
Hamilton will be one of hockey's most prominent defensemen for years to come, especially as he puts more and more muscle on his massive 6'5" frame.
Hamilton could be the reincarnation of Rob Blake, another big blueliner whose offensive contributions were on par with his steady reliability in his own end. The Bruins have a very special talent in Dougie Hamilton.
2. Nail Yakupov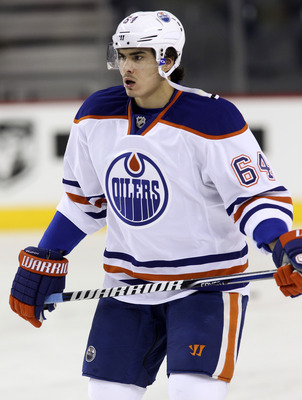 Mike Ridewood/Getty Images
We have already seen the electrifying energy that Yakupov can bring to the game, and anyone who can get Don Cherry whining only days into his career is okay in my book.
The reigning No. 1 overall pick is a truly special player.
Yakupov is a pure scorer, and while that might make him more one-dimensional than a Sidney Crosby or Claude Giroux, when you're surrounded by the likes of Ryan Nugent-Hopkins, Taylor Hall and Jordan Eberle, being a pure scorer is the best thing you can be.
He already has three goals to his name in his first five games and shows no signs of slowing down. He'll be a bona fide superstar long before we reach the five-year mark.
1. Vladimir Tarasenko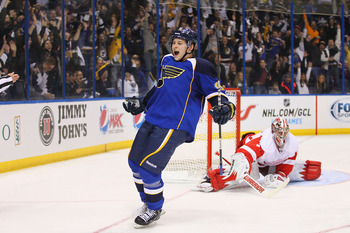 Dilip Vishwanat/Getty Images
No rookie has burst onto the scene quite like Vladimir Tarasenko, and no player looks more poised to be the face of this generation of hockey than Vladimir Tarasenko.
Like Yakupov, Tarasenko is a pure-scoring Russian who doesn't bother to live up to the stoic reputation of his Soviet predecessors. He is offensively-minded and has the luxury to remain that way on a team as defensively reliable as the St. Louis Blues.
Tarasenko already weighs in at over 200 pounds, rare for a 21-year-old rookie under six feet tall, but his bulk will allow him to hold onto the puck more easily, and his dynamic speed and skating will give him the ability to separate from defenders.
He'll dangle, he'll cherry-pick, he'll celebrate and he'll be all over highlight film for many years to come.
Keep Reading