P.J. Hairston Injured as North Carolina Cruises to Win at Boston College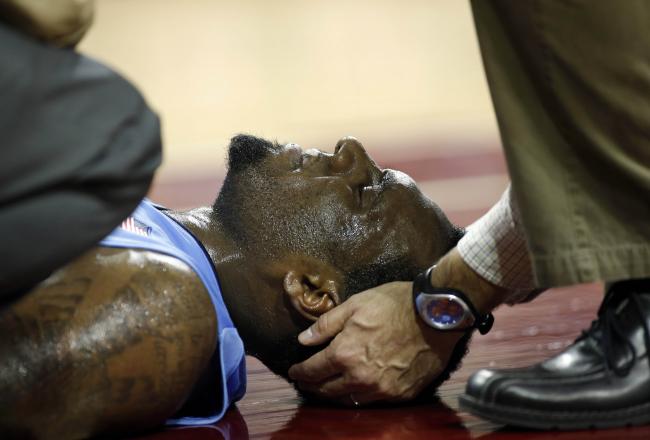 Greg M. Cooper-USA TODAY Sports
Boston College played its heart out for the home fans, but the North Carolina Tar Heels were too much. North Carolina cruised to an 82-70 victory tonight at Chestnut Hill.
Tar Heel star James Michael McAdoo notched his second double-double in three games, finishing with 17 points and 10 boards as the Tar Heels won the battle on the glass by eight. Marcus Paige started quietly, but he turned in a fine performance in the end, dishing out six assists against just one turnover.
The biggest news for North Carolina, though, is the status of guard P.J. Hairston, who received a concussion in a first-half collision with teammate Dexter Strickland. Hairston did appear visibly improved during a brief stay on the Tar Heel bench after halftime, but concussions are always serious business, and there's no doubt that everyone involved is wishing the best for Hairston's speedy recovery.
Freshman Olivier Hanlan carried the B.C. offense with 22 points on 7-for-15 shooting, but just didn't have enough help. Three-point specialist Lonnie Jackson had an especially rough night, hitting just 1-for-6 from beyond the arc.
The Eagles also allowed UNC to shoot 7-for-13 from long range, which is the kind of stat you never want to be on the receiving end of.
The win puts North Carolina back over .500 in conference play at 4-3, while Boston College slides to a painful 1-6.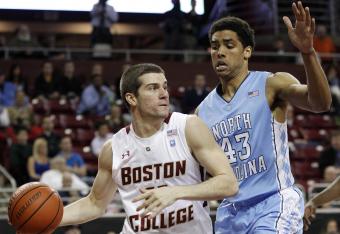 North Carolina 82, Boston College 70 (FINAL)
For the Tar Heels, of course, the top priority after this game will be making sure that P.J. Hairston is ok. Concussions can be tough to read, but he did appear to have improved when he returned from the locker room after halftime, and hopefully he won't suffer any long-term problems as a result of tonight's injury.
As UNC looks ahead to a very soft upcoming schedule, they should be able to win their next couple of games in Chapel Hill (against Virginia Tech and Wake Forest) whether Hairston plays or not. That situation should provide even more incentive for Roy Williams to handle this injury very carefully and not put Hairston at any risk until the medical staff is sure he's ready.
Where Boston College is concerned, this is a team that obviously isn't going anywhere in ACC competition this year. For the long term, there are some encouraging signs (especially from Eddie Odio on defense and Olivier Hanlan on offense), but it's hard to take anything positive away from a game like this when you're talking about the current season.
On the plus side, the Eagles get to stay home for a Saturday meeting with Clemson, which stands at 4-4 in the ACC and 12-8 overall. The Tigers are the first ACC opponent to come to Chestnut Hill who won't be a prohibitive favorite, and some of the hustle plays that didn't pan out for the home team tonight could help them earn a welcome victory against a less daunting opponent.
North Carolina 80, Boston College 70 (0:10 second half)
Hard to find much good to say about a fifth consecutive loss for Boston College. The effort was obviously there, but the Eagles haven't played especially smart and they certainly haven't played especially well.
North Carolina 76, Boston College 66 (0:59 second half)
Truth be told, North Carolina won't have to play any better than it has tonight to win its next two games (home to Virginia Tech and Wake Forest). Still, the fact that the Tar Heels never really pulled away in this game gives them plenty to worry about in terms of beating better teams (or anyone on the road).
UNC's next road game? February 9 at first-place Miami. If they play like they have at Boston College, they'll lose by double digits.
North Carolina 74, Boston College 63 (2:49 second half)
North Carolina looks like a safe bet to win this game, but it hasn't been nearly as easy as it should have been. Between the injuries and some ugly offensive possessions, the Tar Heels will be very glad when the buzzer sounds here.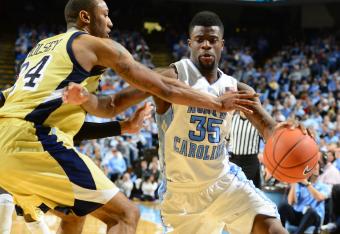 North Carolina 74, Boston College 63 (3:56 second half)
Another collision sends Reggie Bullock and Eddie Odio to the floor. Luckily, neither one looks nearly as bad as P.J. Hairston did earlier. Heads knocked together, but both players appear to be ok.
North Carolina 70, Boston College 56 (6:06 second half)
North Carolina not playing with nearly as much energy with the big lead here. They're not executing all that badly, but they'll certainly hear about it from Roy Williams if they don't show a little more intensity while they have the opponent on the ropes.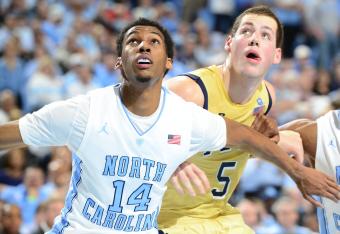 North Carolina 67, Boston College 55 (7:44 second half)
With a comfortable lead, this would be a great chance for somebody on North Carolina to get some work as an inside option on offense. McAdoo is likely to spend much of the rest of the game on the bench, but J.P. Tokoto and Desmond Hubert could really get some useful playing time here.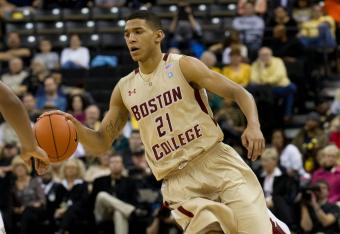 North Carolina 59, Boston College 42 (12:27 second half)
Clutch and-one layup for Olivier Hanlan. Game is starting to slip away for the Eagles, but that's the kind of basket that can keep the home team from disappearing entirely.
North Carolina 52, Boston College 39 (15:53 second half)
Jackson Simmons with the offensive rebound and the feed to Reggie Bullock. Simmons is having a terrific game off the Tar Heel bench (six points already, better than double his average).
North Carolina 50, Boston College 39 (15:58 second half)
Eddie Odio had been struggling on offense, but an impressive follow slam could get him on track. B.C. would love to have anybody get in a scoring rhythm right now.
PJ Hairston has a concussion UNC spokesperson confirms

— DTH Sports (@DTHsports) January 30, 2013
North Carolina 48, Boston College 33 (Halftime)
From the Daily Tar Heel, it appears that P.J. Hairston got a concussion at some point in that collision with Dexter Strickland. Not pleasant news, but hopefully it doesn't get any worse.
North Carolina 48, Boston College 33 (Halftime)
The first problem the Eagles must address in the second half is holding on to the basketball. Yes, North Carolina has a very good perimeter defense that forces a lot of turnovers, but B.C. can't let that be an excuse to be sloppy.
Plenty of Boston College's nine first-half turnovers weren't even forced. It's hard to get the most out of an offense that's shooting 48 percent from the field if you keep handing the ball to the opposing team.
North Carolina 48, Boston College 33 (Halftime)
B.C. gets the ball back (correctly) on the reversed call, but still can't score to close the half. Eagles with absolutely no momentum going into the half. Steve Donahue isn't going to have a fun time with this halftime speech.
North Carolina 48, Boston College 33 (0:04 first half)
More officiating issues as Ryan Anderson's shot appears to hit the rim, but the shot-clock violation is called anyway. Not a whole lot going right for the home team right now.
North Carolina 44, Boston College 30 (2:05 first half)
Silly offensive foul becomes the ninth turnover of the first half for Boston College. Eagles' offense feels like it's hanging on by its fingernails, with only three-point shooting (5-for-10) to sustain it.
North Carolina 38, Boston College 26 (4:02 first half)
P.J. Hairston taken off on a stretcher in obvious pain. Looks only semi-conscious at this point. Nice round of applause from the B.C. fans.
North Carolina 38, Boston College 26 (4:02 first half)
P.J. Hairston was being helped off by two teammates, but almost collapsed in the attempt. He looked like he might have lost consciousness briefly. Appears to have hit his head, either on the floor or on teammate Dexter Strickland or both.
Hairston now sitting up on the baseline with plenty of team personnel around him.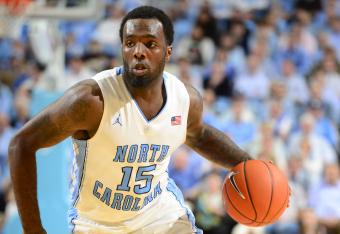 North Carolina 38, Boston College 26 (4:02 first half)
Collision between two Tar Heels going for the blocked shot. P.J. Hairston is down on the baseline and obviously in some pain.
North Carolina 38, Boston College 24 (4:14 first half)
Bizarre non-call on P.J. Hairston, who gets away with a mugging and gets the fast-break basket for UNC. Boston College has enough trouble here without the officials botching plays in the Tar Heels' favor.
North Carolina 36, Boston College 24 (5:00 first half)
This game is starting to degenerate into drive-and-foul, drive-and-foul on both ends. Neither team is especially deep, but UNC's bench is better than Boston College's, so foul trouble works to the visitors' advantage.
North Carolina 34, Boston College 20 (6:23 first half)
Joe Rahon on the bench with foul trouble. Look for Marcus Paige to keep attacking and keep the pressure on B.C.'s other guards.
North Carolina 27, Boston College 18 (8:30 first half)
James Michael McAdoo not going strong enough to the rim tonight. He's getting blocked repeatedly on the inside by a front line that's neither especially big nor especially good at shot-blocking.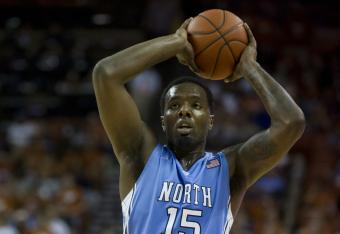 North Carolina 23, Boston College 15 (10:27 first half)
Four three-pointers without a miss for P.J. Hairston. Boston College doesn't have any way to answer that kind of individual dominance—they just have to hope he cools off.
Eagles aren't helping themselves with five turnovers in 10 minutes, either. Handing extra possessions to these Tar Heels is a great way to lose a game.
North Carolina 13, Boston College 10 (13:07 first half)
Here come the Tar Heels with a string of made three-pointers. Boston College is going to have a hard time shutting down that perimeter game altogether, but they've got to get out and contest with a bit more urgency than they're showing.
Boston College 8, North Carolina 2 (15:57 first half)
Hard to ask for a better start for the Eagles. Two made three-pointers in as many tries on offense while UNC is missing its jump shots on the other end.
Expect a counter-punch from North Carolina after this TV timeout.
This article is
What is the duplicate article?
Why is this article offensive?
Where is this article plagiarized from?
Why is this article poorly edited?