Carolina Hurricanes: Positives and Negatives from Start to 2013 Season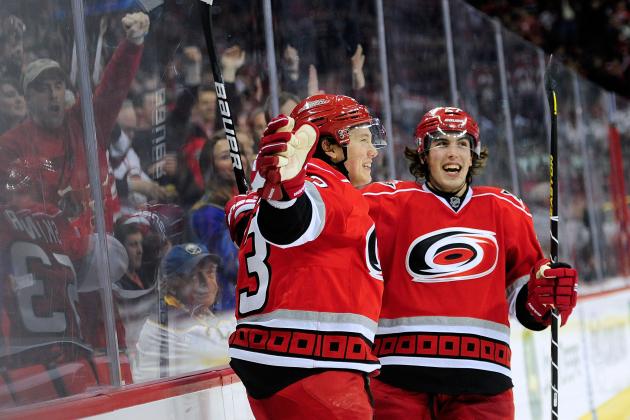 Grant Halverson/Getty Images

Five games into the lockout-shortened 2013 NHL season, the Carolina Hurricanes are 2-3.
It's the exact same record the 'Canes had five games into last season, when Paul Maurice was still the coach and seemingly nothing was going right in Raleigh.
And thus, it's also far below this season's expectations for the Hurricanes, a team highly touted during the preseason after being revamped with star newcomers Jordan Staal and Alexander Semin.
But none of Carolina's early-season struggles can be blamed on Staal or Semin—nor any of the Hurricanes' other cornerstone forwards, either. The upper lines had a fantastic January, through and through.
Instead, the 'Canes have simply found themselves unable to keep pucks out of their own goal. Offseason concerns about an overly aggressive defensive unit have proven fruitful. Goaltending, of all positions, has also been an issue.
The Hurricanes are still just one game below .500, though, and will have plenty more opportunities—43 of them, in fact—to turn this moderately underwhelming start around. A reflection of Carolina's biggest positives and negatives through its first five games falls on the coming slides.
Begin Slideshow

»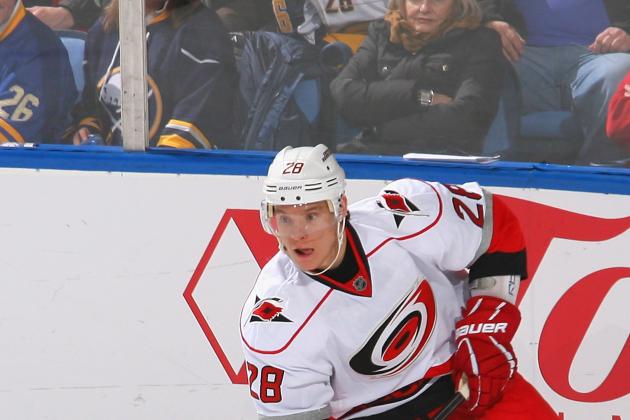 Rick Stewart/Getty Images

Alexander Semin has meshed with the Hurricanes almost immediately, and he's putting up the points—and playing with the attitude—he will need to maintain to turn his reputation around.
Carolina's lone Russian has one goal, three assists, 20 shots and a plus-five rating through five games, including this beautiful goal (his first score as a 'Cane). He's seemed excited to be a part of the team and willing to put in the work ethic to earn his first-line spot in Kirk Muller's system.
Meanwhile, Jordan Staal hasn't gotten that elusive first goal as a Hurricane yet, but he's notched a team-leading five assists to make up for it and shown why he was the top defensive forward in Pittsburgh. He and Jeff Skinner (see positive No. 2) have developed a strong connection.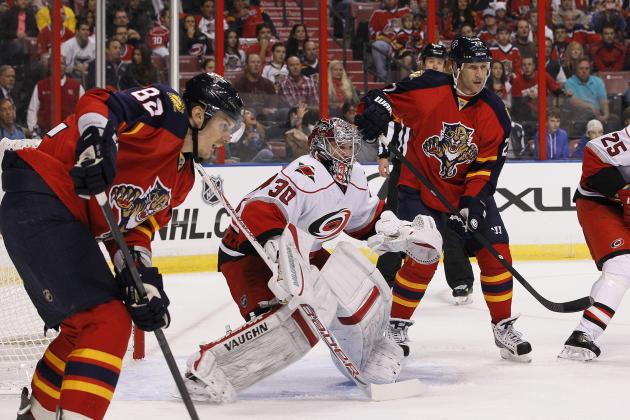 Joel Auerbach/Getty Images

Through four starts (and three finishes), Cam Ward simply hasn't been Cam Ward.
No. 30 gave up a disastrous four goals on 12 shots during the Hurricanes' season opener at Florida, a 5-1 loss, and was pulled after the first period.
He's progressively improved since, including a pretty good all-around performance against Buffalo last Thursday and some big second- and third-period saves against Boston. Nonetheless, Ward is 1-3 with an .861 save percentage and 4.50 GAA at the end of January—and that's a problem.
Fortunately, he still has a lot of time to turn those statistics around, and new backup Dan Ellis has been more than stellar (.963 save percentage) in four periods of NHL action this winter.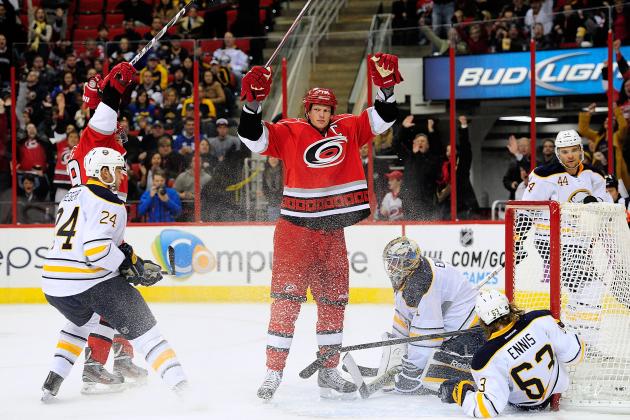 Grant Halverson/Getty Images

Alexander Semin and Jordan Staal have both started the season impressively for the 'Canes, but the team is really getting great play from all of their top forwards.
Eric Staal was a minus-eight through five games in 2011-12—he's a plus-six through five games this season. The 28-year-old also has a team-leading six points—four goals and two helpers.
Jeff Skinner has been extremely energetic and Skinner-like as well, as he looks to rebound from an injury-plagued, subpar 2011-12 campaign. The 20-year-old leads the 'Canes with five goals, including several top-shelf backhands and this pretty deke-and-score on Monday night.
Even Jiri Tlusty, pointless and scoreless so far, is still a plus-four and averaging 17:23 of TOI per game with his first-line promotion from last spring mostly carrying over to this year.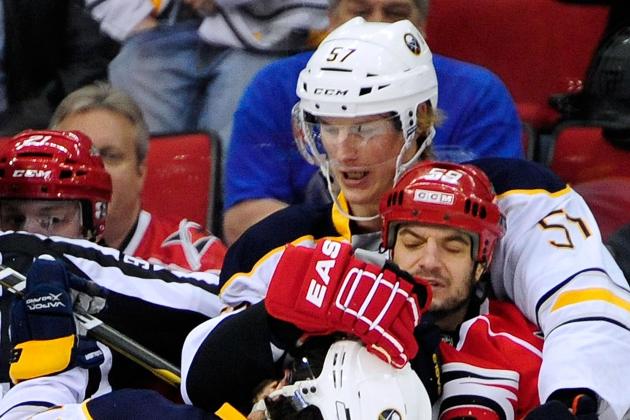 Grant Halverson/Getty Images
Chad LaRose gets hugged by Tyler Myers.
The top six is on fire.
The bottom six...not quite yet.
Excluding Semin, Skinner and the Staals, the Hurricanes' 14 other forwards with an appearance this year, including six who have played in all five games, have just one combined goal (by Patrick Dwyer on opening night) and three combined points.
For youngsters like Zac Dalpe (two assists, minus-two) and Drayson Bowman (zero points but 16 shots on goal), it's probably excusable.
For veterans Jussi Jokinen (zero points, minus-four) and Chad LaRose (zero points, minus-four), it's definitely not.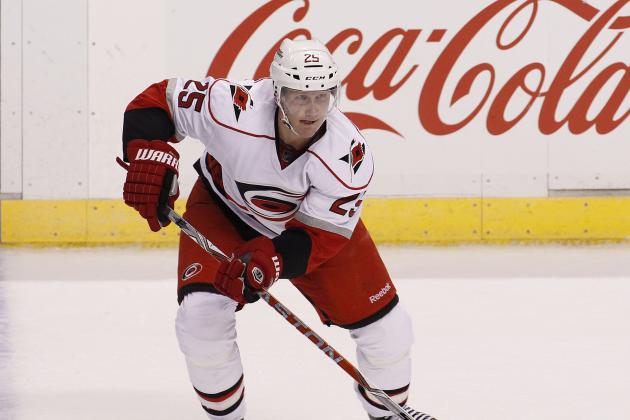 Joel Auerbach/Getty Images

Joni Pitkanen's aggressive pinching and puck-moving plays have caused some serious migraines for the 'Canes, but the 29-year-old Finn is off to one of his best starts in years.
Pitkanen's three points (all assists) lead all 'Canes defensemen. He's also a plus-four with four hits, seven blocked shots (tied for second on the team) and five takeaways (tied for first on the team).
The rest of the defense has been a mixed bag.
Justin Faulk has looked good but missed the Boston game due to injury, and Jamie McBain has been quite impressive (one goal, one assist, plus-three) after sitting out the first two games as a healthy scratch. Conversely, newcomers Joe Corvo and Bobby Sanguinetti have zero combined points and a minus-four rating.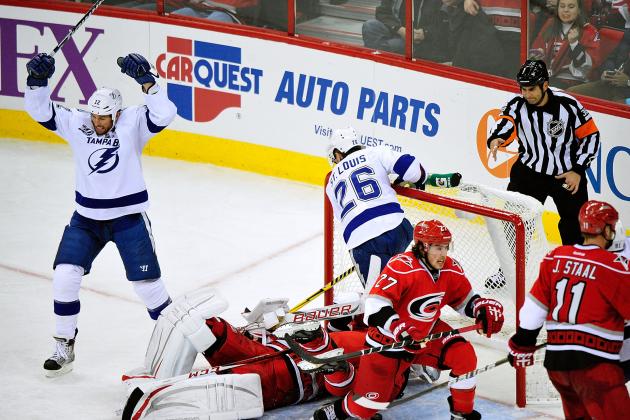 Grant Halverson/Getty Images

The Hurricanes' three goals on 26 power-play tries, an 11.5 conversion percentage, ranks 27th in the NHL.
Meanwhile, the Hurricanes' seven surrendered goals on (again) 26 penalty-kill situations, a 73.1 kill percentage, ranks 23rd in the NHL.
Neither one of those rankings are anywhere near the desirable range for Kirk Muller and Co., and the special teams play has, in fact, seemed to get worse as the season has moved along.
The 'Canes were a dreadful 0-for-7 on the power play and 3-for-5 on the penalty kill Monday versus Boston, and they gave up a shorthanded goal, as well.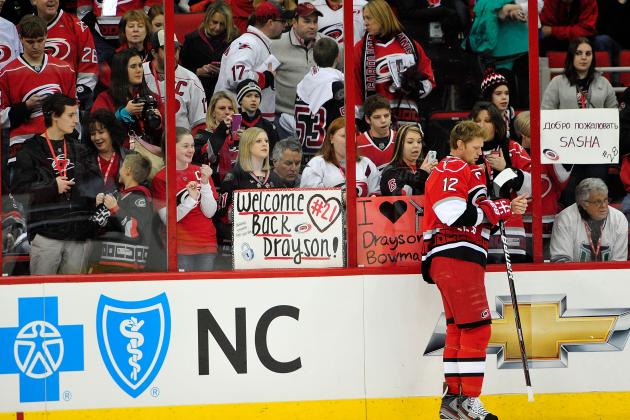 Grant Halverson/Getty Images

Win or lose, the Caniacs have supported the hometown Hurricanes to the fullest in their first three home games since the lockout.
Despite all three games falling on a weeknight, Carolina hosted a sellout of 18,860 for their home opener on Tuesday, Jan. 22. They then drew 18,081 to the Buffalo game two days later—the only home win so far—and then 17,190 to Boston this past Monday.
All three numbers easily topped last year's average PNC Arena/RBC Center attendance of 16,042. Last year, the 'Canes also opened with a sellout, but then accumulated only 16,483 and 12,083 for their second and third Raleigh games, respectively.