New York Rangers Edge Philadelphia Flyers for Second Straight Win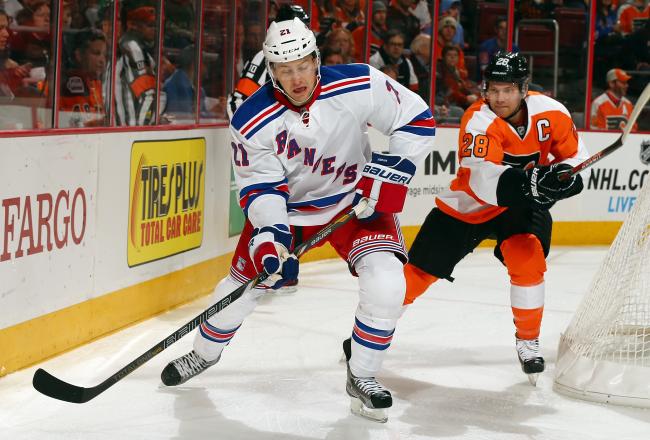 Elsa/Getty Images
The Rangers defeated the Flyers 2-1 on home ice to improve to 3-3-0. It was the Flyers' second consecutive loss. They now sit at the bottom of the Atlantic Division with a record of 2-5-0.
The Rangers jumped out to an early lead thanks to a blast from the point courtesy of Michael Del Zotto. He later added an assist on a second period Ryan Callahan goal that put the Rangers up 2-0.
Kimo Timonen brought the teams within one midway through the third period, but that was all the Flyers' offense had tonight.
In truth, the Rangers could have won by more if it wasn't for Ilya Bryzgalov's superb play in goal for the Flyers. But ultimately it was the Flyers failure to generate a steady flow of offensive pressure that cost them this game.
In the end it was a good win for the Rangers; it was the most complete game they played all year. Reminiscent of last season.
For the Flyers, it's a really disappointing outing. This is a team that scored a ton of goals last year, but tonight they didn't look like they were in the mood. Giroux was invisible and there wasn't much of a net presence. A lot to be worried about in Philly.
Players of the game tonight: for the Rangers it's Michael Del Zotto, who continues to prove that he can join the offense without sacrificing his defensive responsibilities. For the Flyers it's without a doubt Ilya Bryzgalov. He was very impressive and if he can play like this he'll give the Flyers an opportunity to win every night.
Rangers 2 - Flyers 1 (0:00 Third Period) - Flyers throwing the kitchen sink at the Rangers in the last minute but Lundqvist stands tall. Rangers win 2-1.
Rangers 2 - Flyers 1 (0:57 Second Period) - Hagelin really can't buy a goal at this point. Stopped on a breakaway by Big Bryz. Rangers have had multiple opportunities to put this game out of reach but have failed to convert.
Power play over; few chances for the Flyers, nothing of real substance, though.
Missed hooking call there as Hagelin is taken down cutting to the net shorthanded.
Rangers 2 - Flyers 1 (4:03 Third Period) - Gaborik goes off for tripping, Flyers have another power play opportunity to tie it up.
Bill Clement: "Lundqvist has been OK when he's had to be." Bryzgalov has only seen three more shots than Lundqvist.
Nash would have been better off firing that puck instead of feeding Halpern. Quite the gap in skill there.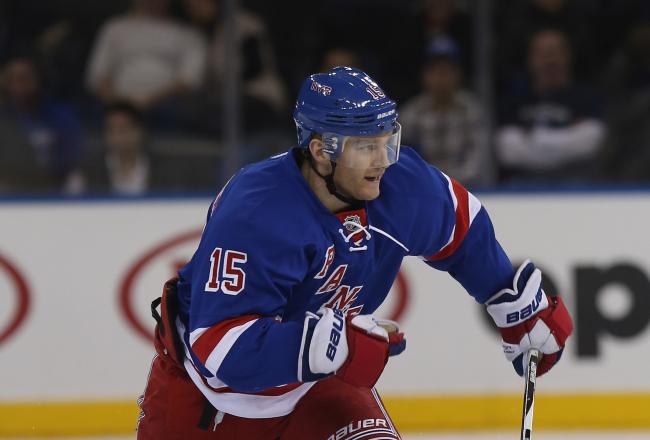 Rangers generate more chances than Flyers on the Philly power play. Nash and Halpern rush nearly converted.
Staal is the player penalized. That hurts; he's one of the Rangers best penalty killers.
Rangers 2 - Flyers 1 (8:48 Third Period) - Rangers gift the Flyers a late game power play thanks to a hooking call. Torts is not amused. Up to the Flyers now to convert.
Rangers 2 - Flyers 1 (8:55 third Period) - Flyers getting their forecheck going now; its forced Torts into using his time out following a late shift icing.
Rangers 2 - Flyers 1 (10:18 Third Period) - Rangers doing a good job of suffocating the Flyers here, not letting them use any of their momentum after the goal. A McDonagh wrister marked for the top corner is pushed aside by Bryzgalov, who has easily been the Flyers' best player.
Both teams trading chances now. Richards/Nash/Gaborik almost connect in front there.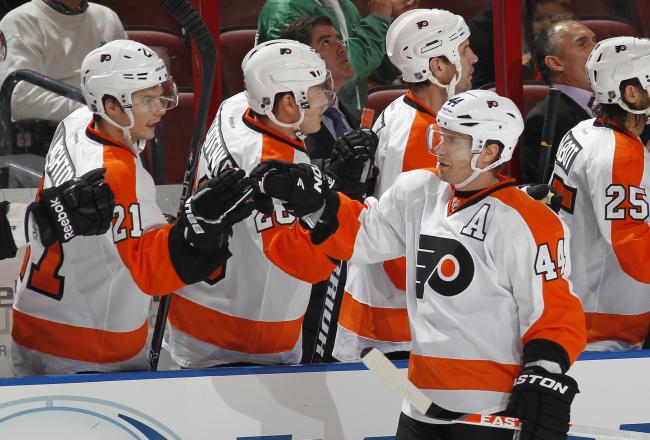 Rangers 2 - Flyers 1 (12:51 Third Period) - Rangers bench minor results in a Flyers power play and Kimmo Timonen fires a lazer top shelf from the slot to cut the Rangers lead to one. Can the Rangers hold on?
Rangers 2 - Flyers 0 (13:49 Third Period) - Looks like Torts' Rangers are about ready to pack it in. The forecheck is gone and the collapsing has begun.
Teams skate 4-on-4 now after both Callahan and Talbot receive roughing minors.
Rangers 2 - Flyers 0 (15:18 Third Period) - Finally a fight; it wouldn't be Rangers/Flyers without one. A scrum in front of the Rangers' net ends with Callahan and Talbot dropping the gloves for an abbreviated bout that ended with Callahan injuring his left elbow. He immediately left the ice.
Rangers continue to impress in the faceoff circle, per Katie Strang of ESPN.
#NYR Rangers winning from faceoff circle tonight: have won 28 of 39 draws (72%)

— Katie Strang (@KatieStrangESPN) January 30, 2013
Although the Rangers are the better team, shots are surprisingly close.
Second period over, Rangers up 2-0 and up on shots 20-18.

— Andrew Gross (@AGrossRecord) January 30, 2013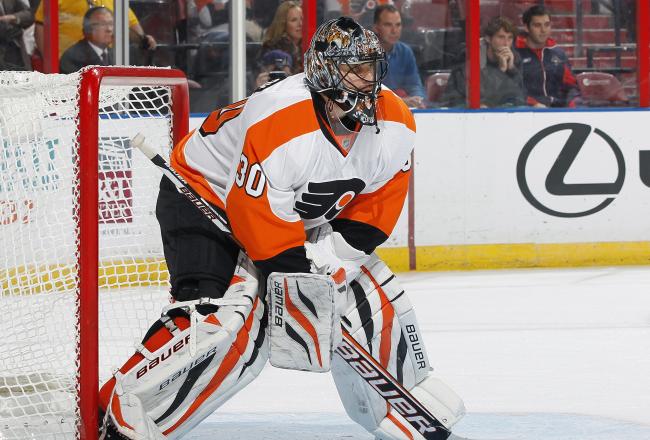 Rangers 2 - Flyers 0 (0:00 Second Period) - The end of the second period arrives and the Rangers are simply the better team tonight. Flyers having trouble producing any scoring chances but Bryzgalov is keeping them in it.
Rangers 2 - Flyers 0 (1:09 Second Period) - Brayden Schenn trying to spark his team bowls over McDonagh in the corner. Little guy packs a punch. McDonagh gets up with no probem.
Rangers 2 - Flyers 0 (3:50 Second Period) - Rangers buzzing now. Nash finally getting toward the net and it's causing problems.
Giroux getting back to help out cancels out another New York opportunity.
Giroux breaks up pretty pass from Nash to McDonagh in crease, 5:07 left in second, NYR up 2-0 over Philly

— Steve Zipay (@stevezipay) January 30, 2013
Flyers really could have used Hartnell tonight; he would have helped a lot in front on that 5-on-3. The Flyer's failure to convert allowed the Rangers to go up by two.
This article is
What is the duplicate article?
Why is this article offensive?
Where is this article plagiarized from?
Why is this article poorly edited?