Edgar vs. Aldo: Preview, Odds and Predictions for UFC 156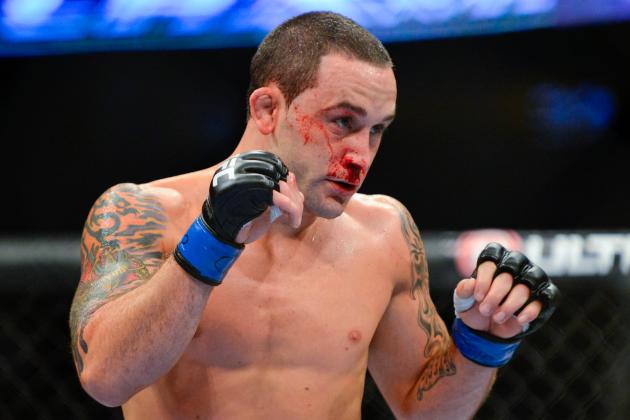 Ron Chenoy-USA TODAY Sports

Anderson Silva might not be fighting Georges St-Pierre or Jon Jones anytime soon, but MMA fans are still getting a superfight in the form of the UFC 156 main event between featherweight champion Jose Aldo and former lightweight titleholder Frankie Edgar.
When Edgar was 155-pound champion (and many believe he still should be after a controversial decision in a rematch with Benson Henderson), there was plenty of interest in Aldo's potential move to lightweight and the fight with Edgar that would result from it.
On Saturday, that matchup will come to fruition at 145 pounds instead.
As the biggest fight of early 2013 approaches, let's take a look at which fighter is favored to walk away from UFC 156 as featherweight champion and who has the edge in the remaining main card bouts.
Begin Slideshow

»

UFC.com
Joseph Benavidez and Ian McCall both lost to flyweight champion Demetrious Johnson in their last appearances, but either fighter could already be looking at a rematch with "Mighty Mouse" with a win at UFC 156.
The 125-pound division is still developing under the UFC banner and lacks a clear top contender following Johnson's win over John Dodson at UFC on Fox 6. Therefore, the winner of Saturday's bout between Benavidez and McCall could separate the winner as the clear second-best fighter in the weight class.
Both Benavidez and McCall are primarily known for their ground work, but Benavidez has had much more experience against elite competition over the years. The Team Alpha Male prospect has competed for championships in two different divisions under the Zuffa banner, fighting to close decisions against both the current champions in the flyweight and bantamweight divisions.
Betting Odds
Benavidez -250
McCall +210
Prediction
Benavidez defeats McCall by unanimous decision (30-27, 30-27, 30-27).

UFC.com
Former UFC title challengers Jon Fitch and Demian Maia are looking to return to championship contention, and both welterweights took a big step toward that goal in their most recent outings.
Fitch bounced back from going without a victory in consecutive appearances with an uncharacteristically eventful win over the up-and-coming Erick Silva, while Maia made a tough Rick Story look like a UFC rookie by locking up a nasty neck crank in the first round.
These fighters are considered two of the best 170-pound grapplers in the world, so a closely contested ground battle should ensue.
Betting Odds
Fitch -165
Maia +145
Prediction
Fitch defeats Maia by unanimous decision (29-28, 29-28, 29-28).

UFC.com
Alistair Overeem is finally back from suspension, and he should have a chance to quickly return to the front of the line for a heavyweight title shot when he meets Antonio Silva at UFC 156.
Silva recently picked up his first UFC victory with a first-round stoppage of Travis Browne, who had previously been considered one of the brightest prospects in the heavyweight division.
While Silva is dangerous from the top position, he'll run into some trouble muscling Overeem to the ground, and "Bigfoot" will be in for a rough night if he is forced to stand with the former Strikeforce heavyweight champion.
Betting Odds
Overeem -360
Silva +300
Prediction
Overeem defeats Silva by knockout (punch) at 3:11 of the first round.

UFC.com
Rashad Evans has taken some time off since losing to light heavyweight champion Jon Jones, but he's back and ready to make another run at the belt, which he's hoping will start with a win over Antonio Rogerio Nogueira on Saturday.
Nogueira has been on the sidelines even longer than Evans, having won his most recent fight against Tito Ortiz in December 2011.
It will be interesting to see how rust affects these well-rounded light heavyweights as they gear up for what they hope will be late-career success.
Betting Odds
Evans -470
Nogueira +375
Prediction
Evans defeats Nogueira by unanimous decision (30-27, 30-27, 30-27).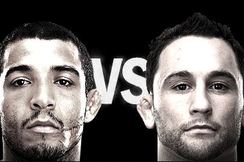 UFC.com
After a great run at lightweight, Edgar is finally making a much-anticipated move to the featherweight division, and the UFC hasn't wasted any time in giving the former 155-pound champion a shot at the 145-pound title.
Standing in Edgar's way is Aldo, who is widely regarded as the greatest featherweight in MMA history, and he's only 26 years old.
When Edgar takes fights into the later rounds, his conditioning and speed make him tough to deal with. The problem against Aldo and his leg kicks is that Edgar might not have much spring left in his legs by the time the fight reaches the championship rounds.
Betting Odds
Aldo -220
Edgar +180
Prediction
Aldo defeats Edgar by unanimous decision (49-46, 49-46, 49-46).