The Ultimate Fighter 17, Episode 2 Live Results: Jon Jones' First Big Mistake?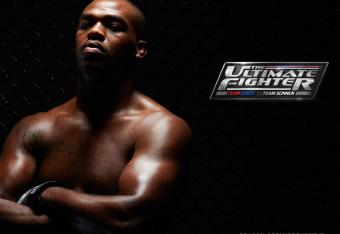 Will Team Jones take control early in Season 17?

Season 17 of The Ultimate Fighter continues tonight at 9 p.m. PT/ET on the FX Channel with the middleweight tournament between Team Jon Jones and Team Chael Sonnen.
In the premiere episode, 28 middleweights fought through 14 elimination bouts for a guaranteed spot in the TUF house, with some notably stellar victories from Uriah Hall, Clint Hester and dangerous Swedish import Tor Troeng.
(Check out the full list of competitors here.)
But in a bit of a twist for the first team vs. team matchup, Jones is gunning for English fighter Luke Barnatt, Sonnen's No. 1 pick, by calling up his own No. 4 pick, Gilbert Smith.
Various members of Team Jones (including No. 2 pick Josh Samman) weren't happy with the call, as Smith has a distinct reach and height disadvantage against the lanky Barnatt. Even UFC president Dana White seems to have no idea what Jones is thinking.
UPDATE: Check out the full episode recap right over here, with impressions and thoughts on the match.
If you are going to get fight fans to watch next week that's the way to sell it — Duane Finley (@DuaneFinleyMMA) January 30, 2013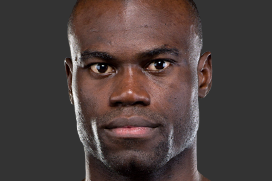 Next episode's preview paints Cella as the clear underdog.
And the narrator cryptically notes this as one of the most vicious KOs in TUF history, echoing the exact same thing that Dana White tells the camera.
Gee, I wonder who wins.
(Hint: It's probably not Cella.)
Both teams gather to make the next pick.
Chael Sonnen picks Uriah Hall to face Adam Cella.
YES.
This looks like a REALLY good match.
Dana White says that Hall is the toughest guy here, and he likes the fight.
Uriah on Cella: "He's small. This should be nothing."
Fight Result
Luke Barnatt def. Gilbert Smith via KO (Flying Knee), Round 2
TUF 17 Score: Team Sonnen (1-0), Team Jones (0-1)
Dana White quickly states that Jones made a bad pick.
Jones: "He lost the fight before he got here. He never got the ball rolling. I don't think cardio should ever be a reason for losing a fight."
Josh Samman: "Everyone knows I told [Jones] so."
Gilbert Smith looks pretty disappointed. His teammates start calling out Sonnen's fighters in order to save face.
Jones is RIPPING into his team. He's laying all the blame on his team. He says he wants everyone to be "pissed off" for greatness.
His whole team didn't get a single word of encouragement and they look miserable.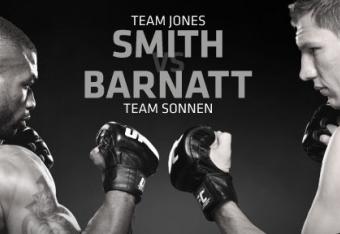 Luke Barnatt vs. Gilbert Smith
Round 2 - Jones gives Smith some basic tips, telling him to "hit Barnatt in the face." Cute.
Smith fires right out of the gate and backs up Barnatt before attempting a takedown. Barnatt basically folds over him and tries to pummel under. He's too tall, so they both go back to clinching. Smith has been putting in most of the offense.
As soon as I type that, Barnatt grabs Smith's leg and dumps him on his head.
It winds up being for nothing. Barnatt gets a good position, but quickly loses it in a scramble ends with Smith clinching him against the cage.
Barnatt finally gets come leverage and dumps Smith to the ground. Barnatt tries to hold him down and find some space to strike, but Smith constant takedown pressure is keeping his hands busy.
Both men try to strike, and Smith is missing the biggest shots.
OH MY GOD Barnatt bunny-hops into the air with a flying knee! Smith leans RIGHT into it and is OUT COLD.
That came out of NOWHERE!
Luke Barnatt vs. Gilbert Smith
Round 1 - Both fighters touch hands and Smith starts early with a long kick. Barnatt is stalking him and instantly hits Smith with a groin shot.
Steve Mazagatti warns that he'll take a point off next time.
Barnatt is trying to get some range on his striking and Smith barrels right into him with a takedown. Barnatt tries to use his size to fight it off, but Smith muscles him down.
Barnatt gets back to the feet and presses Smith against the cage fence. Smith is momentarily sent to his back, but they both clinch up on the feet quickly enough.
This is strange to watch. These guys look like they're in different weight classes.
Smith holding Barnatt against the fence and his team is screaming for knees. Smith lands a takedown instead, but Barnatt pops right back up. Lots of back-and-forth switching against the fence, and they eventually break apart.
Smith tries a takedown and Barnatt stuffs it easily. Barnatt sits up, throws some punches, and Smith turns. Barnatt pounces on his back, and Smith tries to dump him off.
Someone off-camera says there's too much screaming, and the fighters can't hear any instructions.
Smith hits a nice leg kick and Barnatt gets close, but has to immediately fight off a takedown. Round 1 ends standing and it's hard to tell who has the edge. Hmm. Seems like a 10-10.
Luke talks to his teammates about strategy. He also thinks the matchup was a poor decision by Jon Jones.
Both men are preparing for their bout on fight day. They have some pretty deep words as they talk one-on-one with the camera, with lots of talk of "having to die before quitting" being thrown around.
Luke and Gilbert walk out to the cage looking ready as ever.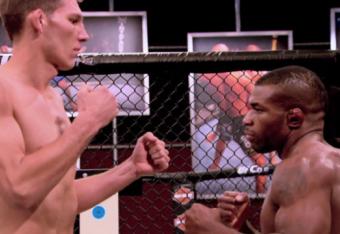 After break, Chael Sonnen is seen talking to Uriah Hall and tells him how important it is that Hall gets into the next round. Hall voices he wants to fight Josh Samman or Adam Cella, which is surprising as Samman looks to be one of the better guys.
We get a look a Luke Barnatt in training. His mother is a Jehovah's Witness and his father is "a hippy," which is interesting.
The weigh-ins are next with Gilbert weighing in first. He comes in at 185 even. Luke is also on-weight.
The two square off. The height and reach difference is crazy, and Dana White concurs that Jon Jones may have made a mistake in putting Gilbert against Luke.
Chael likes Luke's conditioning and claims that it's the most dangerous tool in a fighter's arsenal. It's hard to disagree with that.
Both teams move into the house and people continue to question the fight pick of Gilbert Smith vs. Luke Barnatt.
Team Jones hosts a training session and Smith is seen struggling. His cardio is not looking up to par and the coaches are concerned.
Later at the house, Smith breaks down over a flag his family has sent with him that reminds him of home.
Team Jones continues to voice their doubts about Gilbert, even confronting him in the locker room. After their conversation, Jones enters and tries to reassure Smith.
Jones and his coaches are working on Smith's striking in training, especially the overhand. They feel his power and strength can work against a taller opponent like Luke, giving him a good chance of knocking him out.
Just in case you missed the premiere, the UFC posted a short recap of Episode 1.
It skips most of the qualifiers, but all you need to know is Clint Hester and Uriah Hall looked the most impressive out of everyone else.
This article is
What is the duplicate article?
Why is this article offensive?
Where is this article plagiarized from?
Why is this article poorly edited?