How Good Was Recruiting Weekend?
Use your ← → (arrow) keys to browse more stories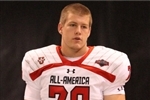 The Bears picked up three more oral commitments last weekend, but seemingly did not get the news most important to them. Cameron Hunt, a four-star offensive guard from Centennial-Corona, was among the prospects who made official campus visits. But no word from Hunt confirming his earlier commitment...