Boston Bruins Post Shootout Victory Over New Jersey Devils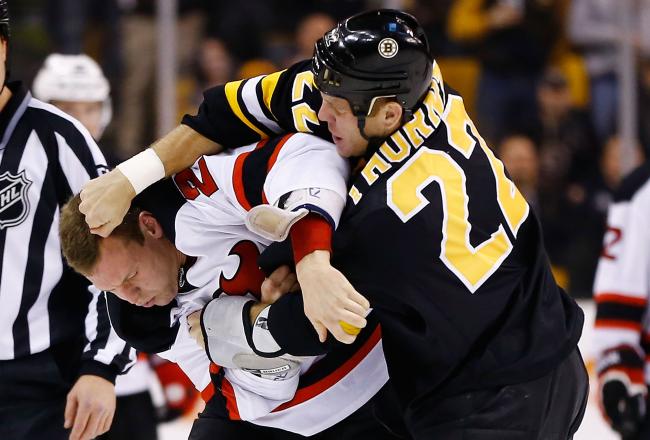 Jared Wickerham/Getty Images
The Boston Bruins came from behind to beat the New Jersey Devils 2-1 in a thrilling shootout contest.
The last two Eastern Conference champions offered up a tilt worthy of their positions in the standings. Entering the game, neither team had lost in regulation, so the result should have been expected. It was cagey out of the gate, until a heavyweight slugfest between Boston's Shawn Thornton and New Jersey's Krys Barch.
After the fisticuffs, both teams picked up the pace, but Tuukka Rask and New Jersey backup Johan Hedberg came up huge in net throughout to keep the game resting on a razor's edge. Midway through the second, New Jersey finally found a way to beat the vaunted Boston penalty kill, when David Clarkson tipped the puck past Rask with the man-advantage.
Following the goal, the Bruins looked exhausted, playing their second game in as many nights. Despite the fatigue, they fought hard for the equalizer and finally produced it by way of Nathan Horton, who slotted the puck between Hedberg's legs with four minutes remaining in the game.
Overtime chances favored neither side, with a shootout needed to determine the winner. With the pressure on, both goalies came up big, but Rask had the last laugh, making the final stop following a go-ahead strike from Brad Marchand.
Sitting atop the Eastern Conference standings at 5-0-1, the Bruins will enjoy a much needed day off before taking on division-rival Buffalo on Thursday. Losers of two straight, the Devils will now regroup before hosting the New York Islanders on Thursday.
Scoring Summary:
First Period:
no goals
Second Period:
New Jersey goal - 8:30
D.Clarkson (4) (Power Play)
Assists: M. Zidlicky, P. Elias
Third Period:
Boston Goal - 15-55
N.Horton (3)
Assists: D.Krejci, M.Lucic
Overtime:
No Goals
Shootout:
Boston goal - Tyler Seguin
New Jersey goal - Ilya Kovalchuk
Boston goal - Brad Marchand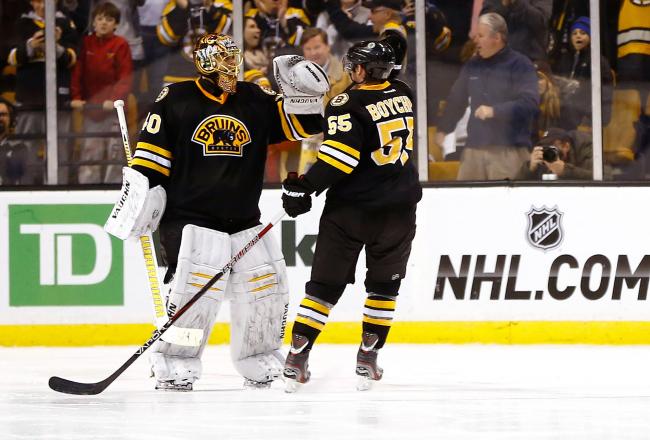 Player of the Game:
Tuukka Rask
Rask made 28 saves to give his team a chance to win. He also came up huge in the shootout to seal the victory. He improves to 4-0-1 on the season and has already made fans forget about you know who.
RASK SAVES IT AND THE BRUINS WIN 2-1 IN THE SHOOTOUT!
Rask stays strong and pushes us into round six of the shootout.
AND MARCHAND SCORES! Bruins with the advantage.
Kovalchuck matches Seguin!
Seguin forced to shoot again due to debris on the ice. Scores again
Seguin up first.
SCORES! 1-0 Bruins in the shootout
We are headed for a shootout. The most exciting part of the game, or the most painfully nerve-racking. I don't envy either of these goalies now.
Both have been exceptional.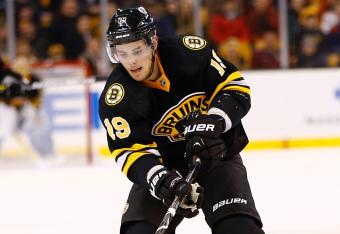 Tyler Seguin coming close again and again here!
Chances going both ways. Boston nearly won it early, then a flurry from the Devils.
Seguin nearly ended from the right hashmark. Bryce Salvador with the block.
Boston is 1-1 in OT, with a shootout victory over Winnipeg and a loss to the Rangers.
This is New Jersey's third straight OT game. They are also 1-1, with a win over Washington and a loss to Montreal.
Let's play some more!
Overtime coming up after Nathan Horton's late equalizer.
Who wants to be a hero now?
I'd love to see it be Stefan Matteau, Tyler Seguin or Dougie Hamilton
...Or maybe 30 year-old rookie Matt Anderson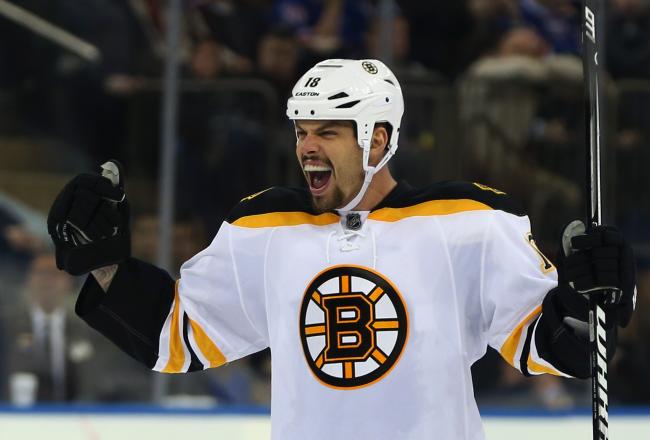 David Krejci gets his 200th career assist on the goal. We could get some overtime here.
Boston Bruins 1, New Jersey Devils 1 (Third Period)
Horton beats Hedberg 5-hole to tie it!
Shots on goal:
New Jersey: 23
Boston: 22
We're in for one heck of a finish.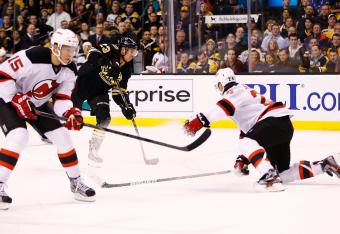 Bruins Daily praises the Devils' effort. They've done a spectacular job of racing back to protect Hedberg tonight. Shutouts always start with backchecking.
Devils backcheck tonight has been huge

— Bruins Daily (@BruinsDaily) January 30, 2013
New Jersey Devils 1, Boston Bruins 0 (14:26 3rd Period)
Momentum titling back to Boston. They look quick here in the third.
David Krejci brings life to Boston as he steps out of the box. A series of nice chances, but nothing doing. The Moose holds his ground!.
Rask steps up to stone Clarkson's PP try. Nice set up from the Devils but the Bruins new No. 1 is up to the challenge.
Fast start for Bruins. Hamilton nearly set Krejci to tie it.
Bruins headed back to the box though for goalie interference. Krejci gets two in the box for knocking down Hedberg.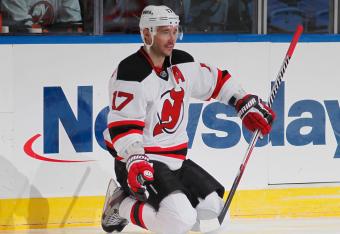 Kovalchuk has played more than 18 minutes and seven minutes of power play time. He must be exhausted. There's no way he keeps it up in the third.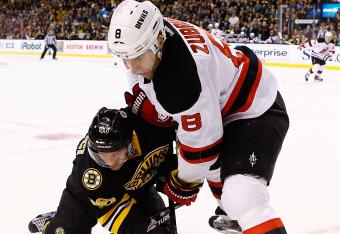 The third period will come down to physicality. Whoever can play with more of an edge is gonna take this one. Classic Bruins-Devils hard-nosed hockey!
CSNNE's Joe Haggerty thinks the Bruins look gassed. After a tough battle last night, its gotta be tough to take on a rested Devils team.
This second period has definitely looked like the second night of back-to-back games for the Bruins. That's not a good thing #BruinsTalk

— Joe Haggerty (@HackswithHaggs) January 30, 2013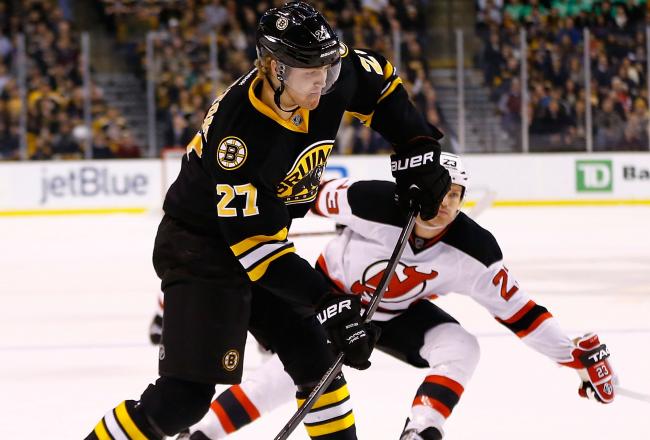 Players to watch for the 3rd Period:
Johan Hedberg:
Hedberg has made 16 saves for New Jersey so far, but he'll have to make a few more to get his team out of Boston with two points. He's been very strong to keep the Bruins potent offense at bay, especially considering he's the backup.
Dougie Hamilton:
The rookie showed a flair for the dramatic with a spectacular dish to set David Krejci up for a late game winner last night. The offensive defenseman could become a cult hero in Boston with another clutch play tonight.
This article is
What is the duplicate article?
Why is this article offensive?
Where is this article plagiarized from?
Why is this article poorly edited?

Boston Bruins: Like this team?