Ranking World Football's 5 Best 5-A-Side Lineups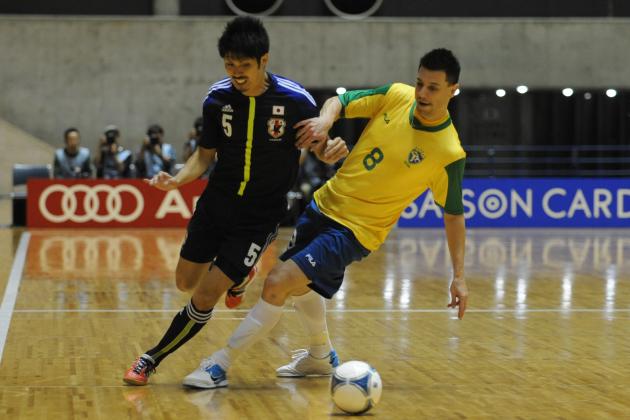 Masashi Hara/Getty Images

The recent rise of Futsal is not surprising, given the nature of how the modern era of football has evolved. Futsal is a street-style game with similar ideologies to basic football, except the pitch is smaller and as a result requires more skill and technical ability to play.
And that got me thinking. Could you imagine if there was an actual "Futsal Premier League" or "Futsal Champions League"? The idea of seeing the likes of Lionel Messi and Cristiano Ronaldo do battle on a tiny pitch is quite unrealistic, yet not impossible and, of course, mouthwatering.
Step forward, please, if you'd like to see a list of five of the world's most talented five-a-side teams. Of course, please note that right now this is nowhere near being close to reality. But you know what they say about dreams, don't you?
Begin Slideshow

»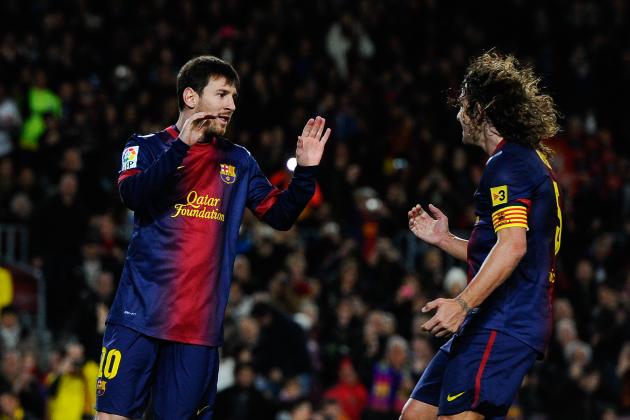 David Ramos/Getty Images

GK: Victor Valdes—The Spanish international has been unfortunate to have been born in the same era as rival Iker Casillas, with the 31-year-old limited to just 10 caps for Spain with his debut coming just two years ago. Although prone to mistakes, on his day he's one of the finest keepers in the world.
DF: Javier Mascherano—The former Liverpool man has recently been converted into a center-back since joining Barcelona back in 2011, and the Argentina international's ability on the ball as well as his reading of the game means he is a key asset for the side.
MF: Xavi—One of the greatest midfielders of all time, Xavi is a Catalan born and bred. Many players have come and gone through the doors at the Camp Nou, but the continuity of having Xavi there has been key to Barcelona's success in the past decade. His passing ability is widely seen as the best in the world, making him an asset to any five-a-side team.
MF: Andres Iniesta—A player who just oozes class and confidence, Iniesta isn't the fastest player on the pitch, but his intelligence on the field allows him to see passes others don't. As a result, he has been an important part of helping Barcelona to numerous La Liga titles and was named third in the Ballon d'Or nominations for the second year running earlier this month.
FW: Lionel Messi—The question that will probably never generate a solid answer until he retires: is Messi the greatest ever? Well, yes. The records he's broken, including scoring 90 goals in a calendar year, the influence he has on the team and his professionalism and modest character. Messi, along with Cristiano Ronaldo, is a class above the rest, and you can always rely on him to create a piece of magic anytime, any place. He's simply a phenomenon.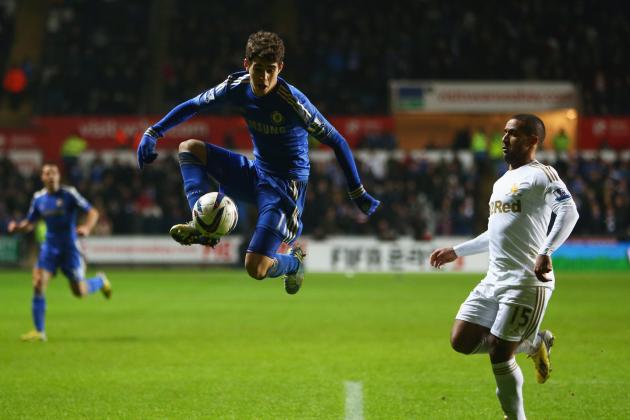 Michael Steele/Getty Images

GK: Petr Cech—He's been a loyal servant to Chelsea since joining from Rennes back in 2004, and Petr Cech is seemingly always hungry for more success despite the massive haul of trophies in his eight-and-a-half years at the club. An agile and determined shot-stopper, Cech is still arguably one of the world's best.
DF: David Luiz—A Brazilian international who is extremely passionate about his football, the 25-year-old has seen his stock rise after some impressive performances this season. His ability on the ball highlights his confidence in his ability, which can be his undoing, but nevertheless always gives one hundred percent.
MF: Eden Hazard—It's easy to forget that a player of Hazard's maturity—"Ballboygate" aside—is only 22 years of age. His pace, low center of gravity and dribbling skills suggest he would be able to adapt perfectly to a five-a-side game, dropping the shoulder to his opponent and passing them with blistering pace.
MF: Juan Mata—Arguably Chelsea's best signing since Frank Lampard, Mata may be less of a physical presence, but his passing ability strikes fear into his opponents. Into double figures for both goals and assists this season already, the former Valencia man has quickly become the key figure in Rafa Benitez's side this season.
FW: Fernando Torres—Another player to benefit from Benitez's arrival at Chelsea, Torres has hit 15 goals in all competitions. His overall ability with the ball isn't great, but what Torres is about is getting the ball in the back of the net, and that objective is reinforced with some truly wonderful goals this season, with his equalizer against Brentford more than worthy of a second replay.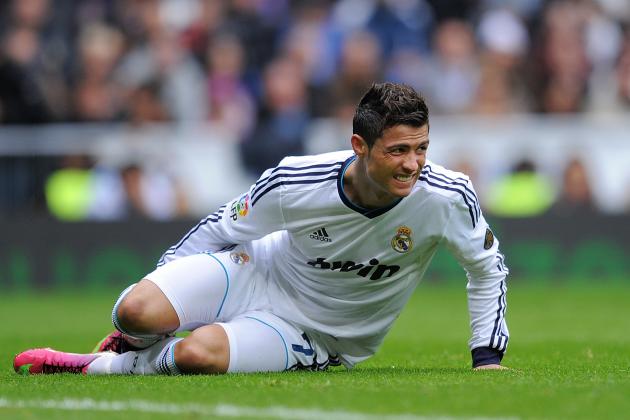 Denis Doyle/Getty Images

GK: Iker Casillas—He hasn't experienced the best year of his Real Madrid career, but 2012 has done nothing to suggest Casillas is no longer the best goalkeeper in the world. Still only 31, the shot-stopper is constantly alert to aid his club and has the ability and confidence to keep a clean sheet on a regular basis.
DF: Marcelo—Signed from Fluminense as a youngster, the growth of Brazilian full-back Marcelo has somewhat stagnated in the past, but it seems under Jose Mourinho, the 24-year-old has become an important part of the side, with his defensive and attacking displays keeping the likes of Fabio Coentrao out of the team.
MF: Mesut Ozil—Up until the 2010 World Cup, Ozil wasn't much of a household name. An impressive tournament with semifinalists Germany saw Ozil earn a move to Real Madrid from Werder Bremen, and he has rapidly become the main source of creative talent. If Ozil sees a pass, he usually executes to perfection.
MF: Angel Di Maria—The only issue with Di Maria is his consistency; other than that, the talented winger has improved drastically since joining from Benfica two years ago. His work rate is a key factor in his regular spot under Mourinho, but his pace and tendency to create goals as well as score them make him a serious threat.
FW: Cristiano Ronaldo—It goes without saying that Cristiano Ronaldo is special. But 179 goals in 176 games for Real Madrid since his world record £80 million switch from Manchester United is quite simply astonishing. Pace, aerial ability, set-piece specialist, crossing, passing and heading...what exactly does Ronaldo not have? Oh, that's it. Four Ballon d'Ors.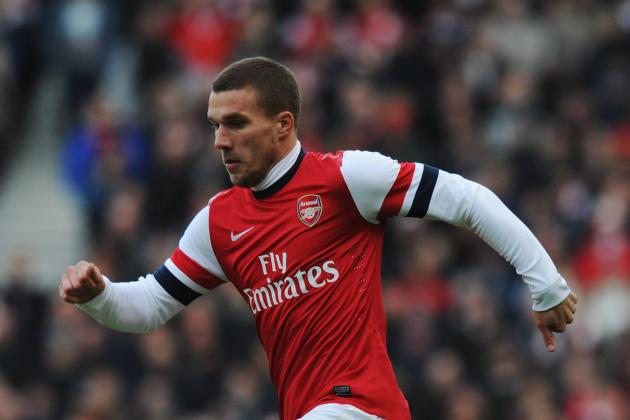 Steve Bardens/Getty Images

GK: Wojciech Szczesny—His arrogance and confidence suggests that Szczesny is a seasoned international who has experienced winning trophies and World Cups. Hard to believe that the Polish goalkeeper is just 22. A commanding goalkeeper continuously let down by a shaky Arsenal back line, Szczesny would shine in a five-a-side match.
DF: Thomas Vermaelen—The goalscoring defender is one of Arsene Wenger's best signings in recent years, with the former Ajax man now captain and rightly so. A leader by example, his poise on the pitch is rarely matched, making him an indispensable part of the squad.
MF: Jack Wilshere—Aside from his injury problems, England can look forward to having Wilshere's services for many years to come. His slight frame does not hide the fact he is a tremendously talented playmaker, but his temperament must be controlled. Still, at five-a-side level, behavior is not the main factor.
MF: Santi Cazorla—The summer signing from Malaga had made a superb impression while at La Rosaleda that he earned himself a move to the Premier League. Very much in his prime at 29, Cazorla has shown how easy it is to move to another country. The one player who fits under the category of "world-class."
FW: Theo Walcott —The winger-turned-striker recently signed a new deal at the Emirates Stadium and got his wish to be switched to center striker. Nevertheless, his 15 goals this season shows that the Gunners can deal without Robin van Persie.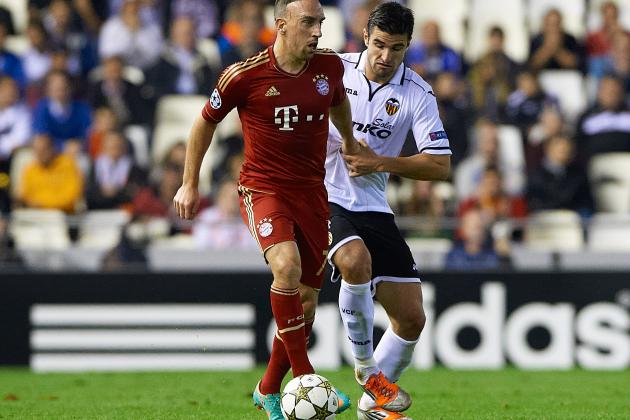 Manuel Queimadelos Alonso/Getty Images

GK: Manuel Neuer—The German almost made a move to Manchester United before signing for Bayern in 2011 from Schalke, but even though the Champions League Final loss to Chelsea on penalties will be still fresh on his mind, there's no doubting his quality as he bids to help Bayern win their first Bundesliga title since the 2010 season.
DF: Philipp Lahm—Still regarded as one of the best right-backs in the world, Lahm made his name at Stuttgart on loan from the Bavarians. His commitment to his boyhood club is tremendous, and his rapport with the supporters is rock solid as a result.
MF: Xherdan Shaqiri—A summer signing from FC Basel after starring in their surprise Champions League run, the Kosovan-born winger could well follow in the footsteps of Ribery if he can break into the first-team. He has the enviable attribute of being able to create something out of nothing.
MF: Franck Ribery—The Frenchman must be aware that he is slightly controversial, but that never means he's not a superb footballer. Ribery has formed a great partnership with the likes of Shaqiri and Arjen Robben, especially in the Champions League Final where he won a penalty.
FW: Mario Gomez—The towering marksman scored an incredible 12 goals in last season's competition, a feat only beaten by Lionel Messi's outstanding total of 14 goals, which was a new record. So just to get close to Messi highlights the Germany striker's finishing attributes. A composed figure in front of goal, he has the ability to put any chance in the net.