Jose Aldo vs. Frankie Edgar: A Career Timeline to UFC 156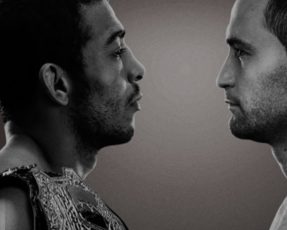 Courtesy / hov-mma.com
There is a UFC super fight this weekend with featherweight champion Jose Aldo taking on recent former lightweight champion Frankie Edgar at UFC 156 in Las Vegas.
Aldo and Edgar are both at the very top of the mixed martial arts game and Edgar is stepping right into the fire in his new division by taking on Aldo. Man fans and media believe that this is where Edgar truly belongs and only time will tell if he can match his success and longevity he enjoyed at 155 pounds.
Both of these men have battled long and hard to get to this fight and here is a look at their respective career paths to UFC 156.
Begin Slideshow

»
Jose Aldo—18 years old
Aldo was aptly nicknamed "Junior" in the earliest stage of his career and made his professional debut at 17 years old against Mario Bigola in Brazil. In a sign of things to come, Aldo knocked Bigola out in dramatic fashion with a head kick and soccer kick 18 seconds in to the fight.
Aldo goes on to take a second fight in 2004 and gets a doctor stoppage against Hudson Rocha to finish his first year of pro fighting 2-0.
Frankie Edgar—23 years old
Edgar is in his last year at Clarion University finishing up a BA in Political Science. He puts the finishing touches on a solid college wrestling career by being named a College Freestyle All-American after being a four-time national qualifier in Division I.
He works for his father's family plumbing business and has not fought in mixed martial arts. He is set to graduate college in May 2005.
Jose Aldo—20 years old
Aldo is coming off the first loss of his career at the end of 2005, tapping out to Luta Livre black belt Luciano Azevedo via rear naked choke. His record is 7-1 in his career.
In his only fight of 2006, Aldo bounces back with a very close decision win over Thiago Meller in May. Aldo wins the up and down battle using takedowns and quick flurries of punches. After a tight first two rounds, Aldo stalls in the third by holding Meller against the cage for most of it. He gains the decision and appears exhausted after the final bell.
His record is 8-1.
Frankie Edgar— 25 years old
Edgar enters the year with a 3-0 record in the small shows of New Jersey, with all of them ending via first round finish. He keeps his momentum going with three more wins in 2006 and wins the Reality Fighting Lightweight title beating Jim Miller via unanimous decision.
He is training on the Rhino Fight Team under Rob Guarino.
He is 6-0 in MMA.
Jose Aldo—22 years old
Aldo makes his WEC debut at the beginning of 2008 with a second round TKO win over Alexandre Franca Nogueira. It is also Aldo's first fight in North America and he follows that up with another win over Jonathan Brookins in California in November. He TKO's Brookins early in the third round with punches.
He is 12-1 heading in to 2009.
Frankie Edgar—27 years old
In 2007, after building a 5-0 record in New Jersey, Edgar tries out for season five of The Ultimate Fighter in front of Dana White and Joe Silva. He is not selected for the show but shortly after the tryout he is contacted by the UFC and asked if he will fight undefeated star Tyson Griffin.
Edgar defeats Griffin and gets a Fight of The Night in the process to launch his UFC career. He enters 2008 undefeated in three fights in the UFC, but starts the year with a decision loss to Gray Maynard. Edgar bounces back in his only other fight of 2008 winning a Fight of the Night decision against Hermes Franca.
He is 10-1 in mixed martial arts.
Jose Aldo—24 years old
After knocking out Mike Brown to win the WEC featherweight title late in 2009, Jose Aldo starts the year ready to defend against Urijah Faber, in one of the most highly anticipated fights in mixed martial arts to date. Aldo batters Faber with leg and body kicks throughout the fight, dropping the former champion numerous times.
He goes on to defend the belt for the second time in 2010 by knocking out Manny Gamburyan. The WEC is then merged into the UFC and Aldo enters the UFC as the first featherweight champion in the company's history.
Frankie Edgar—29 years old
Edgar enters 2010 in the prime of his career at 12-1 and gets a shot at BJ Penn and the UFC lightweight championship in the UFC's first show in Abu Dhabi. Edgar wins a very close stand-up battle with Penn to pull off a mild upset and take home the belt. The fight is deemed so close that an immediate rematch is granted to The Prodigy later in the year.
The second fight goes even better for Edgar and he defends his title using strong takedowns and elusive footwork to get another decision win.
Jose Aldo—26 years old
Aldo continues his title run dominance in 2011 and 2012, defeating Mark Hominick at UFC 129 in Toronto; the UFC's biggest show to date. He gets another decision win over Kenny Florian late in the year to secure his place as one of the best pound for pound fighters in the world.
Aldo fights once in 2012 and knocks out Chad Mendes with a devastating knee in the final second of the first round. He was scheduled to defend against Erik Koch in July but had to withdraw due to injury and has not fought since.
He has not lost a fight in over seven years.
Frankie Edgar—31 years old
Edgar enters the year off his stunning knockout victory in his rematch with Gray Maynard and he is still the lightweight king. He loses the title in February to Benson Henderson at UFC 144 in Japan— another controversial decision. Controversy seems to be at play in any Edgar decision, prompting Dana White to grant him an immediate rematch and hint that a change in weight class could be the only solution for him.
Edgar faces Henderson again in August at UFC 150, and despite a better performance that seems to best the current champion, he loses to Henderson via split decision.
Two weeks later, Edgar announces he will move down to featherweight and the Aldo-Edgar hype begins.
Fight week is here, and Aldo and Edgar both seem healthy and ready to go. In my opinion, Edgar could still be the lightweight champion and this fight pits two of the very best fighters in the world today.
Edgar walks around at 155 pounds on any given day, so the weight cut should not hinder his performance much, if at all. Aldo is coming off an injury layoff and has not fought in the cage in over a year.
Cage rust is not something you want to have against a guy like Edgar and he better get warm right away. Technique and mystique aside, Edgar has heart in spades, and I'm not sure Aldo has been pushed to the limit in any of his recent fights.
Frankie Edgar will be the new featherweight champion this weekend using his footwork, boxing and takedowns to stay ahead of Aldo all night.
Edgar via unanimous decision
Dwight Wakabayashi is a featured columnist for Bleacher Report UFC and regular contributor to Sportsnet.ca's UFC section. Follow him on Twitter @wakafightermma.