Michigan Football Recruiting: Wolverines' Top Priorities on National Signing Day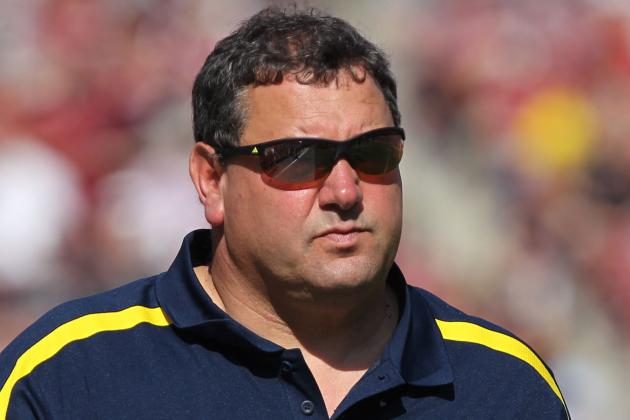 Kim Klement-USA TODAY Sports

It's hard to believe that National Signing Day is now only about a week away. It seems only yesterday that we still had months to go before reaching it.
The recruiting process has slowed down mightily for Michigan over the past few months, but that's not a surprise when considering the hot start they got off to. In fact, it was about a year ago at this time when the 2013 recruits started committing at a historic rate.
With the class basically all but wrapped up, what will Michigan's top goals be on Signing Day?
All information found at thewolverine.com.
Begin Slideshow

»
This is, without a doubt, priority No. 1 for the Michigan coaching staff. Henry Poggi is one of the best two or three players in this class, yet he seems to be wavering a bit here down the stretch.
Recent flirtations with Alabama have gotten fans mighty worried over Poggi's status. Is it only a matter of time before he winds up switching commitments? Or is he solidly committed and there shouldn't be much to worry about?
These are questions fans have been asking over the last few weeks, and for good reason. Heck, Poggi might not even know the answer to some of those questions.
We'll find out the answers soon enough, as we hopefully see him sign his letter to Michigan next Wednesday.
That is another popular question that has been asked a lot over the past week or so. Ever since Derrick Green committed, there seemed to be only one strong candidate that could be the final addition—Durham Smythe.
However, with Smythe's recent commitment to Notre Dame, does that mean Michigan's class is finished? The most likely answer is yes, but as we all know, Signing Day surprises occur constantly.
For example, Dennis Norfleet wasn't really even on Michigan's radar last year, yet he suddenly signed with Michigan on Signing Day. Rich Rodriguez was able to grab a number of Signing Day surprises as well.
It doesn't look like there will be anybody else added to this year's class, but again, it would be foolish to say that it's a done deal.
Although Poggi looks like the only commit that Michigan may be in danger of losing, nothing is official until those letters of intent are signed.
It doesn't appear to be a stressful day for the coaches on Signing Day, but again, you just never know. Other than the six early enrollees that are already on campus, any commit could technically still sign somewhere else.
Again, that's not likely to happen, but we've certainly seen stranger things. Once every player has signed his letter of intent next Wednesday, the coaches will be able to breathe a sigh of relief knowing that these kids are officially locked up.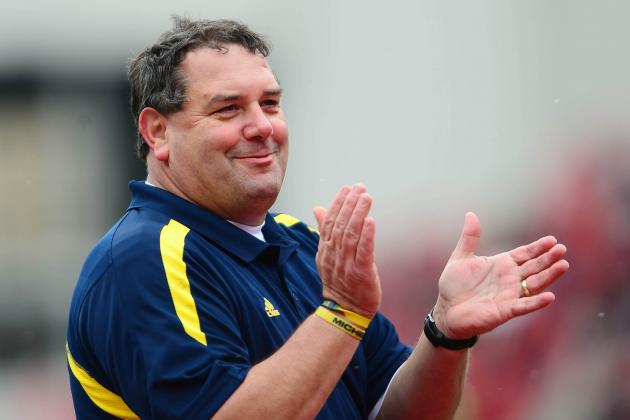 Andrew Weber-USA TODAY Sports

As soon as these 2013 kids are signed, the Michigan coaches will immediately begin to pursue the top 2014 targets. Heck, they've already started doing that to a degree.
Although the 2012 and 2013 classes got off to unbelievably early starts, the 2014 one doesn't figure to do the same.
Michigan's scholarship situation sets up in a way that will allow the coaches to basically pick and choose what players they want to accept. Obviously, attrition, injuries and fifth year players not being invited back will cause the scholarship number to increase, but for right now, the number is extremely low.
That isn't necessarily a bad thing, though, as head coach Brady Hoke and the other coaches can afford to be picky when it comes to elite talent for the 2014 kids.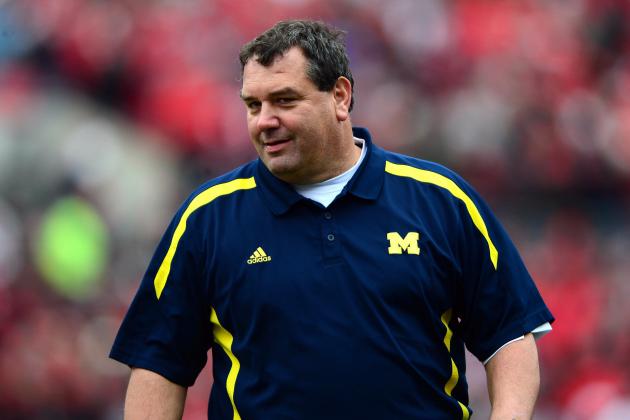 Andrew Weber-USA TODAY Sports

This 2013 class looks like it will finish about the same as where the 2012 one did, which is Top 10 nationally.
Unfortunately, big names like Laquon Treadwell and Leon McQuay III did not end up in this class, but at least the class finished with a bang by adding Derrick Green.
As mentioned earlier, Green looks like the final piece of this puzzle. That means that there would likely be no room for a Signing Day surprise.
However, as we've seen in the past, the first Wednesday of each February always includes plenty of drama that nobody ever saw coming.