"The art of being yourself at your best is the art of unfolding your personality into the person you want to be..."

- Wilfred Peterson (Author), 1900-1995

"I stand here on my own two feet, and I stand here defiant. I stand here confident. This is my house, and I run from nobody."

- CM Punk, WWE Night of Champions 2010
In his cornerstone summer of 2011, Phil 'CM Punk' Brooks awarded himself the moniker of "the Voice of the Voiceless". Ironic, then, that a viable gauging of Punk's impact upon WWE can be found in the media platform that has essentially given everyone a voice: the Internet. With the online presence of professional wrestling fans expanding at an astonishing rate and the creation of the fabled Internet Wrestling Community (IWC), a quick browse of pro-wrestling sites and dedicated forums provides a valuable insight into the opinions that truly matter.
Here, it is not uncommon to find statements such as "CM Punk is the only reason I watch WWE…" (via ProWrestlingFANS) and "CM Punk has made WWE better…" (via Wrestling Forum). Evidently, Punk is incredibly popular with the WWE audience and, as a result, has become the most talked about anti-hero character since the astronomical rise of Stone Cold Steve Austin.
In addition to being an almost universal favourite amongst all sections of the modern pro-wrestling crowd, Punk is now one of the sturdy foundations that WWE can heavily rely upon. However, whilst Punk is now celebrating the landmark of being the longest reigning WWE Champion since Hulk Hogan in 1988, his story could have taken a very different course.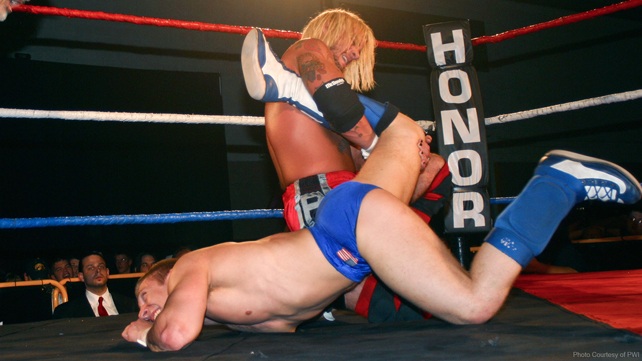 Second City Saint
It is fair to say that throughout the majority of his career in the squared circle, CM Punk has consistently gone against the grain. Although the entire industry was built upon the notion of performers standing out (beginning with early 1900's attraction matches featuring such stars as 'The French Angel' Maurice Tillet), unconventionality is increasingly frowned upon in the (somewhat insular) modern professional wrestling world.
Notable in his early days on the independent scene and accentuated by the freedom found in the Ring of Honour promotion, Punk's nonconformist nature and his often scathing outspokenness are not facets typically associated with contemporary WWE employee. An element that worked in Punk's favour, however, was a favourable reputation that was built through exceptional matches with the likes of Bryan Danielson, Samoa Joe and Austin Aries. Upon entering the McMahon monopoly in late 2005, Punk had already solidified his position as one of the hottest prospects in American pro-wrestling.
A reliably high-quality performer, CM Punk's first few years in the company were relatively successful, but can be summarised by the one-step forwards, two-steps back theory. A stint on the ill-fated ECW revamp featured an entertaining angle with John Morrison and a well-received title run, but also (unfortunately) featured an undefeated streak that was senselessly ended by the ever stale Hardcore Holly. Punk even won his first World Heavyweight Championship in summer 2008, but his title reign was dogged by booking that placed him as a "lucky champion" and not entirely worthy of holding the Big Gold Belt (similar to the treatment that Rey Mysterio suffered in 2006). Despite other accolades including besting Kevin Nash's previous record as the fastest Triple Crown champion in history, Punk's early WWE tenure was a frustrating period that featured, as writer Will Cooling explained in the December 2012 issue of the UK's Fighting Spirit Magazine, "many onlookers [doubting] that he has the attributes to be a franchise player."
It was only in the summer of 2009 that Punk started to catch fire through an electric World title programme with Jeff Hardy that saw the Straight Edge Superstar turn heel for the first time in his WWE career. Free of the babyface restraints, Punk was able to utilise his naturally mordacious promo skills on the road to (kayfabe) driving the ultra-popular Hardy out of the company. Although showing undeniable headline promise during this heel turn and the resulting World Heavyweight Championship reign, the following two years featured little of note for Punk. 2010's Straight Edge Society gimmick had its high points (including a show-stealing match with Rey Mysterio at Over the Limit 2010 that culminated with Punk having his head shaved), whilst the hastily thrown together New Nexus angle from early 2011 was particularly dull.
However, in a truly unforgettable segment, everything changed on the June 27, 2011 broadcast of Monday Night RAW and the Voice of the Voiceless was unleashed.
Pipe Bomb
"I think people who know the inside track; they always want to hear somebody who drops that on national TV… that's what brought CM Punk to the forefront…"

- "Road Dogg" Jesse James, WWE.com
Bending the wall between storyline and backstage politics, Punk's shoot/work diatribe is now an acclaimed moment in modern professional wrestling history. In name dropping formerly taboo subjects such as Ring of Honour and Brock Lesnar, Punk addressed grievances with the company (and in particular, Vince McMahon) that echoed deep frustrations that lie within the WWE audience, including the never-ending push of limited workers (Hulk Hogan, John Cena) and at the expense of perennial under-achievers like Colt Cabana. The promo had a rippling after-effect, culminating in an anti-hero face turn and a stellar WWE Championship bout with Cena at Money in the Bank in hometown Chicago. Undoubtedly the match of the year, Punk defeated the champion in front of a fiercely partisan crowd, and went on to end 2011 as the reigning WWE Champion.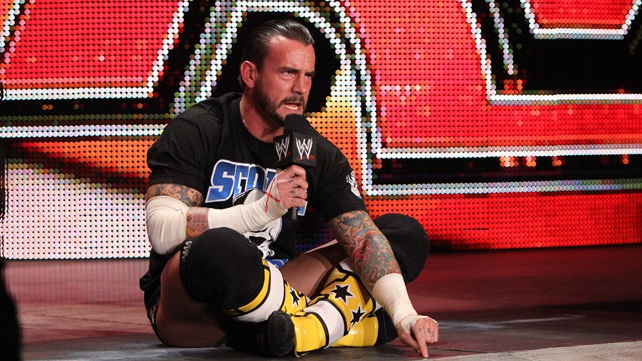 Up to this point, 2012 was clearly the milestone year in the career of CM Punk. Rolling into WrestleMania XXVIII in Miami as a fully fledged babyface and fresh off several outstanding matches including a competitive title clash at the Royal Rumble with an emerging Dolph Ziggler and the Elimination Chamber Match a month later, momentum was clearly in the champion's favour. Entering Punk into a dream programme with the similar Chris Jericho seemed to be an impressive move by the creative team to extend his run at the top, however the feud, as noted by Power Slam Magazine writer and editor Fin Martin, "only surpassed average" despite a good bout at WrestleMania and an entertaining Street Fight at Extreme Rules. Following this, Punk's face act unfortunately ran the risk of becoming stagnant, a fact that was not helped by the tedious John Laurinaitis feud and the unnecessary love triangle with Daniel Bryan and AJ Lee. In the ring, Punk and Bryan delivered exemplary performances (with the showdown at Money in the Bank being a very impressive affair indeed), but the awfully outdated love story was clearly doing no favours for Punk's decaying run as a babyface.
The fact that CM Punk was rapidly losing steam and credibility as a face was duly noted by WWE creative, and as a result Punk turned heel on The Rock at RAW 1000 in a fascinating slow-burner that eventually saw the champion pair up with long-time advocate Paul Heyman. Aided by the natural heat generated by Heyman and a reinvigorated bite on the microphone, Punk excelled as a heel in dramatic verbal jousts with the likes of Mick Foley, Jerry Lawler and Bret Hart. Punk's refreshed character also flourished in between the ropes, as his ability to carry a match as a ring general was highlighted in such bouts as the SummerSlam triangle match with the limited John Cena and Big Show. The intrepid feud with newcomer Ryback gave Punk a fresh challenge after an excessively long series with Cena, and the solid Hell in a Cell bout in October featured a screwjob finish that, whilst not to everyone's taste, successfully protected both champion and challenger going forwards. Minor knee surgery forced Punk onto the injury shelf for the last period of 2012, and the champion, like in 2011, ended the year with the title belt strapped around his waist.
Boxing with God
In January 2013, it is clear that WWE has a lot of stock invested in CM Punk, and this year represents his biggest challenge yet. Coming into the year as the longest reigning WWE Champion in 25 years had been both a blessing and a curse for Punk—on one hand, the belt emphasised his status as a genuine main event attraction and one of the company's bona-fide top guys, but on the other added a bothersome layer of pressure as the "Road to WrestleMania" began to heat up.
Now that CM Punk has passed the belt onto The Rock (in a forgone conclusion that makes sense heading into WrestleMania), it is imperative that he finds a way to stay relevant, and no-one will understand this more than Punk himself. In late 2008, after unceremoniously dropping the World Heavyweight Championship to Chris Jericho in a match in which he was not even afforded the opportunity to compete, Punk found himself sliding back into the mid-card, and the writing seemed to be on the wall for his headline career after the formation of a tag team with the permanent mid-carder Kofi Kingston.
Obviously, a lot has changed since that frustrating period, but the danger of Punk losing his spot is still very real. As with every champion, Punk effectively had a safety net when holding the belt, but with The Rock and John Cena poised to take centre stage and the returns of Triple H, Brock Lesnar and the Undertaker impending, Punk (sans WWE title) could get lost in the shuffle. It has often been said, in a viable point, that Punk's character and appeal is currently so strong that he doesn't need the title, like a modern day Rowdy Roddy Piper or Curt Hennig. Whether or not this is true, the fact still remains—without the belt Punk may struggle to keep the focus on him. Possible solutions to this problem can be found in presenting Punk as a viable challenger to whoever holds the belt post-WrestleMania, but with the possibility of John Cena walking out of New Jersey as the champion, another Punk/Cena series may not be the answer.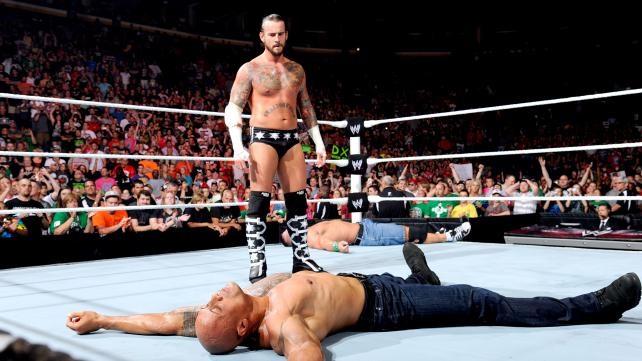 CM Punk will need a new injection of inspiration to bounce back after losing his title. Interestingly, the inspiration that propelled him to the top in 2011 may no longer be there.
"For almost six years, I 've proved to everybody in the world that I am the best on this microphone, in that ring, and even on commentary. Nobody can touch me. And yet, no matter how many times I prove it, I'm not on your lovely little collectors' cups, I'm not on the cover of the program, I'm barely promoted, I don't get to be in movies, I'm not on any crappy show on the USA Network, I'm not on the poster of WrestleMania, I'm not on the signature that's produced at the start of the show. I'm not on Conan O'Brian, I'm not on Jimmy Fallon, but the fact of the matter is I should be, and trust me, this isn't sour grapes, but the fact that "Dwayne" is in the main event of WrestleMania next year and I'm not makes me sick."

- CM Punk, WWE RAW, 06/27/11
As noted in his celebrated "pipe bomb" promo, a significant amount of Punk's complaints lay in the fact that he felt overlooked due to lack of exposure. A valid suggestion in June 2011, however, at the turn of 2013, that is no longer true. Although he was admittedly overshadowed by John Cena for a significant portion of last year (in a move that can only be seen as a mark of disrespect towards the then WWE Champion), the limelight has been securely placed on Punk's shoulders for the last six months or so. Since his well-executed heel turn in July, Punk has been afforded ample time both in the ring and on the microphone. Punk has undeniably used the time to deliver some memorable moments (including the controversial heart attack segment from November), and in conclusion, can no longer harbour feelings of under-appreciation in that manner.
Punk is also getting a sustained push from the promotional department, too. In the above quotation, Punk openly suggests that he is not promoted properly, and deserves to be the focal point of significant WWE marketing campaigns. However, the last year has seen him featured more prominently than ever before, including appearances on TV talk shows such as AMC's Talking Dead and the Hell in a Cell event promotion series that depicted Punk, somewhat aptly, as a Devil (via WWE.com).
Another significant roadblock for Punk to overcome will be fatigue. It is widely known that Punk plans to end his career sooner rather than later, and it was reported in summer of 2011 that the Straight Edge Superstar would be taking an extended leave of absence from the company at some point, citing burnout as a cause (via Tribal Wrestling). While this break has failed to fully materialize thus far (Punk has remained on TV consistently since a very brief break shortly before SummerSlam 2011), Punk has worked incredibly hard for a long time (accentuated by the demands of being champion for so long), and the knee damage in December may point to the need to take time off to recuperate from niggling injuries and the fatigue of life on the road. Post-WrestleMania, a small vacation away from the company may be necessary for Punk to sufficiently recharge.
Best in the World
Seven years ago, CM Punk made his unacknowledged pay-per-view debut at WrestleMania 22 by escorting WWE Champion John Cena to the ring before his title confrontation with Triple H in Chicago, Illinois. As important a milestone that may have been in Punk's career, this year's WrestleMania will undoubtedly eclipse all appearances that have come before.
As mentioned above, Punk is accustomed to having generous air time to establish the groundwork for his upcoming pay-per-view matches. However, promo time will be limited once The Rock, the Undertaker, Triple H and Brock Lesnar set their feud's wheels in motion in the weeks leading up to the event. Therefore, the need for Punk to make a hefty impact on WWE programming between now and April is becoming more and more apparent if he is to grab the WrestleMania spot he fully deserves.
It is becoming abundantly clear that upon entering the MetLife Stadium on April 7th Punk will have his spot amongst the WWE elite on the line. With reports circulating that Punk is currently pencilled in to take on the Undertaker in a potentially gargantuan clash of "Respect vs. The Streak" (via Cageside Seats), the opportunity for the former champion to showcase his abilities in one of the biggest matches on the brightest stage in professional wrestling is readily available. A match of this magnitude is essentially too good for WWE to miss, and if this confrontation does indeed come to fruition (with millions of fans at home and on sites such as Bleacher Report openly hoping it does), expect Punk to flourish and, to the chagrin of McMahon and the company hype-machine, steal the show from under the noses of The Rock and John Cena.
To say that CM Punk is, as the man himself often states, the best in the world may be a somewhat exaggeration, but Phil Brooks can stake a genuine claim to being one of the finest full-time performers in the biggest company in the business. His consistent quality throughout 2012 has deservedly propelled him into the limelight that he craved so much back in 2011, and up until the showdown with The Rock on Sunday night, his reward was an almost unbelievable run with the richest prize in the game.
As events at the Royal Rumble can vouch, 2013 is shaping up to be a trying year for CM Punk, and one in which he cannot afford to rest on his laurels. Following his monumental title run, Punk could be forgiven for becoming slightly complacent in his spot at the top of the card—but this seems to go against everything that the Punk character seems to illustrate. This year will be a massive test of Punk's strength as a performer, and it is of a personal opinion that the former champion exudes the qualities required to stay afloat in the cut-throat main event scene.
CM Punk is one of the WWE's most valuable assets, and he knows it. However, for the first time in his tenacious career, the opportunity to cement his legacy atop the professional wrestling business lays firmly in his tattooed hands.
Thanks for reading!
Comment welcome below or on Twitter: @matthewtsquires