UFC 156: Keys to Victory for Alistair Overeem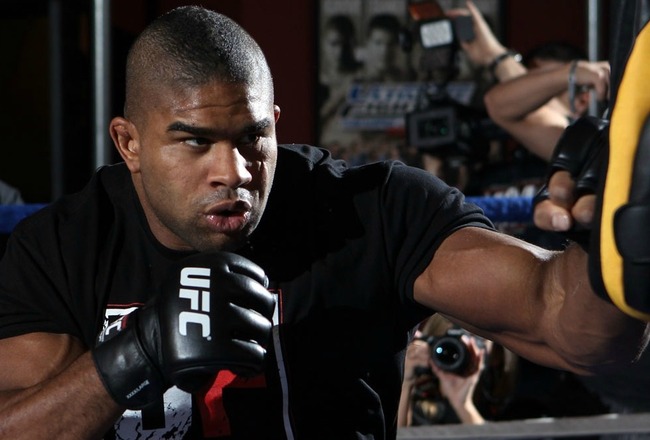 mmacarnivale.com

Not only will UFC 156 feature a superfight between pound-for-pound great Jose Aldo and former UFC lightweight champion Frankie Edgar, it will also mark the return of Alistair Overeem to the Octagon.
As one of the UFC's most popular fighters and biggest pay-per-view draws, Overeem's comeback will be welcomed with open arms.
The question is, what exactly can we expect?
Overeem hasn't fought since December 2011 due to a lengthy drug suspension. In his last fight, he just so happened to finish a washed-up Brock Lesnar by kicking his already injured stomach.
UFC 156 will be Overeem's first true test in the deepest heavyweight division in the world as he steps inside the cage opposite Antonio "Big Foot" Silva. Silva is coming off a devastating knockout victory over Travis Browne and could easily prolong success if he's taken lightly.
Here are five keys to victory for "The Demolition Man" as he attempts to re-polish his title-contending image.
Maintain Patience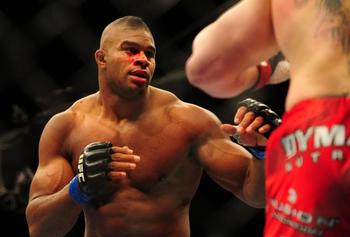 Mark J. Rebilas-USA TODAY Sports
Alistair Overeem is going to be pumped to say the least.
He hasn't fought in over 13 months and really needs to impress in order to validate his finish over the battered Brock Lesnar.
By staying patient, picking his shots, keeping his mind in the game and not trying to knock off Antonio Silva's head with one shot, Overeem should be able to dismantle the giant on his feet.
If the prolific heavyweight contender finds himself getting overwhelmed early in this fight, Silva has all the tools to make him pay.
Utilize His Kickboxing Early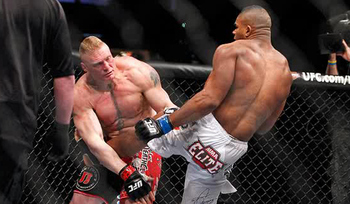 bustedcoverage.com
Antonio "Big Foot" Silva is one of the more versatile big men in the UFC heavyweight division. He can switch up angles fairly easily, get in and out of range and do a lot of damage with heavy hands and dangerous head kicks.
With that said, Alistair Overeem has the perfect striking capabilities—more specifically, his kickboxing skills—to limit Silva from the outside and ultimately slow him down.
Silva will have a slight reach advantage to go along with natural knockout power. However, if Overeem can land some punishing kicks to his legs and body early, "Big Foot" should start to slow.
Overeem's ability to utilize his kickboxing from the first bell to the last may very well be the single biggest factor in this fight.
Stay off His Back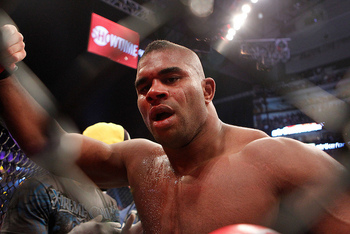 mmafrenzy.com
It's important that Alistair Overeem finds success with his kickboxing fairly early in the fight.
That is, not only to limit Antonio Silva's ability to move around the cage and implement his own offensive game plan, but for the sake of defending his attempts to bring the fight to the ground.
If Silva finds himself in trouble early against Overeem's versatile striking, he'll ultimately look to drag the fight into his own domain.
Silva isn't the best takedown specialist in the UFC, but he is one of the best jiu-jitsu practitioners.
Overeem is fairly good off his back, but his success has been partially fueled by pure size. Unfortunately for him, Silva is just as big. He also has the ability to inflict some serious damage with his balloon-sized hands.
For Overeem to have a distinct advantage in this fight, he's going to have to limit the minutes spent on the canvas.
Get Inside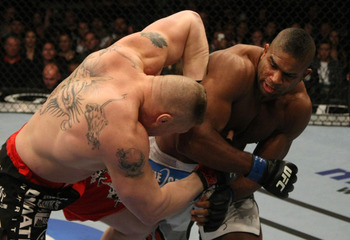 themmanews.com
Alistair Overeem works very well when he gets inside of an opponent.
He can utilize his innate size and power to sling power punches in bunches, or he can inflict major damage by throwing crisp knees in the clinch.
Either way, when Overeem finds ways to get inside and impose his will, he rarely has trouble finishing fights.
Antonio "Big Foot" Silva is no pushover, but it just seems like Overeem would have the distinct advantage up close. Silva's bigger reach would be useless, his head kicks would have no way of getting through and any chance he had at bringing the fight to the ground would be much more difficult while on the defensive.
Respect the Power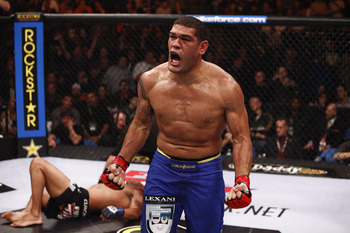 fiveouncesofpain.com
As good as Alistair Overeem is at finishing fights, Antonio "Big Foot" Silva's power is just as potent.
For Overeem to truly flourish as the better striker in this affair, he's going to have to respect the natural knockout ability of the Brazilian.
Overeem hasn't been finished by way of TKO since 2007, but that doesn't mean he isn't susceptible to one of Silva's devastatingly enormous hands.
The bottom line is that if Overeem thinks he's just going to walk through a guy like Silva, punish him with his hands and kick him into oblivion like he did Brock Lesnar, he's got another thing coming.
With that said, Overeem should still be considered the favorite in this clash of giants—and for good reason. He just needs to be aware that he's competing against a borderline top-five heavyweight in the world.
For more UFC/UFC 156 news and coverage, Follow @DHiergesell
Keep Reading