SEC Football: Class of 2012 Signees from Each Team Who Need to Explode in 2013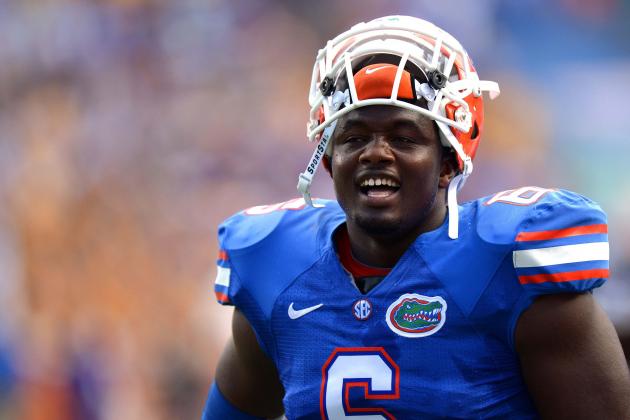 Jake Roth-USA TODAY Sports
Florida DE/LB Dante Fowler, Jr.
Last week, we told you about the top five players in the SEC who are set to have breakout seasons in 2013.
While several of those players are in prime positions to step up to the big-boy table, there are youngsters on every team that are being counted on to be big-time players in 2013.
Which players from the class of 2012 need to have breakout seasons in 2013 for their respective teams? Our top player from each SEC program is in this slide show.
Begin Slideshow

»
Alabama has already seen stars from the class of 2012 emerge as legitimate SEC stars. Running back T.J. Yeldon ran for 1,108 yards and 12 touchdowns in his true freshman season, while wide receiver Amari Cooper led the Crimson Tide with 1,000 receiving yards and 11 touchdowns.
But another star from the class of 2012 may need to step up in 2013 if the Crimson Tide are going to win their third consecutive BCS National Championship—wide receiver Chris Black.
Black was a 4-star wide receiver coming out of First Coast High School in Jacksonville, Fla., according to 247Sports.com. He missed the season after injuring his shoulder early in fall camp, but was cleared to play prior to Alabama's 32-28 victory over Georgia in the SEC Championship Game if needed.
He never saw the field, but that should change in 2013.
With three stars gone off the offensive line, Alabama may not be able to rely so heavily on the running game next season. With Black lining up opposite Cooper outside, it may not want to.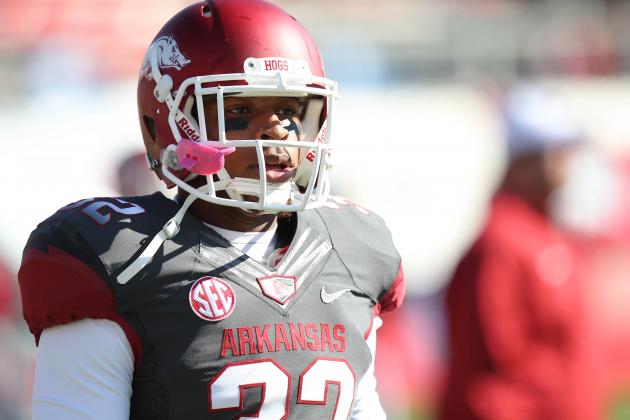 Nelson Chenault-USA TODAY Sports
Arkansas RB Jonathan Williams
Running back Jonathan Williams finished third on the Razorbacks in rushing last year, rushing for 231 yards on 45 carries in his true freshman campaign.
With Dennis Johnson and Knile Davis gone, and new head coach Bret Bielema at the helm, Williams really needs to step up and become an every-down back in 2013.
He was a 4-star prospect last season by 247Sports.com from Allen, Texas; and has everything he needs to be a star for the Hogs. The 6'0", 205-pounder runs a 4.5 40-yard dash, and has the size to take a pounding between the tackles.
With a new starting quarterback taking the snaps, Bielema needs a stable running game to take the pressure off whoever wins the quarterback job. Williams will likely provide that.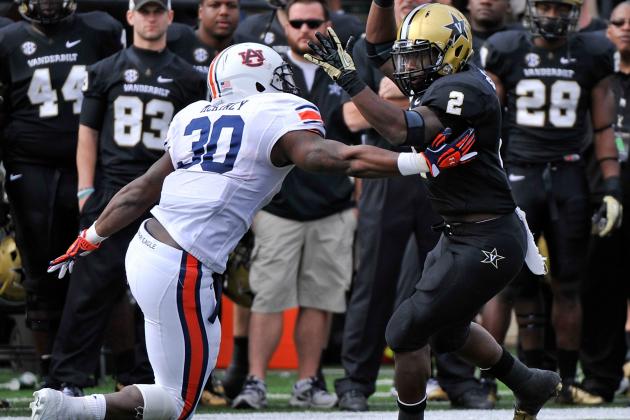 Frederick Breedon/Getty Images
Auburn LB Cassanova McKinzy
New Auburn defensive coordinator Ellis Johnson will likely employ his 4-2-5 scheme on the Plains, which means more responsibility for 6'3", 243-pound middle linebacker Cassanova McKinzy.
McKinzy tallied 23 tackles and a half sack last season, playing primarily a backup role behind Jake Holland. Johnson likes two bigger linebackers and a "Spur" in his system, which means that McKinzy should see more playing time even if he doesn't unseat Holland.
The Tigers finished last in the SEC in rush defense in 2012, after giving up 197.58 yards per game on the ground. One of the primary culprits was lack of fundamentals and the inability to make tackles.
The Birmingham, Ala., native was a 4-star prospect in the class of 2012, and needs to become one of the centerpieces in Auburn's re-tooled defense in 2013. If he does, then Auburn will likely find itself in a decent bowl game.
Derick E. Hingle-USA TODAY Sports
LSU LB Kwon Alexander
As a true freshman, Kwon Alexander played well early in the 2012 season, notching eight tackles, one tackle for loss and recovering one fumble before an ankle injury held him out until the Chick-fil-A Bowl.
But with a full offseason of work in front of him, Alexander is set to take the next step in 2013. The 6'2", 215-pounder is fast and physical, and certainly capable of becoming a star in defensive coordinator John Chavis' defense.
With so much roster turnover on the defensive side of the ball—only five starters return—the Tigers desperately need their future stars to step up and become leaders in 2013.
Alexander, a former 4-star recruit, is one of those potential stars.
The superstar of Mississippi State's 2012 class was defensive end Denico Autry, and the junior college transfer has already made a big impact in Starkville.
As for who needs to step up, this could really be an either/or scenario with Quay Evans and Nick James both needing to step up. But for the sake of argument, we'll go with Evans because he's physically similar to the man he may replace—defensive lineman Josh Boyd.
Evans was a 4-star prospect in the class of 2012 out of Morton, Miss., who enrolled early to get a jump start on the competition. He tallied seven tackles and one forced fumble in nine games as a true freshman last season playing in spot duty, but should see significant playing time in 2013.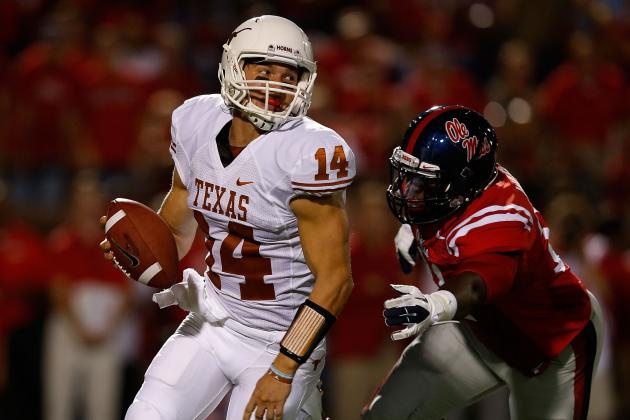 Scott Halleran/Getty Images
Ole Miss DE Channing Ward
Channing Ward was a 5-star prospect in 2012 out of Aberdeen High School in Aberdeen, Miss. In 12 games last season in a backup role, Ward tallied 21 tackles and 1.5 tackles for loss at defensive end for the Rebels.
The 6'4", 256-pounder is a true star in the making. He has the size, speed and quickness to become one of the SEC's elite pass-rushers.
If Ward lives up to his potential next season, he could be a big part of one of the most fearsome pass defensive lines in the SEC. Linebacker turned defensive end C.J Johnson notched eight sacks a year ago, and is entrenched at one defensive end spot.
If head coach Hugh Freeze reels in class of 2013 prospects Robert Nkemdiche and current Mississippi State commit Chris Jones—the nation's top two prospects according to 247Sports.com—then look out SEC.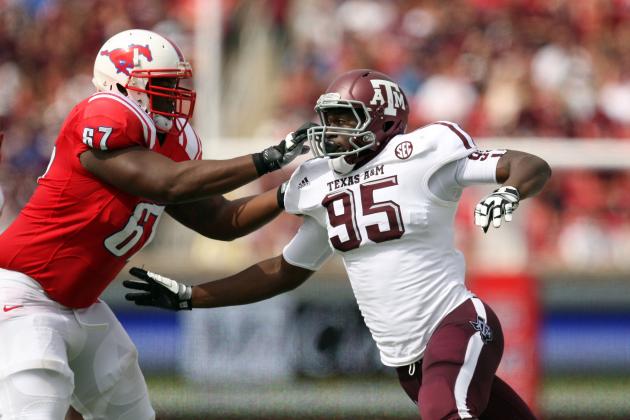 Thomas Campbell-USA TODAY Sports
Texas A&M DE Julien Obioha
While Johnny Manziel and the Texas A&M offense stole all of the headlines last season, it was the veteran defense that played a major role in the Aggie resurgence in 2012.
A big part of that resurgence was Damontre Moore, who finished the season with 85 tackles, 21 tackles for loss and 12.5 sacks before departing early for the NFL.
Enter: Julien Obioha
As a true freshman, Obioha notched 25 tackles, 1.5 tackles for loss, one sack and one forced fumble. He probably will stay on the strong side, where he started last season. He won't be asked to replicate Moore's performance, but he will become more of a factor in passing situations and keep up his good work against the run.
The 6'4", 255-pounder was a 3-star recruit last season, but outperformed his star ranking in his first season in College Station.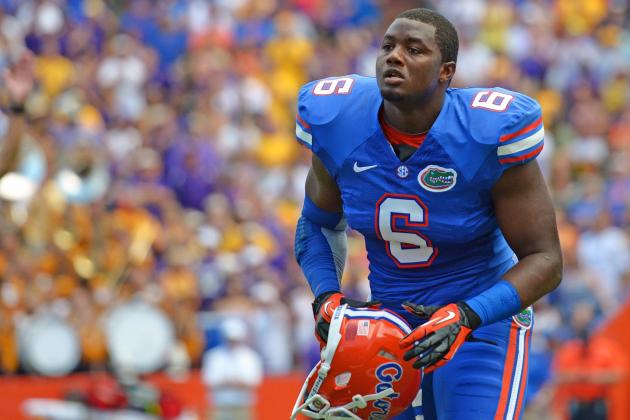 Jake Roth-USA TODAY Sports
Florida DE/LB Dante Fowler, Jr.
Dante Fowler, Jr. was the talk of fall camp heading into the 2012 season, and he performed well as a freshman, tallying 30 tackles, 8.5 tackles for loss and 2.5 sacks.
But the best may be yet to come.
At 6'3", 277 pounds, Fowler has the size and speed to line up either at defensive end in the 3-4 or at the Buck position. His versatility should allow Florida to alter its personnel based on situations; and when combined with Buck Ronald Powell—who missed last season with an ACL injury—can make Florida's defense incredibly difficult to scheme against.
With seven defensive players gone, Fowler will be counted on to become one of the leaders of the new-look Gator defense on the field and on the practice field. Don't be surprised to see his star rise in 2013.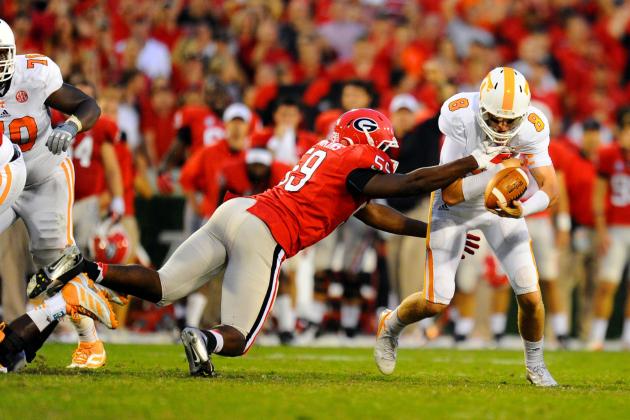 Dale Zanine-USA TODAY Sports
Georgia LB Jordan Jenkins
Georgia linebacker Jordan Jenkins was listed as our No. 2 breakout star in the SEC last week. If Georgia wants to win its third consecutive SEC East title, the Bulldogs NEED him to be.
Georgia lost all but three starters on its defense last season, the most notable of which was superstar outside linebacker Jarvis Jones.
It's up to Jenkins to step in and fill that void.
The former 5-star prospect from Hamilton, Ga. was very impressive as a freshman in 2012, notching 31 tackles, eight tackles for loss and five sacks playing mostly in a reserve roll.
If he improves upon those numbers, the Bulldogs will be back in the Georgia Dome in early December.
Kentucky LB Khalid Henderson / Photo Credit: 247Sports.com
Khalid Henderson may not be a name that's known in SEC circles, but the 3-star prospect played well in limited action as a true freshman last season.
He tallied 26 tackles and broke up one pass in 11 games played for the Wildcats, and should become a bigger part of the game plan under first-year head coach Mark Stoops.
He has the quickness to be a factor at this level, and how he adjusts to the new scheme will determine if he makes an impact in 2013 or not.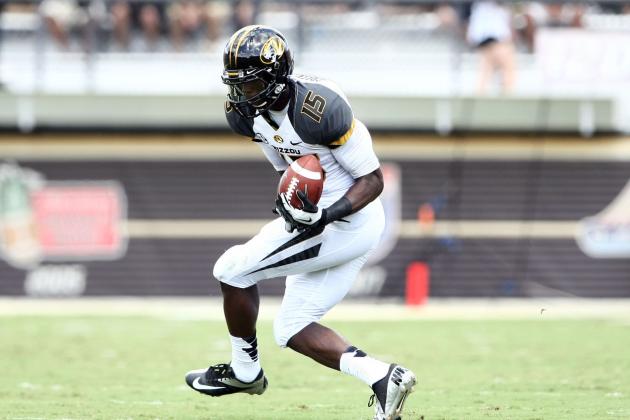 Douglas Jones-USA TODAY Sports
Missouri WR Dorial Green-Beckham
Wide receiver Dorial Green-Beckham came to Missouri with as much hype as any recruit in recent memory, but his first season in Columbia didn't live up to the hype.
In his first season with the Tigers, Green-Beckham caught 28 passes for 395 yards and five touchdowns. Not bad, but certainly not the breakout freshman campaign that many Tiger fans had envisioned.
With an offseason of work, head coach Gary Pinkel will be counting on Green-Beckham to step up in 2013 on the field and as a leader. He has the size, speed and ball skills to be a star in the SEC, and will need to fill the leadership void left by T.J. Moe.
If nothing else, the 6'6", 220-pounder should be a touchdown machine in the red zone.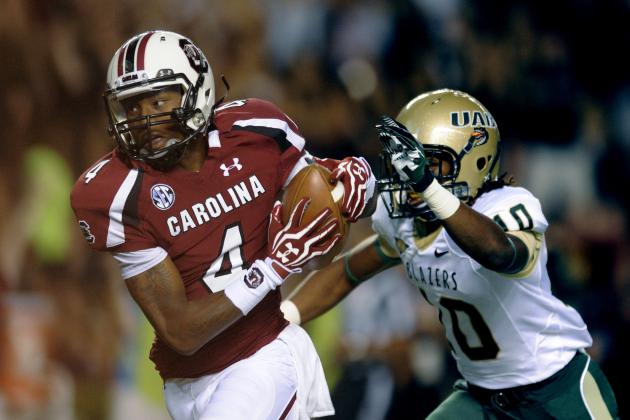 Mary Ann Chastain/Getty Images
South Carolina WR Shaq Roland
Shaq Roland came to South Carolina with the title of "Mr. Football" in the state, and as the heir apparent to Alshon Jeffery.
His inaugural season didn't exactly live up to the hype, as he only caught five passes for 80 yards and one touchdown.
That needs to change in 2013, because with Ace Sanders and Justice Cunningham gone, the Gamecocks need to find new weapons for quarterbacks Connor Shaw and Dylan Thompson.
Roland needs to be that guy.
The 6'1", 173-pound speedster has everything he needs to become a stud at wide receiver. Alongside Bruce Ellington, the duo could stabilize a Gamecock offense that will be looking to withstand the early departure of running back Marcus Lattimore.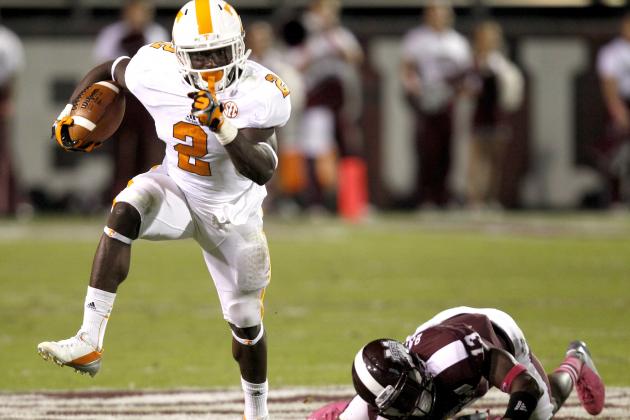 Butch Dill/Getty Images
Tennessee WR Alton "Pig" Howard
Alton "Pig" Howard arrived on Rocky Top with a 4-star rating from 247Sports.com, and the hopes of starring in then-offensive coordinator Jim Chaney's offense.
He caught 13 passes for 54 yards and a touchdown as a true freshman; which isn't bad considering the logjam of wide receivers that was in front of him on the depth chart.
But now that Cordarrelle Patterson, Justin Hunter and Zach Rogers have moved on, it's time for a new crop of wide receivers to step in and become stars for the Vols.
New head coach Butch Jones likes to get the ball in the hands of his playmakers in space, and the 5'8", 185-pound Howard can be just that.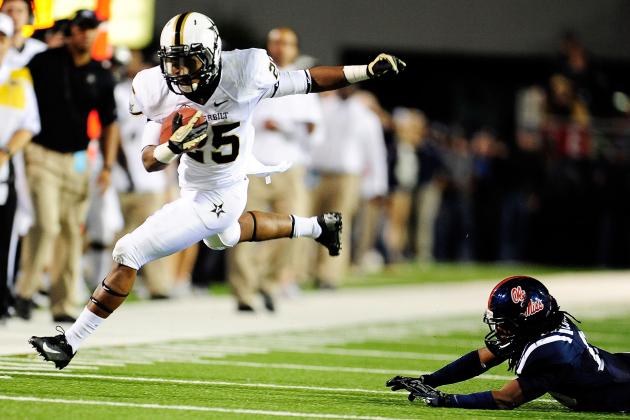 Stacy Revere/Getty Images
Vanderbilt RB Brian Kimbrow
Brian Kimbrow was one of the stars of Vanderbilt's 2012 recruiting class, and the 5'8", 180-pounder from Memphis paid immediate dividends for the 'Dores in their 9-4 season.
But in 2013, he's going to be asked to do more for head coach James Franklin.
He finished second on the team in rushing yards last season, gaining 413 yards and scoring three touchdowns on just 66 carries. But with all-time leading rusher Zac Stacy gone, it's time for Kimbrow to pick up where Stacy left off.
Kimbrow is a bit on the short side, but he packs a mean punch and can handle the pounding that goes along with being a feature back in the SEC.