Real Madrid vs Barcelona: 5 Classic El Clasicos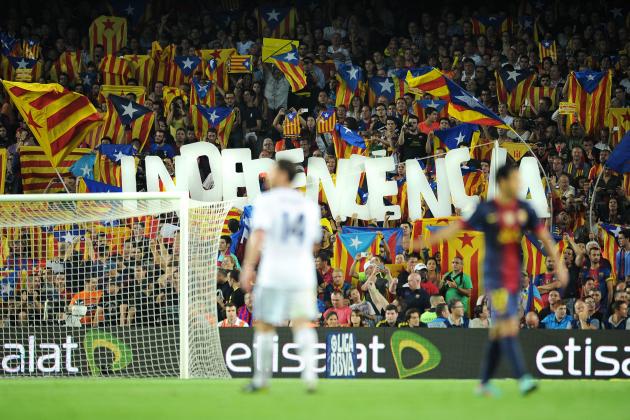 Jasper Juinen/Getty Images
El Clasico: One of sports grandest occasions
There are few sporting occasions on the planet which evoke as much excitement and anticipation as the El Clasico between Real Madrid and Barcelona .
For decades the intrigue surrounding these games has spread much wider than Castilla and Catalonia, and when Los Blancos host La Blaugrana at the Santiago Bernabeu on Wednesday, close to half a billion people will be watching across all corners of the globe.
Of course the social, cultural and political differences between Spain's two dominant footballing forces stokes interest, but surely the most attractive aspect about this particularly fixture is the sheer class and charisma these two clubs exude.
Each club's history is littered with some of the greatest players and teams to have graced the game, and never has that been more prevalent than today.
But even Messi, Ronaldo and the rest will do well to conjure up a clash as good as the ones on this list, so sit back and enjoy these five classic El Clasico's.
This list is by no means definitive, so if you think I've made a glaring omission or wish to nominate your own personal favourite, please feel free to do so below.
Begin Slideshow

»
Never has the supremacy in this rivalry been more one sided for so long than during the era of the immortal Real Madrid side of the 1950s and 60s.
Los Blancos won 12 of the 16 La Liga titles on offer between 1953-69 and underlined their legendary status by picking up six European Cups.
Barcelona (among many others) could compete with a Real side including Puskas, Di Stefano, Santamaria, Gento and Kopa, and that cast played a starring role in humiliating Barca at the Camp Nou in 1963.
Madrid were flying towards yet another league title when they rolled into Catalan territory in their princely white and destroyed the old foes 5-1.
The "Galloping Major" Ferenc Puskas scored a hat-trick with Alfredo Di Stefano and Francisco Gento adding insult to injury. The most remarkable aspect of this showing was that Puskas and Di Stefano were 35 and 36 at the time and considered past their prime, so imagine how good they were in their peak.
Unfortunately there's no footage of Madrid's 1963 Barca blitz, so enjoy instead the timeless 1960 European Cup final between Real and Eintracht Frankfurt.
Futbol Club Barcelona were formed in 1899 by a group of Swiss, English and Catalan footballers, yet the biggest influence on their modern-day identity only came during the 1970s, following the immigration of two Dutchman.
"Total Football" forefather Rinus Michels and his heir apparent Johan Cruyff arrived at the Camp Nou from Ajax and laid the foundations for a philosophy and style of play that people are still regularly trying, and failing, to emulate.
The pair combined in Catalonia in 1973 and routed Real 5-0 at the Bernabeu, with Cruyff running the show en route to winning Barca's first La Liga crown for 14 seasons.
However, 20 years later and with Cruyff now orchestrating things from the touchline, Barca replicated that score in the most symbolic performance and result of that era's "Dream Team."
Boasting the likes of Ronald Koeman, Michael Laudrup, Hristo Stoichkov and Romario, Los Blaugrana's dismantled Los Blancos with a display of sublime attacking football as they moved in on a fourth-successive league title.
Romario grabbed the plaudits by scorching the Real defence with a hat-trick, but the finest sight of the night was Michael Laudrup gliding regally across the pitch, picking out perfectly-weighted passes with peripheral vision. A criminally underrated player.
Yet it wouldn't become apparent just how undervalued Michael Laudrup was to the Barcelona cause until a year later, when he became one of the few players to cross the divide and join Real Madrid.
After being left out of Cruyff's side which were brutally exposed by AC Milan in the 1994 European Cup final, the Great Dane decided to cut his Barcelona ties after four back-to-back La Liga titles.
After Laudrup left, Barca plummeted to a fourth-place finish, winning under half of their games, whilst Madrid returned to the summit of Spanish football with "Miki" pivotal to their success.
Almost a year to the day of the Camp Nou drubbing, Real and Laudrup exacted revenge on the Catalans by reversing that score and chalking up their own 5-0 scoreline at a rabid Bernabeu.
Chilean striker Ivan Zamorano was the beneficiary of Laudrup's majesty this time around, as he scored three with goals from Luis Enrique and Jose Emilio Amavisca rounding things off.
The disparity between results and successes of the two clubs with and without Michael Laudrup was a testament to his sublime gifts and influence, and rarely can one man be so integral to such a swing when little else changed. A truly phenomenal player.
In my own personal and humble opinion there are many reasons why Lionel Messi is a far greater player than Cristiano Ronaldo, and this match, played a few months before Little Leo left his teens, illustrates just one of them.
Whilst Ronaldo was adding some substance to his undoubted style at Manchester United, Messi was already busy shaping title showdowns in the sport's biggest club game.
Barcelona and Madrid were neck-and-neck at the top of the Primera Division heading down the home stretch when Real rolled into Catalan territory in March 2007.
Fabio Capello's Blancos were the better side throughout and three times forged ahead, only to be reeled in on each occasion by the mercurial Messi.
The 19-year-old cancelled out two Ruud van Nistelrooy strikes, and when Sergio Ramos' late header put the visitors 3-2 ahead against the 10-man hosts, the soon-to-be-undisputed king of world football simply stepped up again to score another breathtaking equaliser in injury time.
Seeing this video now is scary. Messi's first and third goals were the type of strikes he scores almost on a weekly basis now, and the hat-trick effort especially is the sleight of hand which is simply synonymous with the boy from Rosario.
Seizing on a loose ball with an instantly deft touch, Messi danced past a couple of despairing challenges before calmly clipping the ball past Iker Casillas and into the back of the net, sending the Camp Nou into delirium and opening the eyes of every football fan across the globe.
There is a sign often draped from one of the Camp Nou's vast ramparts which reads "Madrid buy, Barca breed" and that mantra was rewarded spectacularly in this game played towards the end of 2010.
Pep Guardiola had risen through the youth ranks to guide a Barcelona side full of La Masia graduates to a trio of La Liga titles and a pair of European Cups.
In contrast, Real had once again invested heavily in procuring the best players and coach money could buy, but no amount of cash could stop Guardiola's finest team.
A David Villa brace and further strikes from Xavi, Pedro and Jeffren Suarez inflicted Jose Mourinho's heaviest and most humiliating managerial defeat on the "Special One's" El Clasico bow, as Barca used ten players nurtured through their academy to cut down the world's most expensive assembled football squad.
All of the emotion of the occasion was poignantly reenacted in Richard Swarbrick's brilliant animation of the game, and if you've never seen the video included above, please take a minute of your time to do so.
For more of me, feel free to follow on twitter @bainesyDiego10