4 Baltimore Orioles Who Won't Be Happy with Their 2013 Role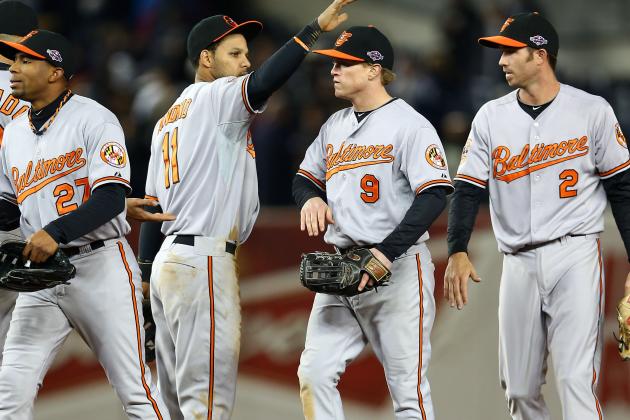 Elsa/Getty Images

It's almost the end of January and before you know it, pitchers and catchers will be reporting to their respective major league baseball camps as spring training begins next month.
With the 2013 season just around the corner, most of the winter transaction that are going to go through and cause an impact have already been announced and critiqued. All there is left to do is hope that your team will surprise everyone.
At least that's my current attitude towards the Orioles.
Although they did not go out and sign a big name free agent slugger or a veteran, experienced starting pitcher to lead their young rotation, they did add a couple of key components here and there.
As of now, Gold Glove award winner and shortstop J.J. Hardy is still an Oriole and will most likely remain on the team for his third season in Baltimore.
Among some of the new faces is infielder, second baseman by trade, Alexi Casilla from the Minnesota Twins. I think this acquisition was one of the best off-season trades for the Birds because who knows what's going to happen with the second base position.
Not to mention, Buck Showalter has a tough decision to make regarding the bullpen and how he wants to set-up his five-man rotation. Currently, there are at least eight or nine pitchers vying for a coveted role as a member of the starting staff.
There is no doubt that some of the Birds will not be happy with their 2013 roles, as I am sure there is that one player on every team who wants to bring more to the table. Here are the four Orioles I think might be disappointed with their roles on the 2013 Orioles.
Begin Slideshow

»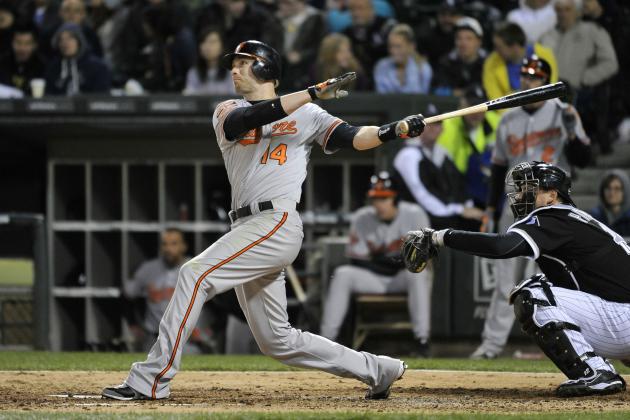 Brian Kersey/Getty Images

The first Oriole who I think will definitely struggle to readjust at the major league level, not only since he missed almost the entire season last year, but also because he most likely lost his left field starting position, is one of the top prospects in the organization, Nolan Reimold.
Last season, former Pirate and Brave Nate McLouth took control of left field in the absence of 29-year-old Reimold. After acquiring the crafty left-hander McLouth, he really jump-started their offense and provided a spark at the top of the order.
Although it's unclear where McLouth what spot he will be hitting in the order, there's not much doubt in my mind that he will be the opening day starter in left field. Of course, there is a chance for Reimold to win the job with a strong spring training, but McLouth had such a strong, positive impact last year, I think he has already almost "won" his job.
Before his season came to an abrupt halt in early-May due to a neck injury, Reimold was tearing up the diamond.
In only 16 games, the Pennsylvania-native was batting .313 (21-for-67) with five home runs and 10 RBI. Not to mention, he collected six doubles and scored ten runs. He was on his way to a break out season, just what the Orioles needed.
In his four-year career with the Birds, the most games he has every appeared in was 104, and that came in his first season in the big leagues in 2009. The next three years have been consumed by injury and this once promising, young utility player is now struggling to make the opening day roster.
Although McLouth did not post the most impressive numbers in 2012 (.241, seven home runs and 20 RBI), he played much better with his new team. From August to October, McLouth hit .267 (56-for-209) with all seven of his home runs and 18 of his RBI in an Oriole uniform.
Not to mention, as I previously remarked, he provided an unprecedented presence at the top of the order, especially with the loss of Nick Markakis in early September and Brian Roberts back in May.
I think Reimold will definitely be given a shot this season, whether it comes from left field, first base or designated hitter, but I do not think he will have the consistency he has been looking for and finally found last season (well, what looked to be).
Of course, no one knows who will make the biggest impact on Showalter this spring, but I think Reimold will not be thrilled with his role on the 2013 Orioles.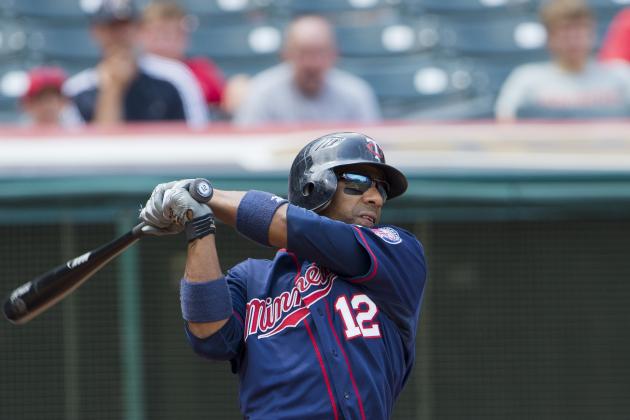 Jason Miller/Getty Images

My next Oriole who will not be happy with their 2013 role is a toss up. I have a gut feeling that Roberts will be the opening day starting second baseman. Although they went out and acquired the versatile Casilla, I think that was just a precaution.
Roberts has been riddled with injuries since the 2010 season and has been in and out of the lineup sparingly since. He posted career numbers in '09 and it looked as if he would be at the top of a playoff-caliber team last year until his season came to a quick end in May.
Over the last three years, the North Carolina native has only appeared in 115 games, which is only 24% of the Orioles' games. There's no doubt he is itching to get back at the top of the order, but will he be healthy enough is the ultimate question.
From 2004 to 2009, Roberts was a fixture at the top of the order and rarely missed a game, usually finishing with at least 150 games played each season. As of right now, there have not been any reports concerning Roberts and a lingering injury.
We'll see how spring training goes and what kind of shape he is in, but knowing what type of competitor he is; I think he will be in Sarasota ready to make a statement. The 35-year-old has spent his entire career with the Birds, and after missing most of the memorable '12 season (first time to the playoffs since '97), I think he will come out prepared.
However, the 28-year-old Casilla is one of the best-fielding second baseman in the league and has been around for six years now. He understands the game and does a great job in the field. Although he batted just .241 with one home run and 30 RBI last season, he is very fast and has the ability to swipe bases.
That's something a team can always use: speed.
The Dominican native is a career .250 hitter, so they understand what he can bring offensively. But, the reason they lured him to Baltimore was because of his glove.
In Minnesota, Casilla was never really an every day starter. Last season, he appeared in 106 games, which was a career-high. However, with his acquisition and a reason he might have left the twin cities was because he was not getting enough playing time and thought he might get more with the Birds.
It's impossible to tell how much time he will get, but if Roberts stays healthy, I think he will just be a back-up infielder because he can play shortstop, second base and third base. He would be a great fill-in when someone needs a day-off and a pinch runner in key, tight situations.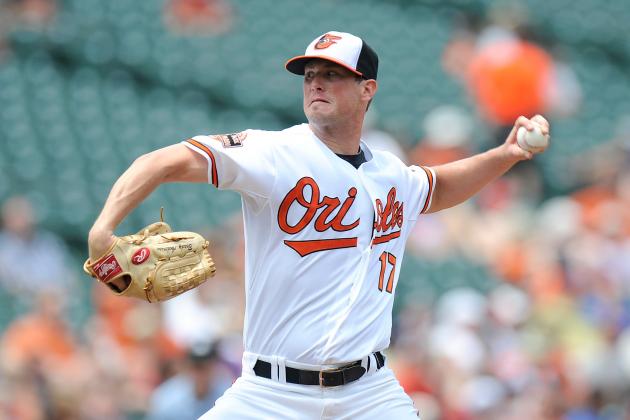 Greg Fiume/Getty Images

Another possible Oriole who will not be thrilled with his role in the 2013 season is former starting pitcher Brian Matusz. The 25-year-old southpaw was one of the top prospects in their farm system over the last five seasons, but has really struggled at the major league level.
The Colorado native is a career 22-33 pitcher with an inflated 5.36 ERA. Over his three plus seasons with the Birds, he has started 68 contests and made 18 relief appearances.
After struggling mightily in 2011 (he finished with a 1-9 record and a 10.69 ERA in 12 games as a starter), he returned to spring training with a new attitude and hopefully a new outcome in 2012.
However, the first half of his season was another struggle. In 16 starts prior to his demotion to Triple-A Norfolk at the beginning of July, he posted a 5-10 record with a 5.42 ERA; he allowed 51 earned runs over just 84.2 innings of work.
After spending over a month at the minor league level, the youngster was recalled to the Birds towards the end of August and came back with a re-invented mindset.
He appeared in 18 games in the second half of the season, all out of the bullpen; he recorded one win and no losses and a very impressive 1.35 ERA. Over his 13.1 innings of work, he surrendered just two earned runs.
Previously, he had never pitched out of the bullpen in his major league career.
Showalter used him as a left-handed specialist with Patton being out for a majority of the second half of the season. Although he flourished out of the pen, I think Matusz is the type of pitcher who thrives on competition and would rather be out there every fifth day.
I think he did a great job on the mound in relief last year and that's where I would like to see him this year. Like I previously mentioned, Showalter has a very tough task of choosing his five starting pitchers and I do not think he will be one of them.
I found this article on Yard Barker, and it says that Matusz participated in a bullpen panel at a fan fest, and although he was part of this panel, there's no telling whether he will start out of the pen; the article also goes on to say that he is supposed to report to the camp as a starting pitcher and work out with the rest of them.
I think he is going to start out as a member of the bullpen this season, of course depending on spring training. We'll see how he enjoys starting a year off out of the pen (which would be the first time in his career).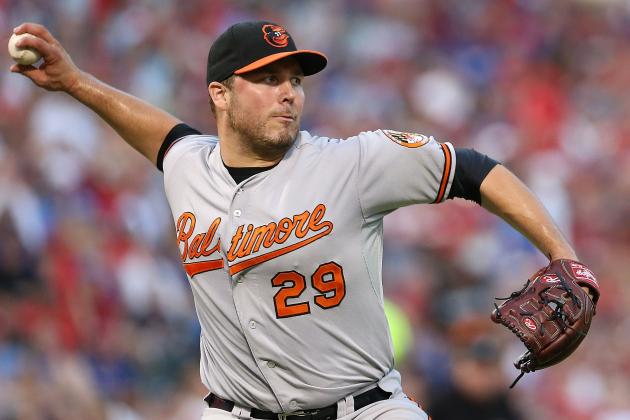 Ronald Martinez/Getty Images

Former Ranger and top prospect Tommy Hunter is another interesting case and he is my last Oriole who will possible not be thrilled with his 2013 role; his case is very similar to Matusz, as he went through much of the same trials and tribulations last year.
Hunter has one of the most-lively arms the Orioles feature and he has a winning attitude. The problem has been his inconsistency and his lack of command at some points while on the mound.
I think he has a great chance at becoming a strong and dominant starting pitcher, but he has things to work on and I'm sure he has been busy this off-season. There's no doubt he will be fighting this spring, along with Matusz, at a shot in that high-demand rotation.
The Birds acquired Hunter in August of 2011, and has struggled as a starting pitcher since making his trek East. In 12 games (11 starts) at the end of '11, he posted a 3-3 record with an inflated 5.06 ERA in 69.1 innings pitched.
After his first months as an Oriole were behind him, he came prepared for a shot at the rotation last year. Out of spring training, he made the rotation, and started the season off on the right foot.
Last April, he made five starts and sported a 2-1 record with a 4.26 ERA. However, it went downhill after that.
In May and June, he made 10 starts and recorded ERAs over seven in both months. Like Matusz, he was demoted to Triple-A Norfolk and spent about a month working out his kinks in the minors.
Different than Matusz, Hunter returned to the Orioles in August and returned as a starting pitcher. Again, he struggled and posted an ERA over seven runs per game, something the Birds were all too familiar with.
So, they shook things up and he landed in the pen for the rest of the year. Over his 10 relief appearances in September, he allowed just one earned run over 12.1 innings of work (0.71 ERA).
Along with Matusz, he was one of the most impressive arms out of the pen down the stretch. He completely re-invented himself in the bullpen, and that's the big question come spring training.
Like Matusz, he most likely wants to pursue his career as a starting pitcher, but is that the best place for him? He showed a great attitude and the ability to adapt and change at the major league level last year. I think he did a great job out of the pen and I would love to see him in that role again.
However, with that being said, I do think he will have a shot to prove himself as a big league starter come spring training. There are a lot of options for the rotation, and with his struggles last year weighing on Showalter's mind, I think it's going to be tough for him to start out of the rotation. Maybe he can work his way into that role with a strong start to the year.
I think if he does start out of the pen, he will be disappointed with his role. He seems like he wants to be a team player and do whatever is best for the team, so he will do whatever they need him to do. But, in an ideal world, both him and Matusz would be starting pitchers.
I think it's going to be a tough decision on Showalter's part to decide what to do with all of these talented athletes, but that's why he gets the big bucks. The Birds have a very strong team this season, and it should be very exciting.
Follow me on twitter: @Alex_VanRees