Manchester United: 5 Areas United Must Improve Before Real Madrid Clash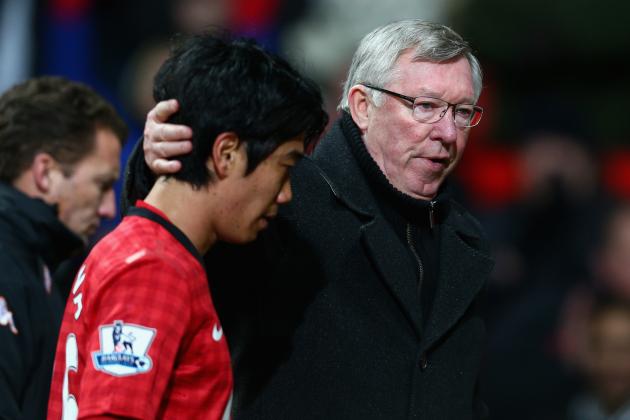 Clive Mason/Getty Images

As we count down to the biggest fixture on the 2012/13 calendar so far, fans of both Real Madrid and Manchester United will play up their own side's strengths.
For the Red Devils, the form of the forwards, the revitalisation of Michael Carrick and the overall sense of team unity and desire will perhaps make them favourites to progress to the next stage of the competition.
Los Merengues may have not had the best season to date, but the pure quality they possess across the pitch should provide us with a two-legged tie for the ages.
While many are tipping United to advance, they must be at their best for the full 90 minutes of both games to prevent an early exit from a competition the club has always considered of the utmost importance.
Here are five areas for the Red Devils to improve before February 14.
Begin Slideshow

»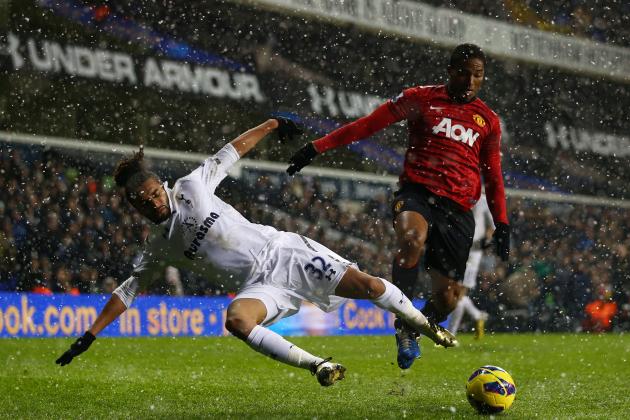 Clive Mason/Getty Images

The recent form of Antonio Valencia and to a certain extent, Ashley Young, is particularly worrying for Manchester United fans.
The Red Devils have typically been a side devoted to utilising the full width of the pitch in breaking down their opposition.
But Valencia seems to be devoid of his usual joie de vivre at present, failing to beat his man one-on-one more often than not.
Without possessing a competent left foot, full-backs are quickly catching on to the fact that it's not a matter of if he'll move right, but when.
Before succumbing to injury, Young had shown signs of improvement with his work rate and creativity, but he still lacks the quality to worry defenders on the dribble.
There is always the wild card, Nani, who has the potential to be a key player for United against Real. But he too must bounce back from injury quickly if he stands any chance of earning a place in his side's starting lineup.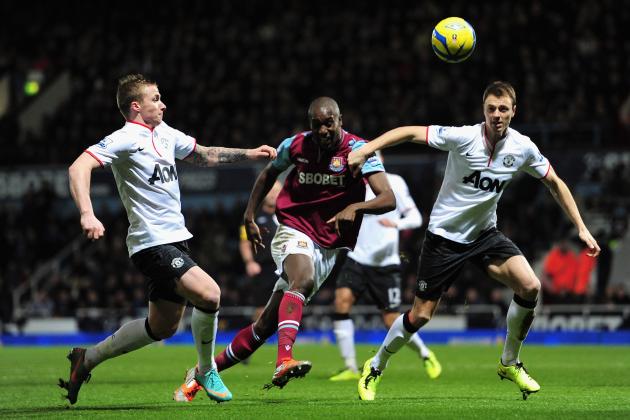 Jamie McDonald/Getty Images

One aspect that has been rather concerning for United has been the side's inability to maintain its concentration for the full 90 minutes.
Defensive lapses plagued the early months of the season, though there seem to have been improvements made in this respect.
More recently, too many passes have gone astray in the latter stages of matches, as individual errors have threatened to derail the team while in a winning position.
Real are always prepared to capitalise on any opportunity presented to them, however big or small.
If Sir Alex Ferguson's side grab an early lead in either game, consolidation will be as key as the scoring of the goal in the first place.
With both sides braced to play over two legs, the importance of not allowing lapses in concentration to creep into the game will be magnified for the Red Devils.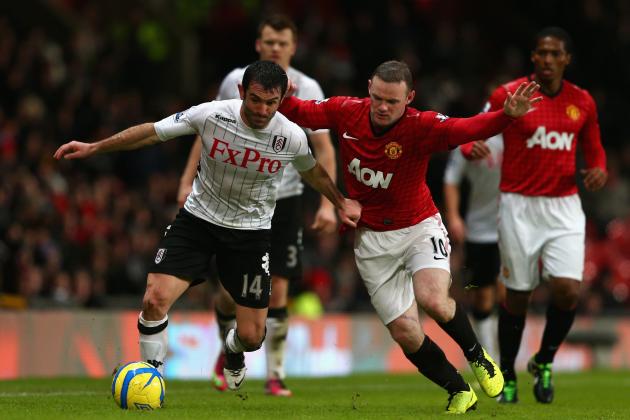 Clive Mason/Getty Images

One of the less-appreciated aspects of Barcelona's rise to dominance in the European game has been the side's phenomenal ability to put outstanding pressure on their opponents higher up the pitch.
Borussia Dortmund, a team who have recently captured the attention of the footballing world with its tactical innovation, also play the same kind of attack-from-the-front brand of football.
Manchester United have not yet developed into a side capable of a similar approach.
With the brilliance of Xabi Alonso coming to Old Trafford though, simply allowing the Spanish playmaker to dictate the flow of the Champions League tie would be fatal.
The burden of preventing this would most likely fall on Wayne Rooney and his attacking midfield cohorts. But even Michael Carrick, Tom Cleverley and Anderson must not fall into the trap of sitting back too deep.
Shinji Kagawa might be a useful player in this respect—Jurgen Klopp often asked him to put as much pressure as possible on the opposition back line when chasing possession while he was at Dortmund.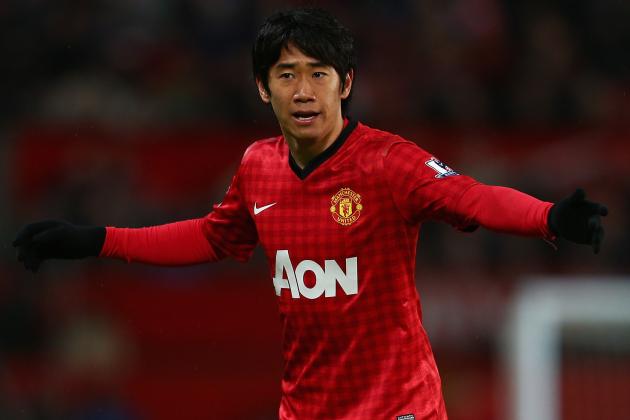 Clive Mason/Getty Images

Continuing on from the previous slide, Shinji Kagawa may just be the X-factor Real won't see coming when the two sides meet in February.
The Japanese playmaker has yet to make much of an impression at Old Trafford since moving to Manchester in the summer.
Injuries and the form of Wayne Rooney in his preferred position haven't helped, but it could also be argued that Sir Alex has yet to give him a fair shot in the trequartista role he so thrives in.
Tactically speaking, it would, of course, fall incumbent on the Scotsman to figure out the best way to incorporate both players into the United XI.
But Kagawa's excellent ability to roam between the opposition line of midfield and defence, making creative passes, could be a key to breaking the game wide open.
For more on this topic, check out my previous article on the strengths the Japanese International could still bring to Sir Alex's table.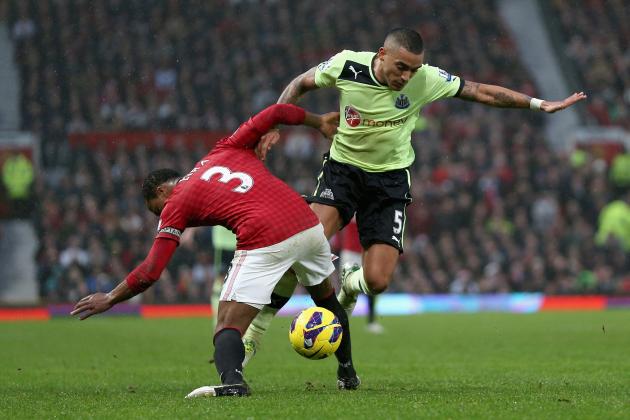 Clive Brunskill/Getty Images

Let me preface this final slide by saying one thing: Both Patrice Evra and Rafael have played some of the best football of their careers this season.
But issues do remain regarding their defensive skills—particularly Rafael's positioning and Evra's failure to keep pace with a quick, tricky wide player.
Argentine winger Angel di Maria is likely to earn a start for Real on the right flank, providing the Frenchman with a task he must rise to the occasion to meet.
Though Cristiano Ronaldo plays more of a central attacking role for his team, the marauding full-back Marcelo will be on hand to keep Rafael busy for both games.
Even Karim Benzema has pulled out wide during games for Jose Mourinho's side this term, developing into more of a creative player for Los Merengues.
The central Nemanja Vidic and whoever he is paired with, whether it be Rio Ferdinand, Chris Smalling or Jonny Evans, will also be required to play at their best.
It may seem that United are playing Real at a perfect time, but you can rest assured that Jose Mourinho will have his team well-prepared to take down the British giants.
What do you think will be the keys to United beating Real? Which players have to improve before the clash?