Highlighting Draft Prospects the Jets Could Trade Down for in Each Round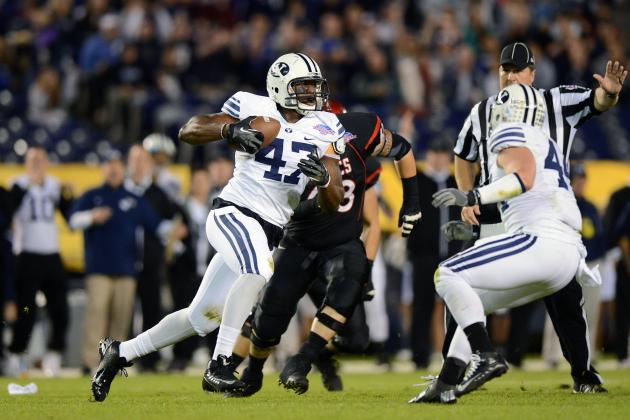 Jake Roth-USA TODAY Sports

As a reward for their disappointing and embarrassing season, the New York Jets are sitting in an enviable position when it comes to the NFL draft.
Slotted at No. 9 in the first round, the Jets will have a number of options when they are officially on the clock.
Most current mock drafts have the Jets addressing their linebacker unit by drafting Jarvis Jones, Barkevious Mingo or Dion Jordan with their first pick.
Some mocks are even starting to play out scenarios in which West Virginia quarterback Geno Smith falls to the Jets.
In any case, the Jets should have the opportunity to draft an impact player at No. 9.
That's if they even decide to stay there.
The Jets need to hit on multiple picks in the 2013 draft because of all the holes they must fill and their limited budget to do so.
The best way to hit on multiple picks is to gather up as many draft choices as possible.
The Jets currently have seven draft choices (one in every round) and would be well advised to add at least three more if possible.
One of the best ways to add quantity to their draft class would be by trading down in the first round.
While having a Top-10 pick is great, plenty of future Pro Bowl players are still available in the mid-to-bottom of the first round.
Just in the past four years, Doug Martin, Harrison Smith, Ryan Kerrigan, Demaryius Thomas, Jermaine Greshman, Percy Harvin, Clay Matthews and someone named Muhammad Wilkerson were all picked in the bottom half of the first round.
Jets fans who have been following the draft are familiar with the names coming off the board if the team stays at No. 9.
This slideshow takes a look at who the Jets could target if they trade down in the first round. Then we check out who they could target in the mid-to-bottom of each subsequent round if they find themselves picking down there.
For all your latest Jets news, including frequent NFL draft insight and your "Today in Jets History" facts, follow the BR Jets Report on Twitter: @BR_Jets_Report.
Begin Slideshow

»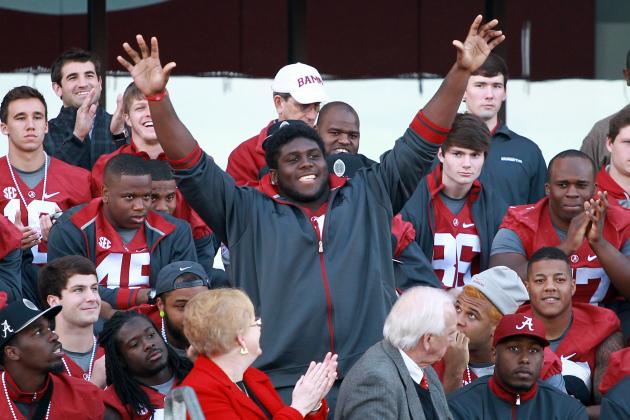 Marvin Gentry-USA TODAY Sports

Chance Warmack: OG, Alabama
If the Jets can trade down, add an extra pick and still land a prospect that most experts consider one of the top three or four players in the entire draft, it would be a major home run for the team.
However, if the Jets are targeting Alabama's Chance Warmack, they probably shouldn't trade too far down past No. 9.
Warmack is ranked by cbssports.com as the No. 3 prospect in the entire draft but most mock drafts will have him slotted somewhere between picks No. 10 and 20 because Pro Bowl interior linemen are seen more as a luxury than a necessity.
The 6'2", 322-pound beast works as a fit for the Jets because both of their guards will be free agents this offseason.
By drafting Warmack and re-signing Matt Slauson, the Jets could solve their problems at both guard positions and spend less than $5 million in cap money in doing so.
Kenny Vaccaro: Texas, S
Safety is another position in which the Jets have two pending free agents, and another spot they can fill with an elite prospect even after trading down.
Kenny Vaccaro from Texas is the elite safety in the draft and figures to go somewhere in the middle of the first round.
If the Jets draft Vaccaro and re-sign Yeremiah Bell, they can still even add Antonio Allen into that rotation and have three safeties making less than $4 million combined.
That's the kind of staffing the Jets will have to do in certain units in order to fill their voids in a cap-friendly manner.
Vaccaro is a solid all-around safety who plays the pass and run equally well. He possesses the prototypical size for a safety at 6'1", 220 pounds and has tremendous athletic ability.
Vaccaro is at least an equal prospect to Mark Barron, who flourished as a rookie last season in Tampa Bay.
The Jets can get quality safeties outside of the first round as well so grabbing Vaccaro won't be a popular move with fans.
However, if he lives up to his potential and becomes a solid player for the team in years to come, his style of play will make him a fan-favorite.
Ezekiel Ansah: BYU, DE/OLB
As we sit here at the end of January, nobody is rising up draft boards faster than Ezekiel Ansah from BYU.
Ansah's pure athletic ability had some whispering that he might sneak into the first round just a few weeks ago. After a dominant week at the Senior Bowl, Ansah finds himself knocking on the door of the top-10 in many mock drafts.
Drawing comparisons to Jason Pierre-Paul because of his inexperience and freakish athletic ability, Ansah is an unlikely first-round candidate.
He only became a starter this season and had just 10 career tackles coming into 2012.
The native of Ghana and former track hopeful at BYU wasn't even a starter until an early-season injury forced him into the role. Ansah was then used all over the defensive front seven, working as a stand-up linebacker, defensive end and even defensive tackle.
Wherever BYU coaches put him, he was a quick study and produced results.
Ansah really boosted his draft status with a tremendous performance in the Senior Bowl. Playing against many first-round hopefuls, Ansah had seven tackles (3.5 of them for a loss), forced a fumble and batted down a pass.
If Ansah continues to trend upwards at the combine, he may be gone if the Jets trade down too far.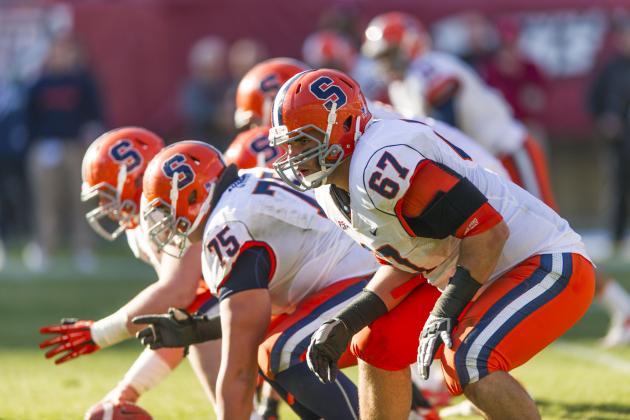 Howard Smith-USA TODAY Sports

Justin Pugh: Syracuse, OT/OG
Pugh played tackle at Syracuse but might project better as a guard in the NFL. Either way, the Jets would benefit from his versatility along the line.
At 6'5", 300 pounds, Pugh doesn't have the "man-mountain" size of a dominant NFL tackle but at guard his size would be just fine.
His strengths include his athleticism and body control, and if a team can improve his suspect core body strength, he could develop into a very good guard.
Pugh projects as a mid-to-bottom Round 2 prospect.
Larry Warford: Kentucky, OG
Warford is another low second-round guard who has his share of positives and negatives.
At 6'3", 333 pounds, Warford has the requisite size to battle in the interior lines in the NFL, and his mauling style of play could give defensive tackles fits.
His main weakness is his lack of speed and quickness, which might not play well in a Marty Mornhinweg system that likes to utilize the screen pass.
However, if the Jets find themselves picking in the bottom of Round 2, his raw talent and toughness might be too good to pass up.
Markus Wheaton: Oregon State, WR
The Jets severe lack of playmakers on offense resulted in some disgusting games last season. The wide receiver position was one of the worst in the NFL, especially after Santonio Holmes went down with an injury.
While the Jets would be better off addressing the unit through free agency, one receiver who could strike their interest in the bottom of Round 2 is Markus Wheaton.
Wheaton is slightly bigger and faster than Jeremy Kerley and is the type of receiver who could play well in Mornhinweg's system.
The highly productive Oregon State product would give the Jets a receiver who could take a quick slant and break it for a huge play.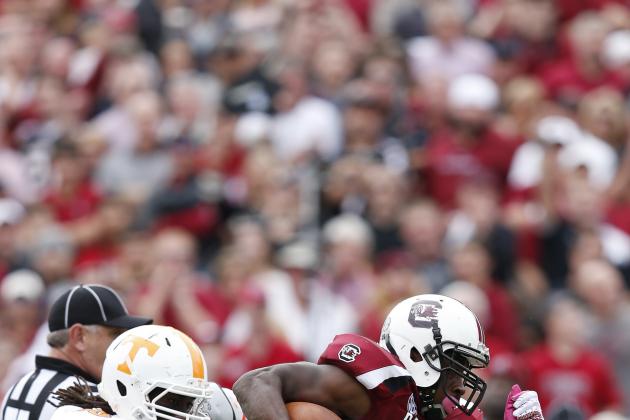 Joe Robbins/Getty Images

Jonathan Cyprien: Florida International, SS
If the Jets decide to let LaRon Landry walk, they could try to replace his aggressiveness by targeting Cyprien in the middle-to-bottom of Round 3.
Cyprien is an active player who is not afraid to make his presence known on the field.
There were concerns about the level of competition he faced at Florida International but he answered some of those with a strong performance during Senior Bowl week.
Marcus Lattimore: South Carolina, RB
Lattimore's draft slot can fluctuate greatly between now and the NFL draft, but for now it seems that most mock drafts have him coming off the board in the bottom of the third round or top of the fourth.
If he stays there, I don't think any Jets fan would gripe about the team taking a shot on him if they traded back to the bottom of the third round.
Lattimore tore three of the four ligaments in his knee in late October. If he hadn't suffered that extensive injury, he would have been the most complete back in this draft by far.
While the injury might hinder his cutting ability, there is so much more about Lattimore that makes him so complete.
On top of his great field vision and powerful running style, Lattimore is also a great pass blocker and does well catching the ball out of the backfield.
He's worth a shot for sure; it's just a matter of where he is slotted and how he does during pre-draft workouts.
Travis Long: Washington State, OLB
Long won't solve all the Jets' problems at linebacker, but he would be a good project to start out as a rotational player the way Demario Davis did for the team as a rookie in 2012.
Rob Rang of cbssportsline.com describes him as a "highly instinctive, passionate player with natural pass-rush savvy." CBSsportsline projects him as the draft's No. 11 linebacker and a likely third- or fourth-round pick.
At 6'4", 245 pounds, Long has the height but has to add bulk to his frame to be an every-down linebacker. However, he does possess the intangibles that are difficult to teach, making him worth the gamble that his physical tools will catch up to his mental ability.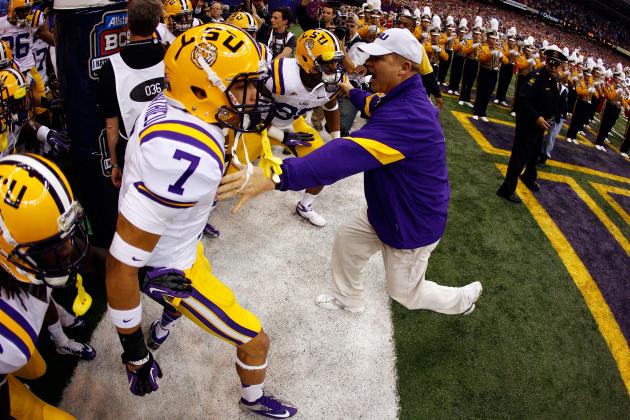 Chris Graythen/Getty Images

Tyrann Mathieu: LSU, CB
As was true for Marcus Lattimore, Mathieu has a long way to go before his draft slot can be accurately predicted.
While he has been projected anywhere from the second to the sixth round, it seems most mocks are coming together with him as a mid-to-low fourth-round selection, just out of the Jets' reach.
Mathieu has undeniable first-round talent and has the type of game-breaking ability that the Jets lack on defense and in the punt return game.
If the Jets could trade down and grab someone like Mathieu, it is absolutely worth the risk.
Terron Armstead: Arkansas-Pine Bluff, OT
The 6'5", 305-pound Armstead is one of the top small-school prospects in the draft, and his stock is on the rise after performing well in the postseason.
Despite dominating his opponents all season long, Amstead comes with the obvious questions that follow someone who played against inferior competition.
Armstead was first viewed as a mid- to late-round draft pick but after strong performances in the East-West Shrine game and Senior Bowl, he is climbing the charts and could be considered a low fourth-round prospect.
Although he needs refinement and must improve his all-around strength, Armstead is an interesting prospect who could have a much higher ceiling than other players selected in his vicinity.
Kenjon Barner: Oregon, RB
There's no question that the Jets need a home run threat in the backfield, and Barner fits the bill.
The speedy Oregon running back is the prototypical running back for Marty Mornhinweg's system. He has pass-catching ability out of the backfield and has the vision and elusiveness that the Jets lacked in the backfield last season.
As a pro, he will have to work on holding onto the ball a little better, and he is easy to bring down, but his raw ability would add a dimension to the Jets that is severely lacking.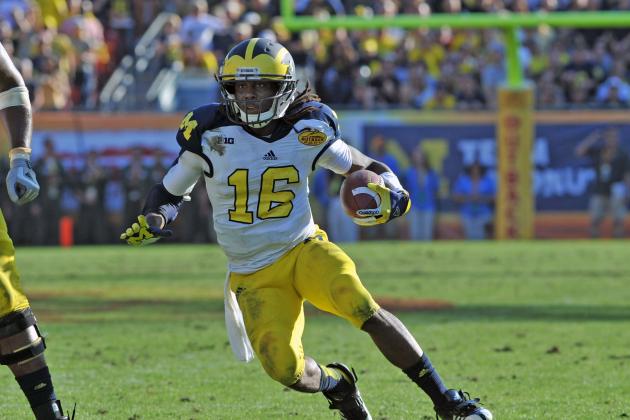 Al Messerschmidt/Getty Images

Denard Robinson: Michigan, Athlete
It should come as a surprise to nobody that the Jets are already linked to Robinson as the team looks to get more dynamic on offense.
The former Michigan quarterback is a dynamic playmaker, and the exact type of person Rex Ryan likes to have as a weapon.
Just because the Tim Tebow experiment blew up in their faces, don't think the Jets are going to get away from using the Wildcat sporadically, especially with David Lee on board as quarterbacks coach.
Even though he's a clear experiment, if the Jets have the opportunity to add a player with sub-4.4 speed to their offense in the bottom of the fifth round, they will think long and hard about it.
Duke Williams: Nevada, SS
Jets fans remain hopeful that after strong seasons in 2012, both LaRon Landry and Yeremiah Bell will return to man the safety position in 2013.
The reality is that will be tough to make happen.
If the Jets don't re-sign both Landry and Bell, expect them to address the position in the draft at some point.
Williams is one of the top-10 strong safeties in the NFL draft, yet because the position is not particularly in demand, he is only slated as a fifth- or sixth-round prospect.
Ace Sanders: South Carolina, WR
Sanders is a receiver who might not have the speed to burn defenders but certainly is shifty enough to give defenses nightmares.
His elusiveness in traffic lends itself well to Marty Monhinweg's West Coast offense as Sanders has the strength and willingness to work in the slot and find open holes on screens.
The only thing keeping Sanders down in the bottom of the fifth round is that he stands at just 5'8" and doesn't have the requisite speed to get himself open down the field.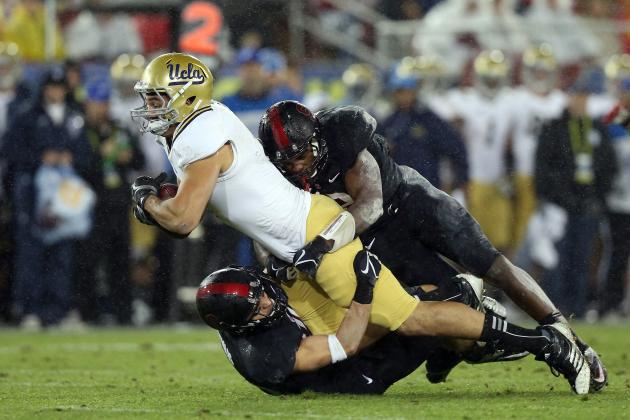 Ezra Shaw/Getty Images

Omoregie Uzzi: Georgia Tech, OG
As with the safety position, teams still searching for guards in the late rounds could land a prospect considered to be at or near the top-10 in his position.
Uzzi is considered a sixth-round prospect by both cbssportsline.com and Luke Gorham of Bleacher Report.
The First Team All-ACC lineman stands at 6'3", 300 pounds and excels in run blocking.
Manase Foketi: West Texas A&M, OT
Foketi is an NCAA Division II prospect who was considered perhaps the best lineman in the nation on that level.
Nobody quite knows where that would translate on a Division I level, but at the very least Foketi is an interesting project to take on with a late-sixth round pick.
Foketi stands at 6'5", 333 pounds, and cbssports.com ranks him as the No. 18 offensive tackle in the draft.
Joseph Fauria: UCLA, TE
Fauria's draft stock has fluctuated greatly over the past month and is currently trending downward. An injury at the East-West Shrine game workouts knocked out a big chance he had to prove he belonged in at least the middle of the pack as far as 2013 tight ends are concerned.
Some have pushed the 6'7", 257-pound tight end's stock down to the seventh round, but it's more likely someone will take a shot on one of the biggest tight ends in the draft in the bottom of the sixth round.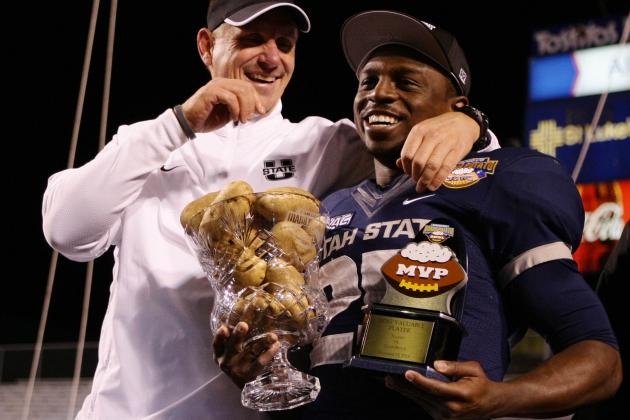 Brian Losness-USA TODAY Sports

Travis Howard: Ohio State, CB
Howard projects as a cornerback who could contribute as a special teams player while he cleans up his defensive skills.
A willing tackler, the 6'0" Howard led the Big Ten with four interceptions and had 40 tackles on his way to an Honorable Mention All-Big Ten season.
Howard must improve his technique, but he has some of the basic skills that make him a worthy project in the bottom of the seventh round.
John Sullen: Auburn, OL
Sullen didn't crack Auburn's starting lineup until 2012, but he has been a contributor since 2010. At 6'5", 340 pounds, Sullen has massive size for a guard and makes people wonder if he could also play tackle on the next level.
Sullen needs a ton of refinement and is no lock to even be drafted. However, if the Jets wanted to take a flier on someone in the bottom of the seventh round, the hulking Sullen is worth a gamble.
Kerwynn Williams: Utah State, RB/KR
Williams was a tremendously productive player for Utah State who didn't even become the team's full-time running back until his senior season.
Williams led the WAC in kick return yardage during his freshman and sophomore seasons as he racked up over 2,500 yards combined.
In 2012, his only season as Utah State's premiere back, Williams had 1,512 yards and 15 touchdowns, showing great elusiveness and speed.
Williams would be a nice fallback option as an understudy for Joe McKnight, who battled injuries last season.