UCLA Basketball: 5 Keys to Avoid Being Upset by Crosstown Rival USC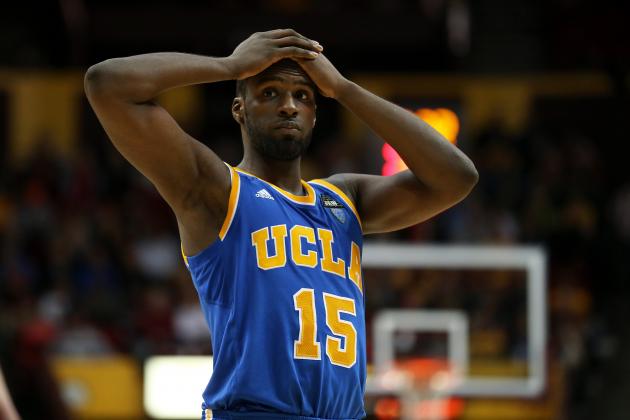 Mark J. Rebilas-USA TODAY Sports
UCLA fell to ASU over the weekend and needs to remain focus to avoid an upset by rival USC.
After a thrilling road win against Arizona, UCLA (16-5, 6-2) relinquished all momentum two days later when it fell in a listless loss to Arizona State.
The Bruins have now returned to Westwood, where they'll tip off a three-game home stretch with a game on Wednesday night against crosstown rival USC (8-13, 3-5). This is a must-win game for the Bruins after their inconsistent display in Arizona.
UCLA is the favorite in this rivalry game, but nothing is guaranteed for this Bruins team, which was also favored to beat Arizona State after a strong performance against No. 6 Arizona.
Begin Slideshow

»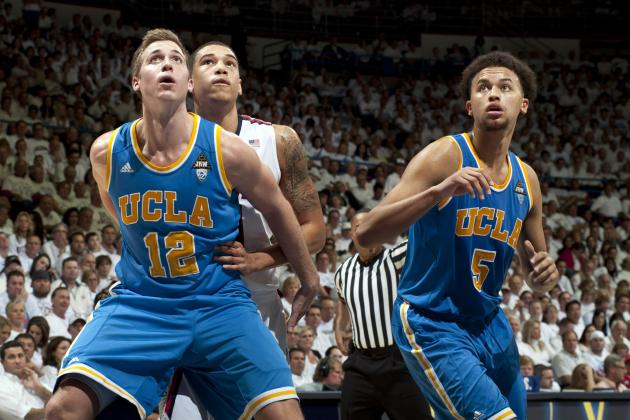 Casey Sapio-USA TODAY Sports

UCLA's biggest fault in the Arizona State game was allowing second-chance opportunities by not controlling the boards, and an upset will be abound if the Bruins do the same against USC.
Like ASU, the Trojans' two active forwards, Dewayne Dedmon (7'0") and Omar Oraby (7'2") have a significant height advantage over UCLA's tallest players: the Wear twins (6'10").
Having Travis Wear, who is more physical that his brother David, back in the starting lineup should help the Bruins keep control of the boards, which will be an important focal point in this game.
If UCLA gets out-rebounded 49-29 as it did against Arizona State, it will be upset on its home court.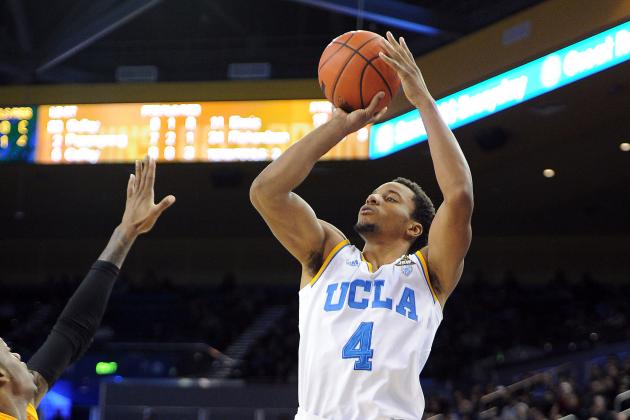 Jayne Kamin-Oncea-USA TODAY Sports

It's no secret that UCLA isn't a deep team, as it only has three players that come off the bench, all whom are average players.
With a chip on his shoulder after struggling in key moments of the ASU game as a starter, David Wear will be a key player in this game when he comes in for brother Travis.
One of the crucial differences between UCLA's win over Arizona and defeat by Arizona State was contribution from the bench, as the Bruins bench added 25 points (10-21 FG) to the scoreboard against Arizona but nothing (0-7 FG) against ASU.
Unlike UCLA, USC has a deep bench with five players who regularly contribute to the team, which makes it all the more important that David Wear, Norman Powell and Tony Parker make the most of their minutes on Wednesday.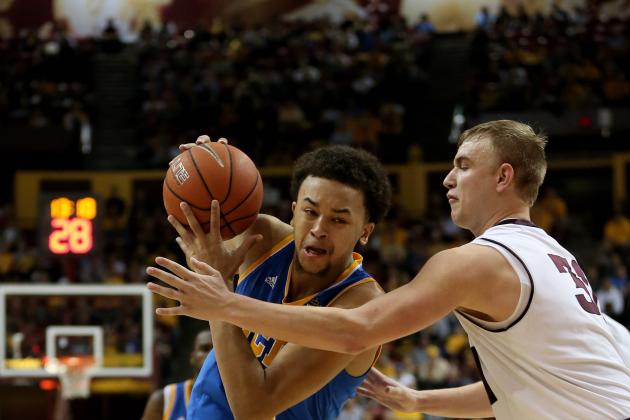 Mark J. Rebilas-USA TODAY Sports

If USC has done its scouting correctly for this game, it will come out in a 2-3 zone, a defense that has bewildered the Bruins this season.
Instead of settling for outside shots against the zone as they've done in the past and did in the first half of the ASU game, UCLA will have to adamantly attack the zone and find inside shots early on against USC.
In order to achieve this goal, the Bruins must be fluid and quick in their ball movement when running a half-court set to capitalize on opportunities in transition.
The Bruins cannot be discouraged from attacking the basket because of USC's seven-plus-foot forwards Dedmon and Oraby.
If the Trojans stifle UCLA's offense in the first half with a zone, they will upset the Bruins in Pauley.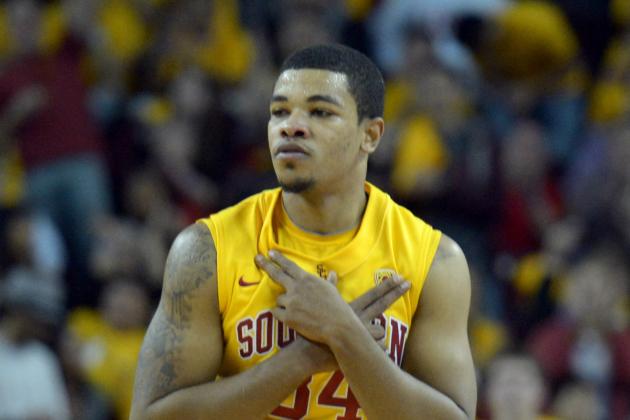 USA TODAY Sports

Redshirt-transfer (UC Irvine) senior Eric Wise is a player that UCLA can't let out its sight for a second in this game.
The 6'6" forward is USC's best all-around player, and is the most important variable to their success, as we've seen throughout the season.
Wise is currently the Trojans' top scorer not only in points scored (12.5 PPG) but also percentage-wise, with his combination of a 51 percent field-goal percentage and 48 percentage from beyond the arc (19-40).
As we saw in USC's most recent game against Arizona on the road, when Wise isn't a substantial asset for the Trojans, they don't stand a chance (74-50 loss).
If the Bruins can hold Wise to less than 10 points as the Wildcats did (five points), USC won't come close to achieving its goal of upsetting UCLA.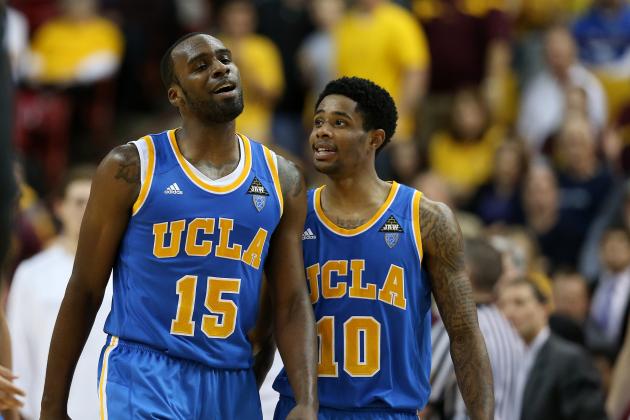 Mark J. Rebilas-USA TODAY Sports

That persistence and focus to win games seems like a simple notion doesn't it?
If you've watched this UCLA team play this season, you certainly understand why this is a point of emphasis.
With their young core of players, the Bruins easily become discouraged when things don't go their way as they did in the ASU game.
Wednesday night's game presents another prime opportunity for high expectations to be squashed, and how the Bruins respond will determine if they can carry out the win and avoid being upset.
Should UCLA underestimate the average Trojans and find themselves trailing to them at any point in this game, the team will have to keep focused and carry out the win.
It's basketball; the Bruins may have another off shooting night on Wednesday night. It happens. However, they need to remain persistent if something goes awry and find a way to win.
After all, that's what good teams do.