Grading Golden State Warriors' Big Man Andrew Bogut's Return from Injury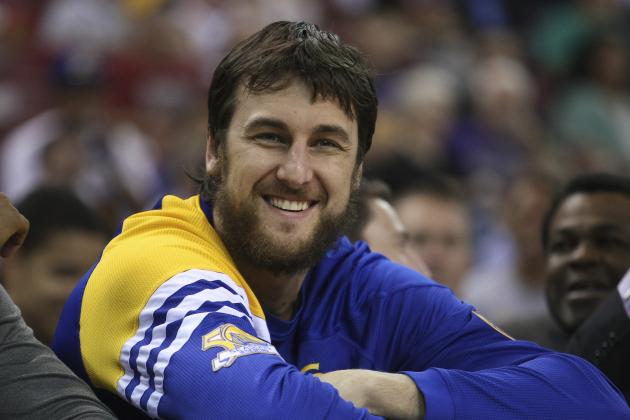 Kelley L Cox-USA TODAY Sports

Golden State Warriors big man Andrew Bogut was four games into his Bay Area career when he decided his surgically repaired ankle needed a little more time to heal after the team's Nov. 7 win over the Cleveland Cavaliers.
That extra healing time proved far lengthier than anyone could have anticipated.
Bogut missed more than two months before finally returning to the team (and starting lineup) in the Warriors' 114-102 win over the Toronto Raptors Monday night.
Golden State's excitement about their center's return was tempered a bit when point guard Stephen Curry landed awkwardly on a drive to the basket late in the third quarter, however, and did not return to the game.
But Bogut's return couldn't have come at a better time, with the Warriors dropping the first two games of their current four-game road trip. The Western Conference is as deep as ever, and the surging Denver Nuggets and Utah Jazz have kept pressure on the fifth-place Warriors.
While Bogut was limited to just 24 minutes, he did find enough time to leave his imprint on the game and help formulate the blueprint for how the Warriors can transform from a surprise team into an NBA contender.
Begin Slideshow

»
Bogut wasted little time establishing his presence on the block, dropping in the nice lefty hook above on the game's opening possession.
But anyone who has followed his career knows that his offensive game is about more than just post activity. Bogut battled early for good position, moving the 7', 270-pound Aaron Gray at will. '
He set the kind of brick-wall screens that only 260-pound bruisers can. More importantly, he exploded off those same screens (in the way that 260-pounders explode), finding several open paths to the bucket.
But his biggest attribute—the one that basketball fans of all affiliations had been waiting to see—was his highly lauded passing skills. And he put them on display early and often.
He found David Lee in favorable position. He made the extra pass when the offense bogged down. And he showed some anticipated rust, mishandling a few catchable balls. A capable mid-range shooter throughout his career, he missed his attempt from outside of the paint.
He finished the night with 12 points on 6-of-8 shooting and two assists.
Grade: B+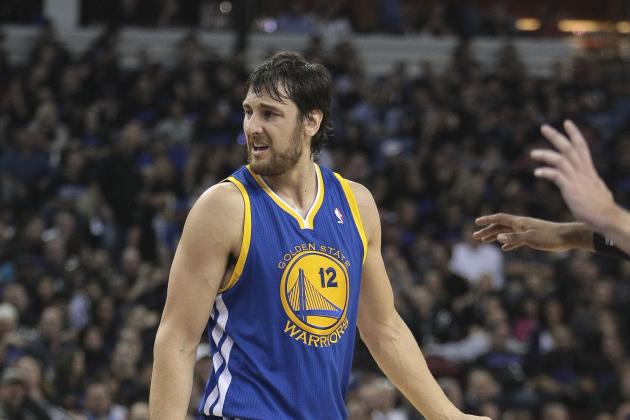 Kelley L Cox-USA TODAY Sports

Warrior fans know all too well the devastating effects that ankle injuries can have on a player's agility. But the 28-year-old Bogut showed no signs of his two-month-plus layoff.
His footwork afforded him the early position to be effective. He moved well enough to set those imposing screens, cutting hard off the contact.
Defensively, he held his ground when matched up with the bruising Gray. But he also stayed with the shifty Ed Davis and the speedy Raptors guards when he drew their number on switches or out of the zone.
The center's explosiveness was never in question. Bogut showed good lift on the game's opening tip, then compiled a number of highlight finishes and rejections throughout the contest.
It was a little hard to tell where his conditioning was at, given that he's never been the fleetest of foot. But if he was fatigued, it never led to him being out of position on either end.
Grade: A-
The Warriors had some imposing interior presences in Bogut's absence. This was where, on paper, they appeared to be in the best position to survive without him.
But his addition was felt throughout the night.
The Warriors don't have the defensive pedigree to consistently deny penetration. But those driving lanes weren't as direct with Bogut looming at the back end of them.
He was active on the glass, snaring eight rebounds and holding back crashing Raptors when he didn't come down with the board. He finished the night with four blocks and countless changed shots.
What was more impressive, though, was whom he found on the receiving end of those denials. He swatted away attempts from both of Toronto's high-flying duo of DeMar DeRozan (twice) and Ed Davis.
Grade: A
Bogut's presence brought a new dimension to the Warriors' already-potent offensive attack.
He held Toronto defenders from helping on Golden State drives, sneaking his way to the bucket when his man did cheat.
He enjoyed a nice two-man game with David Lee (21 points and seven assists), with both players finding each other on a couple of delicious dimes. But Lee wasn't the only one looking his way, as the Warriors made a determined effort to get their latest addition touches.
But there were areas for improvement, though they appear to be more adjustments for his teammates than anything. The trigger-happy guards (Klay Thompson in particular) missed him when he was open near the basket a few times, although those moments were largely forgivable with the team connecting on 40 percent of its attempts.
Defensively, Bogut appeared like he was playing his 55th game with his new teammates, not his fifth. He was a vocal leader on that end, orchestrating coach Mark Jackson's defensive sets throughout the contest.
Grade: B
Kelley L Cox-USA TODAY Sports

As promising as his barrage of throwdowns and rejections were, there was not a better sight for the Warriors than seeing Bogut as energetic and engaged in minute 23 as he was in his opening minute.
Though he had revved up his individual workouts in recent weeks, Bogut had not practiced with the team prior to the game and it was anybody's guess as to how his body would hold up in a rigorous NBA game.
He moved well without the ball, either cutting for easy looks or working himself into rebounding position when his teammates shot from the outside. He broke off screens well offensively and hedged on pick-and-rolls on the defensive end.
He left it up to the coaching staff and trainers as to his availability for the matchup with the Cleveland Cavaliers on Tuesday, but there were no obvious signs in this game as to why he couldn't give it a go in the back-to-back.
Grade: A-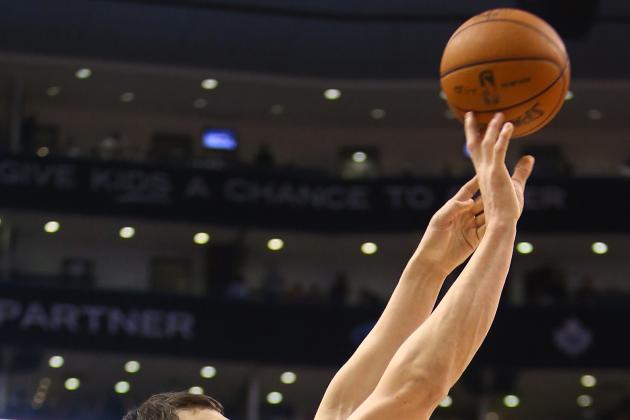 Tom Szczerbowski-USA TODAY Sports

For as much praise as the Warriors had garnered off their strong start this season, Bogut was the caveat to any future success. If Monday night was any indication, Golden State will continue being a thorn in the sides of their Western Conference peers.
During the Warriors' first two games of this road trip, they had been battered near the basket. In their losses against the Chicago Bulls and Milwaukee Bucks, the Warriors averaged a minus-13.5 rebounding differential. Against Toronto, they held a plus-12 advantage on the glass (49-37).
Bogut had to be accounted for in all aspects of the game. He gave enough offensive production to demand attention on that end. He battled for rebounds throughout the night, sometimes freeing his teammates for boards when Toronto overcommitted to keep him off the glass. He erased shots, changed others and deterred even more from even being attempted.
It's hard to call this a perfect performance, if only for his restricted minutes.
But Andrew Bogut can extend this type of production over 35 minutes a night (and Curry's injury doesn't prove to be serious), we'll have to drop the "surprise" from Golden State's "surprise contender" label.
Grade: A-