Updated NBA MVP Odds at Halfway Mark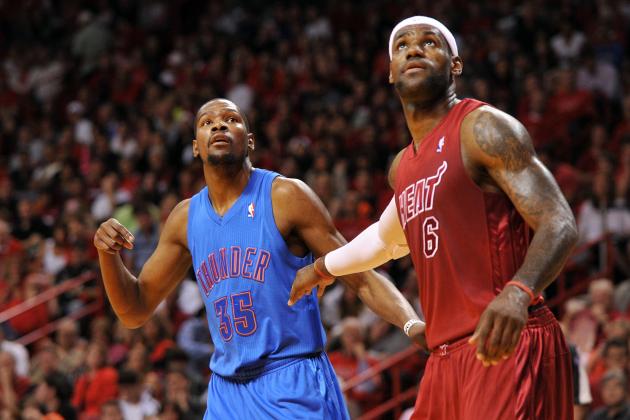 USA TODAY Sports
Oklahoma City Thunder's Kevin Durant, Miami Heat's LeBron James
The NBA MVP award is derived from qualitative analysis based on quantitative data.
It's voted on by a collection of basketball writers with different definitions of what it actually means to be the NBA's MVP.
Individual statistics and team winning percentage figure more prominently for some than they do for others.
There is also an unwritten bias toward what each MVP award means for the respective winner's legacy.
If LeBron James were to be named MVP this season, for example, it would mean that he'd join the elite group of Wilt Chamberlain, Bill Russell, Michael Jordan and Kareem Abdul-Jabbar as the only players in NBA history to win more than three MVPs.
Some voters will try ignore the historical ramifications and focus only on this season, but that's not always as easy as it sounds.
These updated MVP odds at the halfway mark of the season factor that human element in to some degree.
Besides that, the primary criteria for assessing these odds are individual accomplishments thus far as well as who is helping his team win the most.
The players are listed from least likely to most likely to win the MVP this season. Just missing this list—in no particular order—were Stephen Curry, Kyrie Irving and Tony Parker.
Begin Slideshow

»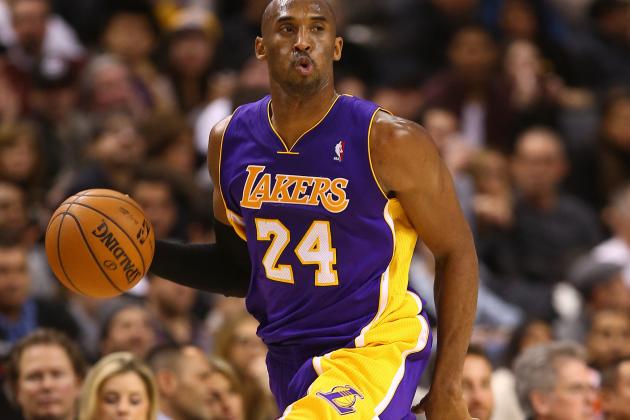 Tom Szczerbowski-USA TODAY Sports
Los Angeles Lakers' Kobe Bryant
Stats: 28.7 PPG, 5.1 APG, 5.0 RPG

During the 2007-08 regular season, Kobe Bryant averaged 28.3 points.

He helped his Los Angeles Lakers win 69.5 percent of their games that year and was awarded the league MVP in the process.
This season, Bryant's scoring average is slightly higher than it was during his MVP campaign in '08. He's also shooting a career-high 47 percent from the field overall in the process.
If his team wasn't inventing new ways to lose on a nightly basis, Bryant would be much higher than No. 10 on this list.
Despite a recent win over the Oklahoma City Thunder on Sunday, the Lakers are a team playing below-.500 basketball at the halfway mark.
Unless that changes—dramatically—Bryant will remain a long shot to win the MVP in 2013.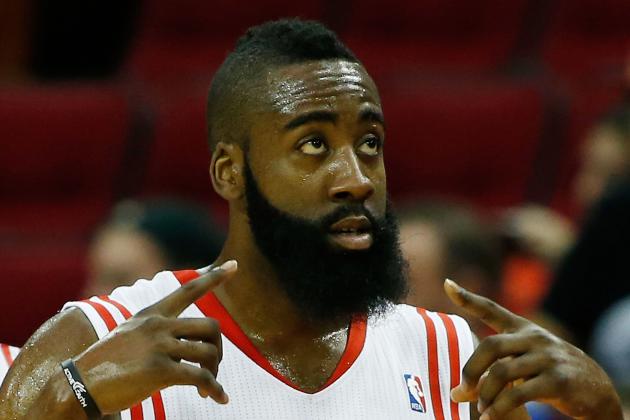 Scott Halleran/Getty Images
Houston Rockets' James Harden
Stats: 26.0 PPG, 5.5 APG, 4.4 RPG
Over the last five games, James Harden has been shooting his way back into the MVP race.
He's averaged 27.2 points per night during that stretch, helping his Houston Rockets win four of their last five.

Just prior to that run, the Rockets were mired in a seven-game losing streak. It had caused some to begin prematurely penning the obituary for Harden's MVP campaign.

At the midseason mark, however, Harden is back like he never left.
Helping his team to the eighth-best record in the Western Conference, while also averaging the fifth-highest scoring total in the league, he has done enough to demonstrate staying power in the MVP race for the duration.
After dramatically changing the face of the Rockets franchise upon his arrival, the more his new team wins, the better Harden's odds of earning increased MVP consideration become.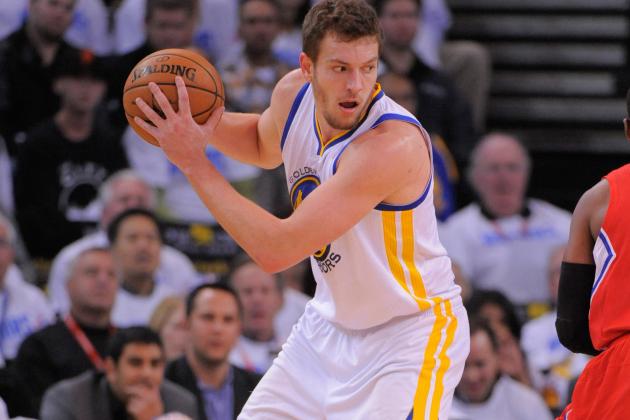 Kyle Terada-USA TODAY Sports
Golden State Warriors' David Lee
Stats: 19.6 PPG, 10.8 RPG, 3.7 APG
David Lee is the Golden State Warriors' version of a Heisman Trophy candidate.
While both he and Stephen Curry have been spectacular, I'm not sure the NBA world is quite ready for two Warriors in the MVP race.
To an extent, Curry's snubbing from the All-Star Game recently is an example of this.

Despite the individual accolades, however, the Warriors are still winning at the fourth-higest rate in the Western Conference and deserve at least one player in the MVP conversation.
So while Lee is representing the Bay Area at All-Star Weekend, he will also be representing his team in the chase for league MVP moving forward.
After registering his 28th double-double, he is now tied with Zach Randolph for the lead in that category.

Lee is also the NBA's 12th-best scorer while also collecting the sixth-most rebounds through Monday.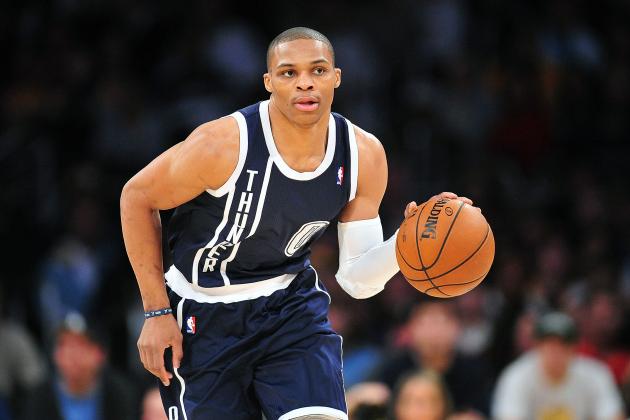 Gary A. Vasquez-USA TODAY Sports
Oklahoma City Thunder's Russell Westbrook
Stats: 22.5 PPG, 8.4 APG, 5.4 RPG
People love to talk about what Russell Westbrook can't do.
Meanwhile, what he can do is average the seventh-most points per game while also ranking fifth in assists.
At 24 years old, Westbrook is becoming more than simply a dominating athletic presence on the perimeter this season.

With teammates excelling around him—most notably Kevin Durant and Serge Ibaka—Westbrook is also putting MVP-caliber numbers on the board himself.
Earlier this month, he went for 30 points or more in four straight games. On the season, Westbrook's hit for at least 30 points on 10 different occasions while also going for double-digit assists 13 times.
He will be overshadowed by his teammate at the top of the MVP ladder, but Westbrook deserves recognition for the way he's helping his Oklahoma City Thunder team win as well.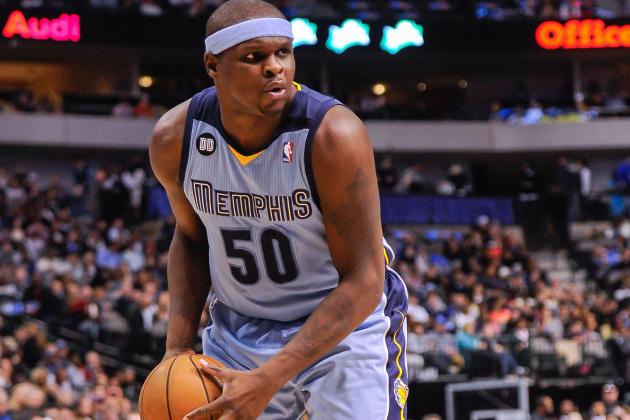 USA TODAY Sports
Memphis Grizzlies' Zach Randolph
Stats: 15.8 PPG, 11.6 RPG, 1.5 APG
Zach Randolph embodies the grit-and-grind spirit of the Memphis Grizzlies more than any other player.
At times, it seems Randolph can barely leap over a phone book. Regardless, his 11.6 rebounds per night are good for second in the NBA through Monday.
Randolph's 28 double-doubles are also tied for the league lead, and his Grizzlies are owners of the Western Conference's fourth-best record.
They are not a pretty team to watch by any stretch. But, led by Randolph, the Grizzlies do win.
Alongside Marc Gasol, Randolph anchors a front line that ranks first in NBA in rebounding rate while also ranking second in defensive efficiency through Monday.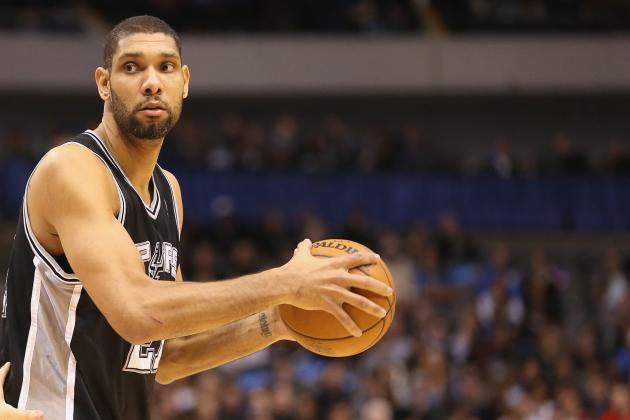 Ronald Martinez/Getty Images
San Antonio Spurs' Tim Duncan
Stats: 17.5 PPG, 9.8 RPG, 2.7 BPG
The No. 1 year-end song on the Billboard charts when Tim Duncan broke into the NBA was Elton John's Candle In the Wind.
There is no analogy coming here between the lyrics of that song and Duncan's performance this season, so stop worrying.

I only mention this to point out exactly how long the Hall of Famer from San Antonio has been doing his thing, this season included.
At 36 years old, Duncan has helped his Spurs to an NBA-best record through Monday.
He's averaging a near double-double in the process, while his 2.7 blocks are the most he's had in that category since the 2003-04 season.
After a non-invite to All-Star Game last season, Duncan is back with a vengeance this year while showing no signs of slowing down.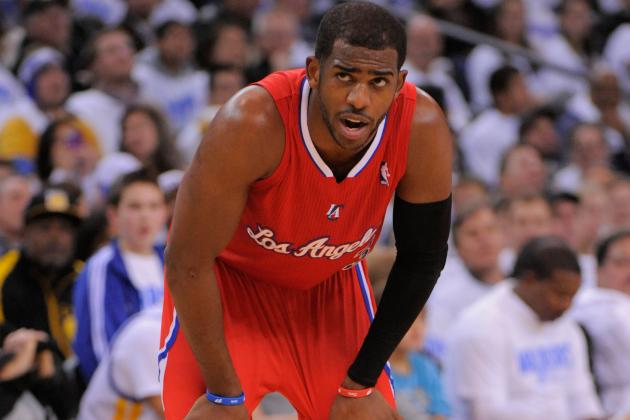 Kyle Terada-USA TODAY Sports
Los Angeles Clippers' Chris Paul
Stats: 16.6 PPG, 9.7 APG, 3.5 RPG
It's hard to punish a guy in the MVP race for missing four straight games with a knee injury, but that's what's happening here with Chris Paul.
He's done enough this season for the Los Angeles Clippers to rank in the top three.
Third is where Paul currently sits in terms of PER at the halfway mark, while also ranking second in assists and leading the league in steals.
His brother Cliff could not be more proud.
Paul's Clippers went undefeated in the month of December and are currently one of only three teams playing above .700 basketball at the moment.
This while even losing three of their last four with CP3 on the sidelines.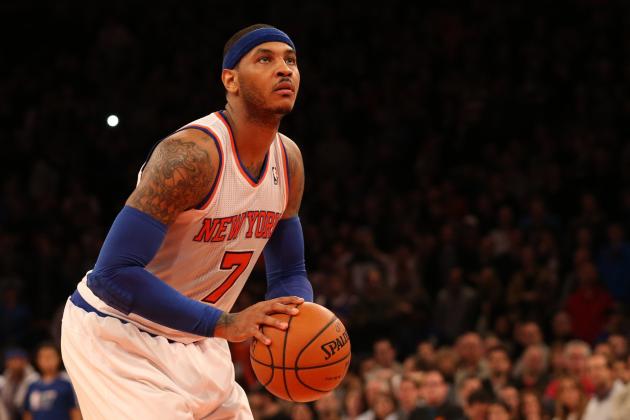 Anthony Gruppuso-USA TODAY Sports
New York Knicks' Carmelo Anthony
Stats: 29.4 PPG, 6.2 RPG, 2.6 APG
Carmelo Anthony is the player that we always hoped he could be this season.
After frustrating fans and coaches alike with his propensity to score at the cost of winning in years past, he's putting it all together right now on the NBA's biggest stage.
As the leader of the New York Knicks, Anthony is averaging a career-high 29.4 points per game at the moment.
That scoring total ranks Anthony second in the NBA through Monday. He ranks fifth in the league in Player Efficiency Rating as well at 24.97.
From three-point range, specifically, Anthony is also shooting a career-high 42 percent.

He's the biggest reason why his Knicks are owners of the Eastern Conference's second-best record at the halfway mark of the season.
Anthony's MVP-caliber performance thus far is also why the Knicks will contend for the NBA championship in a season when nobody expected they would.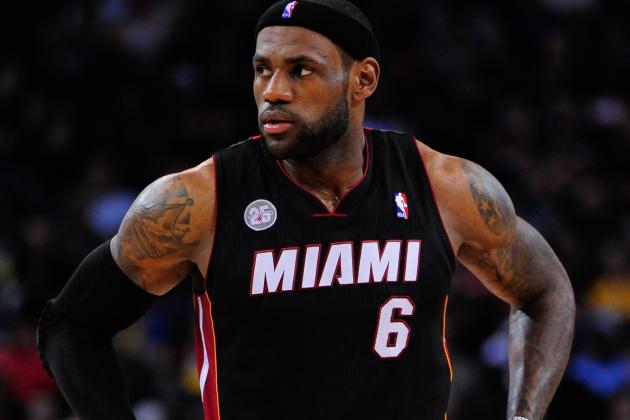 Kyle Terada-USA TODAY Sports
Miami Heat's LeBron James
Stats: 26.6 PPG, 8.3 RPG, 7.1 APG
Twice in LeBron James' career he led the NBA in Player Efficiency Rating while not also winning the league MVP.
Expect this season to be the third time that happens.
While his six-year run of dominating efficiency continues, his Heat team is not winning at a high enough rate to warrant a fourth MVP for James.
Fair or not, James will be competing against himself this season in an attempt to accumulate the votes necessary to win the MVP for a second straight year.
To that end, James is averaging the second-lowest scoring total in his 10-year career this season.
While he is rebounding at a career-high pace, there were four other seasons during his career that James averaged a higher number of assists.
I mention all this not to infer that James is having a down year by any means. He's obviously not and has been nothing short of spectacular.
But the truth is, James will need to lead his team to the NBA's best record while having a career year statistically to win his fourth MVP.
Those two things are not happening right now.
Harry How/Getty Images
Oklahoma City Thunder's Kevin Durant
Stats: 29.6 PPG, 7.4 RPG, 4.4 APG
Kevin Durant is scoring the most points in the NBA while playing for a team with a better record than the Miami Heat.
In its simplest form, this is why Durant has the best odds of winning the MVP this season.
His Player Efficiency Rating being better than everyone else in the NBA not named LeBron James is a major driver as well.
It's not simply how much Durant is scoring, though; it's the way in which he's doing it.
Durant has once again gained entry into the exclusive 50/40/90 Club at the halfway mark by shooting 51.7 percent from the floor, 41.7 percent from three and 91.2 percent from the free-throw line.
He's averaged 31.9 points for the month of January after a month of December when he averaged 31.
By season's end, the MVP race will come down to a debate between Durant and James. At that point, Durant will have done just enough to win his first award before James wins his fourth.