Michigan Basketball: What the Wolverines Need to Learn from Fallen No. 1s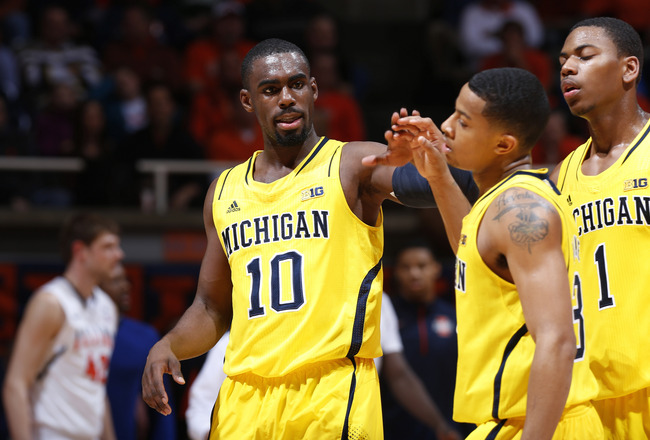 Joe Robbins/Getty Images
The good news for Michigan fans is that the Wolverines have reached the top spot in the AP polls for the first time since the Fab Five took over college basketball. The bad news is that recent history says they likely won't stay there for very long.
For the fourth time in as many weeks, the AP Top 25 has a new leader as Duke, Louisville and Duke (again) have failed to hold serve as the nation's No. 1 team. With a trip to Indiana looming on Saturday, Michigan can learn from these recent upsets to head into the home stretch of the season with the No. 1 ranking.
Weather the Storm
Joel Auerbach/Getty Images
In Duke's 90-63 loss at Miami, the Blue Devils were never able to recover from a 22-to-1 Miami run over the span of seven minutes in the first half, a stretch of time when Duke's seniors were absolutely invisible, which left the younger Devils without a rudder.
According to the play-by-play notes from ESPN.com, Duke went a span of 26 minutes without a single point from either of their two seniors, Seth Curry and Mason Plumlee.
Michigan, nearly falling dead last in Ken Pomeroy's Division I experience rankings, will need Tim Hardaway Jr., one of only two upperclassmen on the team to log significant minutes, to provide the leadership necessary to withstand the inevitable run.
Don't Shoot Yourself out of Games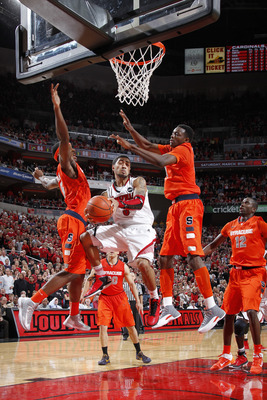 Joe Robbins/Getty Images
While Louisville's Russ Smith nearly single-handedly carried the Cardinals past Syracuse, his backcourt mate Peyton Siva really struggled against the Orange's zone defense. Siva connected just once on nine shots, with seven of those shots coming from beyond the three-point arc.
To avoid having a star player shoot his team out of a win and into an upset, it's imperative to have scoring balance, and a concern for Michigan could be the over-reliance on Trey Burke and Tim Hardaway Jr. to carry the bulk of the offensive load.
Freshman sharpshooter Nik Stauskas is a likely candidate to hit the open shots that the attention on Burke and Hardaway will provide, but Indiana holds their opponents under the national average in three-point shooting percentage, per Ken Pomeroy's scouting report.
Rebound the Basketball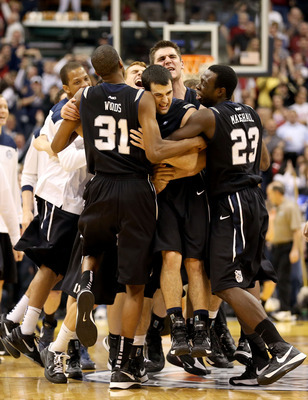 Andy Lyons/Getty Images
Nothing invigorates a team like an offensive rebound, and against top-ranked Indiana the Butler Bulldogs pulled in 19 of them for an offensive rebounding percentage of 48.7.
Per the ESPN.com game notes, Indiana entered the game ranked in the top 10 in second-chance points scoring margin, yet lost that battle 27-17 to Butler in a game that ended as a two-point loss in overtime.
Defensive rebounding is a strength for Michigan as Wolverine opponents are nearly six percentage points below the national average in offensive rebounding percentage.
As a team, Indiana is ranked in the top 10 in offensive rebounding and will be by far the best rebounding team Michigan has faced this season.
Make One Player Beat You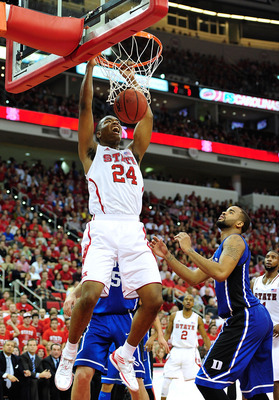 Grant Halverson/Getty Images
In NC State's 84-76 win over top-ranked Duke, the Blue Devils without Ryan Kelly had no match for C.J. Leslie, and the preseason ACC player of the year torched Duke for 25 points on an efficient 16 shots. The real damage, however, was Leslie's supporting cast where four of the other six NC State players who logged minutes scored in double figures.
A huge concern for Michigan has to be Indiana's balance, with five different Hoosiers averaging double digits in scoring and six players contributing on more than 20 percent of Indiana's offensive possessions.
Michigan's best bet is to sag off of one of Indiana's supporting players and make them win the game on his own, much like Wisconsin did in the second half of their 64-59 win over Indiana.
The Badgers made an effort to double-team Cody Zeller, and the rest of the Hoosiers combined to shoot 11 of 39 en route to the home upset loss.
Execute When It Counts
With 30 seconds to play, top-ranked Louisville had possession of the ball and a one-point lead over Syracuse when Peyton Siva chose to make an ill-advised cross-court pass, the exact pass that Jim Boeheim's zone has tricked countless opponents into making before.
Instead of getting to the free-throw line, or, at worst, forcing up a bad shot with about 12 seconds remaining in the game, Louisville allowed Syracuse to take the lead in transition before turning the ball over once more on the next possession.
As most Big Ten matchups seem to do, there is a strong likelihood that Michigan and Indiana will come down to handful of key possessions down the stretch. For the Wolverines to do what no other No. 1 team has done in the past four weeks by winning, it will take excellent decision-making under extreme pressure.
Fortunately for Michigan, Trey Burke is one of the few players in college basketball who seems to be at his best in those types of situations.
Keep Reading

Michigan Wolverines Basketball: Like this team?