10 Big-Time Schools with the Easiest Path to the BCS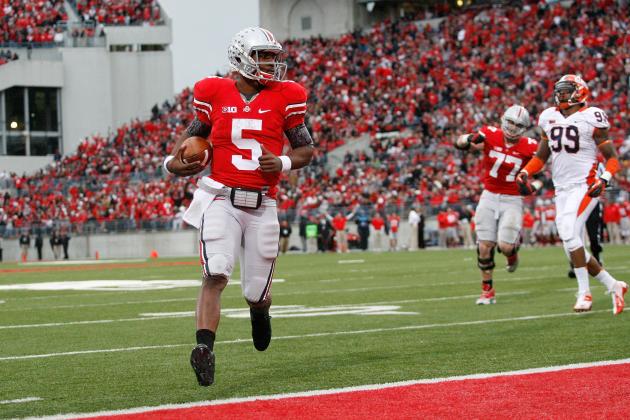 Kirk Irwin/Getty Images

Heading into signing day and the start of spring practice, every FBS team is 0-0, with ambitions and dreams of having a winning season.
For those "big-time" teams that have tons of history, pull in top recruits and compete at a high level, the expectations are even higher, the final round of BCS games.
The 10 teams on this list can all be considered big time, and each of them has a fairly easy road to a BCS game.
It's certainly not easy to finish undefeated and go to the BCS title game, or even to win a conference, but the way schedules and returning players are setting up for these 10 units, they already have a leg up on the competition.
Begin Slideshow

»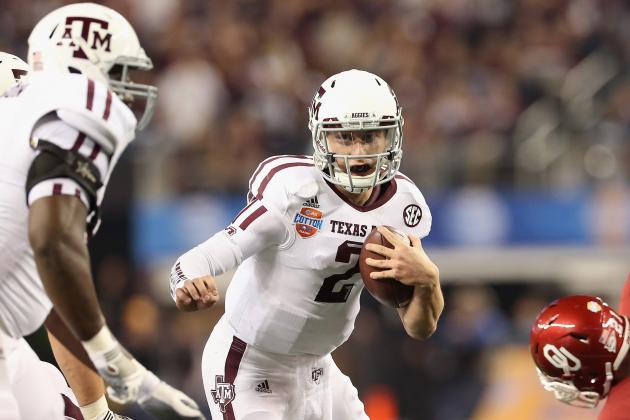 Ronald Martinez/Getty Images

Returning Starters: 10
Nonconference Schedule: vs. Rice, vs. Sam Houston State, vs. SMU, vs. UTEP
The SEC is not easy, no schedule in the conference could be considered a cakewalk.
However, even without stud end Damontre Moore, this team is talented and prepared for another excellent season.
Johnny Manziel is still around, and he will be competing for his second Heisman Trophy in as many years and looking to build on his tremendous success in 2012.
Other than a tussle with Alabama at Kyle Field, every game in 2013 looks like a game the Aggies should win, and even that game against the defending champs is not an automatic loss, as the Aggies already knocked off Alabama in Tuscaloosa in 2012.
Of course, if you ask Kevin Sumlin, everything is easier with Johnny Manziel leading the offense.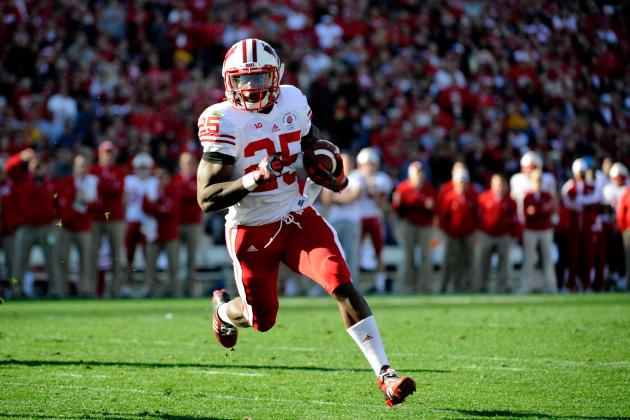 Robert Laberge/Getty Images

Returning Starters: 15
Nonconference Schedule: vs. UMass, vs. Tennessee Tech, at Arizona State, vs. BYU
It's not often that a program welcoming a whole host of new coaches makes a list such as this one.
However, the Badgers have made three straight Rose Bowls, and they have the returning talent to make it to another one.
This team didn't lose a single game in 2012 by more than a point, and though Montee Ball is gone, Melvin Gordon and James White are more than able replacements.
A trip to the Horseshoe is a huge mountain to climb, and a trip to Arizona State is nothing to sneeze at, but the Badgers have the returning talent and schedule to find their way into the Rose Bowl for the fourth consecutive year.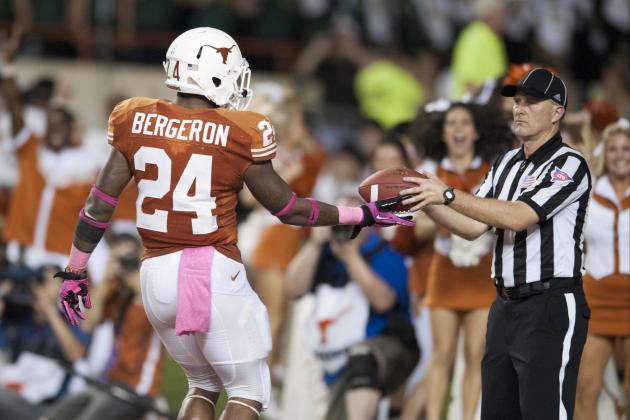 Cooper Neill/Getty Images

Returning Starters: 19
Nonconference Schedule: vs. New Mexico State, at BYU, vs. Ole Miss
There is no conference as wide open as the Big 12 next season.
Mack Brown's team has a leg up on the race heading into the season with a whopping 19 returning starters.
The meetings with BYU and Ole Miss are challenges in the nonconference slate, but the Big 12 is going to be down a bit in 2013, and it will be the perfect chance for the Longhorns, led by their punishing running game, to seize control of the conference again.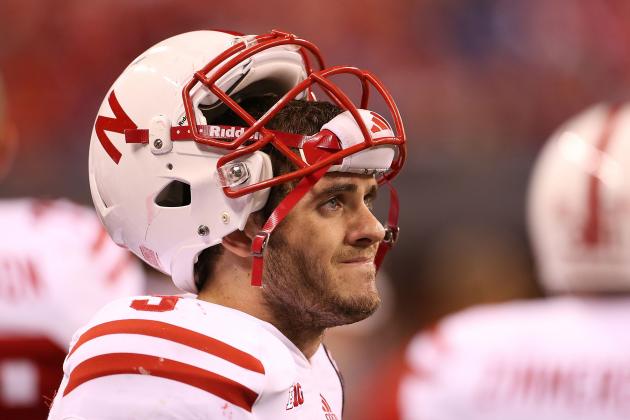 Leon Halip/Getty Images

Returning Starters: 13
Nonconference Schedule: vs. Wyoming, vs. Southern Miss, vs. UCLA, vs. South Dakota State
It's as simple as this:
If Taylor Martinez continues to show improvement in his throwing motion and some of the young defensive talent steps up, the Huskers' road to the Big Ten title game is about as easy as it gets.
There are challenging trips to Happy Valley and the Big House, but Bo Pelini has the talent, particularly at quarterback, to keep Nebraska in every game.
You better believe if the Huskers make a run to the Big Ten title game, they won't make it to be blown out for the second straight season.
Also worth noting, it's not likely they will have to face Wisconsin this season, who has pounded the Huskers in two out of their last three meetings.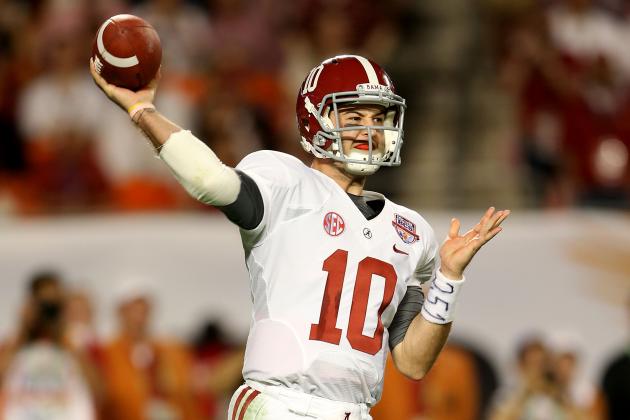 Streeter Lecka/Getty Images

Returning Starters: 13
Nonconference Schedule: vs. Virginia Tech in Atlanta, vs. Colorado State, vs. Georgia State, vs. Chattanooga
Give the Tide credit for scheduling Va. Tech, but the Hokies are going to be down in 2013.
That leaves a better-than-you-might-imagine Colorado State team and two FCS squads on the nonconference slate.
In those games, the Tide is 4-0, without flinching.
Where things might get rough for the Tide is in conference play.
A.J. McCarron will be playing for a chance to earn his fourth national title ring with Alabama, but to do so means winning in College Station against the reigning Heisman Trophy winner.
Other than that contest, the Tide will be favored in every game next season, meaning McCarron and the rest of the returning Tide players have more pressure on them than most people can even imagine.
With Nick Saban at the helm, they will be ready and make a run at a third consecutive BCS title game.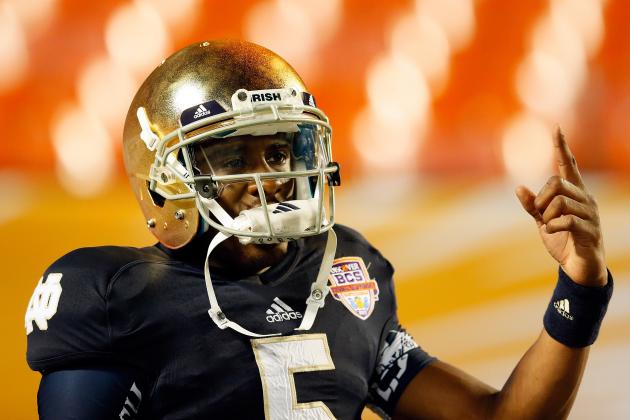 Kevin C. Cox/Getty Images

Returning Starters: 14
Nonconference Schedule: vs. Temple, at Michigan, at Purdue, vs. Michigan State, vs. Oklahoma, vs. Arizona State, vs. USC, at Air Force, vs. Navy, at Pitt, vs. BYU, at Stanford
By now, you are sick of hearing about Notre Dame and a certain linebacker's "imaginary girlfriend."
But don't move the Irish all the way to the back burner just yet.
The team returns 14 starters, including eight to a defense that dominated all season, and quarterback Everett Golson.
The schedule, while more difficult than most FBS teams', is weaker than it appears.
Catching Michigan early while the team is adjusting will be great, Oklahoma is going to struggle this season, USC will be down and Stanford will again be a tough game, but winnable.
With the cachet of the Notre Dame name returning, don't be surprised if the Irish wind up in a BCS game for the second season in a row.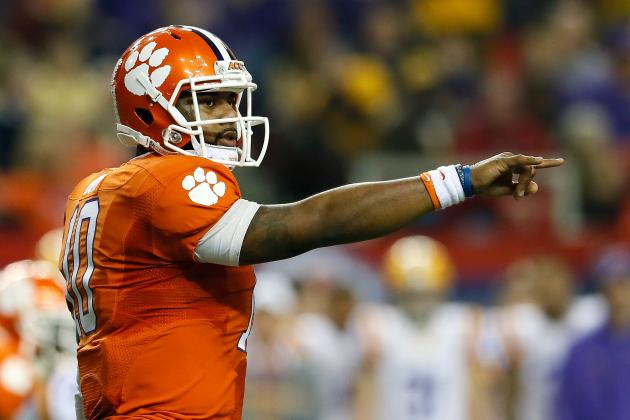 Kevin C. Cox/Getty Images

Returning Starters: 13
Nonconference Schedule: vs. Georgia, vs. South Carolina State, vs. the Citadel, at South Carolina
Some of you might have a hard time labeling Clemson as a "big-time" program, and others might have difficulty understanding why a team that faces to SEC foes in nonconference play made this list.
Listen up, and I'll explain.
Georgia lost a ton of talent on defense, while Clemson has loads of returning talent on offense.
It will be difficult for Georgia to slow down the Tigers' explosive offense, resulting in a shootout that either team could win.
And even if Clemson manages to lose to both Georgia and South Carolina, the ACC schedule should favor a great shot at winning the conference title.
Miami is talented, but young, and NCAA issues still loom.
Florida State loses all kinds of talent, and N.C. State, Wake Forest and Maryland will not come close to winning the Atlantic Division, leaving the Tigers atop the division.
If the Tigers can get by Miami, Virginia Tech, or whoever represents the Coastal division of the ACC in the conference title game, a BCS berth will be theirs.
And you better be hoping for this, as it would mean more Dabo Swinney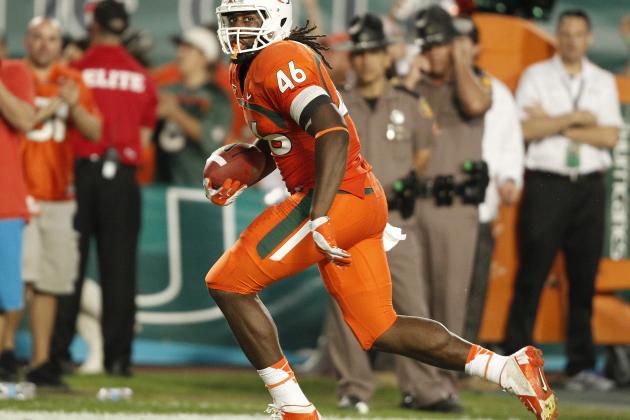 Joel Auerbach/Getty Images

Returning Starters: 19
Nonconference Schedule: vs. Florida Atlantic, vs. Florida, vs. Savannah State, at USF
Had Miami not been banned from the postseason, it would have been in the ACC conference game in 2012.
The talent this team is bringing to the field in 2013 is ridiculous, and barring further NCAA sanctions, the ACC is wide open.
All the 'Canes will need to do is find their way to the ACC title game, where they will likely take on Clemson in a battle for a BCS berth.
The offensive line is excellent, and with Stephen Morris, Mike James and Duke Johnson in the backfield, Al Golden't squad is going to have an excellent season with a very manageable schedule.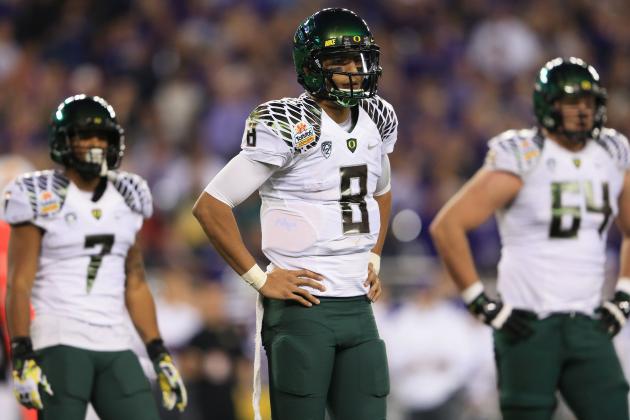 Doug Pensinger/Getty Images

Returning Starters: 15
Nonconference Schedule: vs. Nicholls State, at Virginia, vs. Tennessee
The Ducks' nonconference slate is actually semi-respectable, with a trip to the East Coast to face Virginia and a visit from Tennessee.
The two of them are BCS conference foes, but both of them are going to struggle in 2013.
Tennessee in particular must replace its starting quarterback and three most productive wide receivers.
So the experienced, explosive Ducks should cut through the nonconference portion of their slate like a hot knife through butter.
And the Pac-12 slate is not much more difficult. Stanford is the one team the Ducks hate to see on the schedule, and this season, the game is at Stanford, so that's a major roadblock.
However, with Marcus Mariota returning to play quarterback and De'Anthony Thomas taking over full-time duties at running back, the 2013 version of Oregon's football team is going to be better than 2012.
With the schedule currently facing them, the Ducks will lose no more than one game and could wind up undefeated.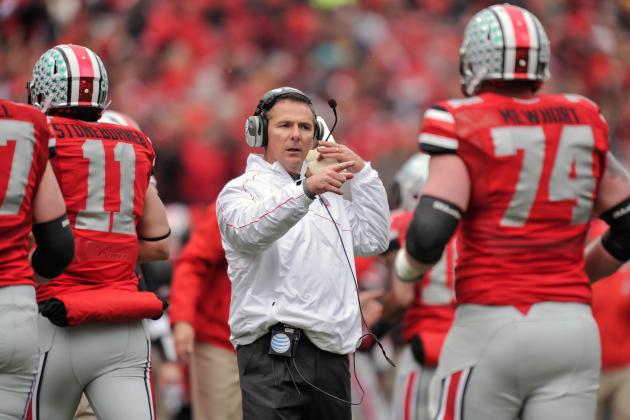 Jamie Sabau/Getty Images

Returning Starters: 13
Nonconference Schedule: vs. Buffalo, vs. San Diego State, at Cal, vs. Florida A&M
If that's not one of the lamest nonconference schedules in the nation, I don't know what is.
If the Buckeyes do not go undefeated through these four games, it will be an absolute disaster.
Coming off a 12-0 season, the offense, led by quarterback Braxton Miller, is primed for another excellent season.
The Big Ten is not exactly stacked with elite teams, and the Buckeyes appear to be the team to beat again in 2013.
With a weak nonconference slate and playing in a conference that routinely fails to produce, Urban Meyer and his squad have a seemingly easy path to a BCS game.