Reasons the Oakland Athletics Offense Will Be Better in 2013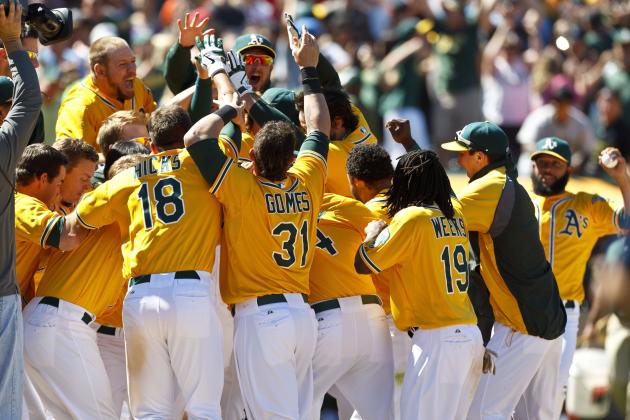 Jason O. Watson/Getty Images
Dear 2013, more of this please.
If you were shocked by the production the Oakland Athletics finished 2012 with, you might also be surprised when they end 2013 even better.
The A's were in the top 10 in home runs, walks and stolen bases last season. Granted, they struck out as a team more than any other in Major League Baseball. Still, getting on base, runners moving themselves over and the long ball are efficient when it comes to winning ballgames.
During this coming season, Oakland will score even more.
The offseason moves were few and subtle. But by the end of the year, they'll be added to Billy Beane's (faux) Guide for Building a Team on the Cheap.
More home runs, more stolen bases and more walks. They'll even hit better as a team too.
There are seven reasons—five within the lineup and two outside variables—that will play a factor in the Oakland Athletics outperforming themselves in 2013.
Begin Slideshow

»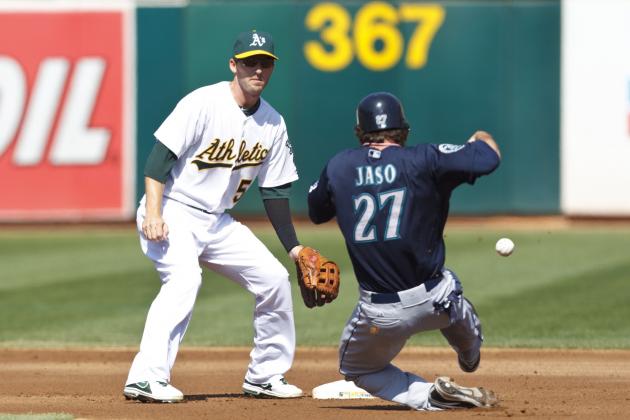 Jason O. Watson/Getty Images
Jaso also might be more familiar with Oakland Coliseum than Kottaras.
Kudos to the job George Kottaras did for the Oakland A's in 2012. He made the best of the 27 opportunities afforded to him in Oakland by hitting .212 with six home runs and 19 RBI.
He spelled Derek Norris when needed, and that's all the team asked him to do.
This year, it'll be John Jaso backing Norris up.
Jaso's career batting average (.255) is 35 ticks higher than Kottaras'. Last season alone, Jaso hit .276 to Kottaras' .211. Jaso walks more and strikes out less often on average compared to Kottaras as well.
Wins above replacement is also worth noting. Of course, these two men are typically replacements themselves, so in this case, a "replacement" might very well be the starter. Regardless, Kottaras finished 2012 with a 0.2 WAR.
Jaso? 3.3 in 2012.
Comparing the stats side-by-side, Jaso produces more across the board, even defensively.
Jaso knows the ballpark and knows the AL West competition, hits better and has more experience overall. He'll be a good complement to Norris and, if he has to be, a more suitable replacement if Norris struggles.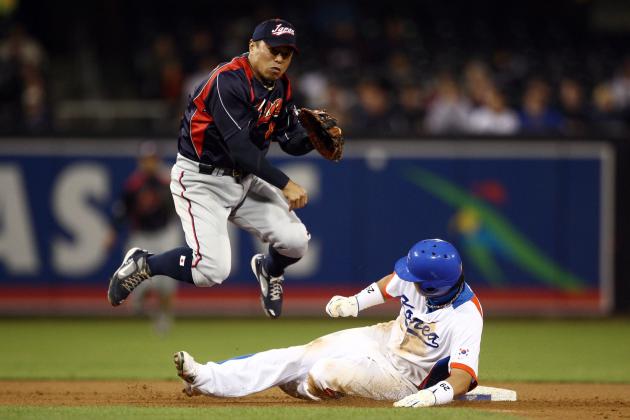 Donald Miralle/Getty Images
A's fans, meet your new shortstop.
At least, signs indicate he can be.
Hiroyuki Nakajima, Oakland's latest foreign acquisition, begins his Major League Baseball career manning the position left by five-year A's shortstop Cliff Pennington. Though "Hiro" could inevitably falter, A's fans should be confident in his overall experience and consistency for hitting near or above .300 in Japan the last seven years.
For fun, let's say hitting .300 in Japan translates to a .275 average in Major League Baseball. That's still 26 points higher than Pennington's career average (.249) and 60 above Penny's 2012 production (.215).
Not to dog Pennington, but it won't pose too difficult of a task to hit better than .215.
Many may argue Hiro needs to be compared to Stephen Drew instead. Fine. Drew is a .265 career hitter who has seen dramatic declines the last three years of his career. He somewhat rebounded from a .193 average in the first half by hitting .250 with the A's to finish the season. Still, his average ended at .223 marking the third consecutive year of a 20-plus point decline.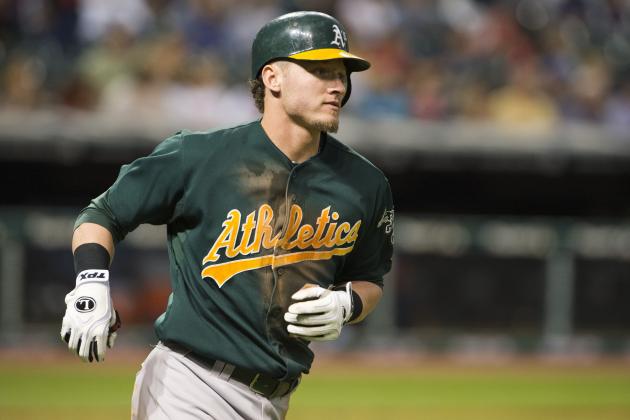 Jason Miller/Getty Images
Josh Donaldson—from earning a spot to keeping a spot.
Josh Donaldson enters 2013 with a whole new mindset.
Last year, he came to spring training camp hoping the earn a spot on the big-league roster. Surprise, surprise—he unexpectedly received a shot at third base after spending most of his minor league career as a catcher.
Whether it was an act of desperation on Oakland's part is irrelevant now.
In 2013, Donaldson arrives to camp as the club's third baseman. His .290 average down the stretch likely cemented him as the owner of the job.
Whereas before he simply hoped to make the roster, now he's in a "third is his job to lose" type position. The only way he doesn't start third is if someone wildly outplays him in spring training.
So, no more learning on the fly. No more transitioning.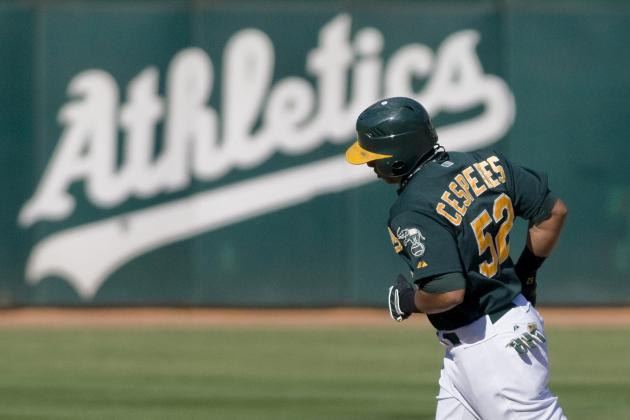 Ed Szczepanski-USA TODAY Sports
A's fans hope to see this guy in A's green and gold for years.
In his first season in Major League Baseball, Yoenis Cespedes hit .292 with 23 home runs, 82 RBI and 16 stolen bases. He also finished in second place in Rookie of the Year voting.
That was also in 129 games.
Hypothetically speaking, if Cespedes can remain healthy, he should continue to be a beast in the AL West and MLB. After all, he just turned 27 at the end of last season, so he's barely into his prime.
Then there's the adjusting period.
He's seen the league's pitching. He's played in many of the league's ballparks. He now knows what it takes to stay healthy for a longer season. (Less games are played in Cuba.)
Imagine Cespedes, in his prime, healthy and fully adjusted to Major League Baseball.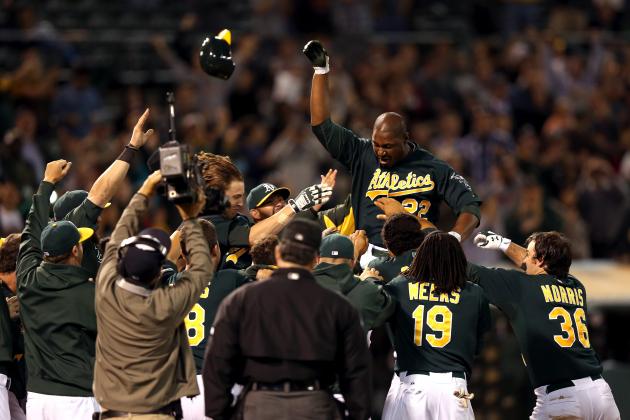 Ezra Shaw/Getty Images
Synergy is a great thing.
Two positions have upgraded, and two other positional players should get better. That's a look at individual parts, so let's take a look at how those pieces affect the sum.
First, there's not a whole lot of turnover.
The Oakland Athletics see a ton of turnover year in and year out. Declining veterans sign for cheap, only to find new life and spark the offense. Then they sign bigger, better deals with contenders while the talented up-and-comers are subsequently traded away.
This season, however, many of Oakland's biggest producers remain. The outfield trio of Yoenis Cespedes, Josh Reddick and Coco Crisp return. Seth Smith will still DH and Chris Carter and Brandon Moss will keep platooning at first. Josh Donaldson and Derek Norris each get another year to develop too.
Chris Young takes the place of Jonny Gomes. Fine—they're very similar in career batting average and rate of walks, strikeouts and home runs anyway.
Not much has changed in this respect. And that's a good thing.
Every additional year you're allowed to work with the same set of peers, you have an increased opportunity to learn their strengths and weaknesses. You come to expect certain things and adapt your habits to fit a collective system.
It's called synergy.
When you're trying for it a second time, it's easier to achieve with the same set of people plus a few upgrades.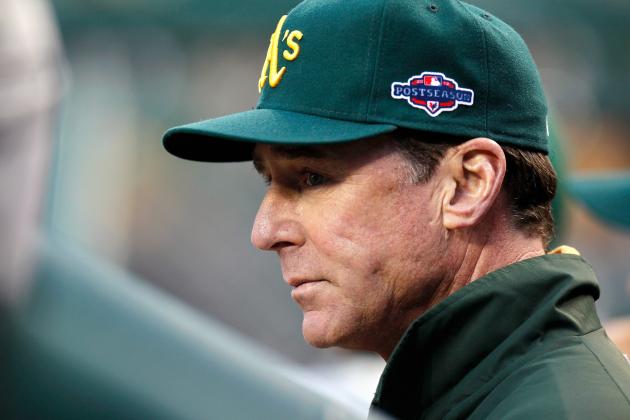 Gregory Shamus/Getty Images
Bob Melvin led the team to 94 wins in his first full year with the A's.
2012 AL Manager of the Year Bob Melvin has a knack for keeping his team grounded. Throughout the season last year he had his team focused on the cliche "one game at a time."
Clearly, it worked.
But if you think the AL West crown will go to the team's head, think again. According to Zachary Rymer of Bleacher Report, Melvin spoke about his plan to avoid any sense of entitlement.
Certainly we want to bring the success and the confidence that we gained in 2012 forward, but knowing just because you did that doesn't mean you throw your glove out there and just play, and that things are going to work out for you. We're going to try to push them a little bit more this year and try to remain with a constant upbeat enthusiastic attitude like we had last year. It's up to the coaching staff and some of the players that are returning to create that mantra and move forward with it.
The team may have lost clubhouse guys like Jonny Gomes and Brandon Inge, but Melvin is a player's coach, a true leader among his men.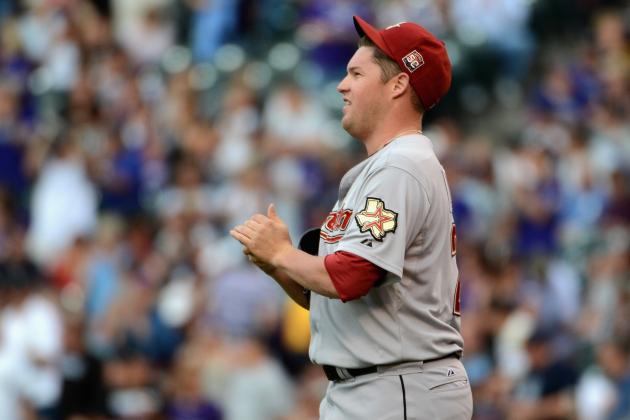 Doug Pensinger/Getty Images
Ready for the AL West?
It seems downright rude to say one team will be better because another team is entering their division.
But it is the Houston Astros we're talking about here.
The Oakland Athletics will have the luxury of facing the Astros 20 times in 2013. Ten games are at home and the other 10 are in Houston.
First, Houston had the worst record in baseball last season. Their record of 55-107 is simply horrendous. Winning 10 percent more often would equate to a 60-win season (and still over 100 losses). Carlos Pena is the biggest free-agent name to be added so far. He certainly won't help them make a dramatic leap.
As cruel as it may sound, A's hitters should salivate when looking at the Astros pitching staff.
Then there's the ballpark.
Without entering the debate of Minute Maid Park in Houston being hitter-friendly or pitcher-friendly, it's worth noting that down the left field line it's only 315 feet. It only takes a 326-shot to put one out down the right field line.
Center field is deeper than O.co Coliseum, but is shorter down both lines.
Twenty games against the league's worst team, and 10 in their ballpark which is better than O.Co in terms of hitter-friendly rankings, will contribute to increased production for the A's.
At least, for that stretch.