25 College Football Spring Games We Can't Wait to See & Why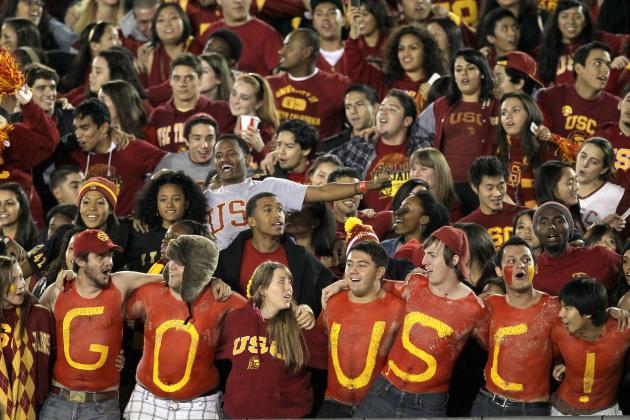 Stephen Dunn/Getty Images

We have entered the period of the college football season where the fans are lost and don't know what to do with themselves. Without any actual games taking place and all of the attention shifted towards recruiting, things can get a little boring for the folks who are wishing it was August already. Don't worry; it will be April before you know it.
I'm talking about spring games, and kickoff will start in just a couple of months. Every team in college football gets a chance to practice and usually hosts a spring game at some point in April. This reminds the players what it is like to hit with pads on and gives the fans something to hold them over for the remaining months.
It also gives younger guys a chance to prove themselves to the coaching staff and make a name for themselves early.
Spring games aren't anything to get overly excited about, but football is football at this point.
Here are 25 spring games that the entire college football world should show interest in, as they have a lot to offer than some of the others.
Begin Slideshow

»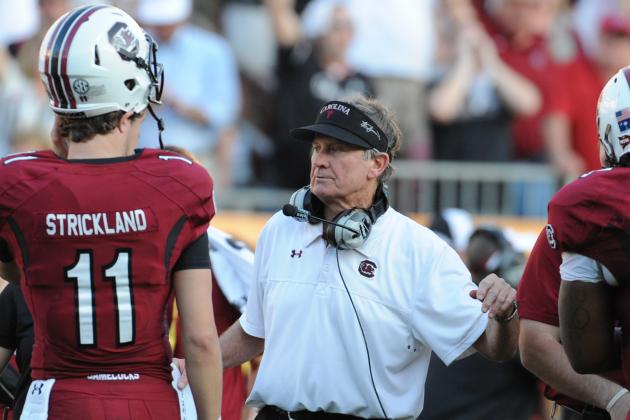 Al Messerschmidt/Getty Images

When: 04/13/13
Where: Williams-Brice Stadium, Columbia, S.C.
Why You Must Watch: You must watch anything that Steve Spurrier is involved with. You just never know what is going to happen or what you might hear him say. He is the coach that lets his inside voice become his outside voice more often than not. On the field, the Gamecocks are trying to find out if Connor Shaw or Dylan Thompson is going to be the quarterback. They are also trying to discover who is going to end up replacing Marcus Lattimore at running back. Not to mention the entire group of linebackers needs fixing up as well.
South Carolina has been a team that has come close to competing for an SEC title; this season will take some work if it expects to take that next step.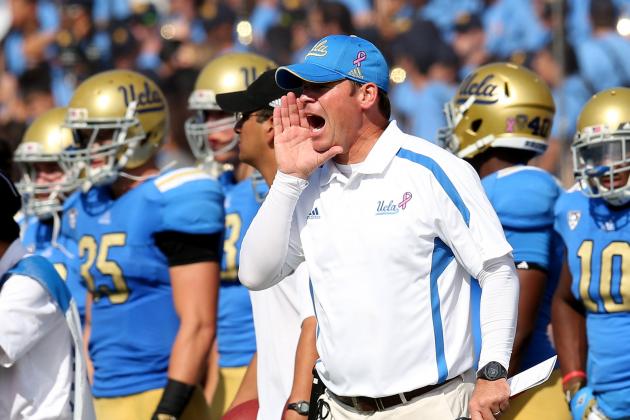 Stephen Dunn/Getty Images

When: TBD

Where: TBD

Why You Must Watch: UCLA caught everyone's attention after winning nine games with a first-year college football head coach. There are no more surprises in store for the Bruins, just higher expectations in 2013. The team returns 13 starters, including seven on the offensive side of the ball. Quarterback Brett Hundley could emerge as a dark horse Heisman candidate if he can play as well as he did last season. This is really all about watching a young team to see if we have another contender in the Pac-12 this upcoming season.
Sure, the Bruins showed what they were capable of last year, but it is completely different to rise to the occasion when folks are expecting success.
Christian Petersen/Getty Images

When: 04/20/13
Where: Spartan Stadium, East Lansing, Mich.
Why You Must Watch: Michigan State and the seven starters that are coming back on defense are good enough to put themselves in the Big Ten championship conversation. However, the offense has questions everywhere that could hold this team back. Quarterback Andrew Maxwell needs to step his game up and the Spartans must find another workhorse now that Le'Veon Bell is no longer around to lead the country with over 300 carries.
Michigan State was a disappointment last season like most Big Ten teams were, but the pieces are in place to make a run if a few guys decide to show up.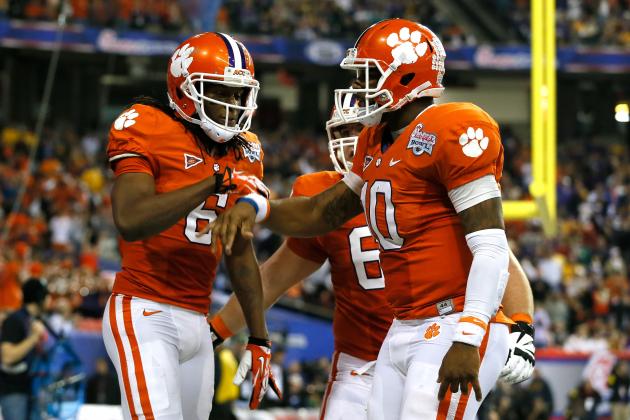 Kevin C. Cox/Getty Images

When: TBD
Where: TBD
Why You Must Watch: Don't look now, but Clemson has the goods to appear in the national championship. Yes, you read correct. With seven guys returning on offense, the Tigers will remain that offensive powerhouse that was even able to abuse LSU in the bowl game. The defense can also only improve with six players returning and having another season to work with defensive coordinator Brent Venables.
You should be watching this game to see how the Clemson secondary holds up and if things are running smoothly enough to truly believe that this team can turn the corner in 2013.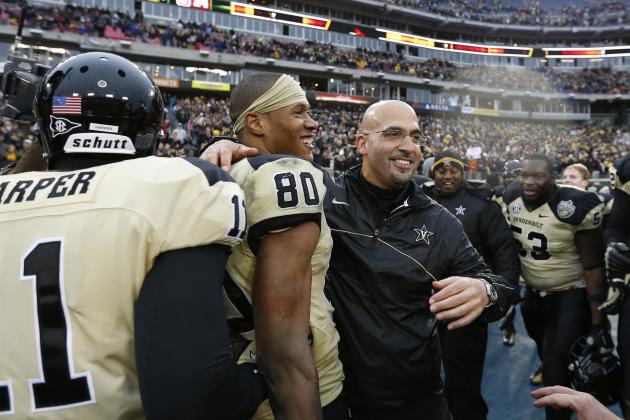 Joe Robbins/Getty Images

When: TBD

Where: TBD

Why You Must Watch: I have been called crazy before, but I really believe that Vanderbilt can push the rest of the teams in the SEC East and appear in the SEC Championship Game. The only thing the Commodores are missing is a starting quarterback to put an offense that has seven returning starters over the top. The defense is full of veterans and should be good enough to keep this team in every ball game throughout the season.
If you are one of the few who is beginning to believe that this program is taking the correct steps, catch a glimpse of this game and see if Vandy can in fact compete with the big boys this year.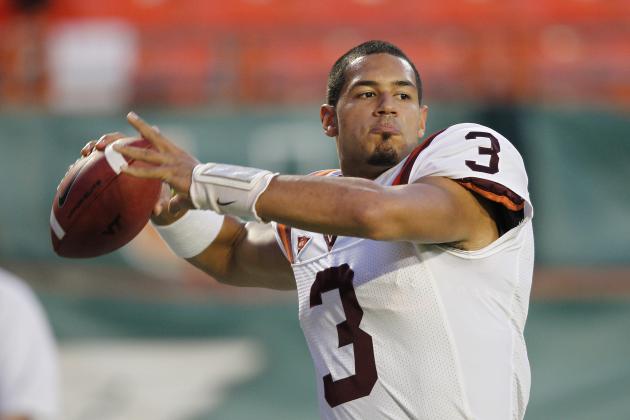 Joel Auerbach/Getty Images

When: TBD
Where: TBD
Why You Must Watch: Virginia Tech can't as bad as it was last season, can it? Nine guys return on the defense, so at least that should improve. However, with only four returning starters on offense, it looks like quarterback Logan Thomas will be forced to carry this team once again. He didn't do a good job last year of putting this team on his shoulders, but if he wants to be selected high in next year's NFL draft, he will improve his play drastically.
Nobody knows what to expect of the Hokies this season, but just to see the progress of Thomas and this offense, the game will be worth watching.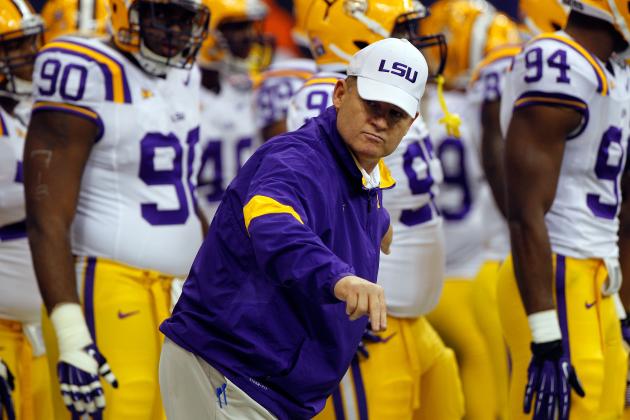 Chris Graythen/Getty Images

When: 04/20/13
Where: Tiger Stadium, Baton Rouge, La.
Why You Must Watch: If you want to see the future of a great defense, you will watch the LSU spring game. The Tigers lost a total of six starters on defense, which means that there will be a bunch of young faces on that side of the ball fighting for playing time. It should be exciting stuff. Offensively, it would be neat if quarterback Zach Mettenberger actually decides to show up and show some signs of life out on the football field.
LSU will look like a completely different team next season, but the talent, of course, is still there to keep you entertained.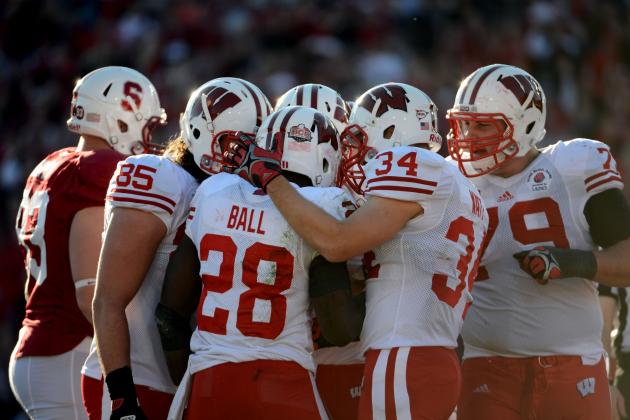 Harry How/Getty Images

When: TBD

Where: TBD

Why You Must Watch: For the first time since 2005, Wisconsin will have a new head coach on the sidelines who is not named Bret Bielema. The new guy who has taken over the Badgers goes by the name of Gary Anderson, and he is hoping to bring some of the same success to Madison that he recently had with Utah State. With a total of 15 starters returning, Anderson is walking into a good situation and has enough to work with to keep this program in the hunt for another BCS bowl trip.
Still, it will be worth watching to see how the guys respond to the new leader and if there are any tweaks that are worth mentioning.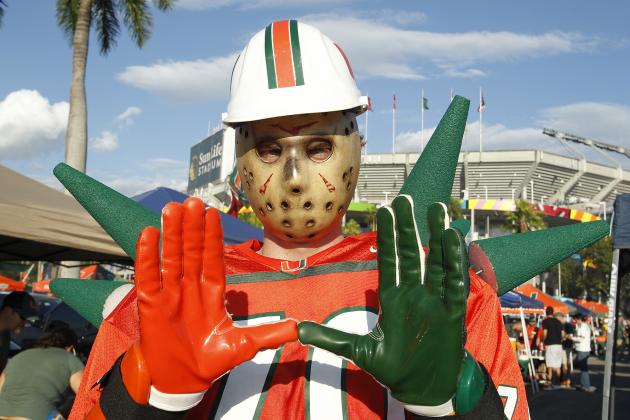 Joel Auerbach/Getty Images

When: TBD
Where: TBD
Why You Must Watch: Yeah, I know. The Hurricanes haven't been relevant in ages and it is almost safe to say that the program has lost its thunder as far as the whole "U" hype. Not reaching a BCS bowl since 2003 and currently being under the microscope of the NCAA will do that to you. But Miami was able to win seven games last year, which was a one-game improvement over 2011, despite losing so much talent during the offseason. This year a total of 19 starters return, which is the most of any team in all of college football.
I don't think anybody is foolish enough to say that the Hurricanes are back at this point, but they are at least worth keeping an eye on as we begin to dive deeper into the 2013 season.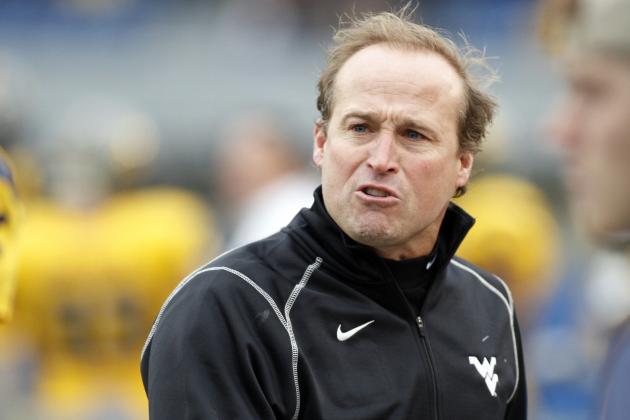 Justin K. Aller/Getty Images

When: TBD
Where: TBD
Why You Must Watch: West Virginia at one point was the most exciting team to watch in all of college football with its high-scoring offense. It then crashed and burned later in the year. Now the Mountaineers have nothing but questions on offense, as only three starters on that side of the ball are coming back. Geno Smith is no longer around, Stedman Bailey left early for the next level and Tavon Austin is another who will be playing in the NFL in 2013.
Dana Holgorsen is an offensive mastermind, and you know he will have some success in putting the pieces back together during these next several months. But finding replacements for nearly every key player on one side of the ball is not going to be an easy task. Seeing if things can work out will be intriguing enough.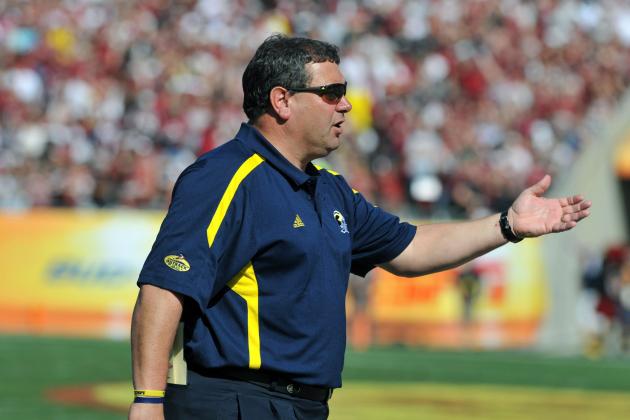 Al Messerschmidt/Getty Images

When: TBD

Where: TBD

Why You Must Watch: The Michigan Wolverines will officially be without Denard Robinson at quarterback, as the Devin Gardner era begins. The offense should benefit from this because Gardner can throw an accurate football, but it won't be easy playing behind an offensive line that lost three starters. In fact, the Wolverines only return 12 starters from a year ago, which is tied for the fewest of any team in the Big Ten. There is not a lot of depth on this team and enough questions for you to create a pop quiz.
Seeing how this team is able to overcome some of these issues and if the quarterback situation has improved is worth checking out.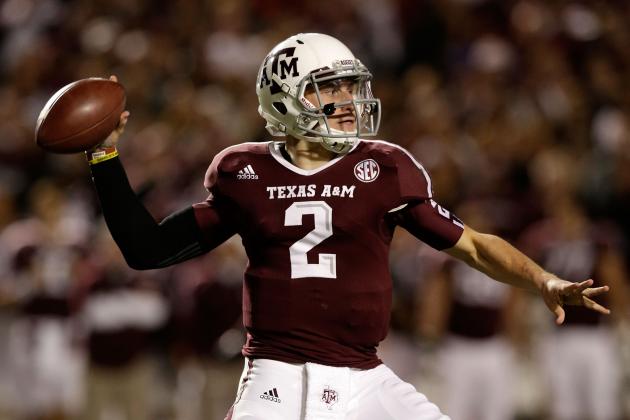 Scott Halleran/Getty Images

When: 04/13/13
Where: Kyle Field, College Station, Texas
Why You Must Watch: Johnny Manziel. We all want to see how the Heisman Trophy winner is able to respond with a full season under his belt. Will he cave due to the higher expectations or will he actually be even better than he was last season? Is that even possible?
And while Johnny Football will receive most of the attention during this spring game, the main focus should be on a defense that is missing seven starters from last year. With a new starter at every linebacker position, the Aggies must find reliable replacements on that side of the ball.
The offensive fireworks are cool and all, but Texas A&M can't take that next step until the defense is able to improve last year's efforts.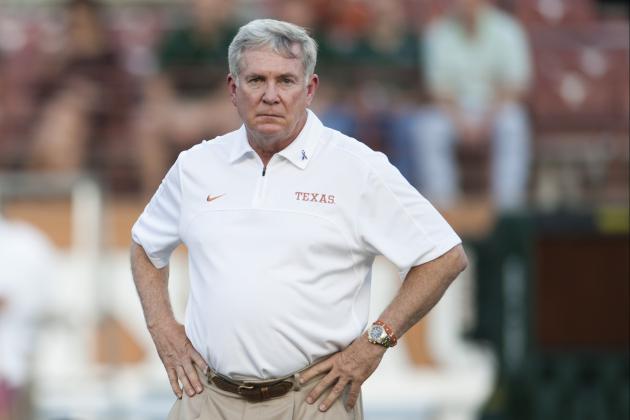 Cooper Neill/Getty Images

When: TBD
Where: TBD
Why You Must Watch: Texas has had issues with consistency over the years and head coach Mack Brown appears to be on his last leg. Some would make up excuses for why things haven't panned out for the Longhorns, but the 2013 season will tell us which side of the fence has been right all along.
There are a total of 19 starters coming back for this football team. With experience on both sides of the ball and explosive young players, such as Jonathan Gray and Cayleb Jones, failure is really not an option for this program in 2013.
The troops must be ready to make an impact and show the world that the Longhorns are back, and that all starts with an impressive spring game performance.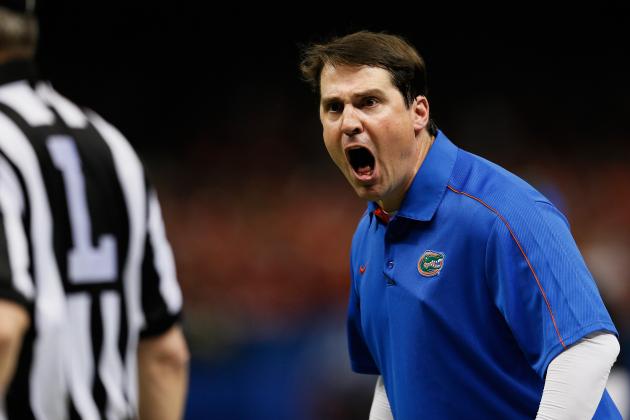 Kevin C. Cox/Getty Images

When: 04/06/13
Where: Ben Hill Griffin Stadium, Gainesville, Fla.
Why You Must Watch: Much like LSU, Florida lost a lot of defensive talent to the NFL draft. With six starters on that side of the ball no longer with the team, we will see many young faces battling for playing time on the gridiron. It was the defense that helped lead the Gators to a BCS bowl last year, and many guys will need to step up if that remains the goal in 2013.
But it is the offense that everybody should be watching. Is Jeff Driskel really the answer at quarterback and are there enough pieces around him to give this offense a boost? Where in the world are the playmakers for Florida?
This spring game will tell us a lot about where this program is heading next season.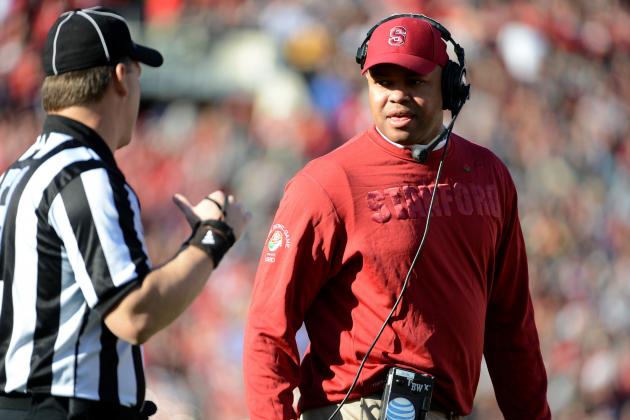 Harry How/Getty Images

When: TBD
Where: TBD
Why You Must Watch: Stanford is going to be a top team when the preseason poll is released. And if you were to ask me right now which non-SEC team had the best shot to win the national championship, I would pick the Cardinal.
Seven starters return from a Top 20 defense and the offense has eight starters coming back. The main reason to watch this game is to see the development of quarterback Kevin Hogan. With his dual-threat abilities, he could become that difference-maker on offense and make everybody forget about Andrew Luck.
Stanford has been that team that most people fail to mention when discussing championship contenders, but with the team that is coming back, that could change rather quickly.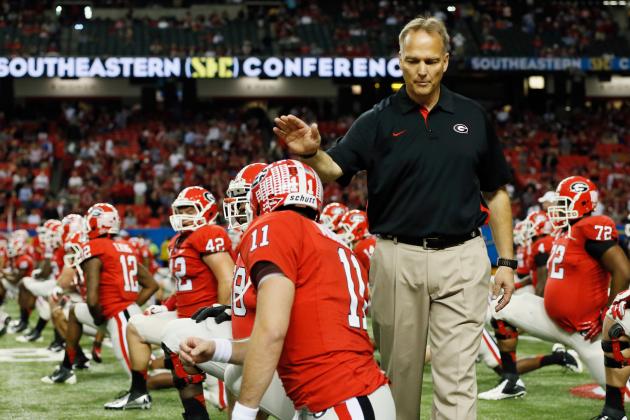 Kevin C. Cox/Getty Images

When: 04/06/13
Where: Sanford Stadium, Athens, Ga.
Why You Must Watch: It is amazing how many SEC teams have taken such a major blow on the defensive side of the ball. We have already discussed some of them, but none are as bad as Georgia, with only three starters returning defensively. It is time to see that remarkable recruiting pay off and have those young players step in and begin making plays.
Also, if you want to see some action offensively, Georgia has all of its key players returning on offense, which should produce off-the-wall numbers this season. And with this unit going up against an inexperienced defense, this could turn into a lopsided affair.
This spring game should be enjoyable.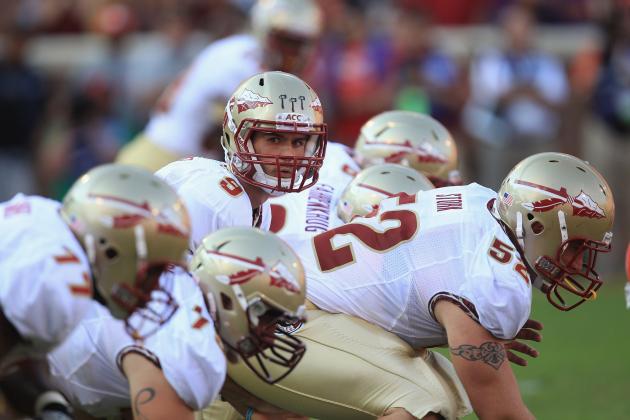 Streeter Lecka/Getty Images

When: TBD
Where: TBD
Why You Must Watch: Florida State is experiencing a rebuilding year under head coach Jimbo Fisher. The 10 starters returning are the fewest in the ACC and that includes only one guy from the front seven on defense. Thanks to terrific recruiting, the Seminoles aren't ready to throw in the towel just yet, but the spring game will be big for many of those young recruits that will be getting their feet wet in the spring game.
Quarterback Clint Trickett will also need to make a statement in this contest, as he will be the one who replaces former starter E.J. Manuel. He has played well off and on throughout his career, but this will truly be his moment to shine.
Florida State has more than its fair share of work to do and a lot of it starts with the spring game.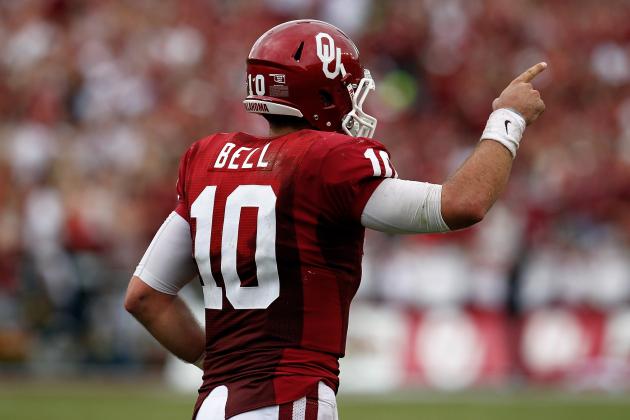 Tom Pennington/Getty Images

When: 04/13/13
Where: Gaylord Family OK Mem. Stadium, Norman, Okla.
Why You Must Watch: All eyes will be on quarterback Blake Bell, as he is expected to replace the most accomplished Oklahoma quarterback in Landry Jones. Bell has been used as a running quarterback throughout his career due to his bulky frame, but now he will be expected to make plays with his arm. This is something we haven't seen much of and it remains a mystery if he is even capable of doing such a thing.
The defense only has four starters returning and that has left gaping holes on the defensive line and in the secondary.
Like most of the teams on this list, the Sooners have a lot more questions than answers, and it will be inviting to see how things play out for Bob Stoops.
Gregory Shamus/Getty Images

When: 04/13/13
Where: Paul Brown Stadium, Cincinnati
Why You Must Watch: Quarterback Braxton Miller is entering his second season under head coach Urban Meyer and it will be fascinating to see how much he is able to improve with a full offseason under his wing. It is also worth watching to see if Meyer has been able to find a few key offensive weapons to surround Miller with, as he was really the main guy on offense last season.
Defensively the Buckeyes must replace seven starters, including the entire defensive line. This means we will finally get a chance to see guys such as Noah Spence and Adolphus Washington for a long period of time.
Most teams coached by Meyer are loaded with talent and Ohio State is no different. The problem is that a lot of these guys are young and it is always exciting to see how things play out with inexperienced players.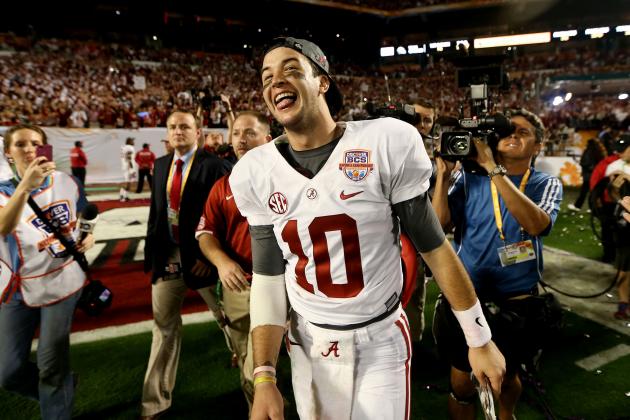 Streeter Lecka/Getty Images

When: 04/20/13
Where: Bryant-Denny Stadium, Tuscaloosa, AL
Why You Must Watch: If you need a reason to watch the two-time defending national champions then there is no help for you. This spring game usually has the feel of a regular season game, as both sides are playing hard to impress the coaching staff for increased playing time.
In last year's spring game, everybody was introduced to running back T.J. Yeldon, and with the top recruiting class in 2013, we are sure to see another breakout performer in this contest.
The Crimson Tide are without question the best team from top to bottom, and while there may not be many intriguing storylines for this event, it is probably the closest thing you will get to a real college football game in the month of April.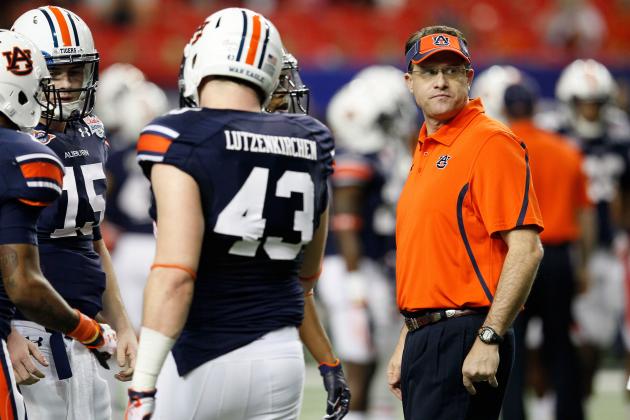 Kevin C. Cox/Getty Images

When: 04/20/13
Where: Jordan-Hare Stadium, Auburn, Ala.
Why You Must Watch: Gus Malzahn is one of the most interesting head coaches in the country because of his high offensive intelligence. He just knows how to put players in the right position to succeed and he should improve a unit that was ranked dead last in the SEC last year.
One of the biggest storylines for the offense is if quarterback Kiehl Frazier will be able to get another short to lead the team now that there is a new coaching staff. Defensively, the Tigers return nine starters and will also look to improve after a horrible performance in 2012.
Auburn was a team that was downright disappointing last season, so watch the spring game just to look for some signs of improvement moving forward.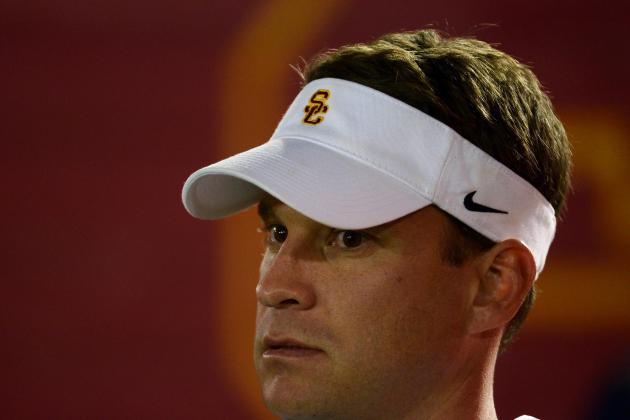 Harry How/Getty Images

When: 04/13/13
Where: Los Angeles Mem. Coliseum, Los Angeles
Why You Must Watch: Did you see the way the USC Trojans' season ended last season?
Head coach Lane Kiffin enters the year on the hot seat and if things don't turn around, the program could end up seeing many changes within the coaching staff. On the field, USC must make sure that quarterback Max Wittek is the right man for the job and that a depleted secondary is able to replace all of the guys that left.
The Trojans still have 15 starters from last year returning, which means that there is more than enough talent left to compete for a Pac-12 title. Progress must be made fast or things could get even uglier in Los Angeles.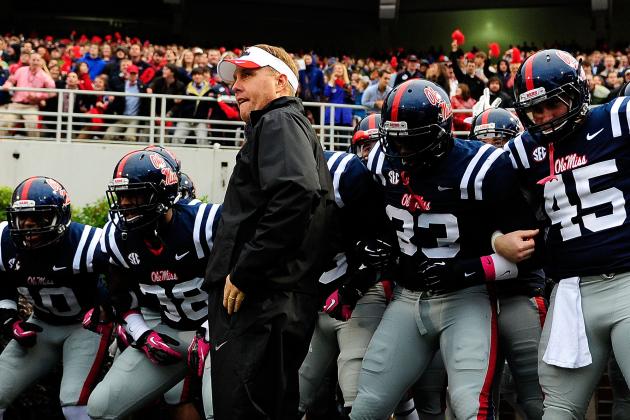 Stacy Revere/Getty Images

When: 04/13/13
Where: Vaught-Hemingway Stadium, Oxford, Miss.
Why You Must Watch: Ole Miss managed to win seven games last season under first-year head coach Hugh Freeze. The progress sparked so much attention that it has helped lead to one of the better 2013 recruiting classes in the entire country. Along with seeing a bunch of young talent step on the field all at once, Mississippi also happens to return 18 starters from a year ago, which is the most in the SEC.
Sure, you are probably one of those that don't believe the Rebels are for real just yet, but the amount of success in such a short amount of time cannot be ignored. It is going to be fun to watch this team mature and you can start by paying attention to the spring game in mid-April.
John David Mercer-USA TODAY Sports

When: 04/20/13
Where: Notre Dame Stadium, Notre Dame, Ind.
Why You Must Watch: It is Notre Dame!
The Irish have arguably the most hyped spring game every year regardless, but this season it will actually be for good reason. It will be worth watching to see if quarterback Everett Golson makes any progress from a year ago. It will be interesting to see how a defense that returns eight starters is able to perform without Manti Te'o. Another thing to keep an eye on is to see if there are any playmakers on offense that are able to step up and take charge.
The Irish will be on everybody's naughty list for stinking it up in the national championship, but admit it, you will watch the spring game to see how they stack up in 2013.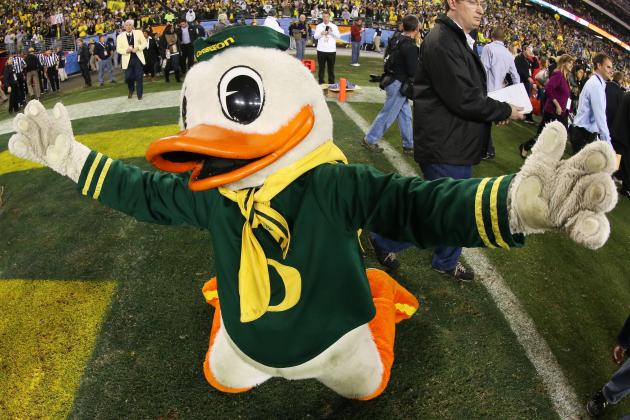 Stephen Dunn/Getty Images

When: 04/27/13
Where: Autzen Stadium, Eugene, Ore.
Why You Must Watch: In case you haven't heard, Chip Kelly is no longer the head coach of the Ducks. So while eight starters are returning on offense, it is going to be interesting to see how smooth things run on that side of the ball with Mark Helfrich now calling the shots. The defense should look sharp with three of the four starters in the secondary returning; however, this is a game that is going to be all about the offense. Oregon fans need some type of hope to hold on to and college football fans everywhere else are waiting to be silenced. Are the Ducks still national championship contenders?
We'll have a much better idea once this game takes place.